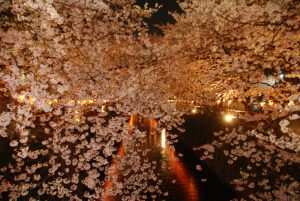 Next Night walk in Tokyo will be at Meguro-gawa river.
The area along the Meguro river is a popular cherry-blossom viewing spot in Tokyo.
The attendees will be divided into two groups; One goes from Nakameguro → Meguro, the other goes from Gotanda → Meguro. and will explore how each cherry blossom is lit up.
-Theme: Let's go and see the lighting for cherry blossom!!
-Date: Mar.25 (MON) 18:00~
-Meeting place: Nakamegura Station or Gotanda Station.
※We will inform you exact spot to meet later.
-Fee:2,000 JPY (including dinner)
-Max: 20 People
-Please bring a camera.
For RSVP, please send the following information by 11 Mar. via mail(office@shomei-tanteidan.org).
-Company/ School
-Name
-Mobile Phone No.
We are looking forward to meeting you.