Night Walk #59: Tokyo Winter Lights Tour
Let's see around winter lights and cityscapes in central Tokyo!
December 20, 2017 | Written by: Yuriko Hagimoto, Shinichi Sakaguchi, Daisuke Miura, and Sho Kato
Speaking of winter in Tokyo, variety of holiday lights decorate streetscapes at night. In our City Night Walk this time, we visited major holiday lights locations in central Tokyo and researched the reason why people are attracted by light displays.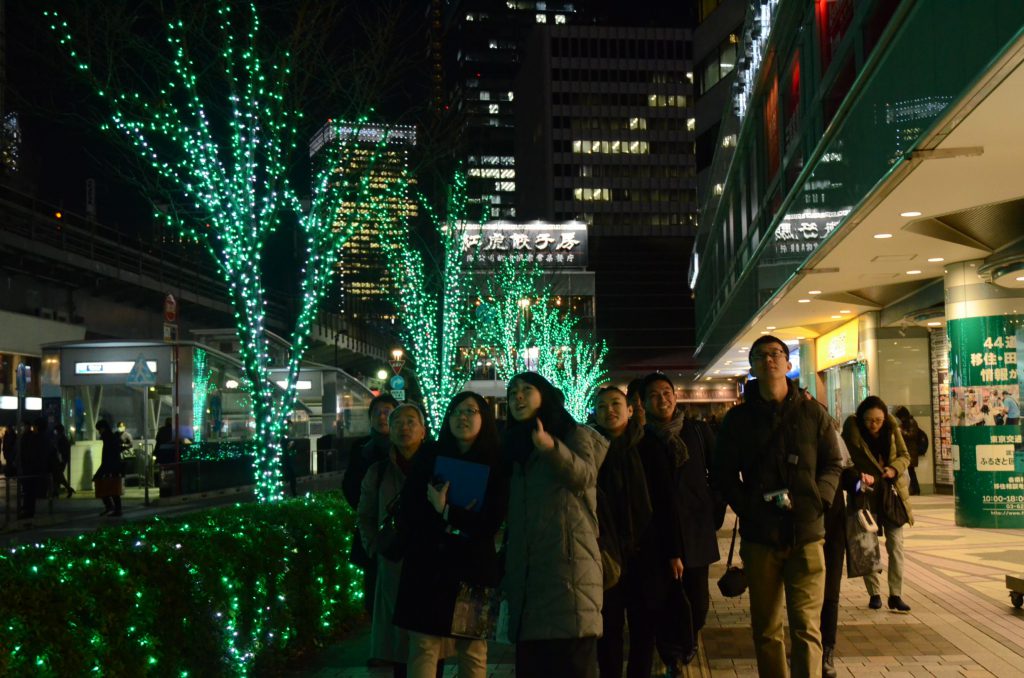 Green Christmas lights around Yurakucho station
Christmas light displays are now established as winter tradition. Every year, variety of tasteful light decorations beautifully color cities up. We look forward to it so much that even TV news broadcasts lighting ceremonies. We the Lighting Detectives have held all sorts of City Walks in the past, but somehow we haven't done ones that focused on holiday light displays, which is one of the biggest events that many people visit during winter. This time we finally had a City Walk event around Marunouchi and Roppongi districts to find out why people come to see winter light displays and if there were the villains of lighting.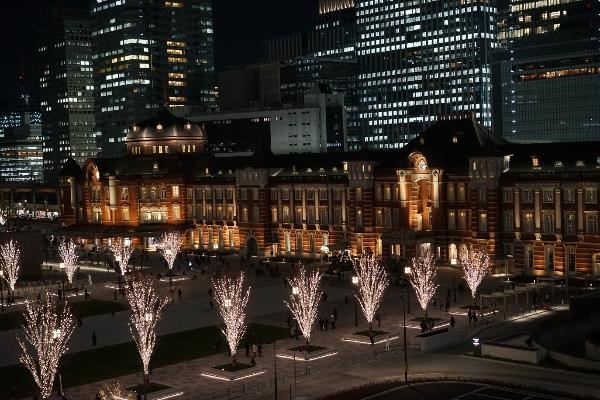 Winter light decorations at Tokyo station plaza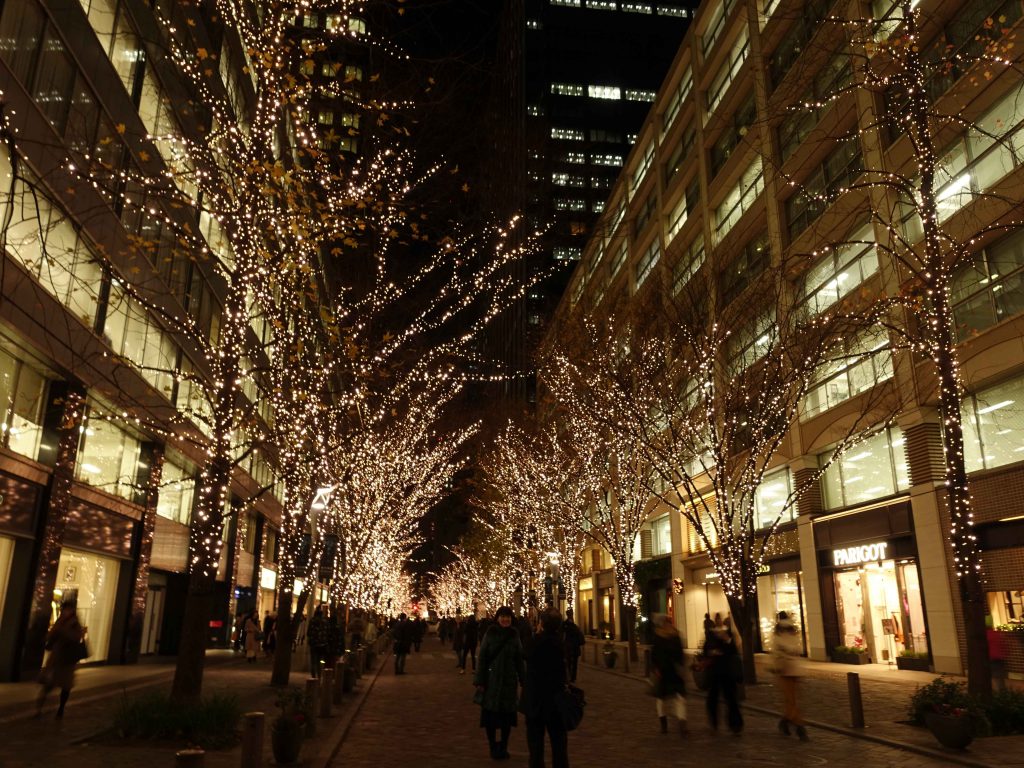 Marunouchi-Nakadori, themed with champagne gold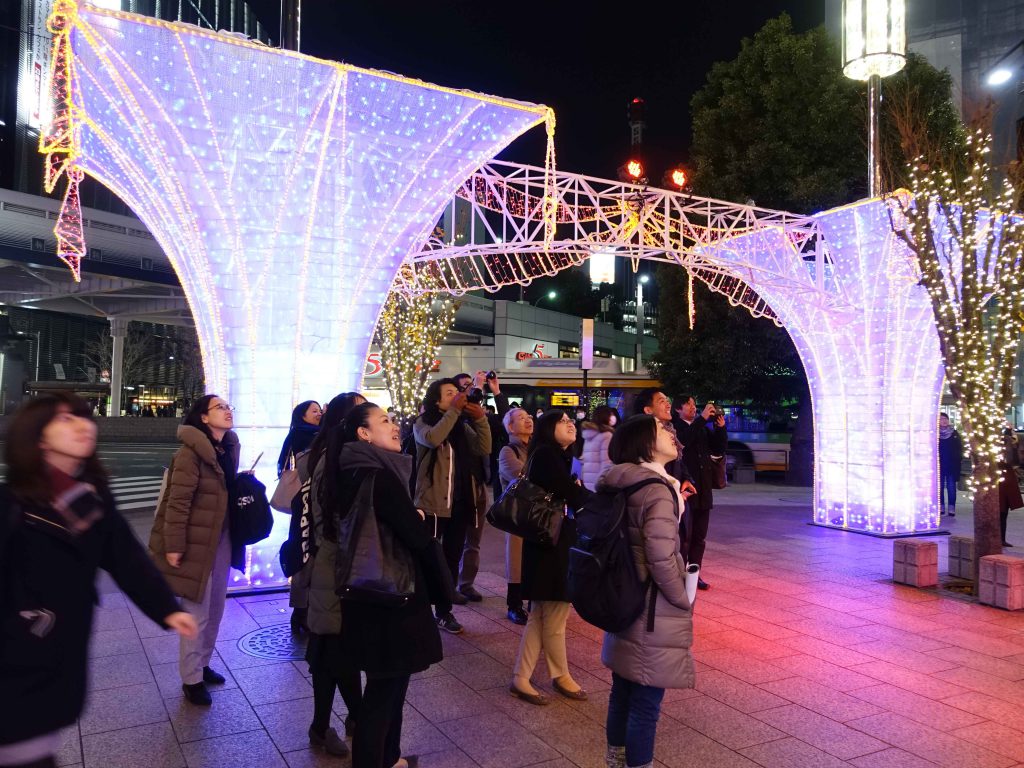 Existing street lamps utilized for the Christmas decorations
■ Group 1: Tokyo Station + Marunouchi area 
Group 1, composed of five team members with Mende leader, did a research about Christmas lights around the Tokyo station. We first went to Tokyo Station Marunouchi Square, and then Gyoko Dori, Marunouchi building and Shin-Marunouchi Building, Naka Dori, Tokyo International Forum, and ended with Yurakucho Station area.
In Marunouchi Square, Gyoko Dori and Naka Dori, there were over 200 of street trees decorated with champagne gold LEDs. Everyone listed them as "heroes" as those went really well with fancy and upscale high-end retail stores around Marunouchi area. Also the lights looked like they flickered when the trees were blowing in the wind and the branches partially hid and showed the tiny little bulbs. Some of us said it was amazing if it was all planned out.
Next we overlooked Tokyo station from the Marunouchi House terrace at the 7th floor of Shin Marunouchi Building. We felt it was quite nice to get relaxed and see winter light displays from top, comparing sophisticated Marunouchi side with coordinated low-color temperature lighting, with lively Yaesu side full of shops and buildings.
On the first floor of Marunouchi Building, there was an over 10m of huge Christmas tree, and a light show was held every 15 minutes. Some of us felt disappointed because the duration was too short even though there were a lot of audience waiting just to see the light show.
In Naka Dori and Mitsubishi Ichigokan, there were regular landscape lighting and seasonal holiday lights mixed up. Some of us thought it would be better to turn the regular lights off when seasonal winter lights were on. Around Yurakucho station, LUMINE had a photo spot, which seemed to encourage visitors to upload pictures on SNS. Different from the area around Tokyo station, light displays in this Yurakucho area were coordinated with green LEDs, to enhance its atmosphere for grownups. Some said it was nice and economical for a Disney-collaborated Christmas tree in front of Yurakucho station and light displays at Yurakucho Marion to utilize existing columns and pole lamps. While we researched the lighting environment from Tokyo station to Yurakucho station, I came to think that winter light decoration would become better if it was designed to match atmosphere of a neighborhood as well as to coordinate with existing luminaries.
(Yuriko Hagimoto)
■ Group 2: Tokyo Station + Marunouchi area 
Group 1 did a City Walk from Tokyo station to Yurakucho station as same as group 1. It was before Michi Terrace event, but there was a lot of people as the station square had just opened. A bus stop lit with high color temperature luminaries felt so awkward within the square, which was all harmoniously lit with warm colored lights. We wondered why they didn't match the color temperatures of these two. Also many of us named an advertisement board placed in Yaesu as a villain, which was boldly seen behind Marunouchi station building while overlooking from the terrace at Shin-Marunouchi Building. We felt that some regulations on advertisement signboards might be necessary if cities wanted to achieve a integrated atmosphere of a whole city.
Champagne gold winter light decorations in Marunouchi Nakadori were nice and calm, people were attracted by its warm atmosphere and gathered to see the decoration. Colorful ones were ok, but we also liked such integrity in single colored light displays. Recessed floor lights with unmatched color tempearature and unnecessarily angled spotlights that emited glares were named as the villains.
In the periphery of Yurakucho station, there were Christmas lights utilizing existing pole lamps and vivid red and green string light decorations, providing more colorful and lively feel than that around Tokyo station. We saw some red light ones that were too harsh to the eyes.
There are many types of holiday light installations that are site-specific and reflect local culture. I think this is why those displays can attract so many people. After this City Walk, I came to feel that it would be nicer to do something with existing light fixtures when you hold such holiday lighting events.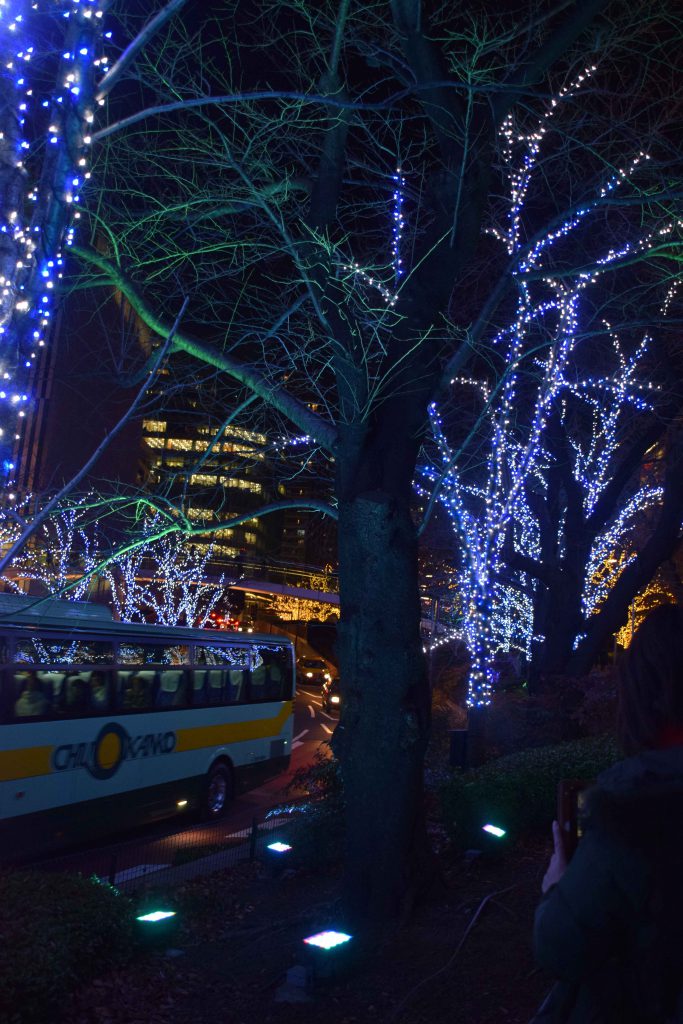 Illuminating a leafless tree with greenish light makes it look so spooky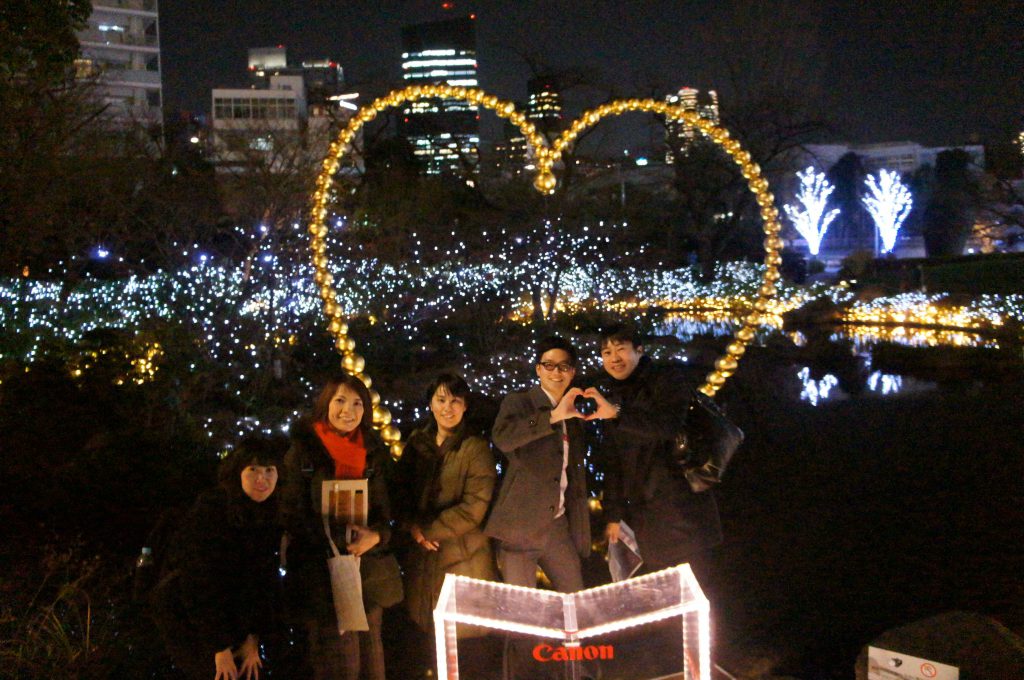 Instagrammable places are available everywhere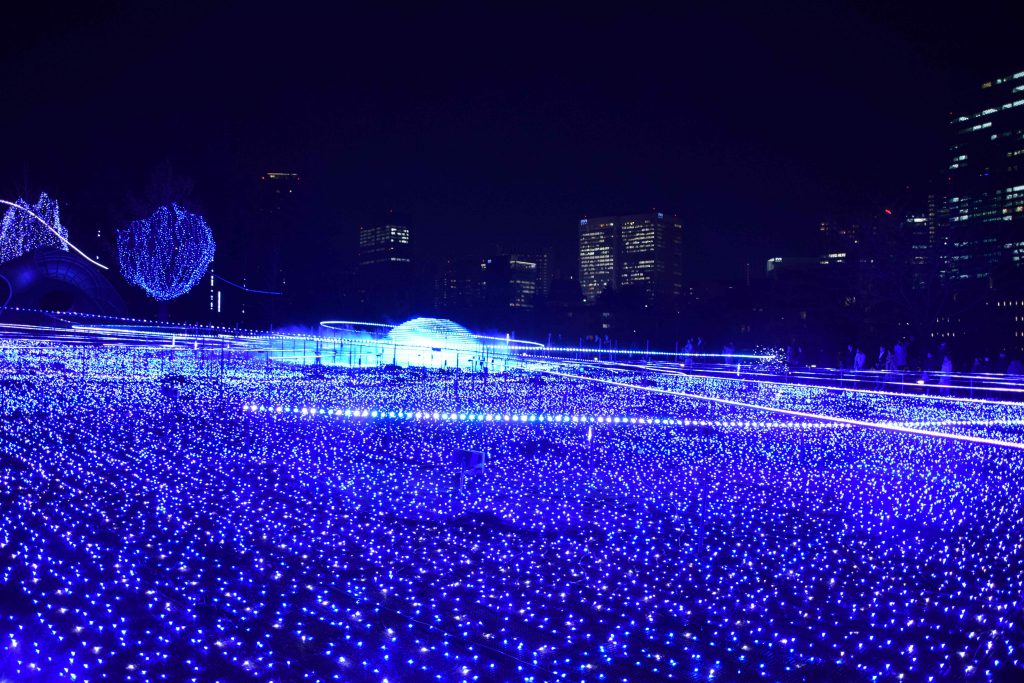 Christmas lights at the Grass Square in Tokyo Midtown, called "Starlight Garden"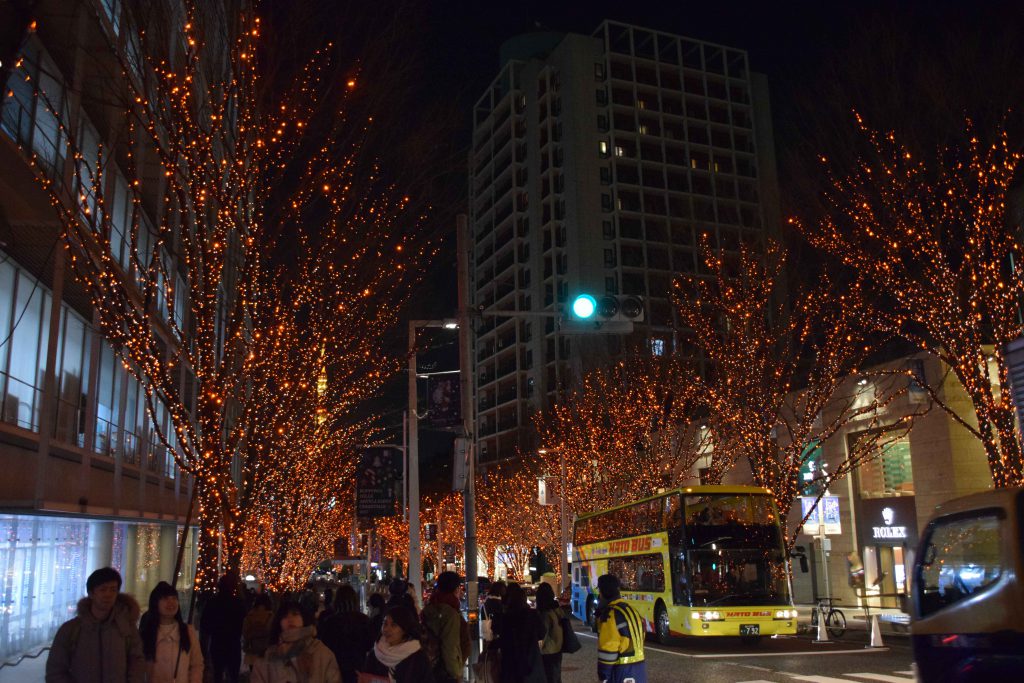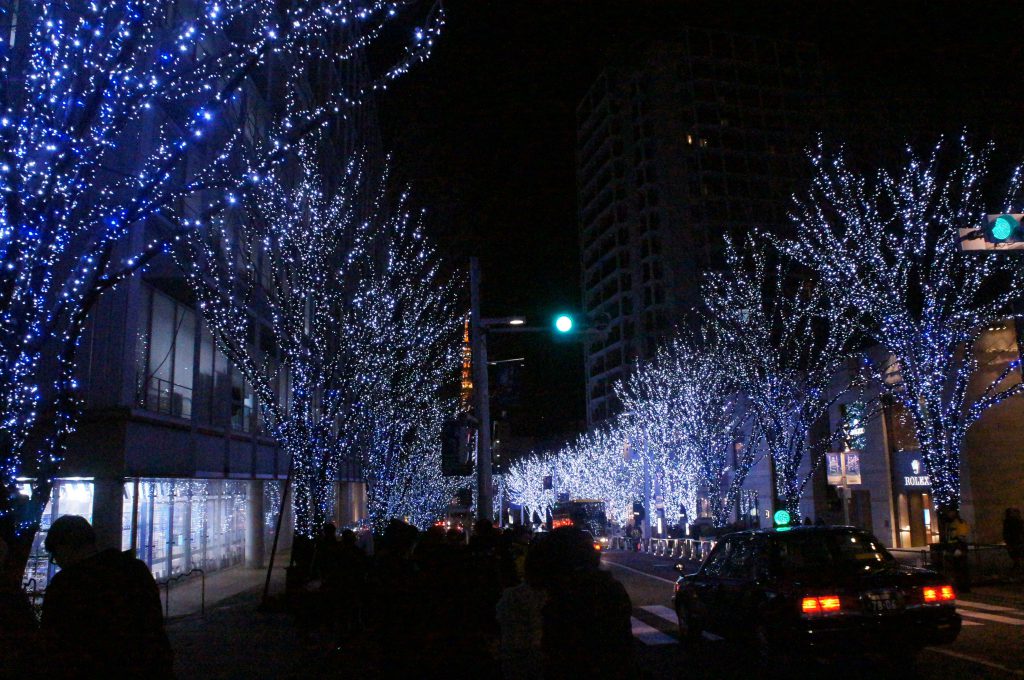 Christmas light display at Keyakizaka in Roppongi, which changes its color from red to white over time
■ Group 3: Roppongi District 
Winter light decoration is done in various forms all around Japan. Light display in Roppongi in particular is nicely scattered around so people can see and enjoy while moving. We the group 3 did a City Walk to visit around popular Christmas lights locations including Roppongi Hills and Tokyo Midtown.
Light installations at Keyakizaka-street near Roppongi Hills were programmed to change its colors alternately between white and red over time. It made the same street look so different and the transition itself was gorgeous and beautiful, so we recognized this as hero. We also had a discussion on either red or white was nicer and more impressive. I personally thought white won.
Illumination of the Keiyakisaka near Roppongi Hills is subject to change in color depending on time. Two kinds of light-up of white and red alternately changed, and it gave a voice as a hero because the appearance that the atmosphere changes garishly even in the same place was luxurious and beautiful. Within the group there was debate as to which of white and red are more heroes. I felt white was more like a hero.
In Tokyo Midtown, there was a colorful light display event. On a passage leading to the Grass Garden, there were variety of light installations – such as starry trees decorated with LED string lights and tree branches decorated to make them look like wine glasses – that all amused us walking down a street.
However, we named a spotlight for plants as a villain as it unintentionally lit up no-LEDs tree branches.
At Snoopy Museum, there was a light display to make Snoopy look like it moved. As it was in a quiet residential area, light decorations were placed only inside the building to prevent light from leaking outside the museum site and from generating "light pollution".
We were walking down a quiet residential neighborhood after visiting the museum. Seeing a side road, I happened to find gentle and pleasant light of Tokyo Tower. I realized that not only the special light decorations but also this everyday lightscape was also relaxing and beautiful.
We've seen a variety of ideas on holiday light displays in Roppongi. I think people enjoy those season-specific light installations to find awes in everyday context, which now portrayed completely different with lighting design. Those who find peacefulness in everyday lights, like the gently lit-up Tokyo Tower, can get fascinated with the glittering and beautiful special winter light displays. (Daisuke Miura)
■ Group 4: Roppongi
Group 4 walked around Roppongi together with Group 3. In Roppongi Hills, where we first headed to, there was a Christmas tree formed of filaments simulating candle lights. It was a favorably rated that the filaments lamps flickered and disappeared like a candle frames. However, in a car exhibition space in a Christmas market, spotlights that intended to illuminate a car itself failed to do so, and the light sources instead become glares to passersby, which we considered as a villain.
In Keyakizaka Dori that we headed to next, street tree light decorations were designed to change their colors into white and red orange depending on time. Especially when glowing in red orange, there were many of us said it made them feel warm in the cold winter. So we listed it as hero.
Next we headed to the Mouri Garden. We name light decorating low-hight trees as hero as it was reflected on a pond in the garden to add a depth to the landscape.
We also stopped by Snoopy Museum for a change. Every one of us was expecting to meet cutie Snoopy, but what was waiting us was evil Snoopy. Illuminating a large-scale Snoopy figure up from the bottom makes its mouth bright but cast shadows around the eyes and dark, which ended up with an evil Snoopy who's about to play a trick.
In Tokyo Midtown, where we visit at last, there were holiday lights displays that decorated trees with pink colored lights. We listed them as heroes as the soft light color, created by putting caps on light sources to reduce brightness, was reminiscent of cherry blossoms.
Roppongi is surrounded by buildings and gives an artificial feel during daytime, but it wears lit-up makeup which provides humanized impression at night. I think people come and see winter lights to ease their minds and to look for a special seasonal experience. (Sho Kato)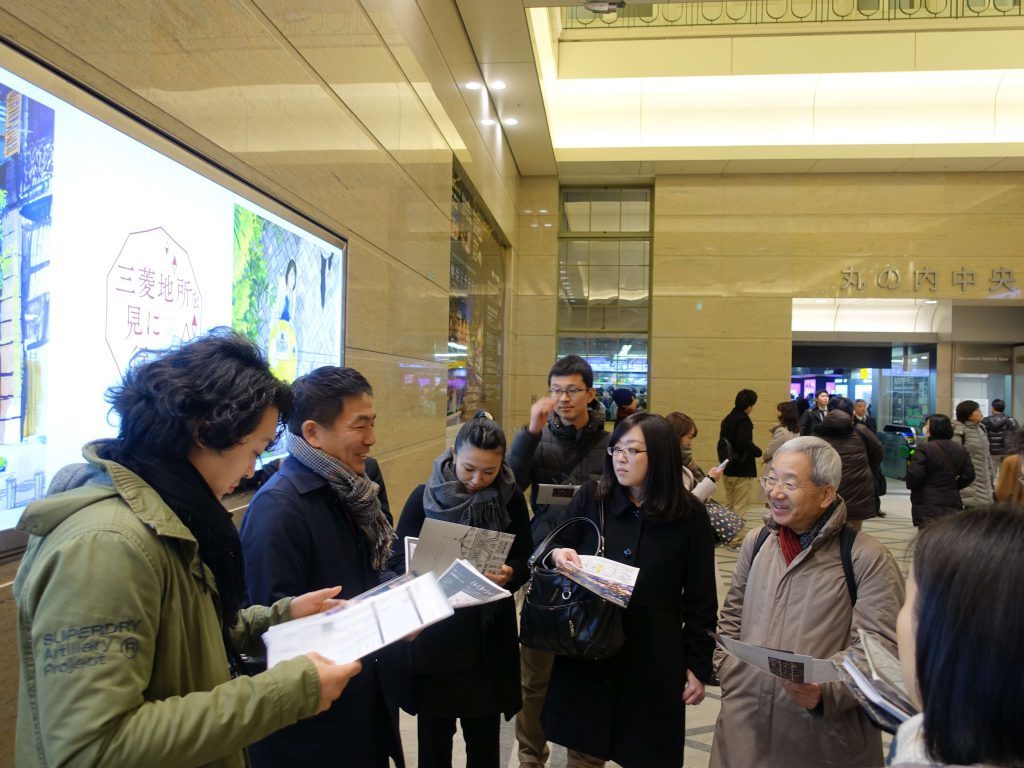 Detective members listening to the purport of the Night Walk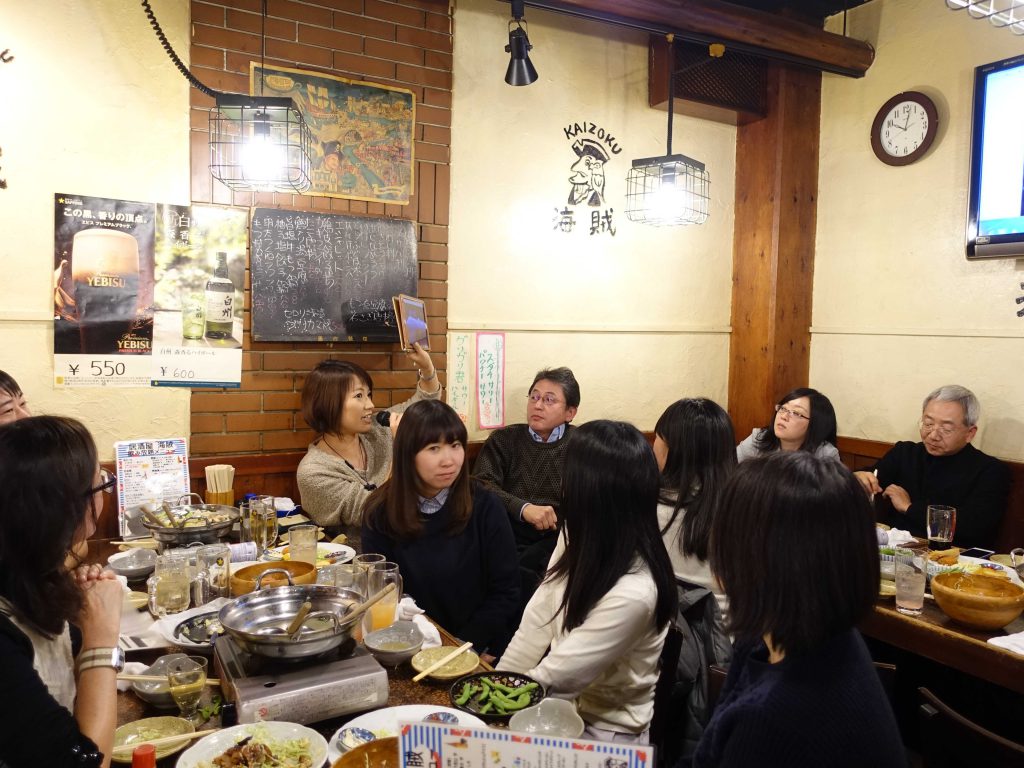 Exchanging ideas at Konshin-kai, the after-event socializing party
---