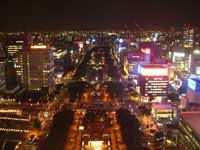 Looking over the Nagoya nightscape from the symbolic Television Broadcasting Tower, Hisaya Boulevard stands out in the center and orange sodium lamps dominate the park below.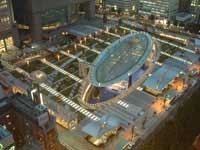 The new trendy spot in Nagoya, Oasis 21, along Hisaya Boulevard. We climbed up the Television Broadcasting Tower before dusk so we could sit back and watch nature's light show over the city with Oasis 21 in the foreground. Various mechanisms of light are incorporated into the design of Oasis 21, a former LPA project and winner of IESNA 2003 Award of Merit.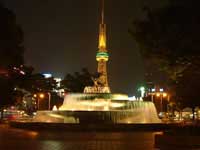 One characteristic of Hisaya Boulevard nightscape is that the scenery always includes the Television Broadcasting Tower. Whether from the illuminated water fountain, Central Bridge, Central Park, or Oasis 21 all are framed just like a picture postcard with the Tower in the background.