Nagasaki is said to be a melting pot of cultures and people, this also describes its city lighting plan. The city is rainbow colored, with streetlights illuminating white light one moment, orange the next, and green the next from all different types of poles and light fixtures. Lighting is predominantly for street surfaces, but another feature of the Nagasaki nightscape is the illumination of many historical buildings including churches, bridges, and the old trading post.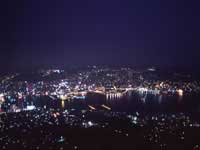 Formed in the hills sloping towards Nagasaki bay, the City of Nagasaki as seen from Mt. Inasa. The faint lights dotting the hills are the many lanterns along the numerous stairways and slopes leading up the hillside.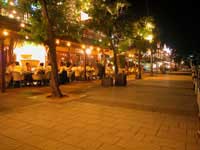 A hot nightspot along Nagasaki bay, Nagasaki Dejima Wharf attracts many after hour visitors looking for a late dinner or drink. The cool breeze from the bay and warm light from the many outdoor restaurants provide a relaxing atmosphere on hot summer nights.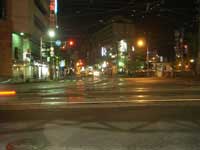 The network of cars, streetcars, and pedestrians connect at the busy intersection of Tsukimachi Avenue and Kanko Avenue in downtown Nagasaki. But, as the shops close and the city shutsdown for the night, streetlights specific for road surfaces are the main light source remaining.