Kichijoji is an area of Tokyo where a variety of elements are compressed together to create this unique neighborhood. However, even though it seems to be a mixture of "stuff" the area is well planned and organized. Public and private organizations have aggressively worked together in city planning and we surveyed the area to discover what kind of lighting environment or rules they have advised. Starting on the north side of the station, a commercial area, we then moved to the south side of the station and Inogashira Park and the alleyways that connect the park and station.
North Side of the Station

The lighting along the covered arcade shopping streets, Sun Road and Diamond Street, are LEDs, creating a modern atmosphere, but down some of the narrower alleyways, like Harmonic Alley, the lighting is retro for an exciting nightly stroll.
Park Street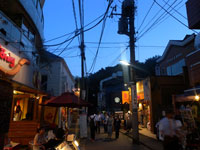 The main street from the station to Inogashira Park is a narrow 3-meter wide street lined with small cafes, bars, and recycled clothing and nick-nack shops. Restaurant and shop lighting is a warm 3000k for a comfortable atmosphere, but most street lighting spills out from the entrance to these restaurants and shops. Once they are closed for the night the street is very dark.
Inogashira Park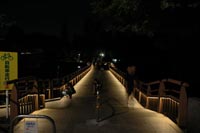 Equip with solor panels, tall metal halide streetlights record 331lx inside the park. However, the average lux level inside the park is about 30lx. The streetlights are too bright, and ruin any natural atmosphere the park is trying to create.