Date of issued:Mar.13, 2018
・Activity 1/World City Survey: in Copenhagen/Stockholm(2017/12/02-12/09)
・Activity 2/The 59th City Night Walk :Tokyo Illumination(2017/12/20)
Worldwide City Lighting Report in Copenhagen / Stockholm
December 2-9, 2017 | Written by: Hu Lin and Simeng Huang
Located in high latitudes on the Northern Hemisphere, northern European countries including Norway, Sweden, Finland, and Denmark are known to be very unique in terms of the seasonal natural phenomena – the midnight sun during the summer, and the polar night during winter. In this December, we went to some of the cities experiencing the polar night during winter to research lighting environment. Considering extremely long night hours can affect circadian rhythm, are city lighting and residential lighting in those countries designed to eliminate the problem? In this trip we closely looked at the light environment that are unique to Northern Europe, gained through observation of public facilities and residential lighting. Here is the research results.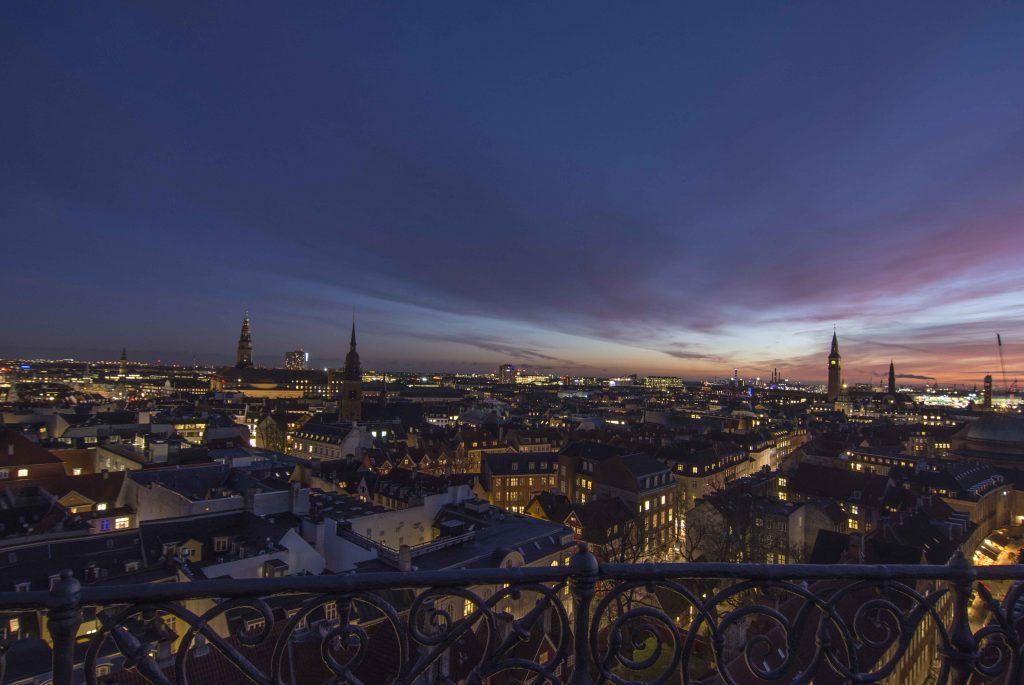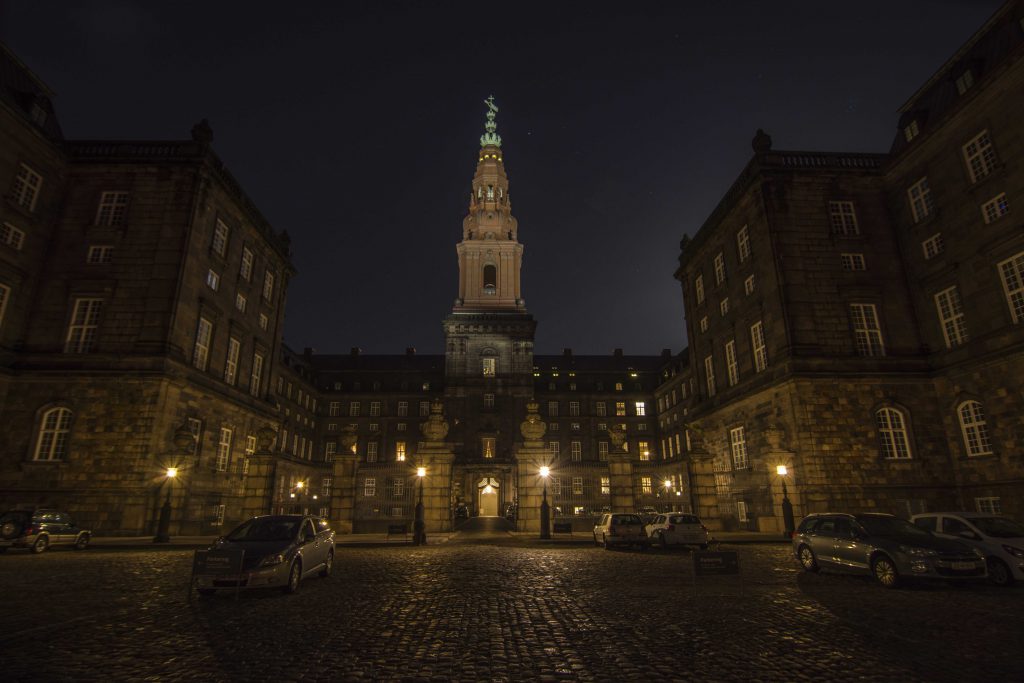 Christiansborg Palace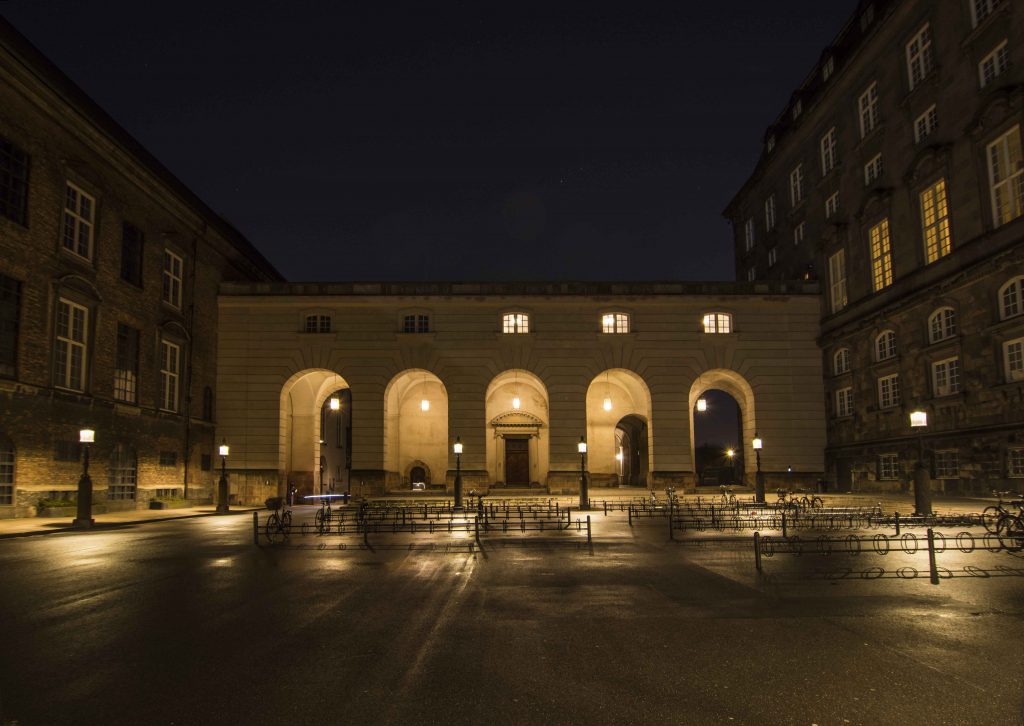 Pole lamps at bicycle parking outside the Danish Parliament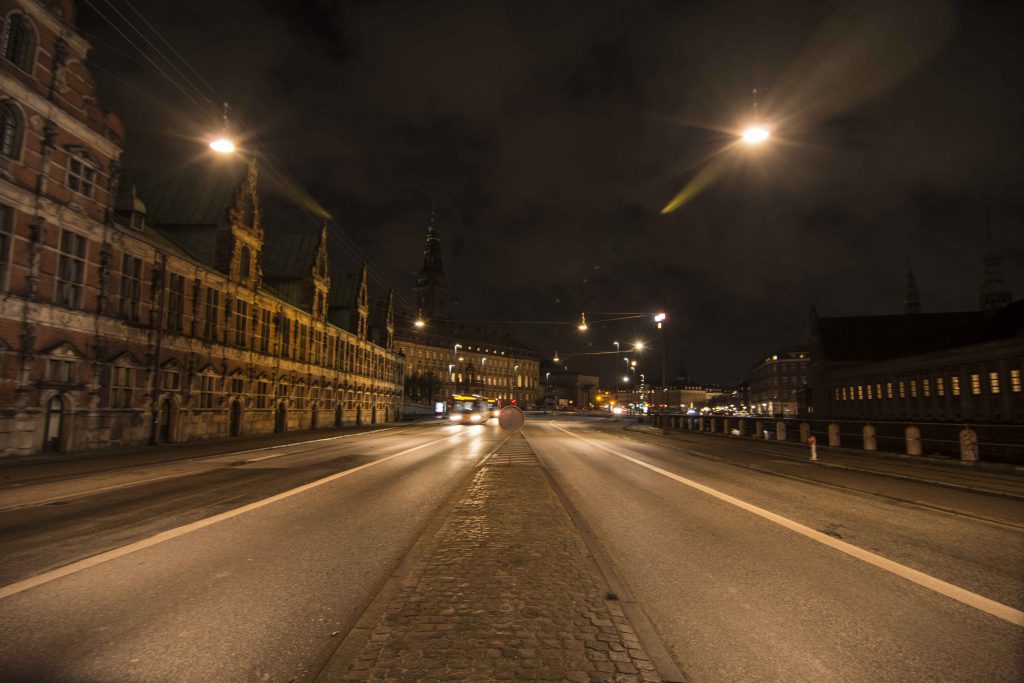 Catenary lighting illuminating the roadway
■Copenhagen, Denmark
In Copenhagen, the capital of Denmark, classic design and contemporary design co-exist, each divides the city into visually distinctive areas. An area across a canal is on a new development with various kinds of new buildings are being constructed. If you walk in this city, you will feel the history of Copenhagen and be convinced how this city takes creative culture so important.
■Classical Lighting
Copenhagen is a city where you can feel its history reflected upon the classical architectural design and how they use light. The city is really dimmed; unlike cities in Asia like China and Japan, the whole city of Copenhagen is planned with warm temperature lighting. You will barely see the familiar bluish white light here. Catenary lighting is employed as street lamps. Although you see some glares from the fixtures, it is an efficient lighting method. Gentle light flowing through residential windows enhance overall façade lighting city-wide. Regular street lamps, approximately 11-meter tall, are placed on intersections.
When I walked down a main street, I found Børsen (Danish for "Exchange"), the Old Stock Exchange built in 1618 – 1624, one of the oldest buildings in Copenhagen and is owned by an individual since 1857. I first thought it would be better to add some facade lighting onto the historical architecture, whose long brick walls face the street, but I walked up and looked closely to notice that the façade was actually lit very, very subtly. Poles were placed on the opposite side of road in front of the building, holding some façade light fixtures and wires for catenary lighting. The brick façade was illuminated from 27 meters away by using two types of fluorescent lamps. Its vertical illuminance was 3-30 lux and the color temperature was 2400 – 3500k. Depending on a context, this sort of subtle lighting treatment may look better than bold and complex façade lighting that I thought was familiar to.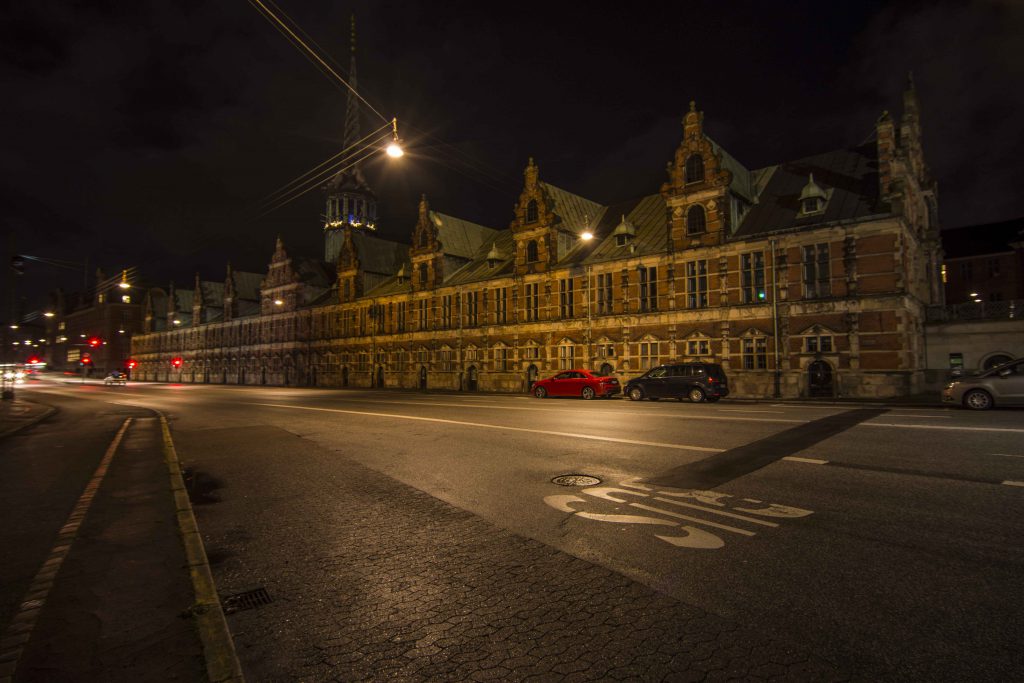 Facade lighting at the Old Stock Exchange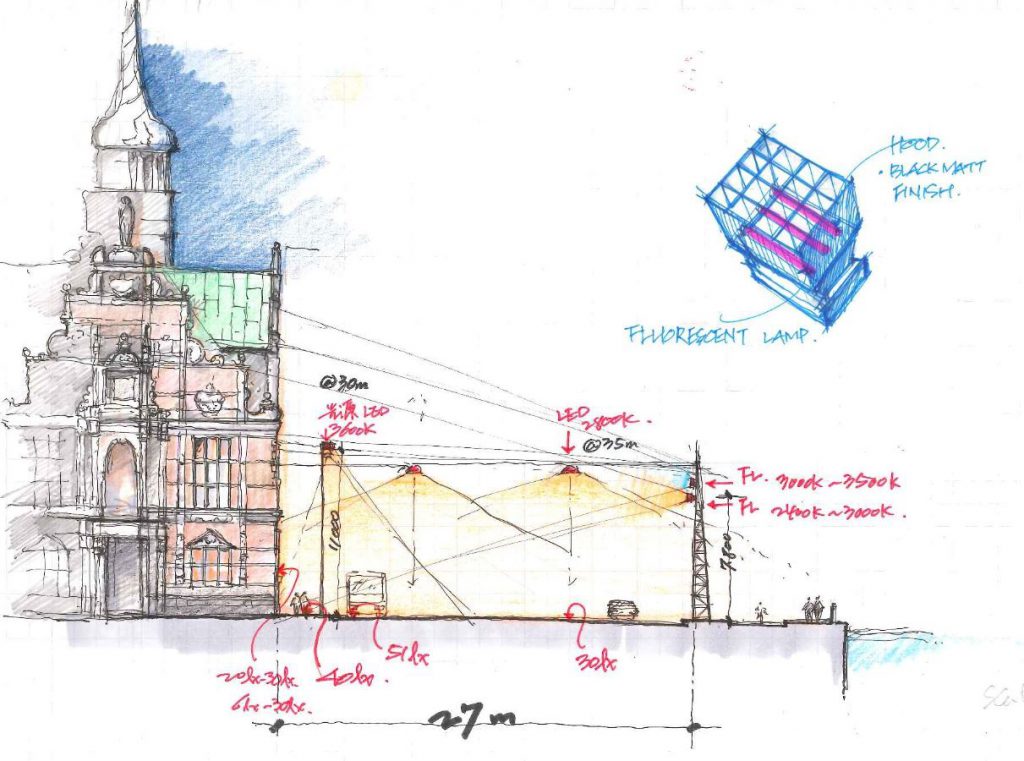 ---
■Lighting observation in the shopping district
Catenary lighting was the main luminaire chosen in the shopping district as well, creating a calm street ambience. What impressed me the most was that I could barely found the glittery back-lit commercial signage that we can find a lot in Asia. In Copenhagen, store signage was mainly lit by indirect lighting and uprights. It seemed that people utilized shop windows more to "sell" their businesses than the signages. The catenary lighting in the shopping district uses 3000k LED light sources, with 15 lux average illuminance on street, 30 lux right under the luminaire. It was quite impressive to see all sorts of shopping outlets could together create such a perfect uniformity in lighting and be harmonized in a shopping district.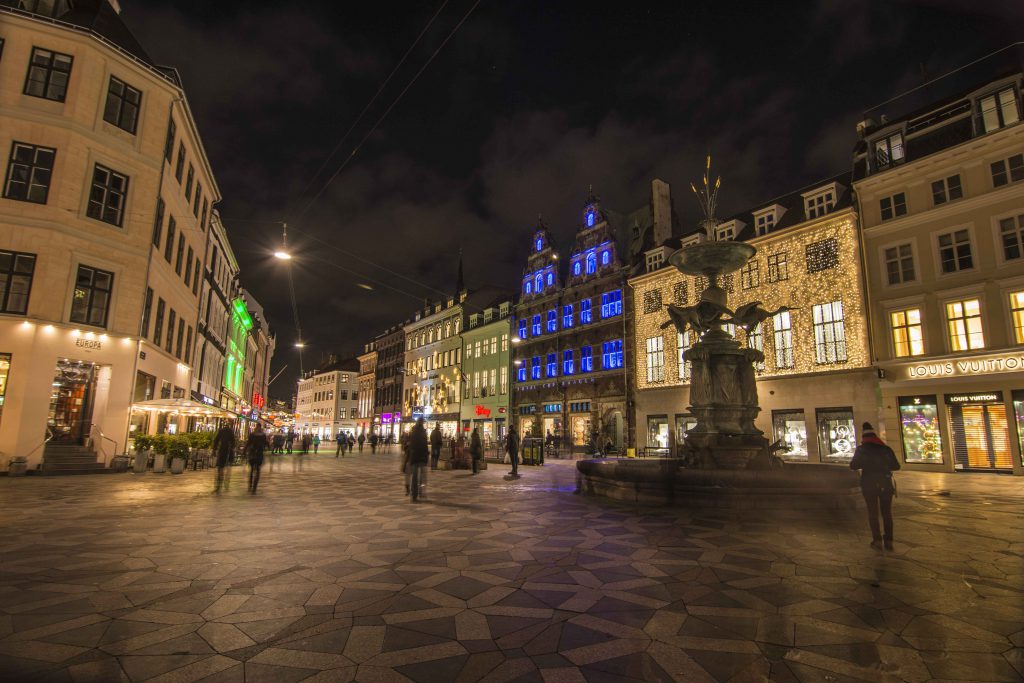 Shopping district connecting the City Hall and Kongens Nytorv
■Lighting in the Fairytale Kingdom
Built in 1843, the Tivoli Gardens colors the long-hour winter nights in Copenhagen. Winter lights during night-hours in the Gardens was a good surprise to me. They had a pretty decorative lighting design, yet it wasn't too much at all. As I walked in through a main entrance, I felt like I entered a light forest and as if I was took to a different world. Unique amusement park rides at Tivoli Gaardens were lit by RBG lighting fixtures, all kept at low color temperature light sources approximately in 2400k. Besides their lighting show, there were also some fantastic lighting installations that coordinated with music and water fountain. It is no exaggeration to say that the lighting design in Tivoli Gardens should become the standard of designing amusement park lighting.
The best thing that's worth to mention is that low color temperature luminaires occupy 90% of the light fixtures in Copenhagen to preserve the city's historical atmosphere, which has been composed of traditional light sources including candles, gas lamps and incandescent lamps.
The capital in Denmark, ranked as #1 in World Happiness Index, has a long history. The history and culture of the city is well preserved and reflected in everyday life, and the people seem to enjoy their lives in such a warm environment. (Hu Lin)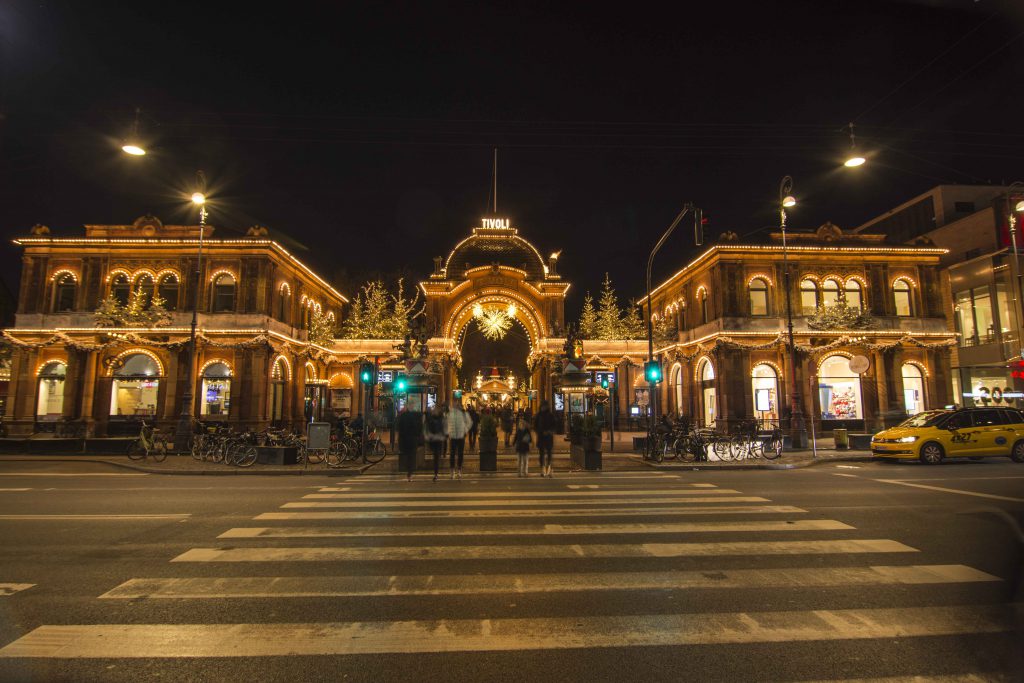 The main entrance to Tivoli Gardens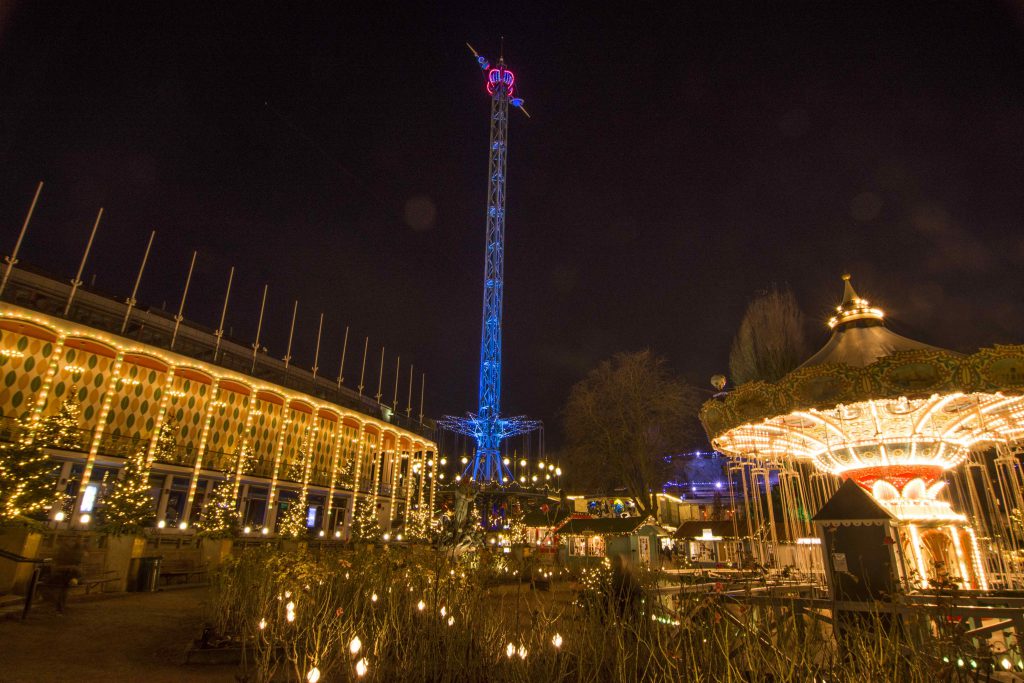 Carousel at Tivoli Gardens
---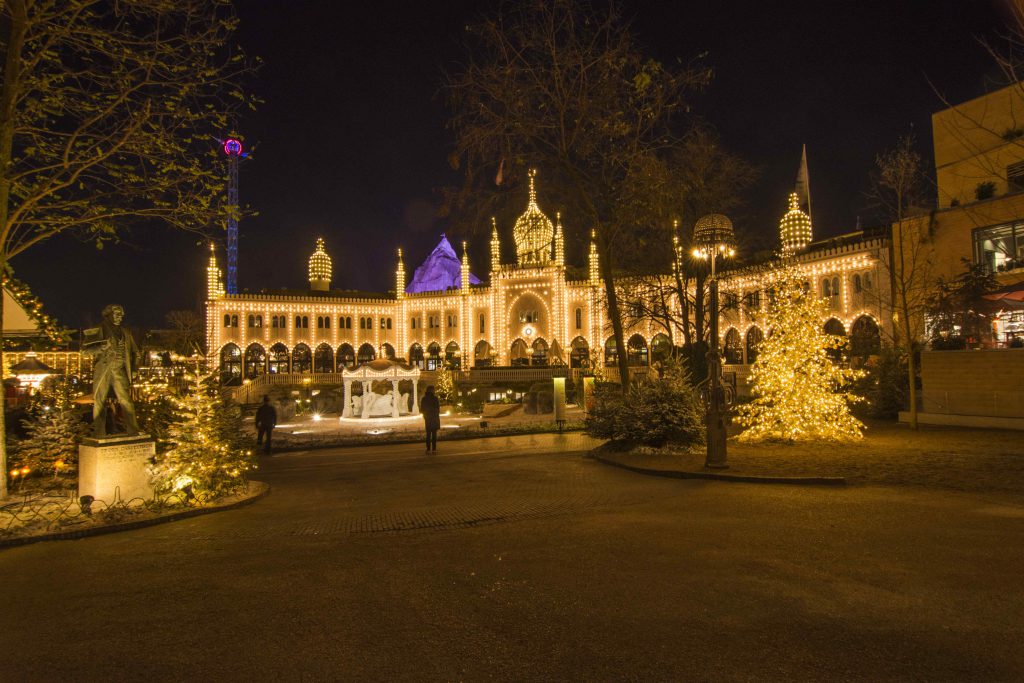 The main square at Tivoli Gardens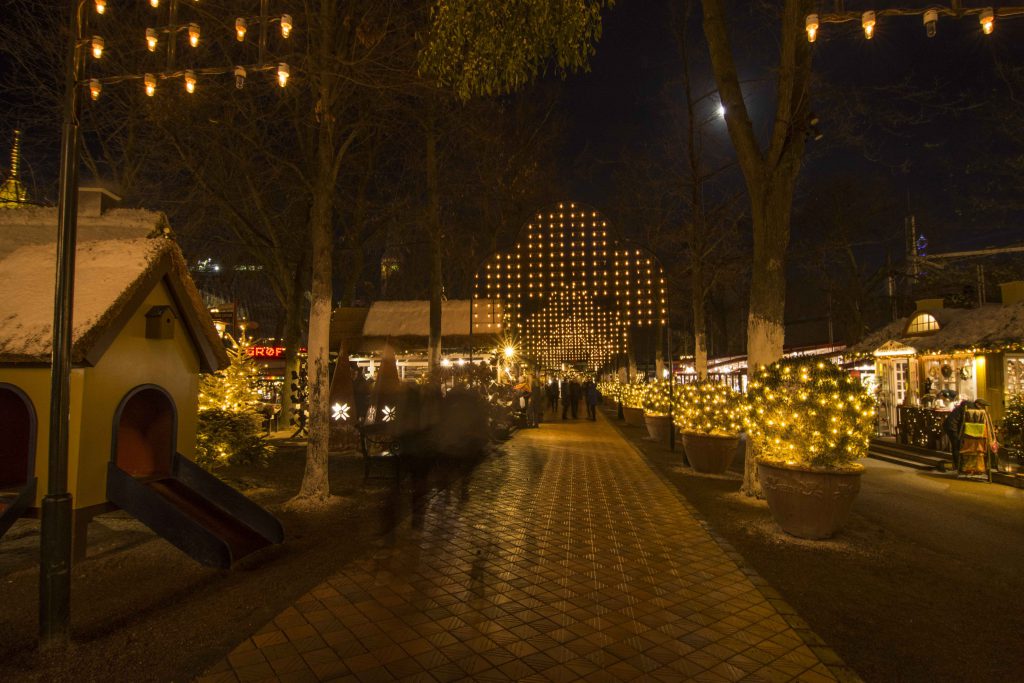 A pathway at Tivoli Gardens
---
■ Stockholm, Sweden
The city of Stockholm, which consists of 14 islands and over 50 bridges, is particularly concerned with waterfront landscape. There is no lighting applied onto outer walls facing the water. With the sky on background dyed in dark blue, uniformed warm-colored light seen through neighboring windows creates a rhythm in a horizontal line. Emitting sparkly orange light, pole lamps decorate the city like a stardust. The light reflected on the water, also in warm color but with slightly varied hues and strengths, creates an exquisite gradation. Although it was during Christmas season in December, there was no holiday lights nor colored lighting decoration. Even a big holiday tree had just a single hue of white light, though the illuminance level was high at least.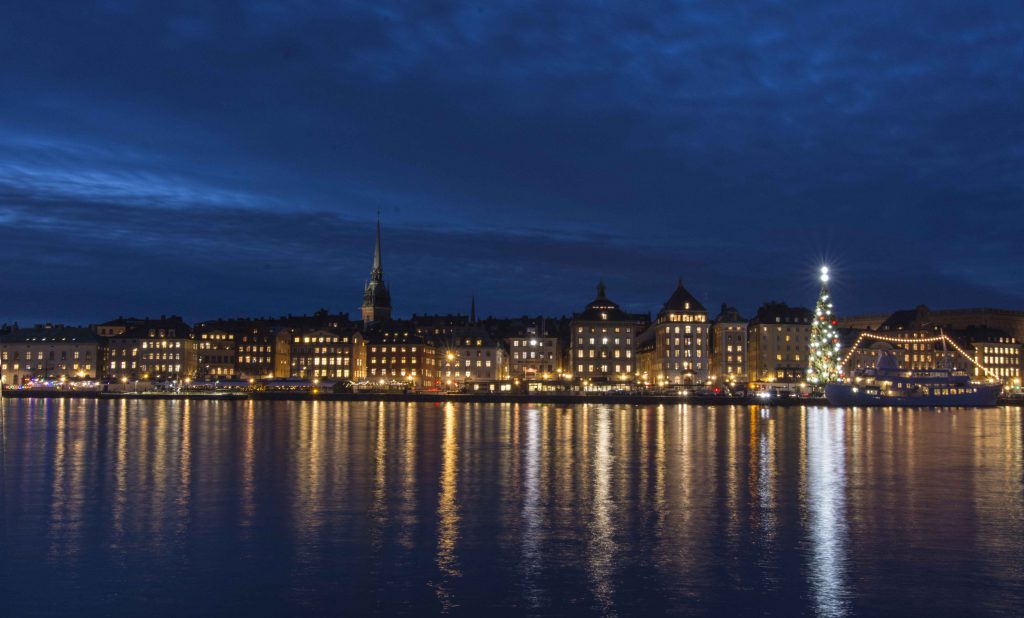 Waterfront view of Gamla Stan at night
■ Calm and dimmed cityscape
For those who live in Japan with a lot of white security lights, the city of Stockholm may feel very dark. The greatest cause of the dimmed feel lies in the difference in color of luminaires. Shapes of lighting fixtures may vary, but the color temperature of most light sources is set at 2700K even in major roads and parks in Stockholm. As a result, the whole city gains a calm and restful atmosphere. Taking the Royal Park and its surroundings as examples, on an east side road, which leads to a bridge connecting Normalm and Gamla Stan, there are 2700K light poles being placed every 19 meters just on one side of a street. On the other side of the street, only approximately three meters high multi-directional light poles were installed, presumably because there was enough light level given by the light leaking out from buildings lined up facing the street. Still, you have got 8 – 20 lux on sidewalk and 30 lux on road so there is enough illuminance. Some street light poles were designed to incorporate uplights that illuminated trees and spotlights that light facade up on the other side of the street.
The light level inside of the Royal Park was 1- 5 lux, but on the sidewalk it was about 10 lux, so I didn't feel it's unsafe nor dangerous to walk. At the time of the research, a skating rink was set up in a plaza, which was lit with eye-catching purple colored light. Light poles were used here, but in general, I've seen catenary lighting in most of streets in Stockholm like Copenhagen. By eliminating supporting poles, not only it makes streetscape appear less noisy, but it also enables light sources to illuminate road surface efficiently from up in the middle of the streets. There were also some catenary lighting design that incorporate indirect lighting.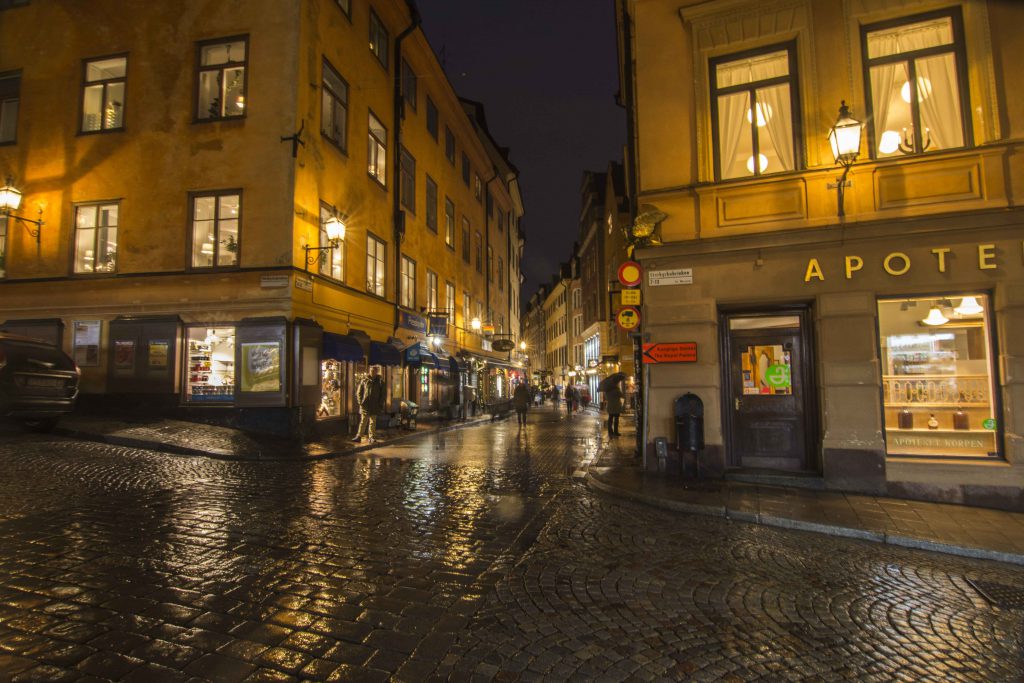 Cobblestone streets in the Old Town, Gamla Stan. Instead of light poles, lanterns are mounted on architectural facade.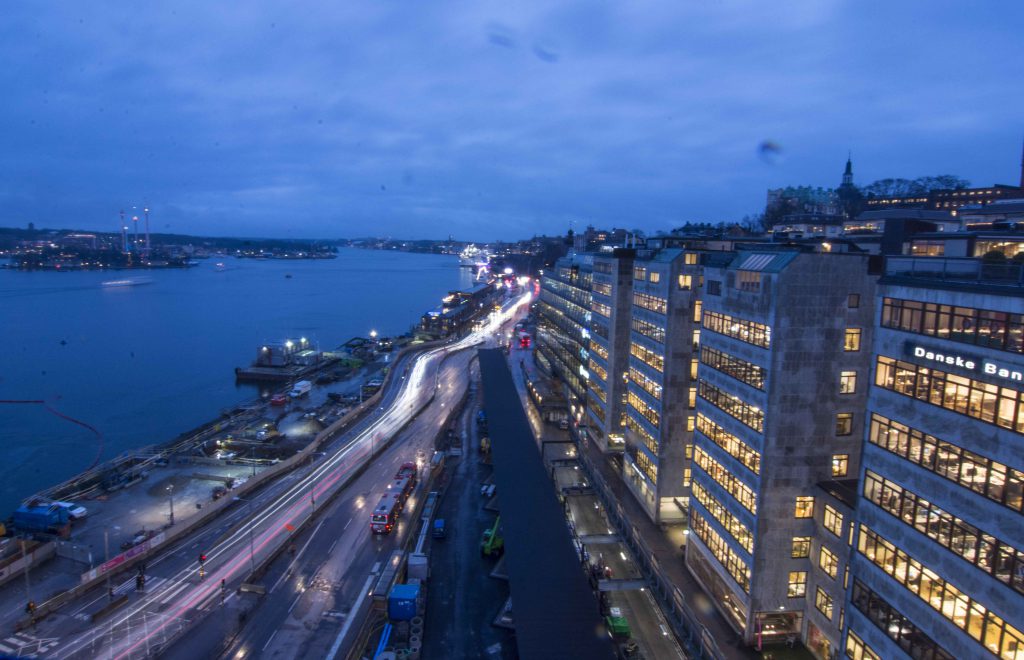 Waterfront office buildings in Södermalm.
---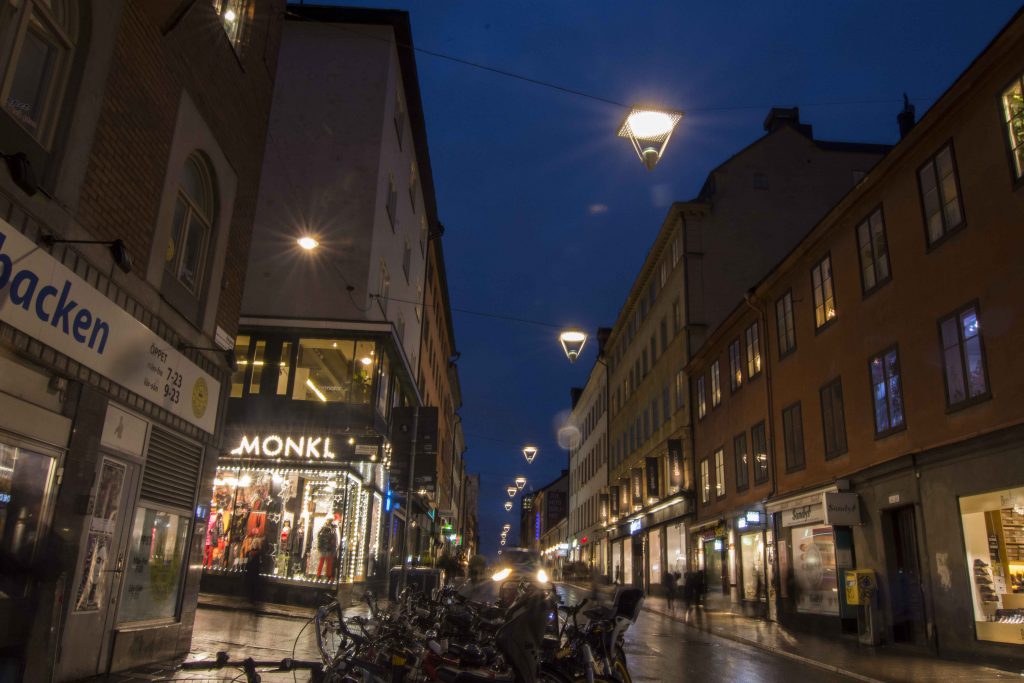 Indirect catenary lighting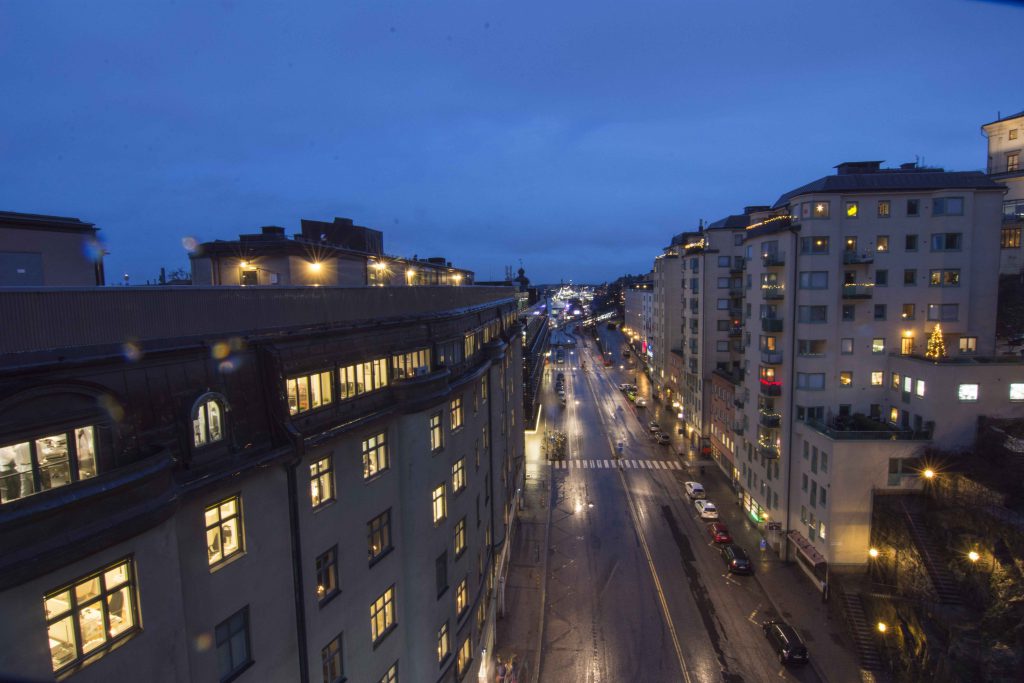 Catenary lighting that illuminates the middle of the road
---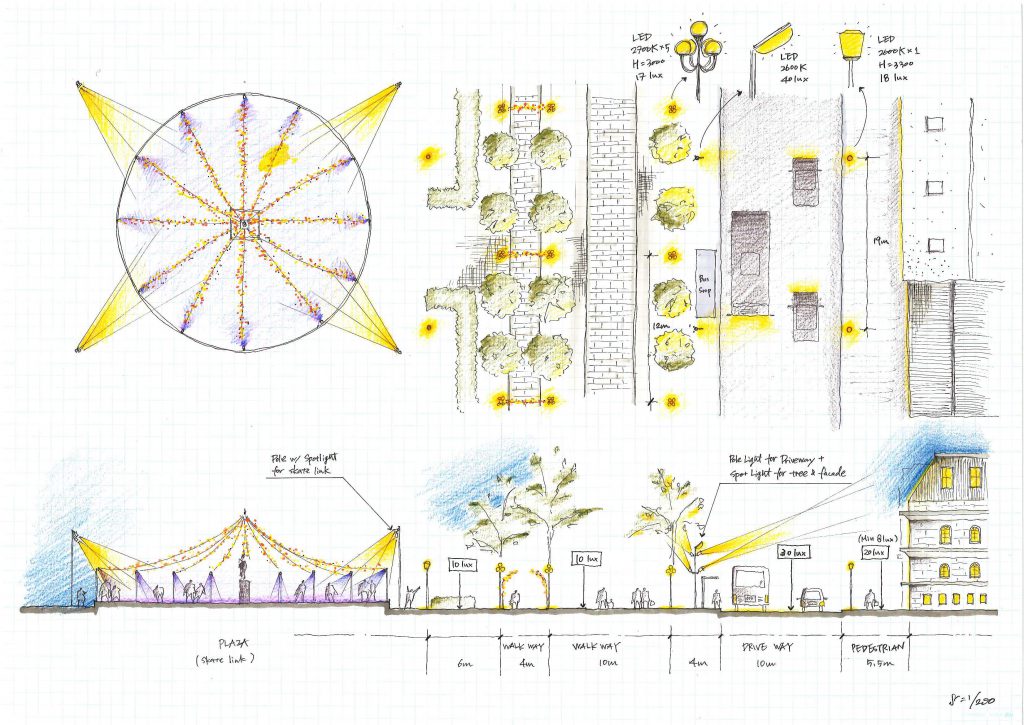 Hand-sketch showing lighting elements in Royal Park and the east side main street
■ Residential Lighting
Light closest to our daily lives is the light found in private houses. When I was walking down the street in the city of Stockholm, I noticed that all the lighting that were seen through the residential windows were warm colored lights, and there were many floor lamps seen by the windows.
This time, we got an opportunity to see inside a private house where one of our Lighting Detective members lived in. There, instead of illuminating rooms with flush-mount ceiling lamps, there were pendant lamps, floor lamps, and table lamps doing the job within a house for a family of four, including two kids in elementary school. I was surprised to know that even kids were particular about lighting, as there were DIY-ed ornament lighting and an indirect lighting behind the bookshelf in the children's room. All the lighting in the house were warm colored ones. It was relatively dimmed, but they said it was the very standard as a living environment for regular families.
I've seen a study report that says the way people sense brightness depends on light environment that they grew up. Children in Northern Europe, indeed, develop their tolerance to darkness while they live in a low illumination environment. In Japan, on the other hand, there are still a lot of houses with the "one luminaire per room", which makes Japanese people feel awkward living in a dark environment after they grew up. I realized that getting used to the dark environment from an early stage in lives would develop a sense of light that doesn't demand excessive brightness.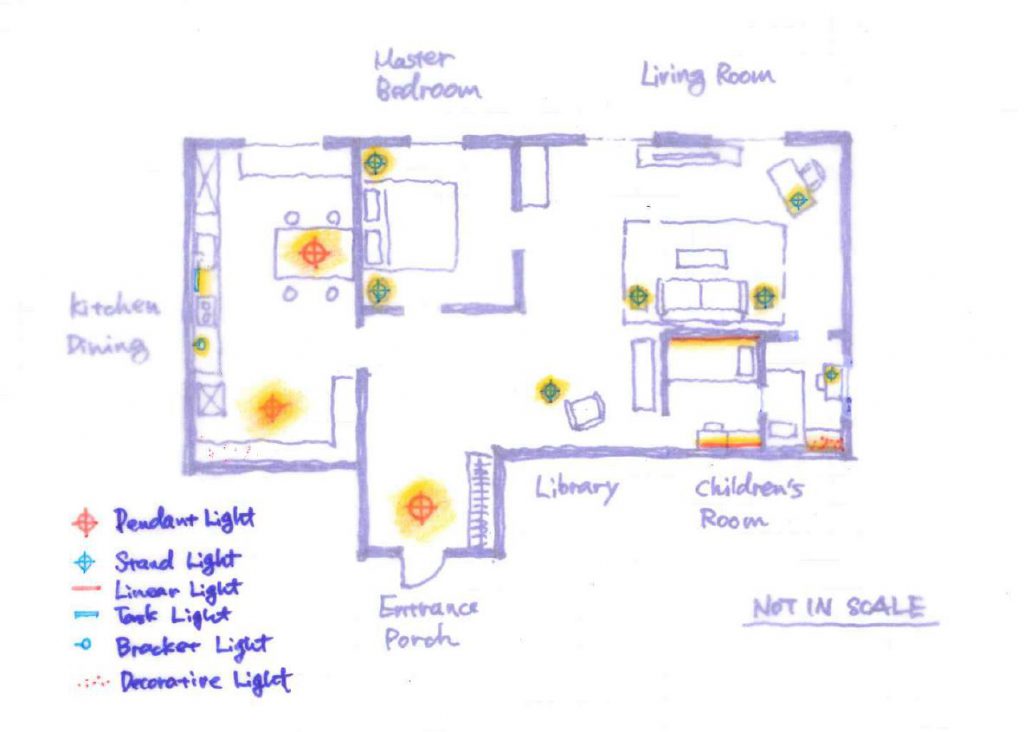 There are table lamps placed at where those need to be. They say the family is super picky about the designs of lamps.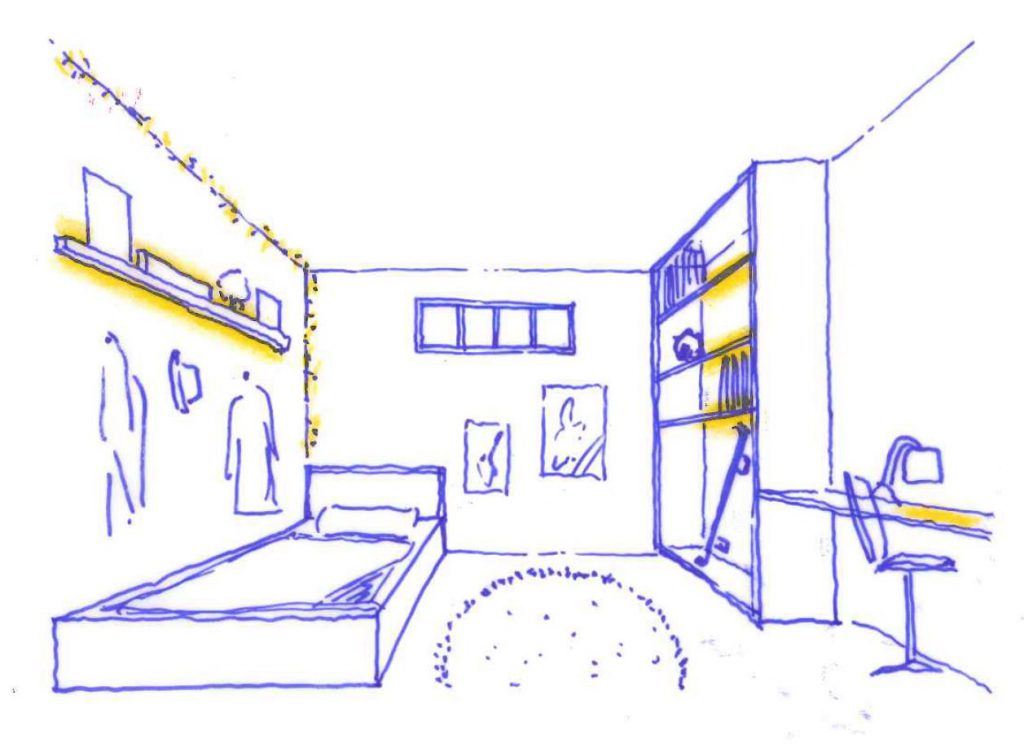 Children's room is lit only by DIY-ed indirect lighting. Tiny window makes the room really dark, but the kids told me that wasn't really disturbing.
---
■The longest museum in the world
Subway stations in Stockholm are like art galleries. Different artist is assigned to each station to design by their own according to a theme. Unique light installations were available, including the color shadow at the Central station underground and neon tube installation at the RADHUSET station. In a series of works that are inspired by cave, uniformity is obtained by applying a same illumination technique and color temperature. I thought it was a great idea to amuse their users by revitalizing and transforming formerly monotonous and cold subway stations into ones full of personalities. I might not be the only one who's eager to come back to Stockholm again to visit all the stations of the longest museum in the world.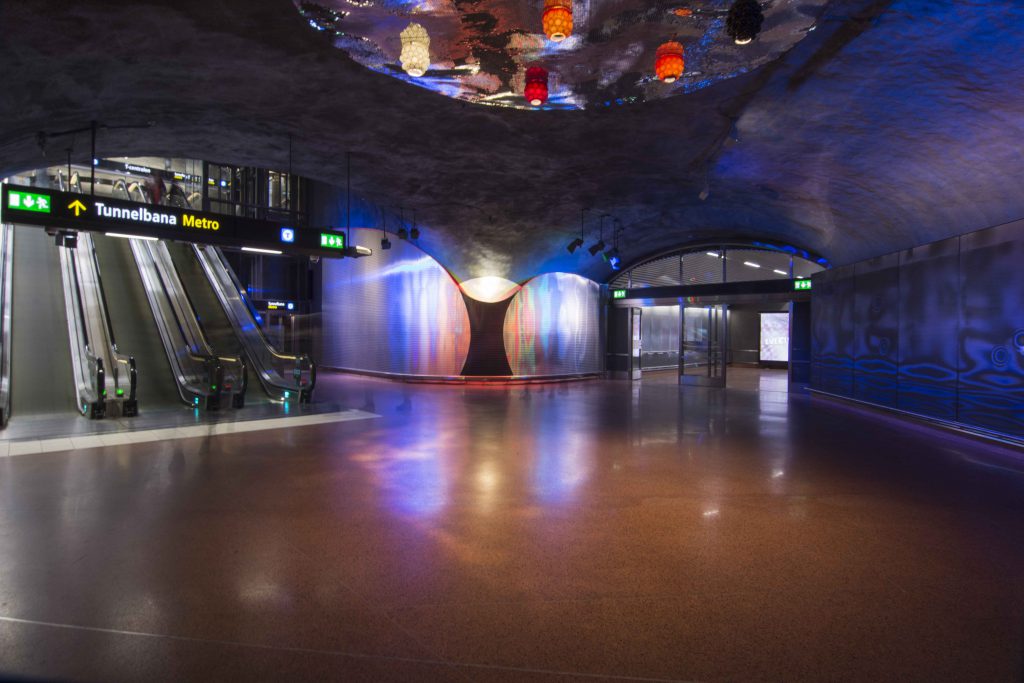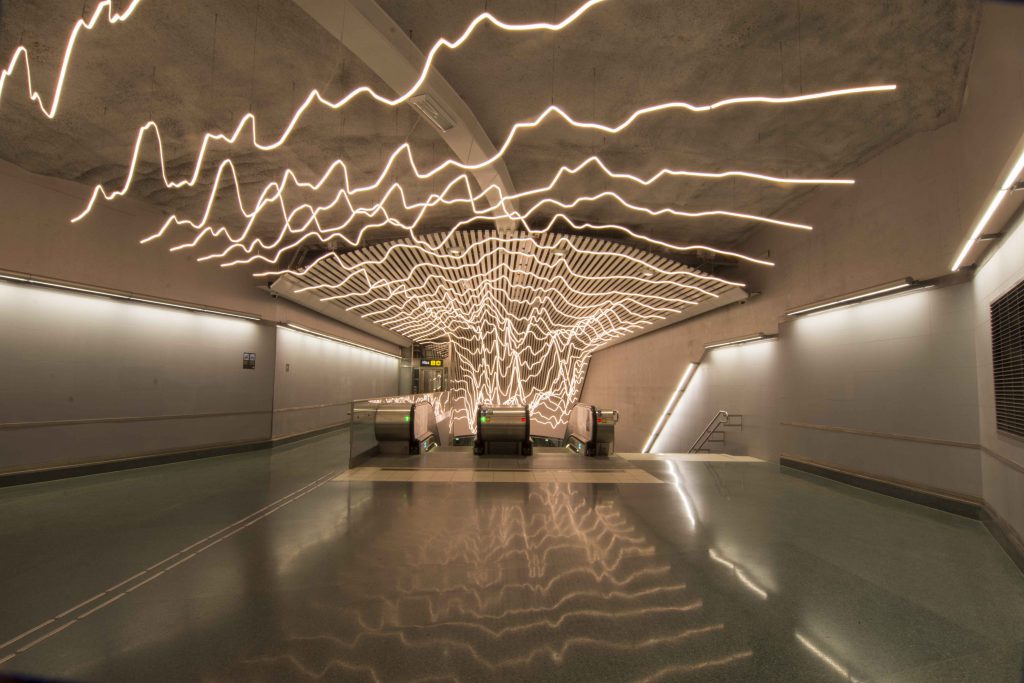 ---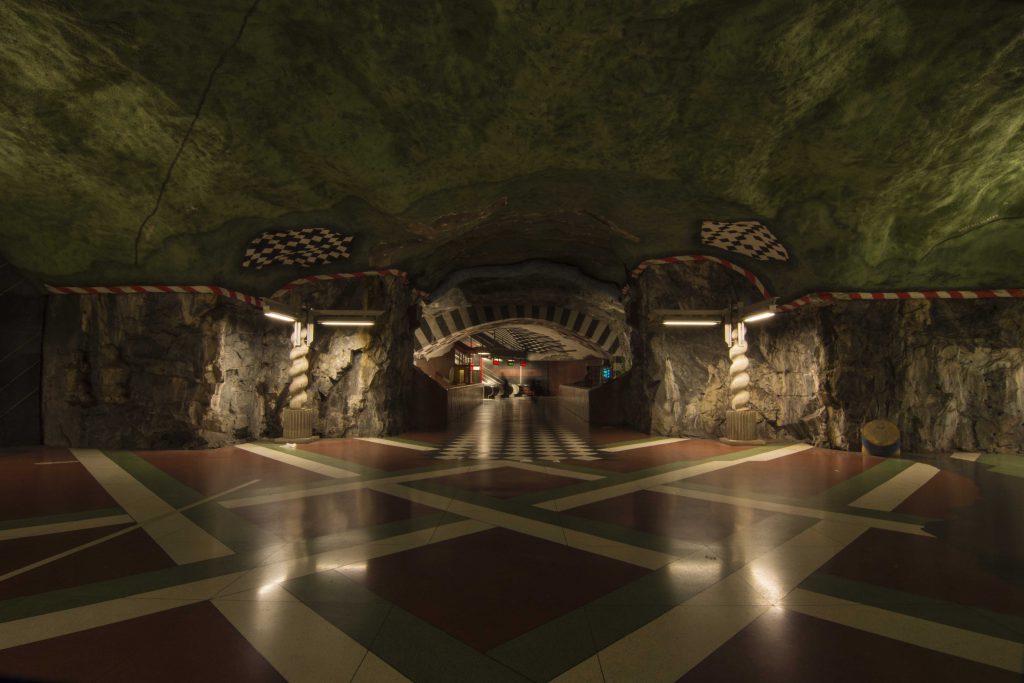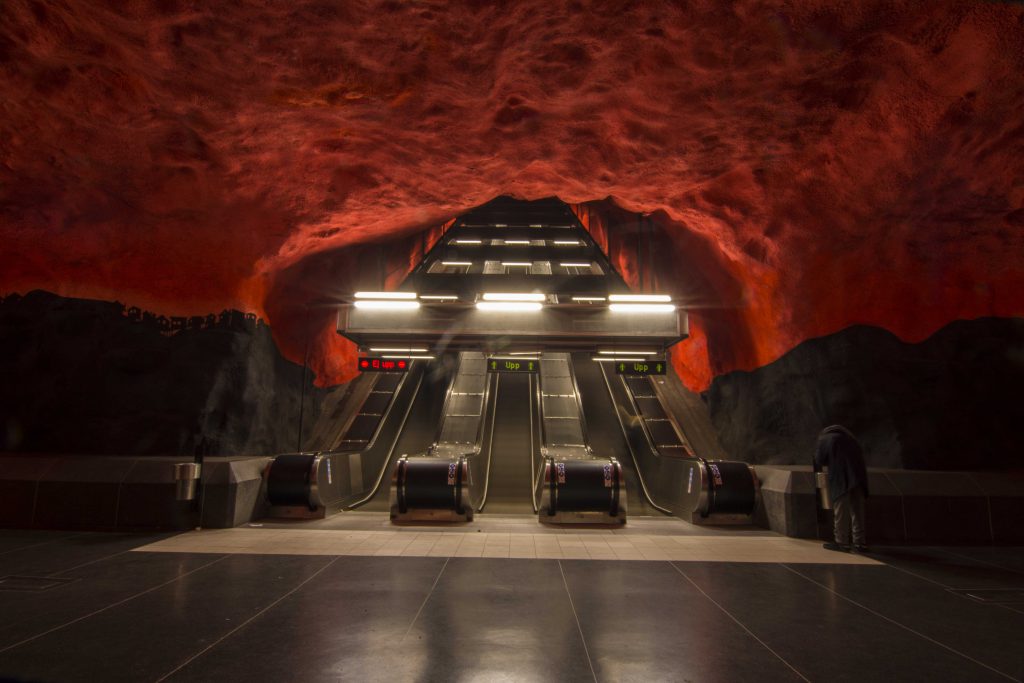 Subway art in Stockholm
---
■After completing the research on the lighting environment in the Northern Europe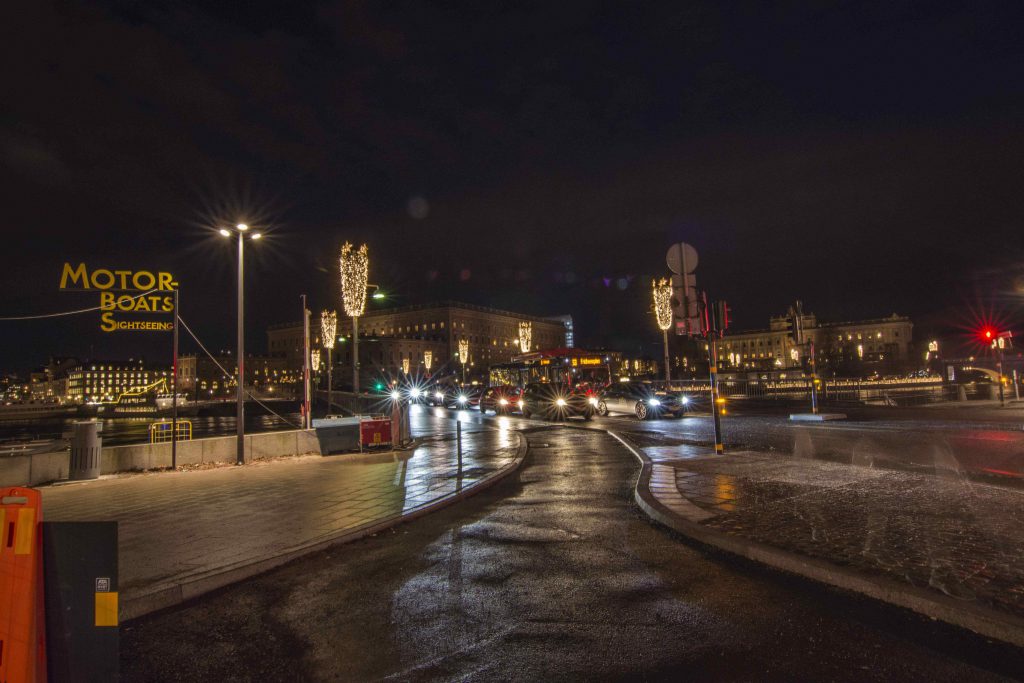 Holiday light displays in main street
The thing that I felt most through the research is that people in Scandinavia are very sensitive to glare and brightness. In those Scandinavian countries, they try to minimize glare by employing indirect lighting as task lighting and by using lightproof plates and louvers in public facilities. The brightness of the whole city can be described as "the minimum level at which safety is maintained". You barely see lit-up buildings nor advertising signboard that are dazzling. Instead, street lamps and lights seen through windows form the lightscape of the cities. I was able to see some fancy holiday light displays as I visited there in December, but in general those displays were less bold compared to those in Japan. For the Northern European people who spend 2/3 of a day in darkness at this time of the year, these warm lights in the city is the healing light that relaxes feelings. (Simeng Huang)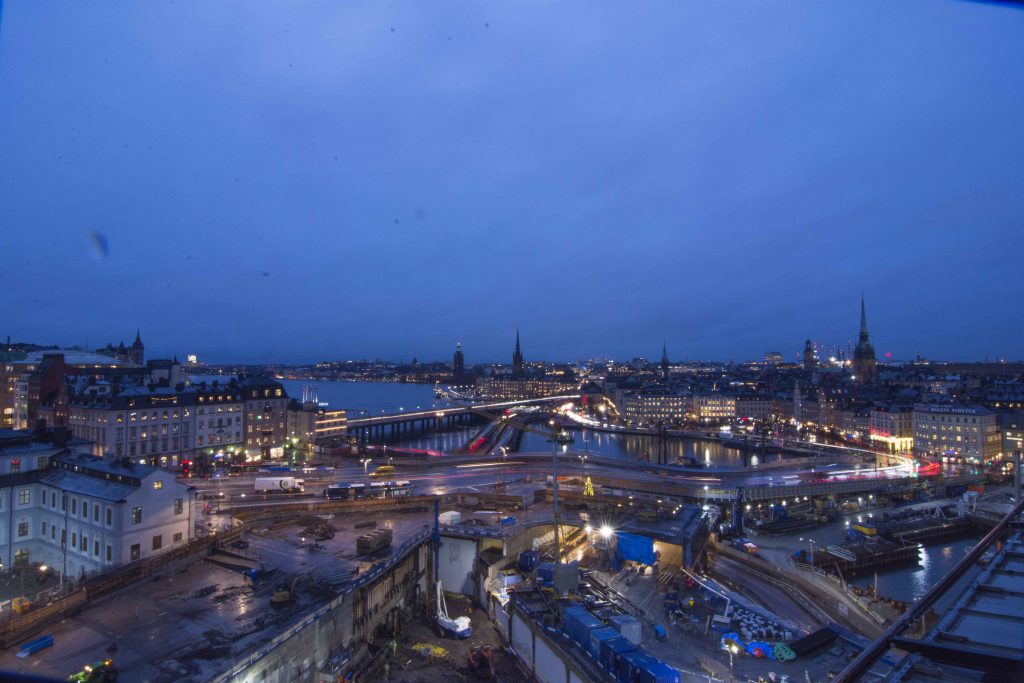 View of Strömmen bay overlooking from a hill in Södermalm
Night Walk #59: Tokyo Winter Lights Tour
Let's see around winter lights and cityscapes in central Tokyo!
December 20, 2017 | Written by: Yuriko Hagimoto, Shinichi Sakaguchi, Daisuke Miura, and Sho Kato
Speaking of winter in Tokyo, variety of holiday lights decorate streetscapes at night. In our City Night Walk this time, we visited major holiday lights locations in central Tokyo and researched the reason why people are attracted by light displays.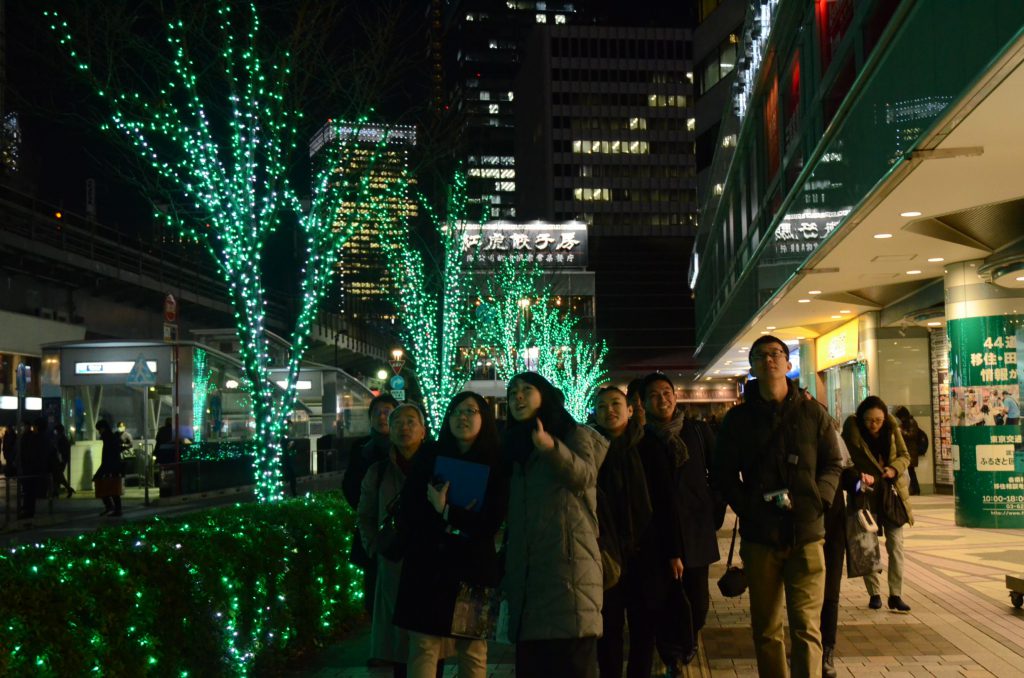 Green Christmas lights around Yurakucho station
Christmas light displays are now established as winter tradition. Every year, variety of tasteful light decorations beautifully color cities up. We look forward to it so much that even TV news broadcasts lighting ceremonies. We the Lighting Detectives have held all sorts of City Walks in the past, but somehow we haven't done ones that focused on holiday light displays, which is one of the biggest events that many people visit during winter. This time we finally had a City Walk event around Marunouchi and Roppongi districts to find out why people come to see winter light displays and if there were the villains of lighting.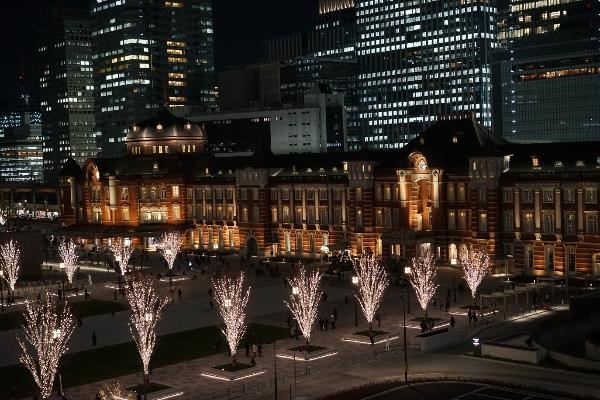 Winter light decorations at Tokyo station plaza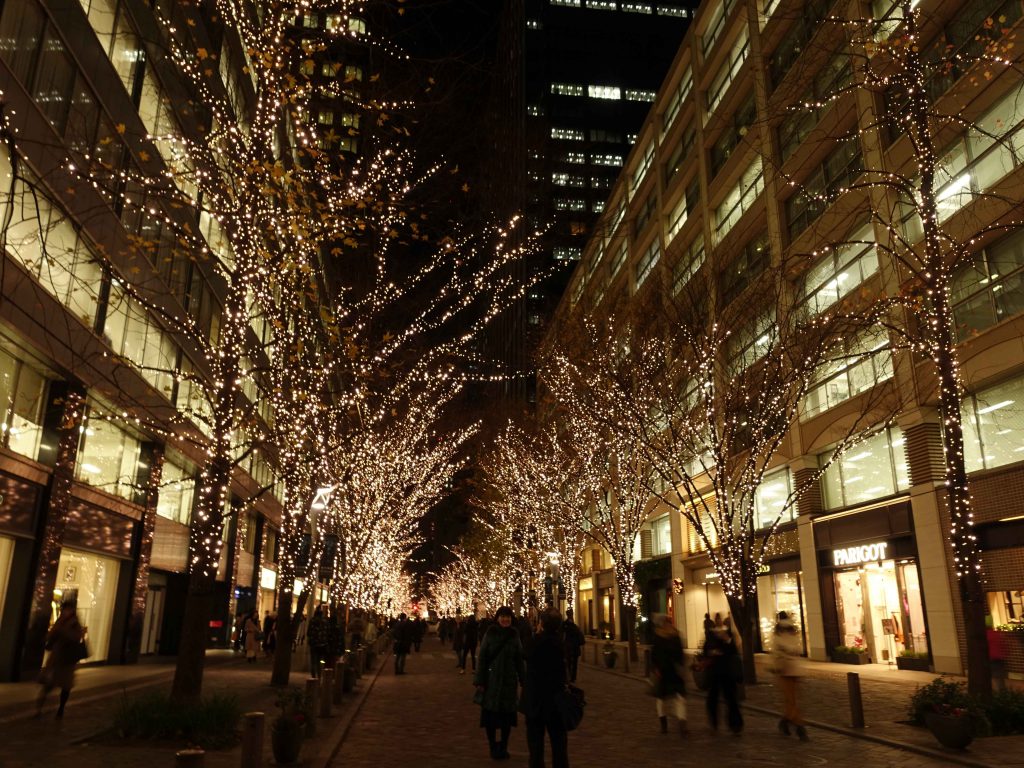 Marunouchi-Nakadori, themed with champagne gold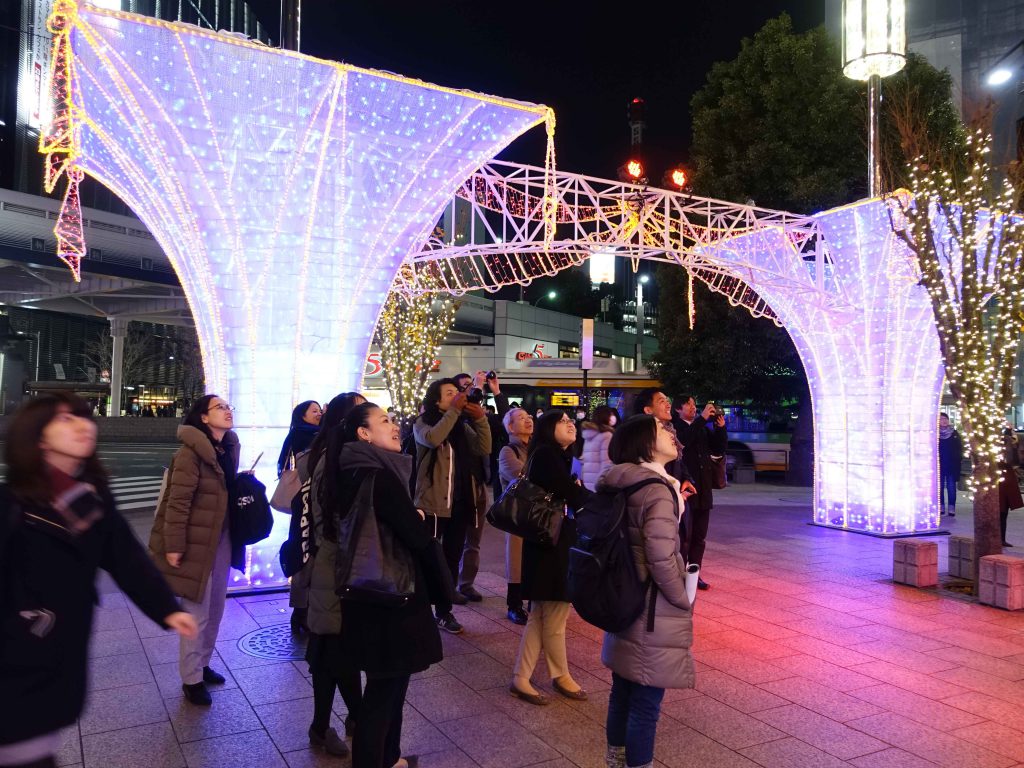 Existing street lamps utilized for the Christmas decorations
■ Group 1: Tokyo Station + Marunouchi area 
Group 1, composed of five team members with Mende leader, did a research about Christmas lights around the Tokyo station. We first went to Tokyo Station Marunouchi Square, and then Gyoko Dori, Marunouchi building and Shin-Marunouchi Building, Naka Dori, Tokyo International Forum, and ended with Yurakucho Station area.
In Marunouchi Square, Gyoko Dori and Naka Dori, there were over 200 of street trees decorated with champagne gold LEDs. Everyone listed them as "heroes" as those went really well with fancy and upscale high-end retail stores around Marunouchi area. Also the lights looked like they flickered when the trees were blowing in the wind and the branches partially hid and showed the tiny little bulbs. Some of us said it was amazing if it was all planned out.
Next we overlooked Tokyo station from the Marunouchi House terrace at the 7th floor of Shin Marunouchi Building. We felt it was quite nice to get relaxed and see winter light displays from top, comparing sophisticated Marunouchi side with coordinated low-color temperature lighting, with lively Yaesu side full of shops and buildings.
On the first floor of Marunouchi Building, there was an over 10m of huge Christmas tree, and a light show was held every 15 minutes. Some of us felt disappointed because the duration was too short even though there were a lot of audience waiting just to see the light show.
In Naka Dori and Mitsubishi Ichigokan, there were regular landscape lighting and seasonal holiday lights mixed up. Some of us thought it would be better to turn the regular lights off when seasonal winter lights were on. Around Yurakucho station, LUMINE had a photo spot, which seemed to encourage visitors to upload pictures on SNS. Different from the area around Tokyo station, light displays in this Yurakucho area were coordinated with green LEDs, to enhance its atmosphere for grownups. Some said it was nice and economical for a Disney-collaborated Christmas tree in front of Yurakucho station and light displays at Yurakucho Marion to utilize existing columns and pole lamps. While we researched the lighting environment from Tokyo station to Yurakucho station, I came to think that winter light decoration would become better if it was designed to match atmosphere of a neighborhood as well as to coordinate with existing luminaries.
(Yuriko Hagimoto)
■ Group 2: Tokyo Station + Marunouchi area 
Group 1 did a City Walk from Tokyo station to Yurakucho station as same as group 1. It was before Michi Terrace event, but there was a lot of people as the station square had just opened. A bus stop lit with high color temperature luminaries felt so awkward within the square, which was all harmoniously lit with warm colored lights. We wondered why they didn't match the color temperatures of these two. Also many of us named an advertisement board placed in Yaesu as a villain, which was boldly seen behind Marunouchi station building while overlooking from the terrace at Shin-Marunouchi Building. We felt that some regulations on advertisement signboards might be necessary if cities wanted to achieve a integrated atmosphere of a whole city.
Champagne gold winter light decorations in Marunouchi Nakadori were nice and calm, people were attracted by its warm atmosphere and gathered to see the decoration. Colorful ones were ok, but we also liked such integrity in single colored light displays. Recessed floor lights with unmatched color tempearature and unnecessarily angled spotlights that emited glares were named as the villains.
In the periphery of Yurakucho station, there were Christmas lights utilizing existing pole lamps and vivid red and green string light decorations, providing more colorful and lively feel than that around Tokyo station. We saw some red light ones that were too harsh to the eyes.
There are many types of holiday light installations that are site-specific and reflect local culture. I think this is why those displays can attract so many people. After this City Walk, I came to feel that it would be nicer to do something with existing light fixtures when you hold such holiday lighting events.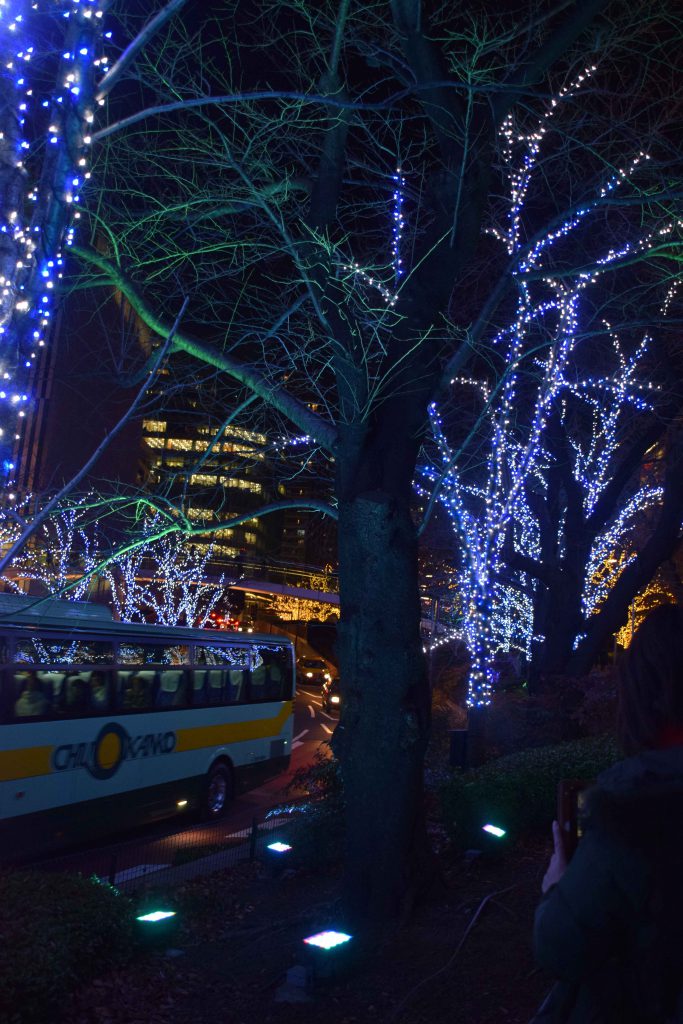 Illuminating a leafless tree with greenish light makes it look so spooky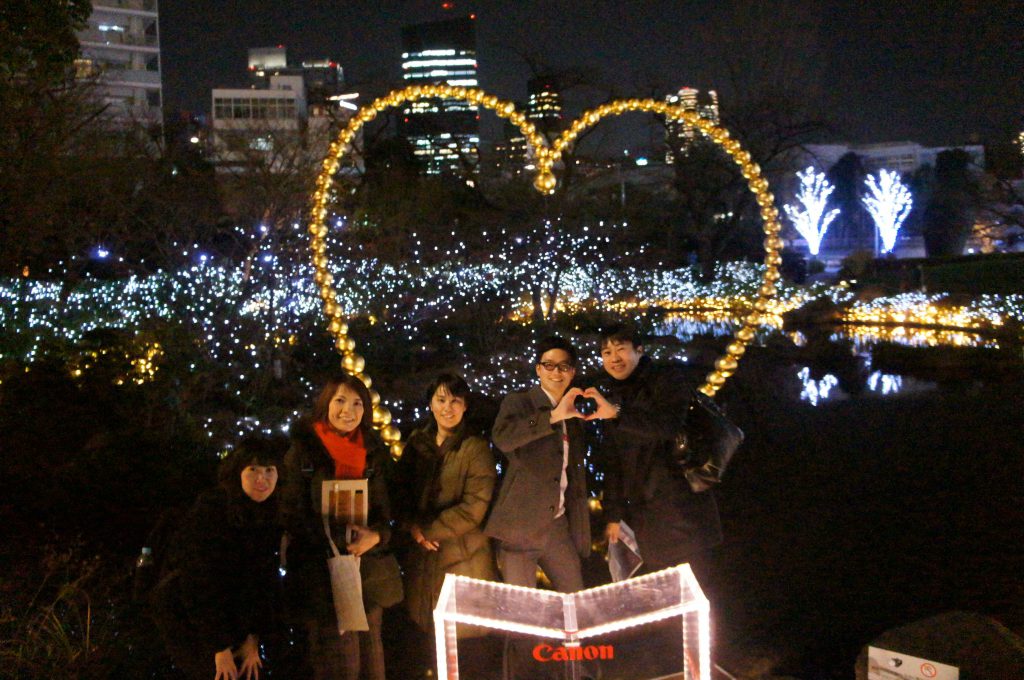 Instagrammable places are available everywhere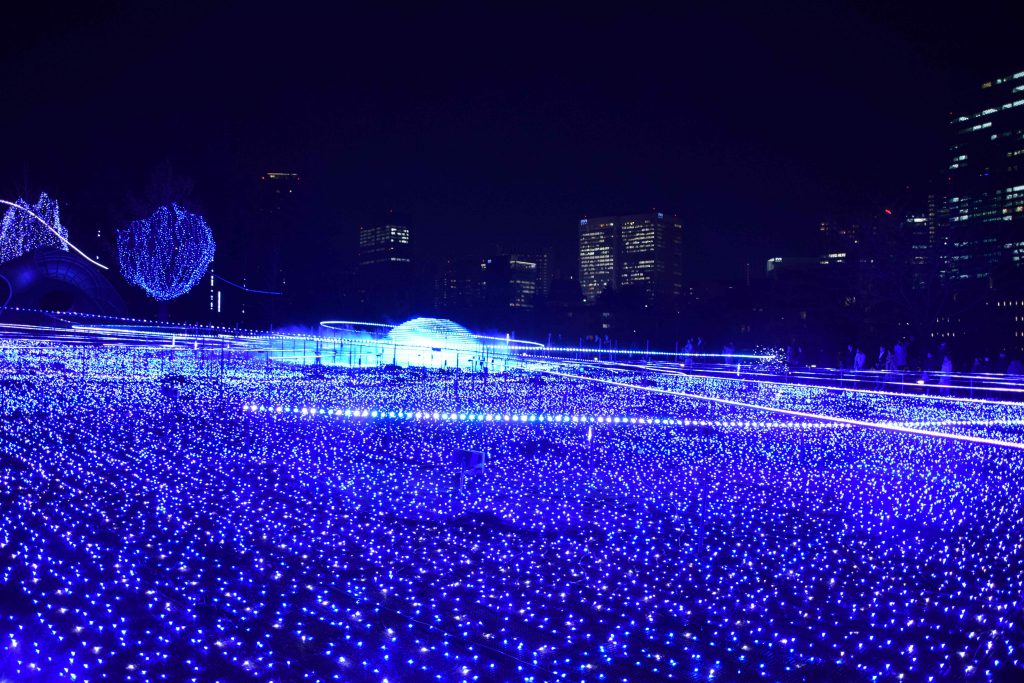 Christmas lights at the Grass Square in Tokyo Midtown, called "Starlight Garden"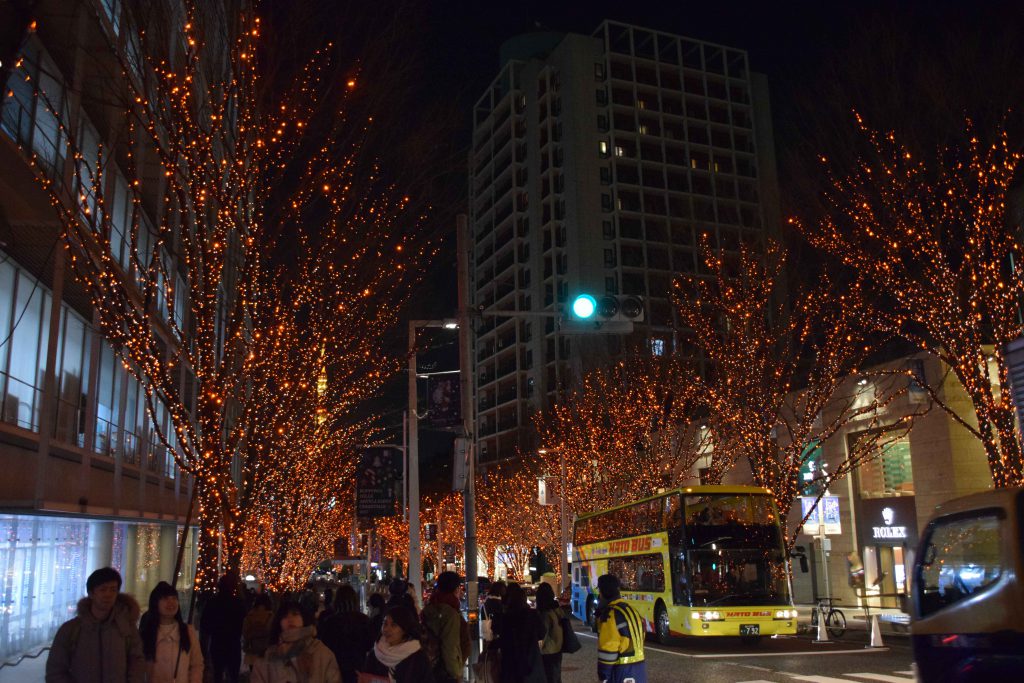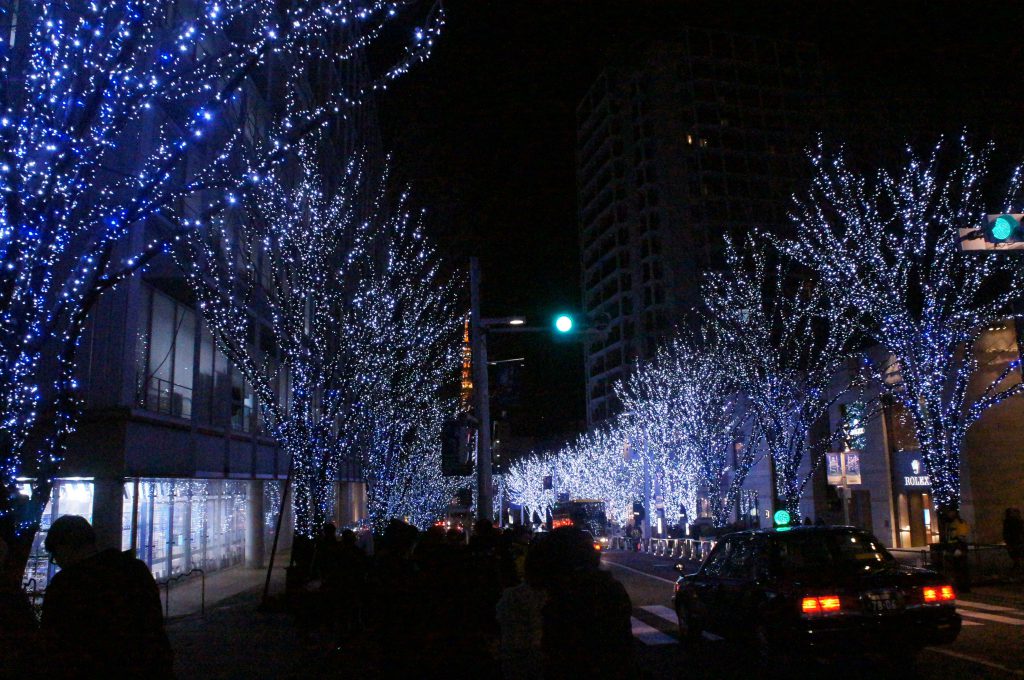 Christmas light display at Keyakizaka in Roppongi, which changes its color from red to white over time
■ Group 3: Roppongi District 
Winter light decoration is done in various forms all around Japan. Light display in Roppongi in particular is nicely scattered around so people can see and enjoy while moving. We the group 3 did a City Walk to visit around popular Christmas lights locations including Roppongi Hills and Tokyo Midtown.
Light installations at Keyakizaka-street near Roppongi Hills were programmed to change its colors alternately between white and red over time. It made the same street look so different and the transition itself was gorgeous and beautiful, so we recognized this as hero. We also had a discussion on either red or white was nicer and more impressive. I personally thought white won.
Illumination of the Keiyakisaka near Roppongi Hills is subject to change in color depending on time. Two kinds of light-up of white and red alternately changed, and it gave a voice as a hero because the appearance that the atmosphere changes garishly even in the same place was luxurious and beautiful. Within the group there was debate as to which of white and red are more heroes. I felt white was more like a hero.
In Tokyo Midtown, there was a colorful light display event. On a passage leading to the Grass Garden, there were variety of light installations – such as starry trees decorated with LED string lights and tree branches decorated to make them look like wine glasses – that all amused us walking down a street.
However, we named a spotlight for plants as a villain as it unintentionally lit up no-LEDs tree branches.
At Snoopy Museum, there was a light display to make Snoopy look like it moved. As it was in a quiet residential area, light decorations were placed only inside the building to prevent light from leaking outside the museum site and from generating "light pollution".
We were walking down a quiet residential neighborhood after visiting the museum. Seeing a side road, I happened to find gentle and pleasant light of Tokyo Tower. I realized that not only the special light decorations but also this everyday lightscape was also relaxing and beautiful.
We've seen a variety of ideas on holiday light displays in Roppongi. I think people enjoy those season-specific light installations to find awes in everyday context, which now portrayed completely different with lighting design. Those who find peacefulness in everyday lights, like the gently lit-up Tokyo Tower, can get fascinated with the glittering and beautiful special winter light displays. (Daisuke Miura)
■ Group 4: Roppongi
Group 4 walked around Roppongi together with Group 3. In Roppongi Hills, where we first headed to, there was a Christmas tree formed of filaments simulating candle lights. It was a favorably rated that the filaments lamps flickered and disappeared like a candle frames. However, in a car exhibition space in a Christmas market, spotlights that intended to illuminate a car itself failed to do so, and the light sources instead become glares to passersby, which we considered as a villain.
In Keyakizaka Dori that we headed to next, street tree light decorations were designed to change their colors into white and red orange depending on time. Especially when glowing in red orange, there were many of us said it made them feel warm in the cold winter. So we listed it as hero.
Next we headed to the Mouri Garden. We name light decorating low-hight trees as hero as it was reflected on a pond in the garden to add a depth to the landscape.
We also stopped by Snoopy Museum for a change. Every one of us was expecting to meet cutie Snoopy, but what was waiting us was evil Snoopy. Illuminating a large-scale Snoopy figure up from the bottom makes its mouth bright but cast shadows around the eyes and dark, which ended up with an evil Snoopy who's about to play a trick.
In Tokyo Midtown, where we visit at last, there were holiday lights displays that decorated trees with pink colored lights. We listed them as heroes as the soft light color, created by putting caps on light sources to reduce brightness, was reminiscent of cherry blossoms.
Roppongi is surrounded by buildings and gives an artificial feel during daytime, but it wears lit-up makeup which provides humanized impression at night. I think people come and see winter lights to ease their minds and to look for a special seasonal experience. (Masashi Kato)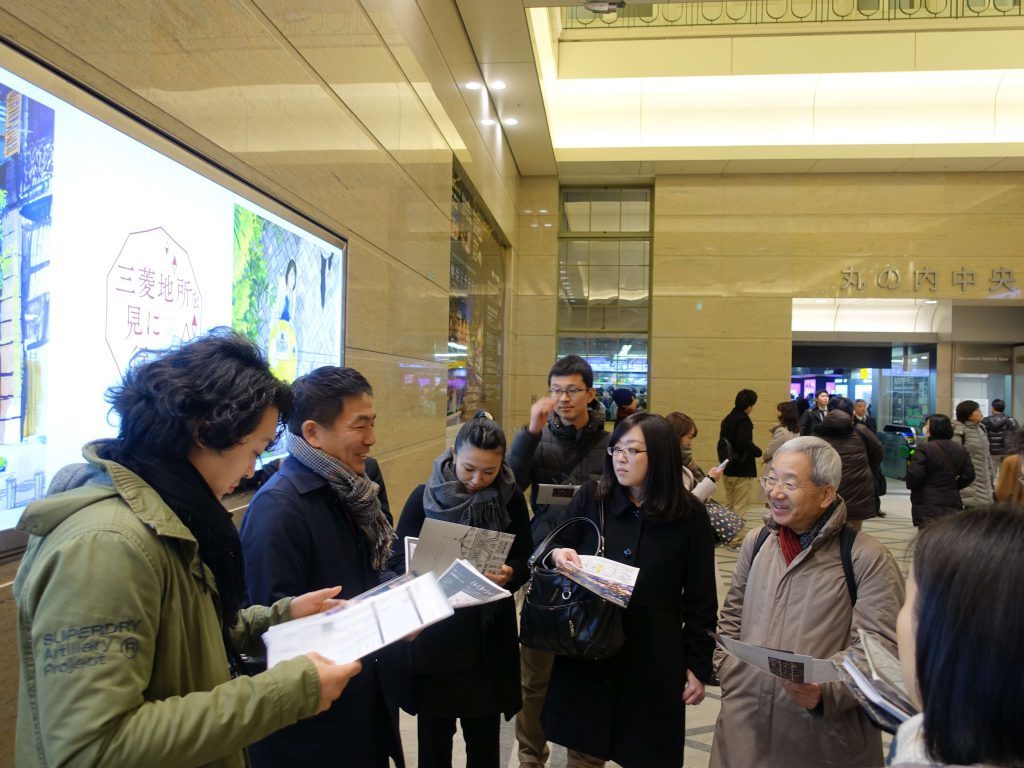 Detective members listening to the purport of the Night Walk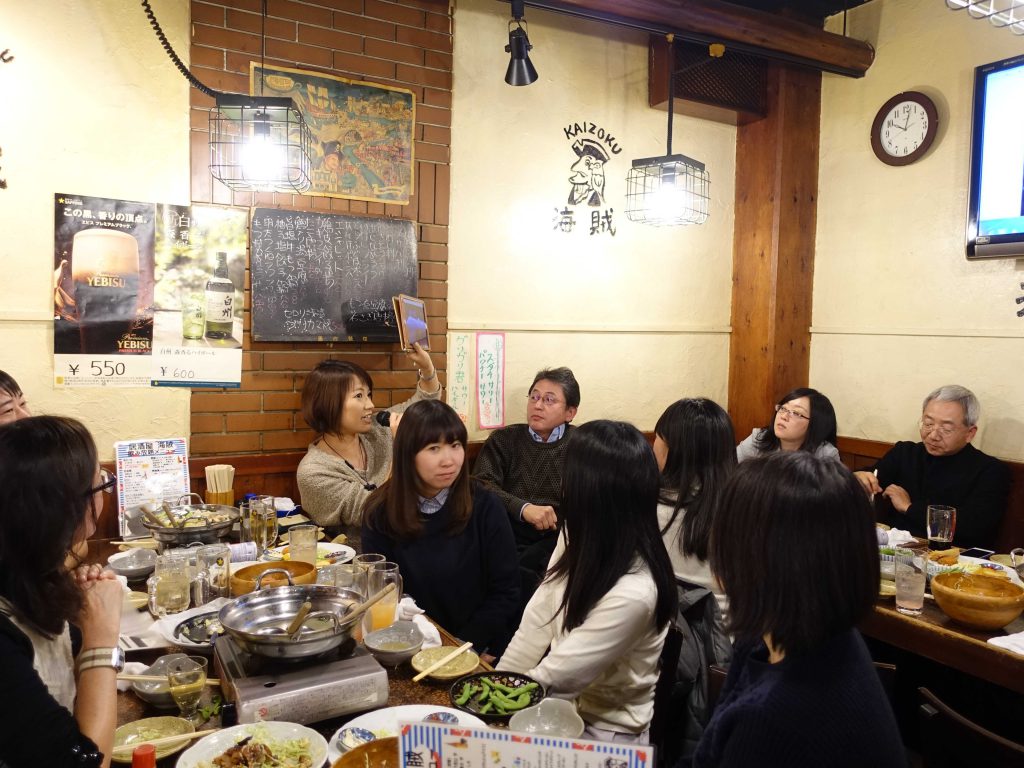 Exchanging ideas at Konshin-kai, the after-event socializing party
---