June 22, 2007 Sumer Solstice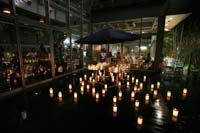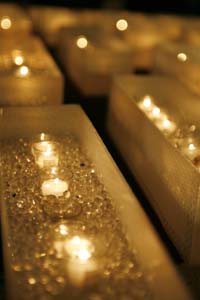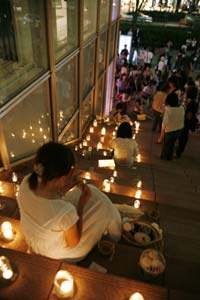 "Turn off the lights and take it slow."
Candle Night, a environmental and energy conservation event that also focuses on habits of the modern lifestyle and finding ones inner sense of time, is the brainchild of a environmental NGO. During the one night event, main building facilities are "lit down" and in different areas of the country candlelight events are held, and keep growing each year. According to the official Candle Night web site, this year over a three-day period from June 22 to June 24, 897 candlelight events were recorded.
The Lighting Detectives have been involved with this event since our first candle event along Harajuku Cat Street in 2003. In 2005, we moved our event to Omotesando to attract a larger crowd. Participants originally heard of the event by word of mouth from Chief Kaoru Mende, but have grown to involve students from area art universities, other business professionals and members of the Lighting Detectives. Including volunteers for the day of the event, staff has grown to over 300 persons. The "Candle Night @ Omotesando – Eco Avenue" event includes a schedule of three activities for the night. First the event is off to an energetic start with the candle parade down Omotesando by the children of the Jingu-mae Elementary School located behind Omotesando Hills. As the marching continues, a spectacle of candle installations is lit along the main street, as some storefronts are dimmed, and lastly, the cozy Candle Cafe Network of about 20 candlelit cafes are open for quiet drinks throughout the evening. The candle installations are a process of hard work, beginning with workshops attended by each team in early March where everyone exchanges ideas and candle know-how and energy for the June event is already increasing.
The biggest addition to this years candlelit Night were many large shops and boutiques along Omotesando who also joined in the event and dimmed or completely turned off their facade lighting during the two hour duration from 8pm to 10pm. Bravo to Omotesando Hills who turned off its 250 m long LED "Bright-up Wall" and many other fashion boutiques who turned off or dimmed their white window showcase lights. The candle installations shown brighter and more beautiful along the dimmed Omotesando.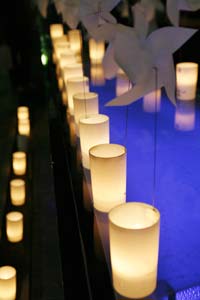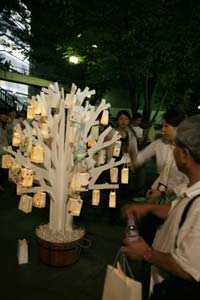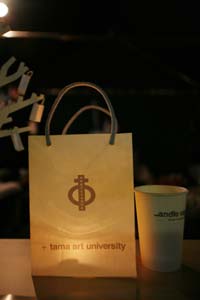 ■Organizers:
Kaoru Mende (Lighting Designer / Musashino Art University) & Shin-ichi Takemura (Anthropologist / Kyoto U. of Art and Design)
■Support:
Kameyama Candles, Omotesando Hills, Lighting Detectives, Tree of Life, eredie, Anniversaire Cafe, Kyobashi Senbikiya Omotesand Harajuku Shop, Bakey Cafe 426 Omotesando, Brown Rice Cafe, Bamboo at Omotesando, Yoshoku Miyashita
■Partnership:
Shibuya Ward Jingu-Mae Elementary School, Green Bird, Japanese Nursing Association, Toshiba, Hachiyo Bank Harakuju Branch, Oriental Bazaar, Christian Dior, Tag Heuer, LT Salon, Alterna, Kobe Match Co., Ltd, Piazza Eco-Farm Cafe, Farmer`s Cafe, Bakery Cafe 632 Harajuku, Il Pinolo Caffe, Nalu Cafe, Omotesando Stand, Cafe dining bar, Cube Zen Omotsando, Unmarble, Tokyo Apartment @ Harajuku, Locanda FG, Omotesando Saryo, Kisara, S. and O, Tabio, Marks & Web, Toraya Cafe, Heddie Lovu, Bus Communications