The Television Broadcasting Tower looks down on the orange sodium lamps overflowing from the grid patterned streets of Sapporo. While on assignment in December we were able to view the multi-colored White Illumination set up along Ohdori Park and Sappore Eki Mae Street.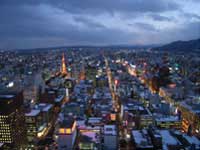 Looking towards Ohdori Promenade from the JR Tower. Sapporo is a beautiful city at twilight with orange light from the streets to set off the blue-tinted snow-topped roofs.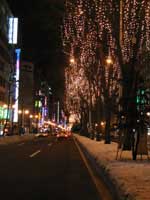 The tree-lined street, Sapporo Ekimae Avenue is a sight to see with its unique style of looping lights over tree branches.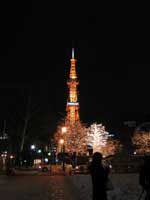 Visitors with cameras and mobile phones converge on the decorated Ohdori Promenade. Sapporo Television Tower, similar to Tokyo Tower and Nagoya Tower, and all designed by the same architect, is also illuminated with the same type of sodium lamp.