City Survey in Qatar/Azerbaijan
2018/02/12-02/17  Masahiro Iwata + Hikaru Kimura
We went to Qatar and Azerbaijan from 12th to 17th February for 6 days for lighting survey. Both of countries are oil producers, and have been developed with oil money.

Qatar and Azerbaijan are located on similar longitude, however each urban landscape has been developed in different ways according to their history.
Qatar is an emergent country, which benefits from oil money. High-rise buildings has been built on vacant huge desert, and the gulf coast has been developed for attracting wealthy class in around the world.
On the other hand, Azerbaijan still faces a problem which a lots of refugees by the past war have hard lives, even it is in bubble boom and it benefits from oil money as much as Qatar. They have redeveloped the old town, which is world heritage.
We surveyed lighting in these two countries, where electricity expenses are free by benefit of oil money.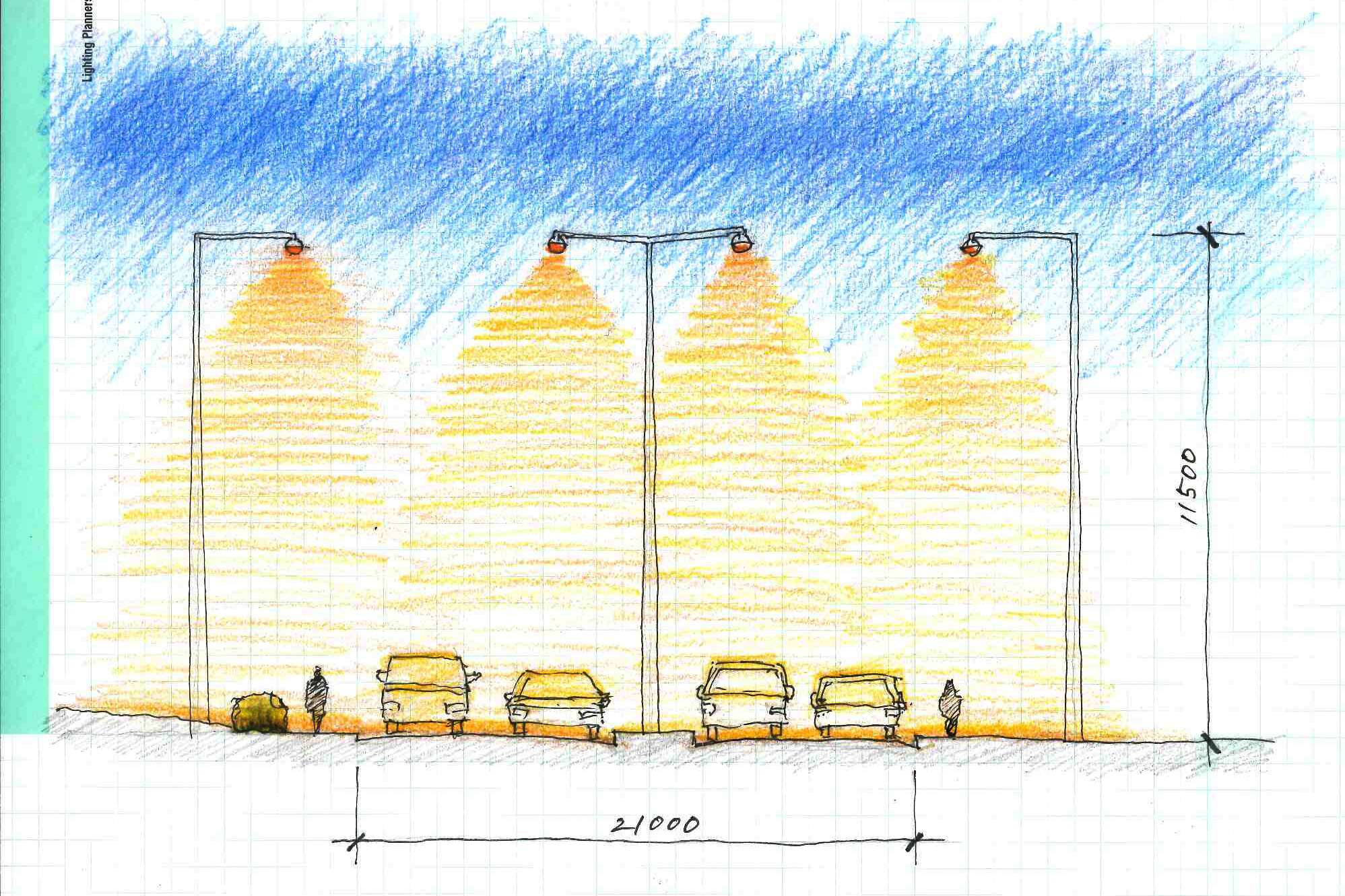 Sketch of the road lighting
■Qatar, Capital city Doha
Doha used to be described as "the most boring city in the world", where there were no accommodation and entertainment facilities according to its closed policy. Today luxury hotels and huge shopping malls has been built, and it has become a bustling city. There are lots of buildings painted the current president's face on the façade. These buildings are by pocket money of president or owned by the government.
The buildings along the sea coast in the new town were lighten up. We could enjoy the view of skyscrapers from the park on the opposite shore. The reflection of city's light on the water was so beautiful that a lot of people gathered and enjoyed it.
Most of buildings used dot lighting. The lightings were colorful, but the color changing and their motion were smooth and slow. Thus, it looked gorgeous, but also elegant. However, they looked a little bit monotone for using similar lighting method. They were turned on at 6pm just after sunset, and turned off around 8pm.
In the daytime, it was so hot that there were less people in the park. In the night time, people enjoyed chatting under the light and children run around. The lightings in the park were composed with bollard light and low height light pole. We thought the poles were too dense, but the brightness was comfortable for the park which a lots of people gather.
The light poles illuminated the car road orange with sodium lamp, and most of street lights also were warm color temperature. In the residential area, most of lights used whitish high color temperature, and it looked cool for white stone walls of Middle East style houses.
Most of lighting fixtures were fixed frosted glass. It may be to prevent sand from coming into the fixture, and this kind pf treatment may be unique design for this desert area.
(Hikaru Kimura)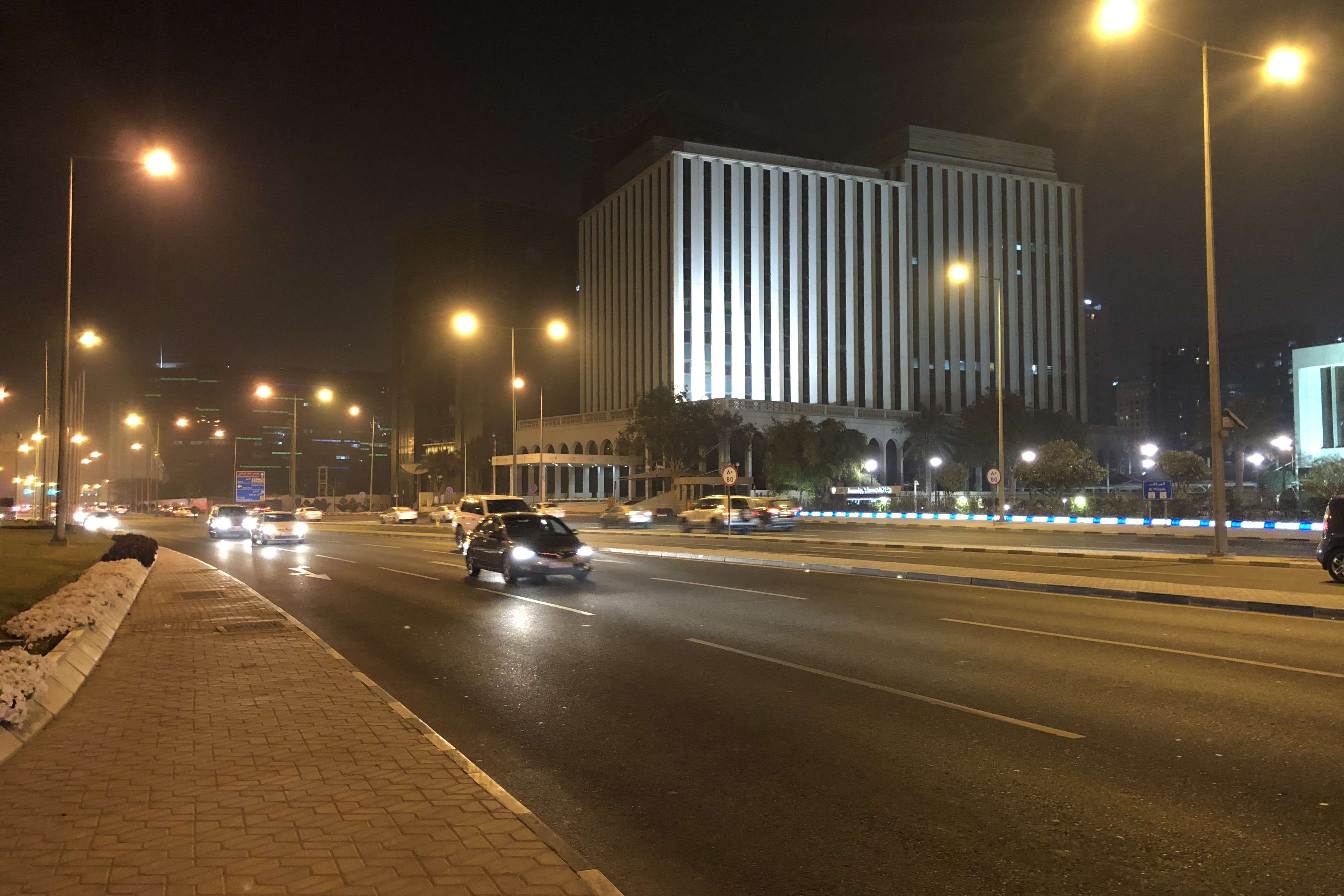 Street lighting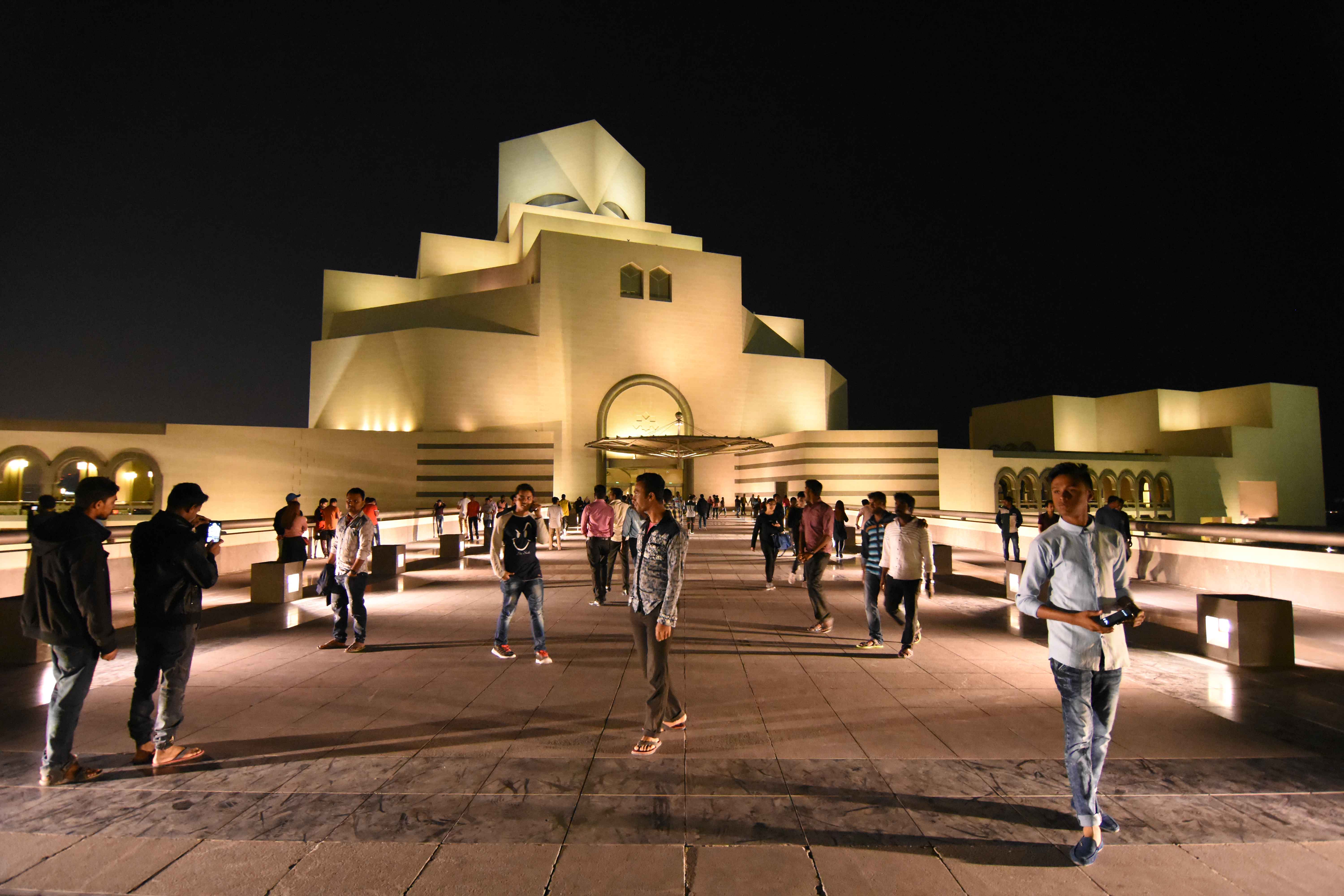 Museum of Islamic Art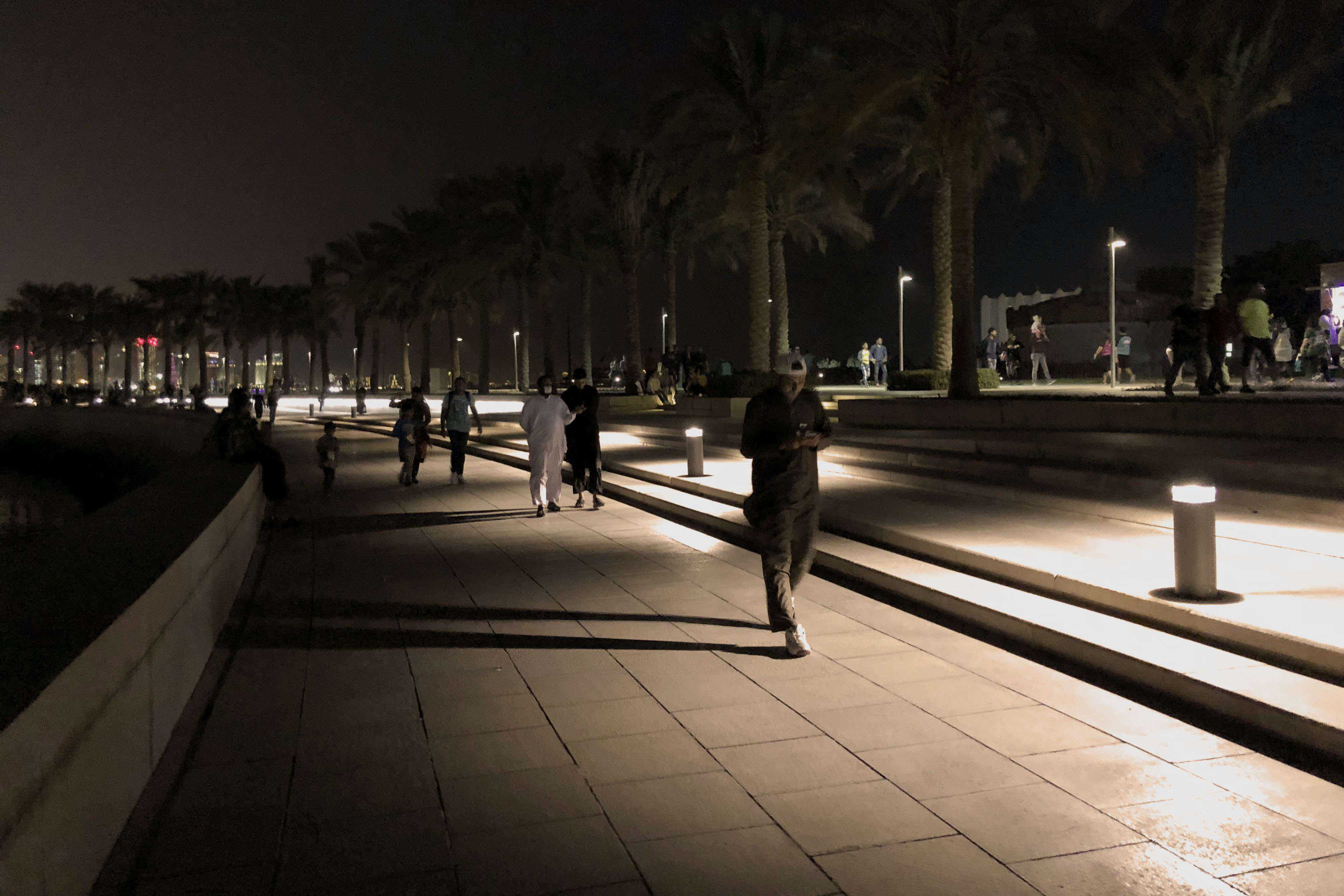 Park along the sea shore
---
■Azerbaijan, Capital city Baku
Baku, Capital city of Azerbaijan borders Caspian.
On February, it was so cold that we needed to ware jacket even no snowing.
The buildings were Western stone-built in the new town. New buildings were not so high and not extraordinary design. They looked match the surrounding old buildings. Most of old buildings were lighten up, and it might be by the town policy.
Most of street lights were standardized low color temperature light like sodium lamp or 2700K, and vertical illuminance of building façade was enough. We could stay comfortable in these lightings at night. We were surprised that shops were open even it passed 10pm, and there were many people.
Three high-rise buildings, which is called "Flame Towers", stood on the hill as a symbolic landmark. The buildings includes high-class hotel and office. The lighting fixtures were installed at the spandrels among each floor. There were six lighting image patterns; red flame, blue flame, flowing water, national flag color, man waving flag, sparkling. There may be some negative comments on the image of red flame from Japanese, but it seemed that people like it here for their background as oil producer.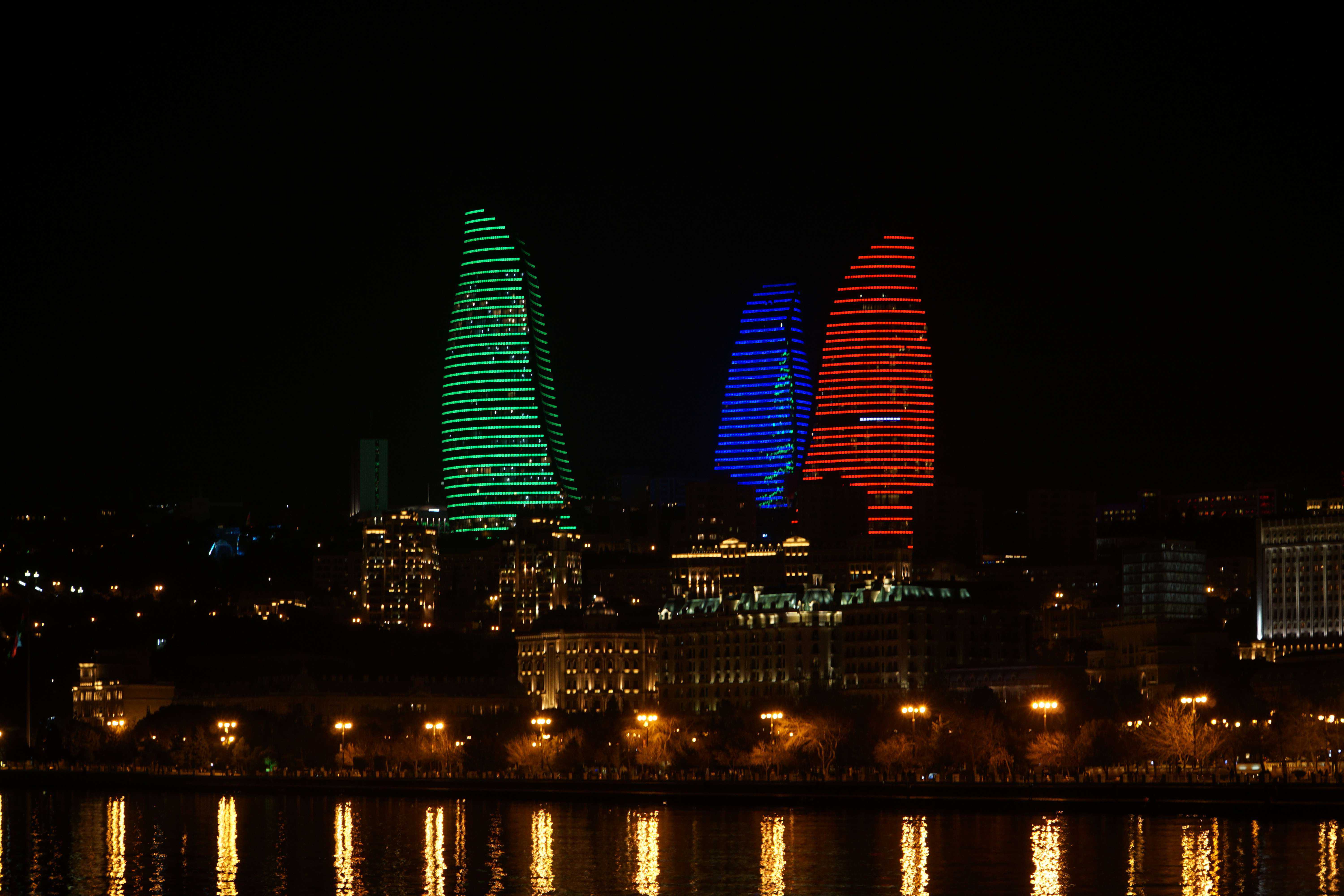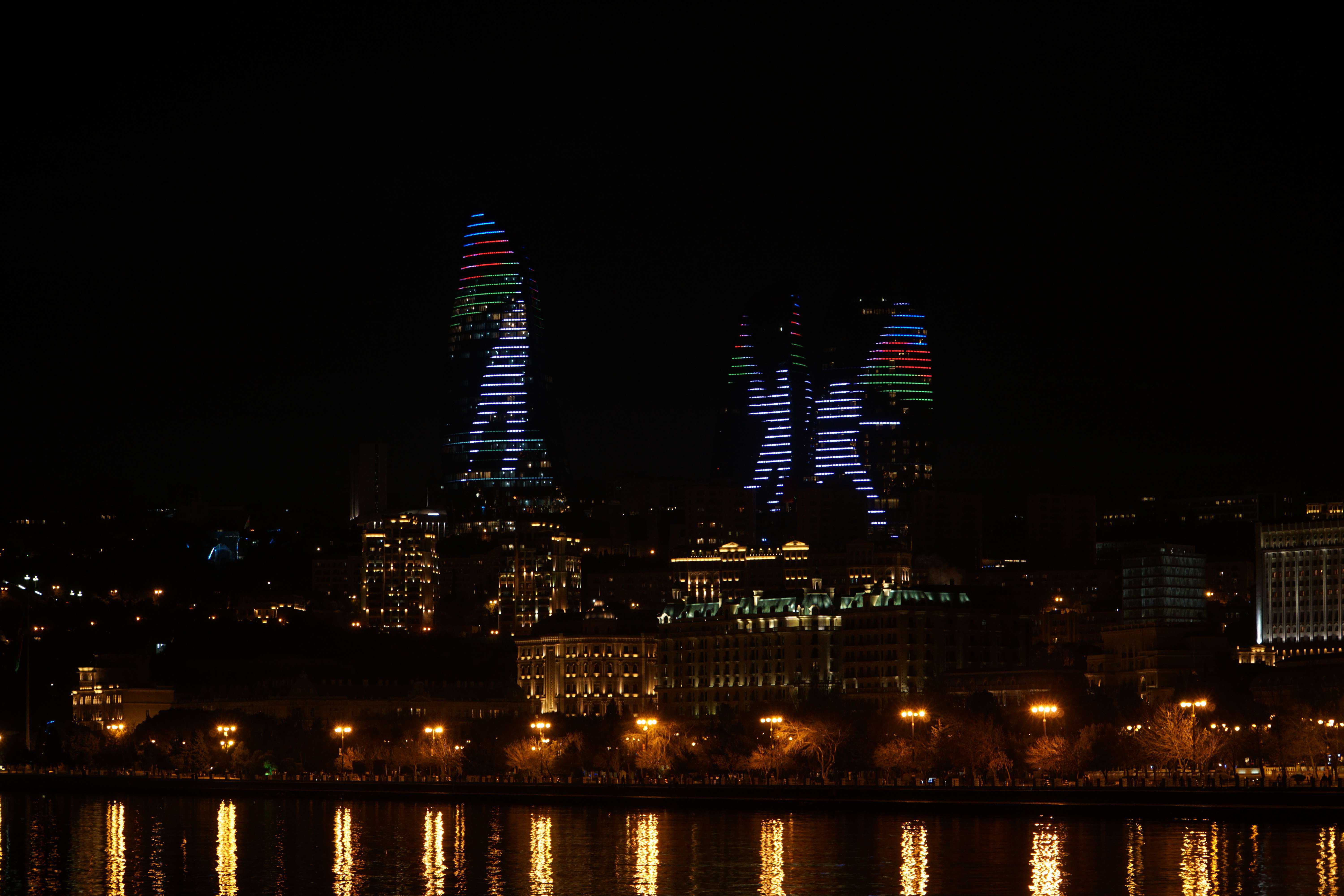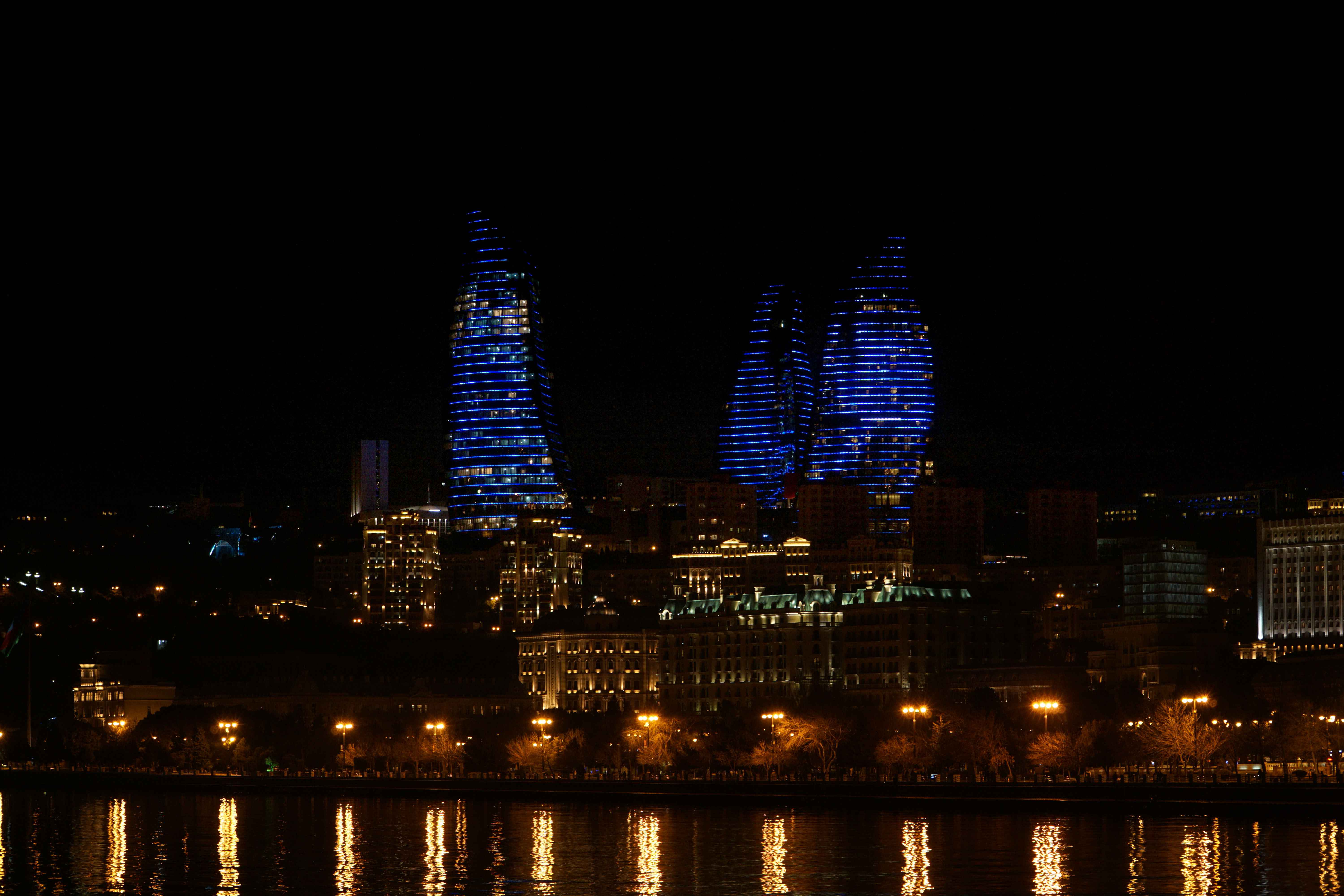 ---


Lighting patterns of Flame Towers' facade
The world heritage walled city is located on the southwest of the town. Bracket lights were mounted on the walls and the design matched the old town's atmosphere. Orange light by sodium lamp emphasized nostalgic feeling. When we saw Flame tower from between the walls of old town, we thought it was good collaboration of new and old.
Since 2017, F1 race are held in the town every year. Wide size stone pavement and firm fence were set and illuminated 370 lx by sodium lamp pole light on the road which is used for race.
We found same design light pole inside and outside of the town. We though the brightness were designed according to the traffic manner in Azerbaijan. People crossed the road at
points without traffic lights, but cars stopped. They gave priority to human, and this brightness was necessary to find people and keep this manner.
(Hikaru Kimura)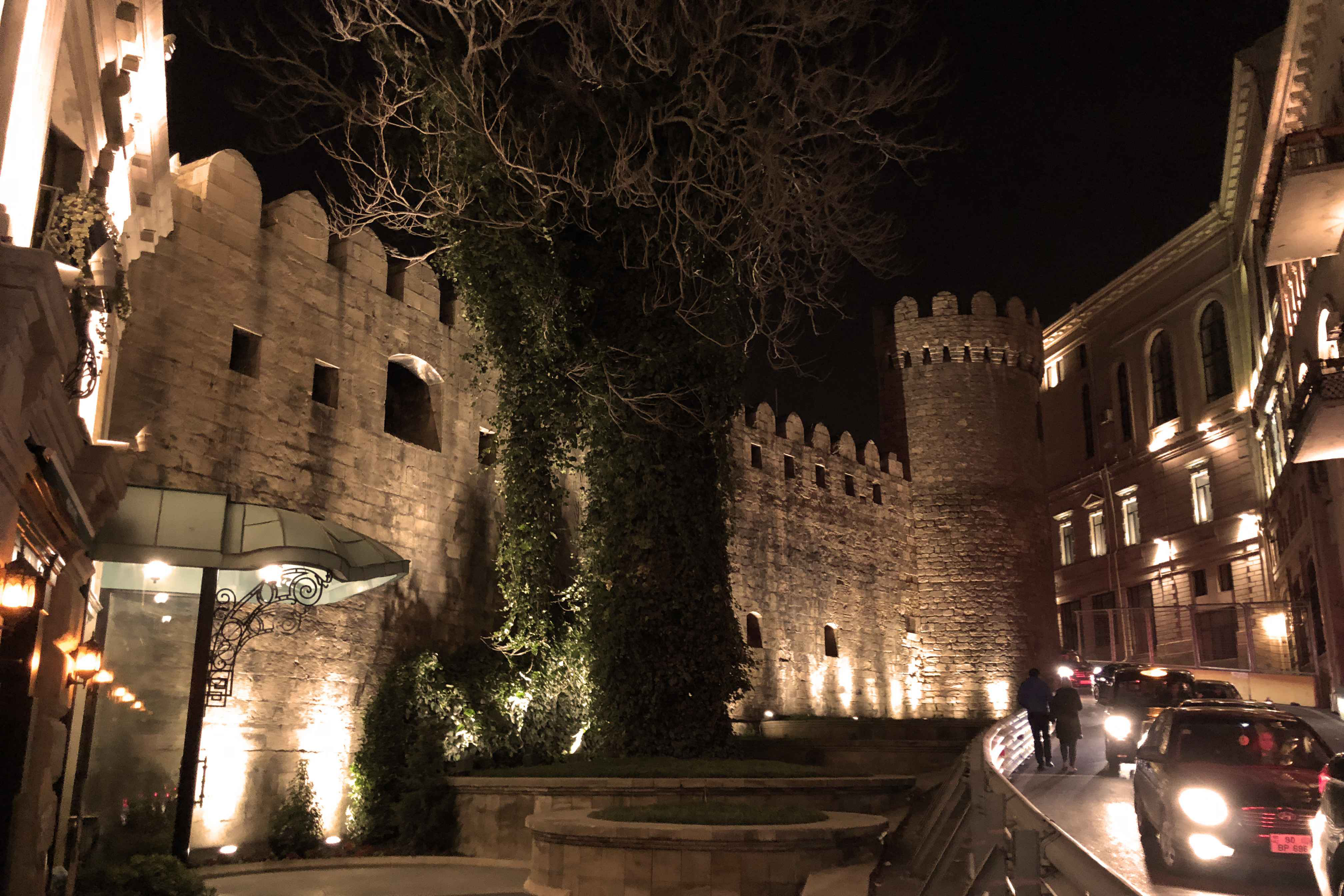 External appearance of the walled old town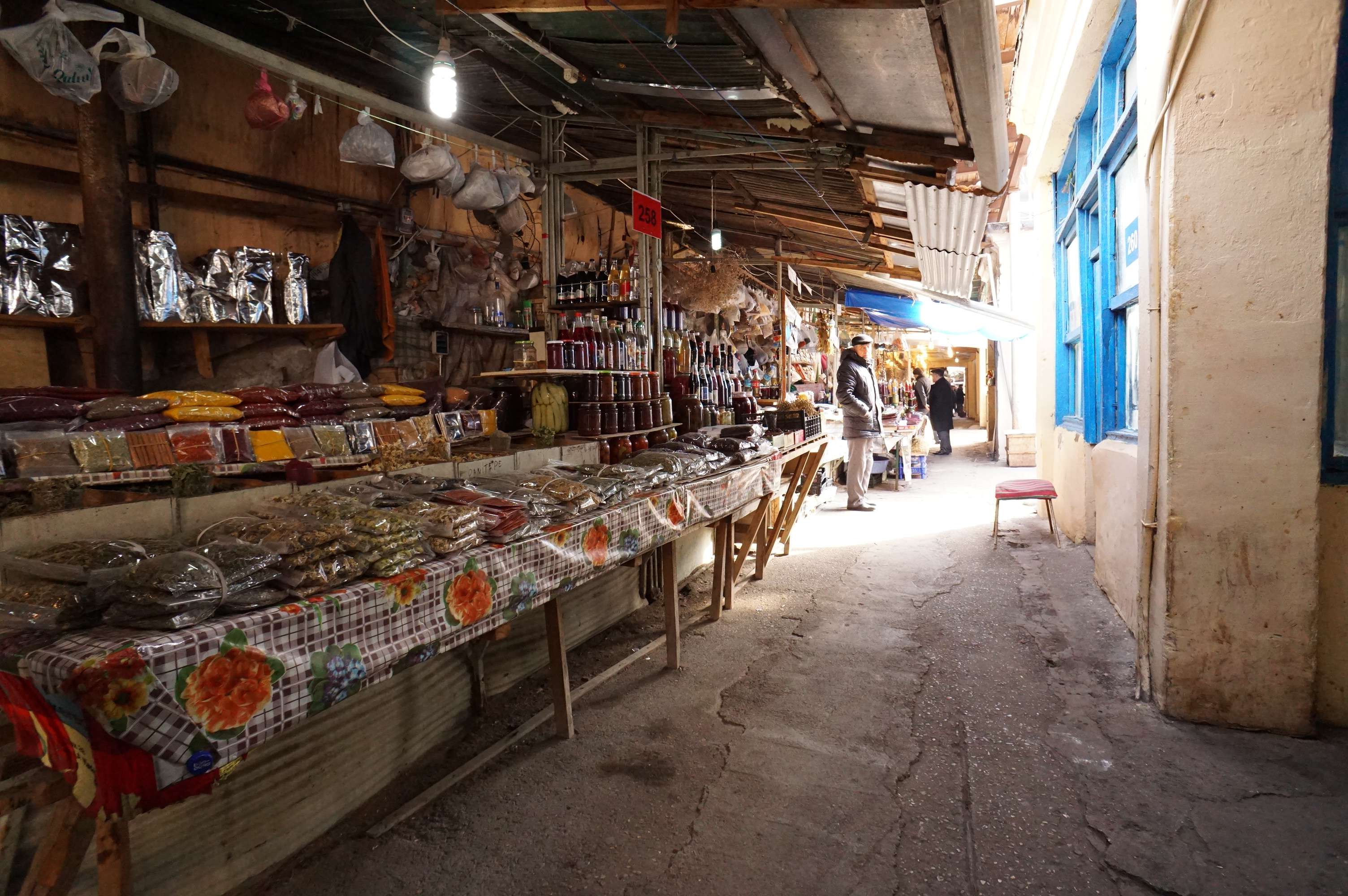 Bazaar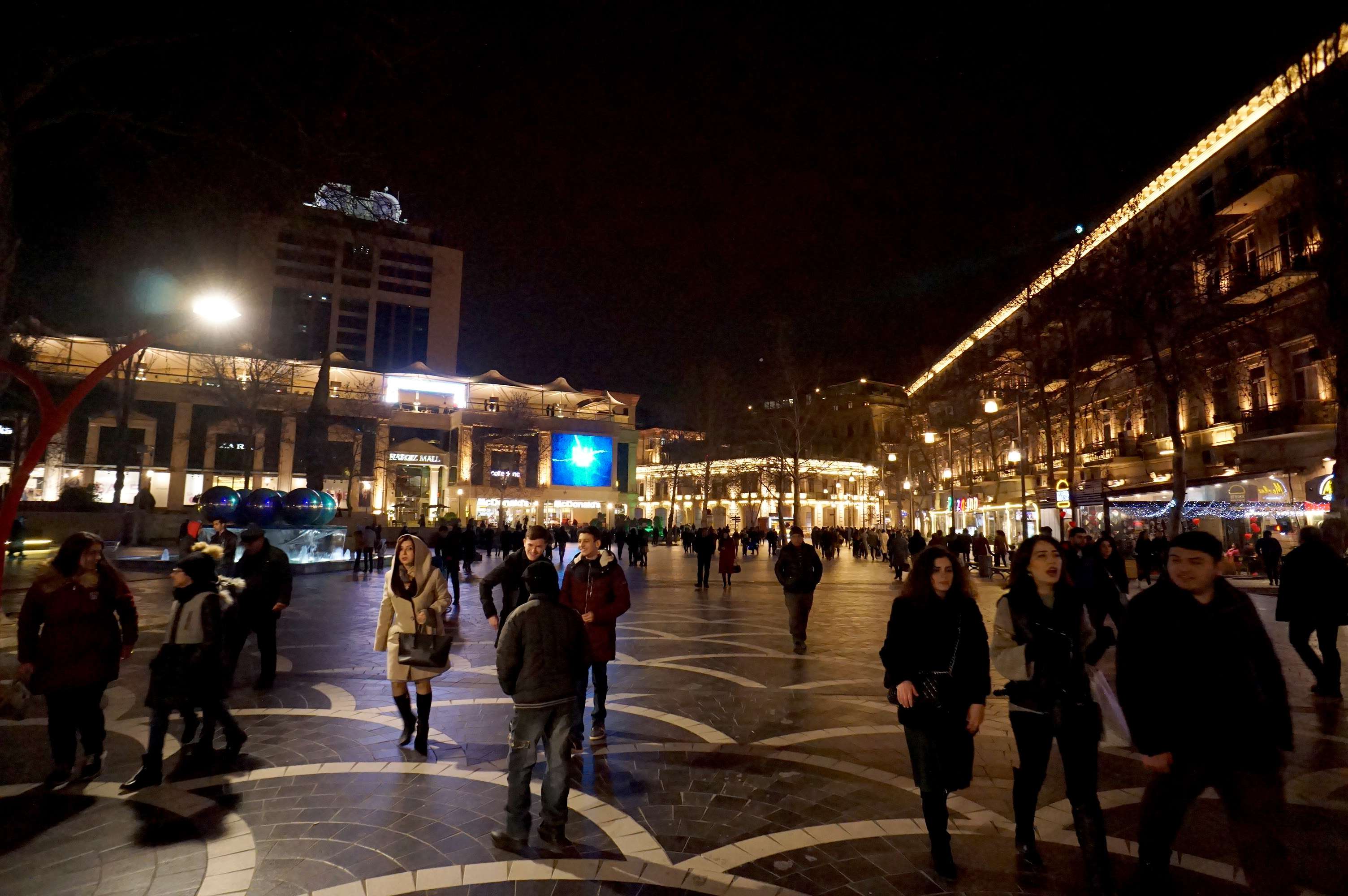 Plaza in the new town
---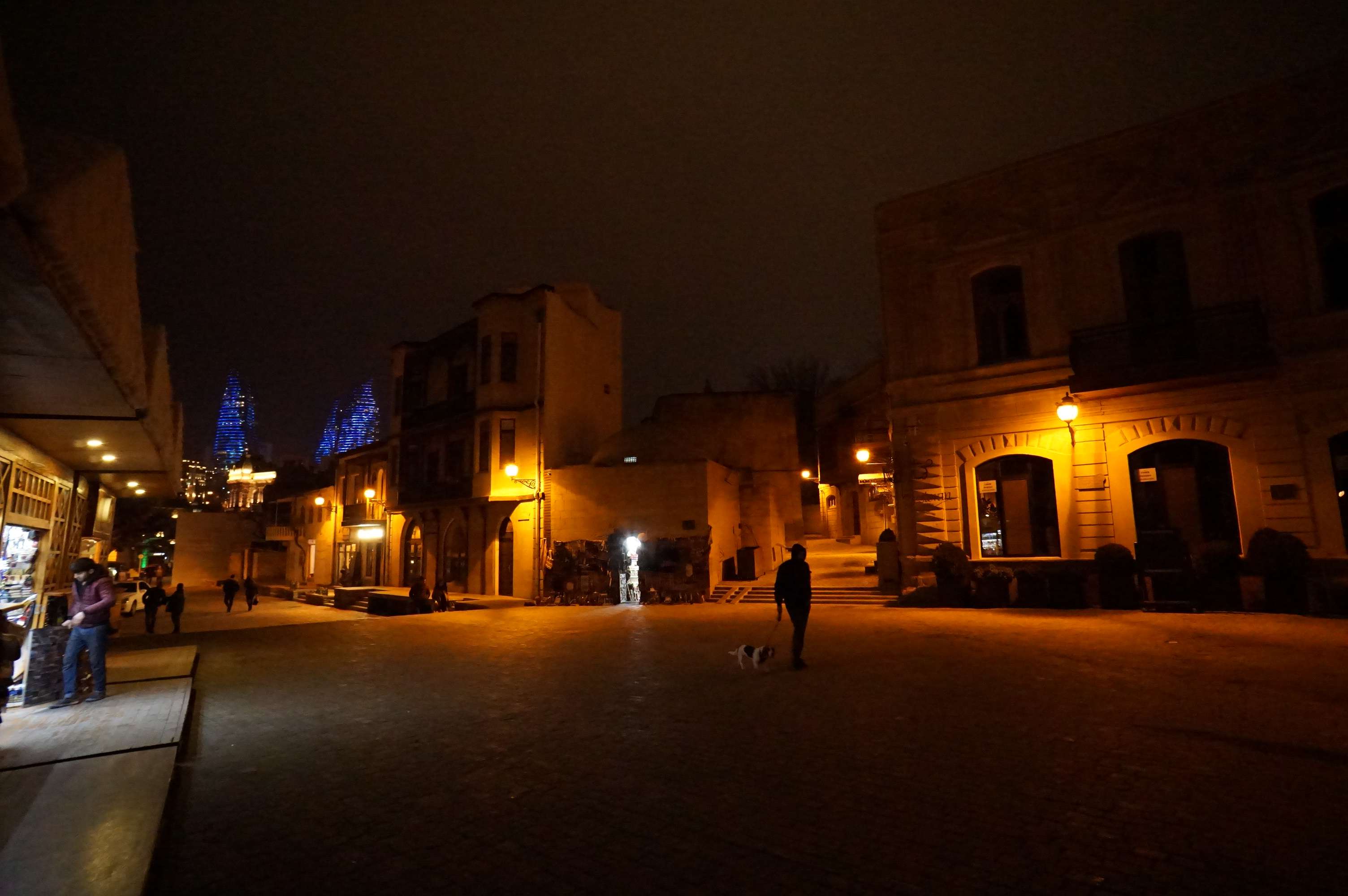 Inside of the walled old town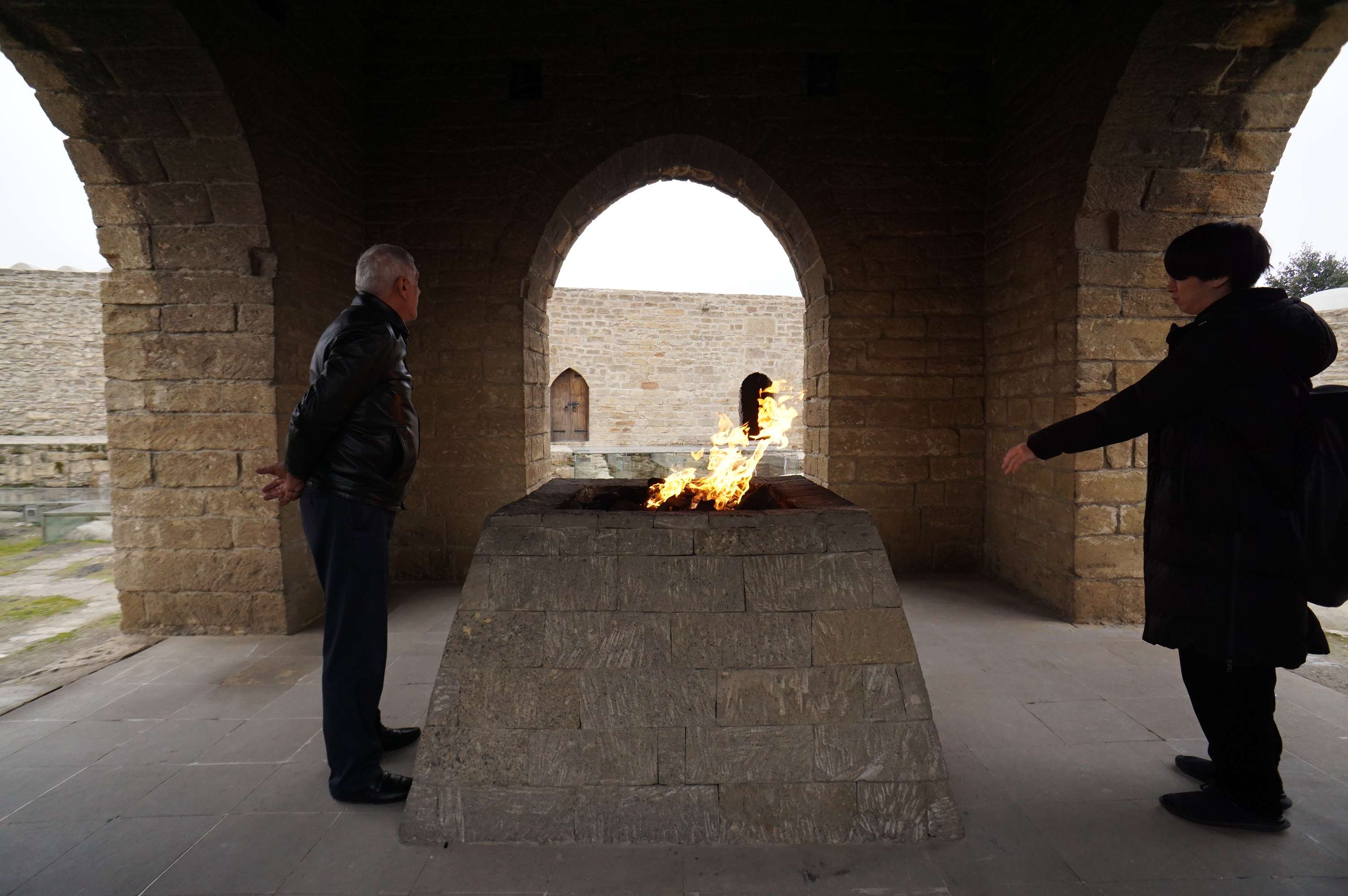 Atashgah Zoroastrian Fire Temple (Natural gas has belched since ante-Christum)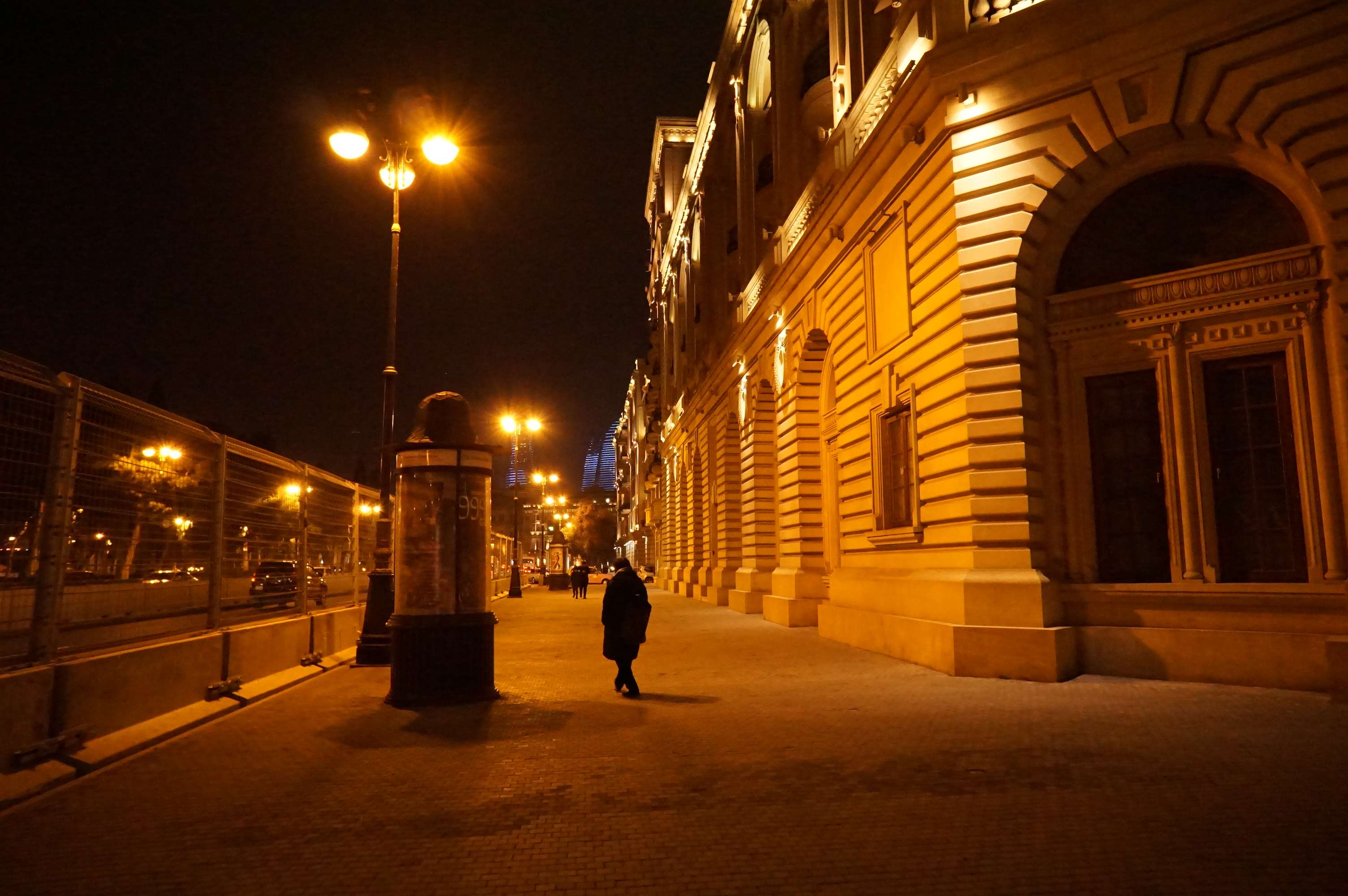 Sidewalk along the road which is for F1 race
---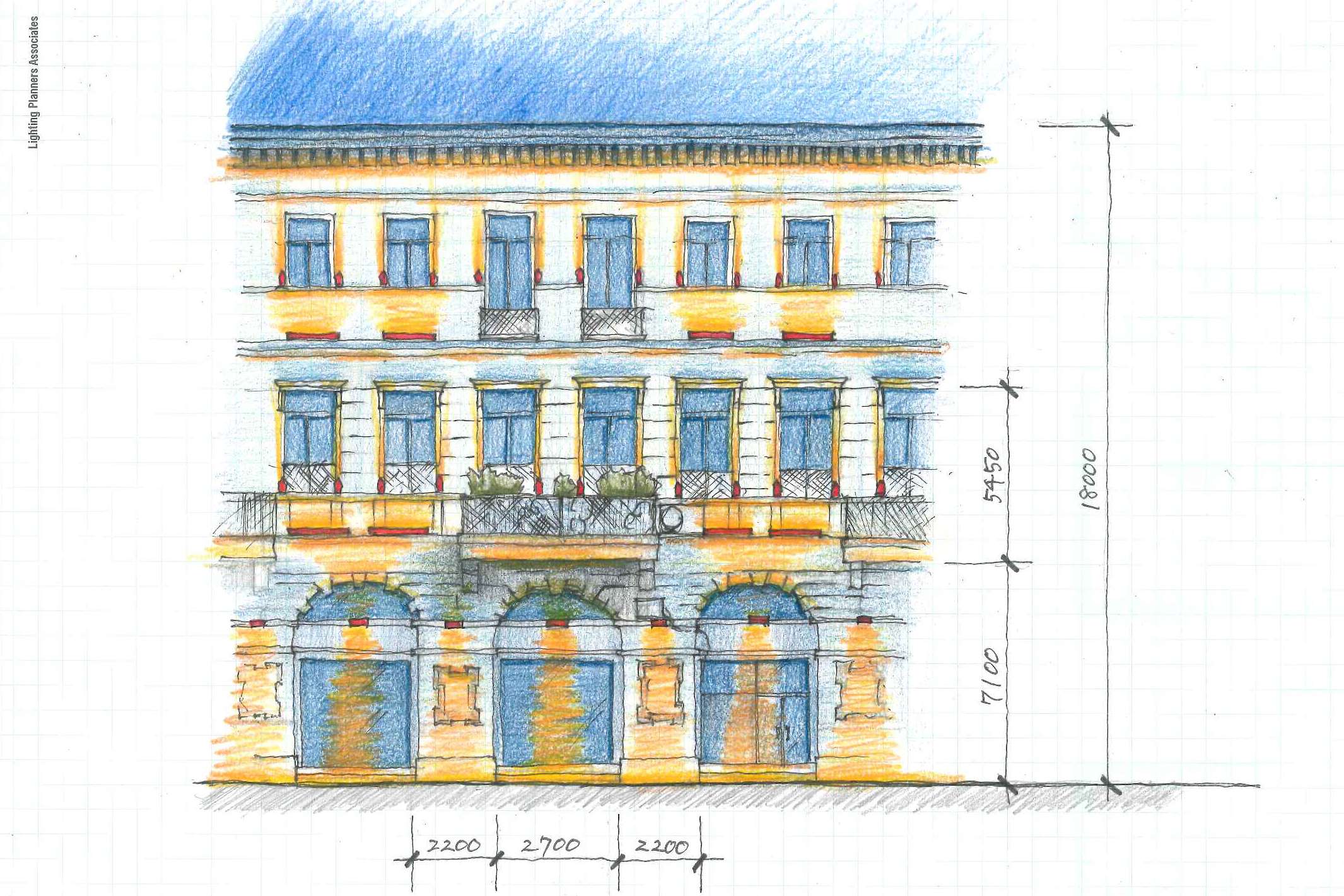 Sketch of new town elevation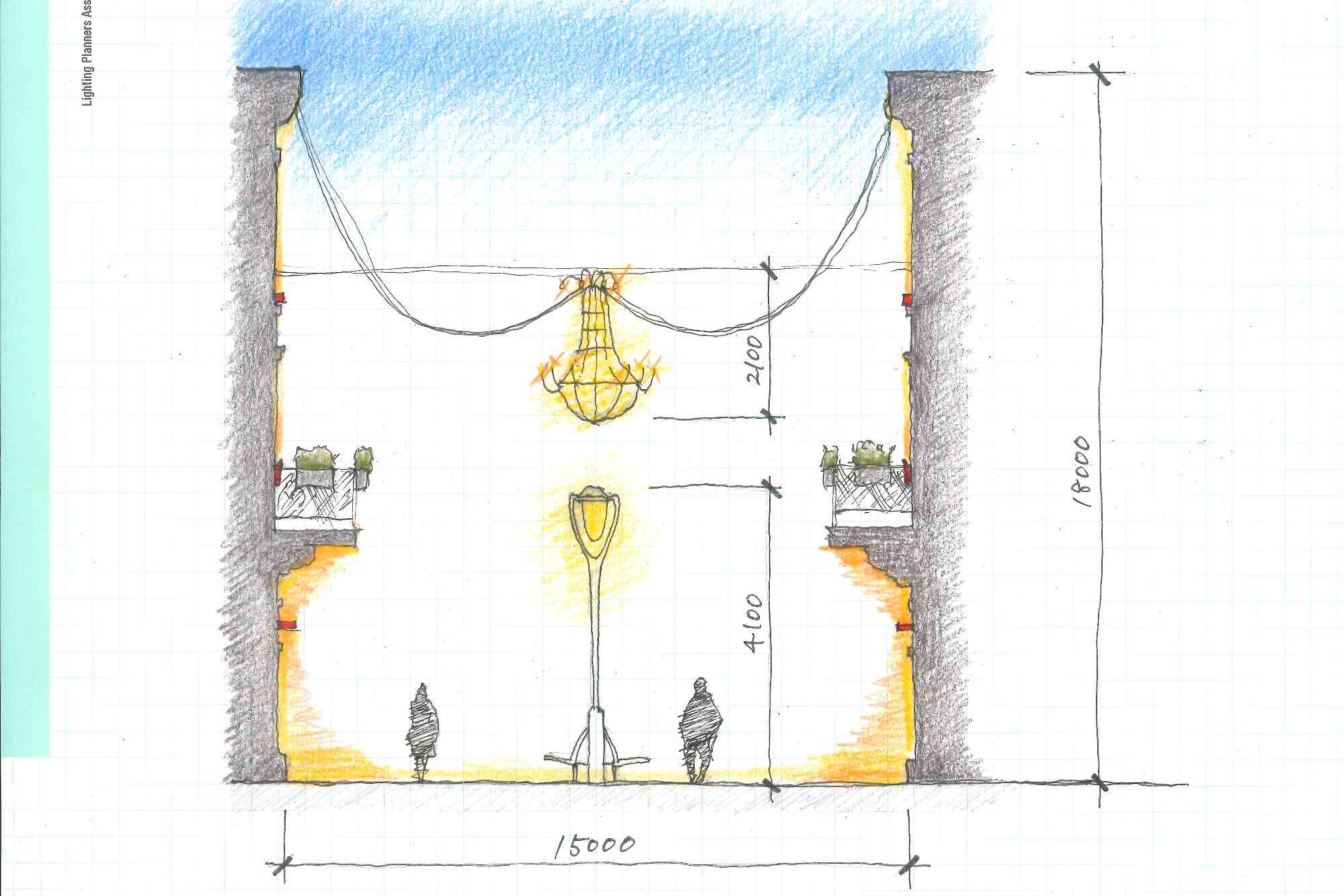 Sketch of new town section
■Town's light
In the new town, there were a lot of Western buildings. First floor was used for shops and second floor was used for residences. The new town area was the most crowded place with people enjoying shopping. We felt warm feeling created by the lighting with 3000K fluorescent lamps. Narrow façades were illuminated with narrow beam angle spotlights. And the wide surface façades were illuminated with linear lights. We could find the lighting schemes which were considered to light up properly according to the objects.
Most of lighting fixtures were mounted on the walls and visible themselves. However, visors were attached on the spotlights which were located at close to eye level. We found their attention to glare issue. Catenary lights were hung at the center of the street, and they enhanced the life of the street. It was 50 lx at the center of the street by light poles. We thought light poles were not necessary because the vertical illuminance was enough.
The buildings along the main street were also illuminated with similar lighting methods. However, in-ground wall washer fixtures were located in front of the columns and it was so glare for the pedestrians. Most of shops were open over 10pm, and façade lightings were also kept turn-on till late night.
Heyder mosque is the most famous buildings in the lighten building in Baku. The new mosque was built in 2014.
The lighting enhanced stately appearance of mosque. Most of lighting used LED, but a lots of light flickered, it might be because LEDs were first generation.
Their conscious about cityscape and history was high, and also about lighting.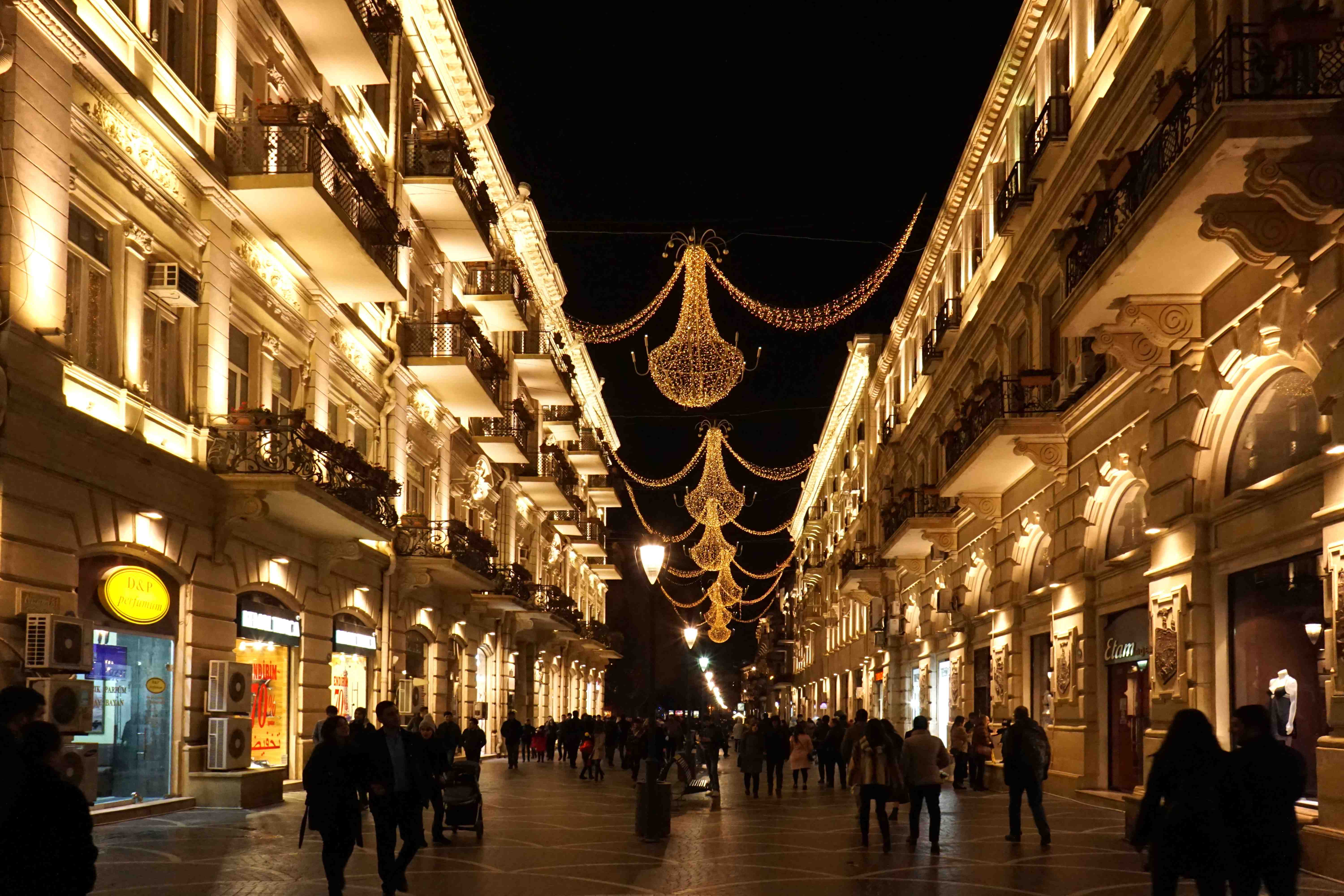 Baku new town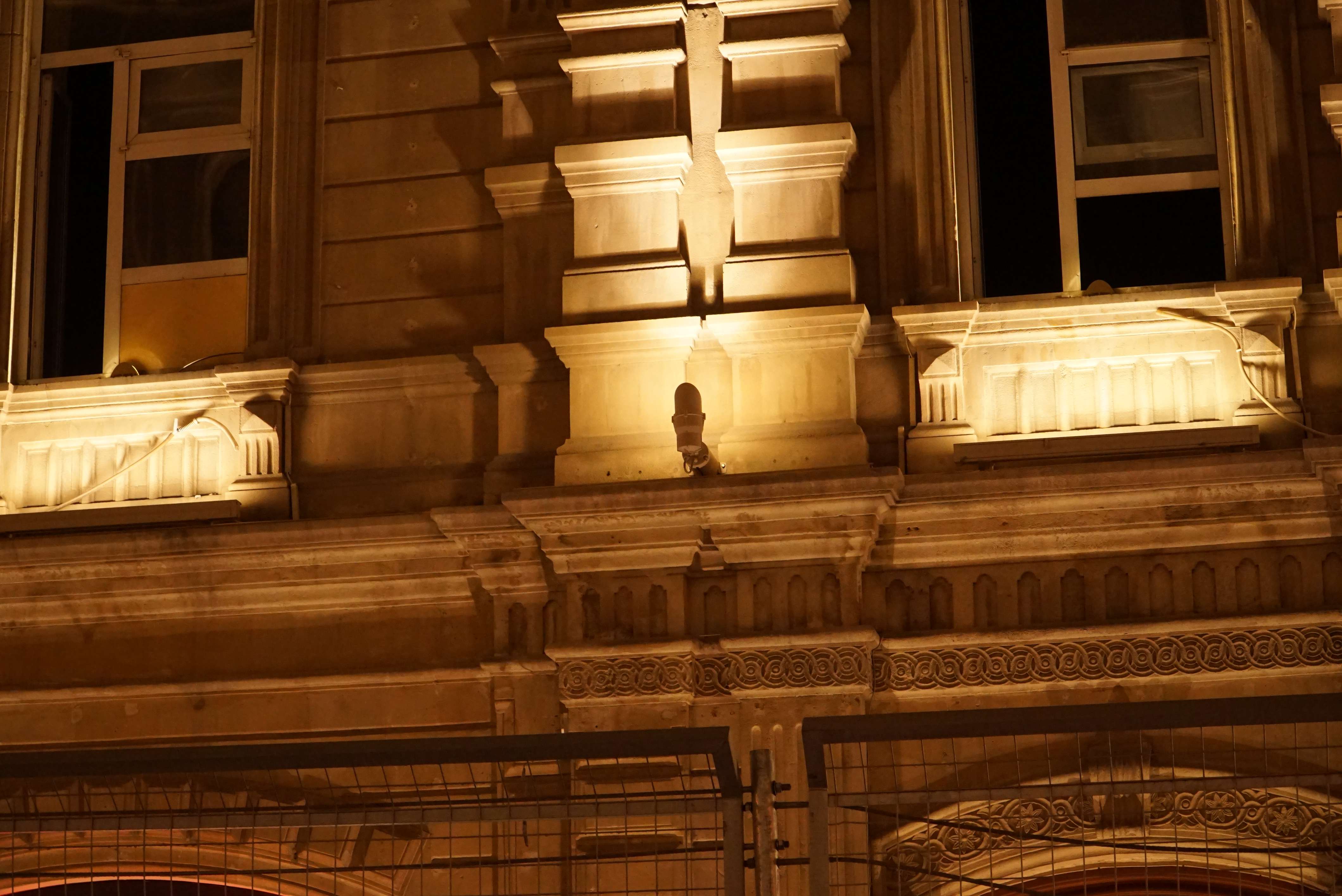 Lighting fixture for the façade uplighting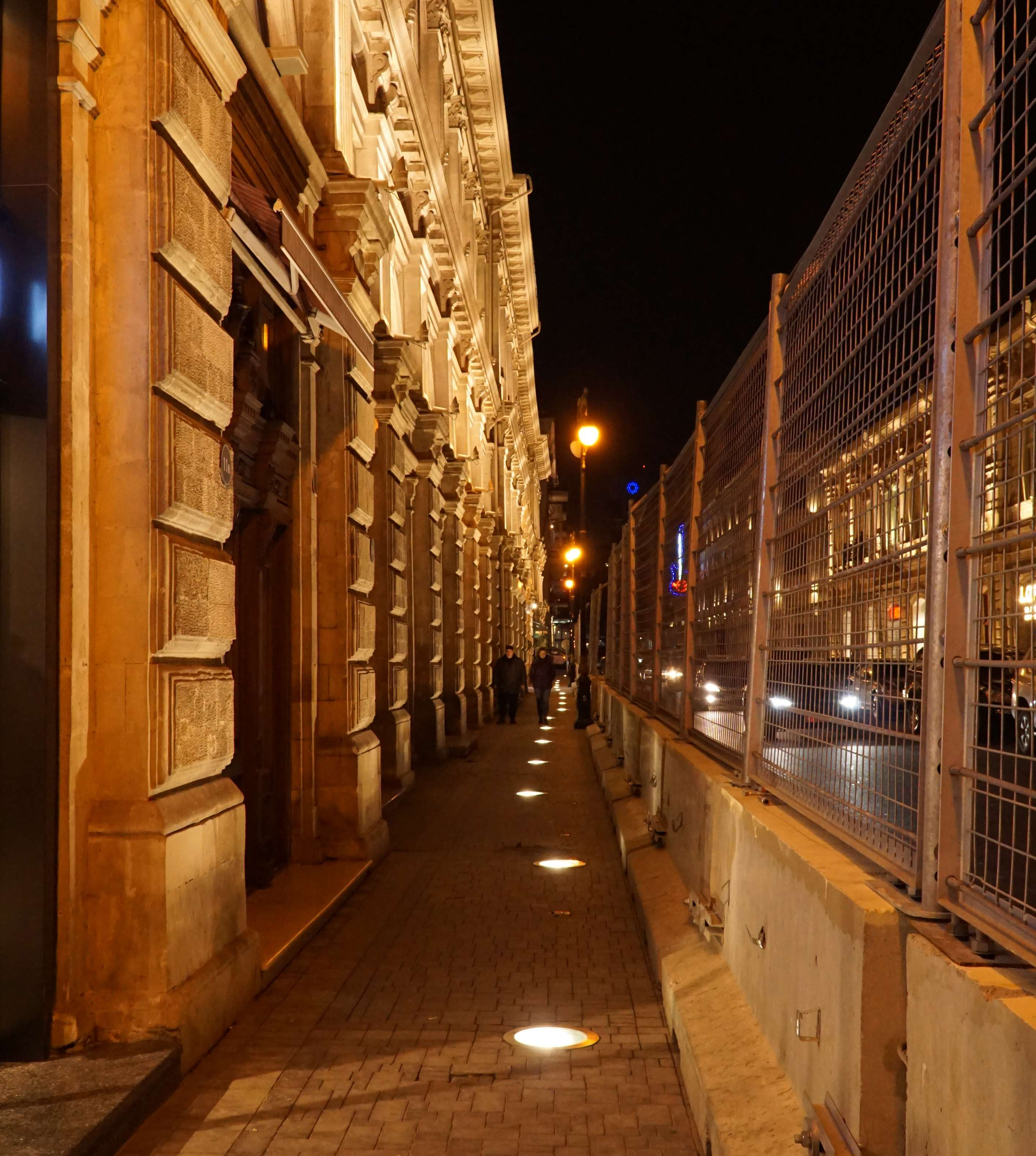 Glare wallwasher
■Organic lighting
Heydar Aliyev Center, which is a complex including museum, concert hall and exhibition hall, was designed by Zaha Hadid. The interior lighting glowing from huge glass window highlighted the shape of architecture. In the day time, day light comes into the interior and made beautiful gradation of light and shadow. The interior lighting was composed with light-emitting curved surface and indirect lighting. There were less downlights for matching to this organic shape.
■Summary
Even Qatar and Azerbaijan have similar backgrounds as oil producers, they have different consciousness for lighting. In Qatar, the lighting seemed showing the high-rise buildings authoritarian. In Azerbaijan, the lighting seemed the buildings are considered carefully for their historical city with perspective about urban planning. After the comparison of these two cities, we found these interesting differences from this survey. Also, we found lighting can contribute developing and promoting sightseeing areas. We are interested in how these cities have been developed and the cityscapes will appear.
(Masahiro Iwata)