2014.08.18-08.20   Noriko Higashi
A 3-day workshop and Light Up Ninja event was held on August in Sao Paulo, Brazil. During the city walk we not only looked for hero and villains of light, but also discussed what kind of nightscape is needed in Sao Paulo since public safety and other issues are of concern in the city. During Light Up Ninja we illuminated one of the city's iconic buildings, Copan, for two hours. This workshop was a great hands-on opportunity to not only exercised regular night walk, but we also debated and did actual experiments with several viable lighting proposals.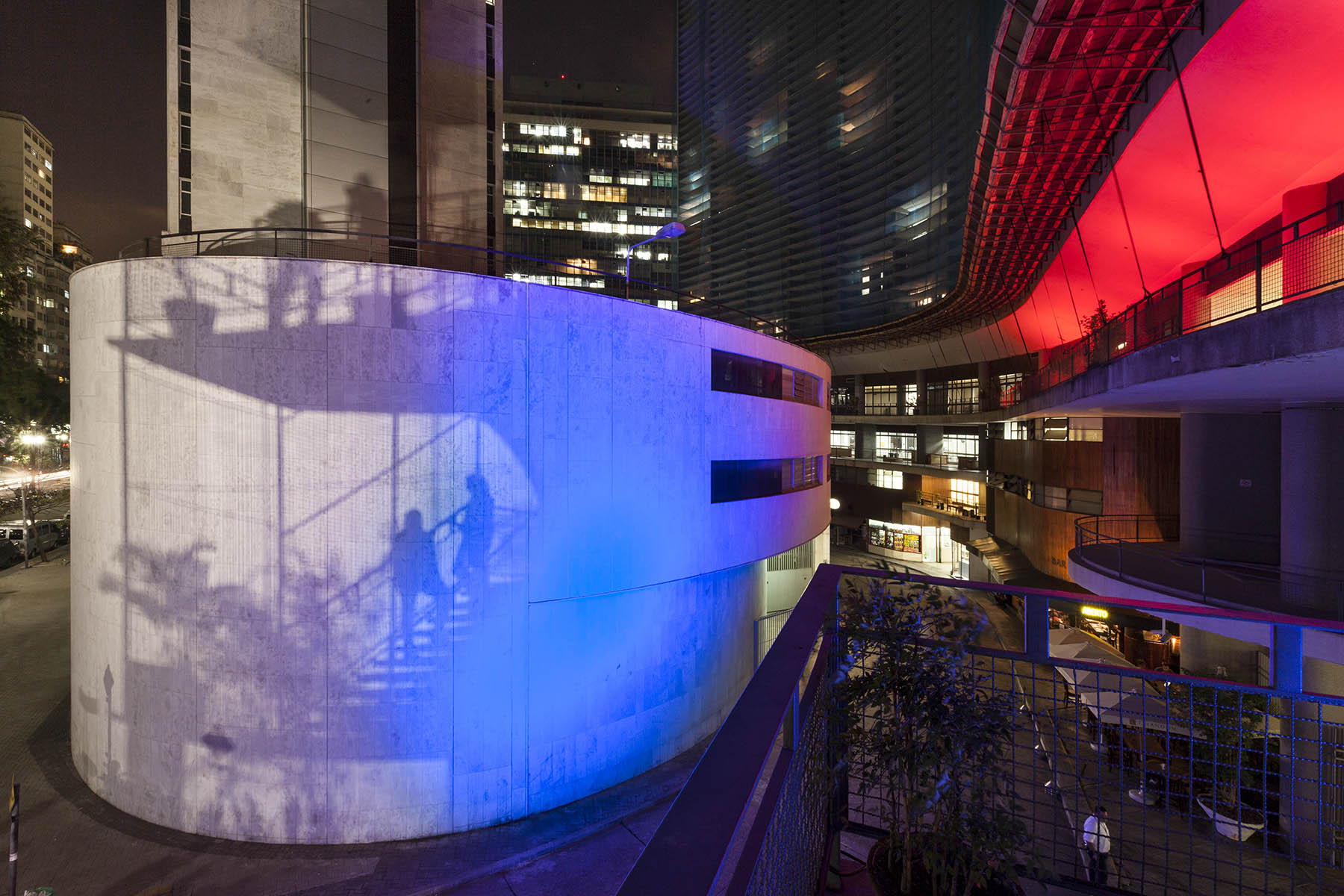 Lighting plan that won 1st place in the lighting proposal competition was carried out.
■Workshop Venue:Copan
The building Copan, the light up venue, was originally desinged by a representative Brazilian architect Oscar Niemeyer and interrupted several times afterwards, but it was completed in 1964. It is a large building consisting of the largest number of households in the upper part and the commercial facility lower part. Copan is standing in the old town with parks, churches and banks.There were hardly any new buildings around, which seemed to be built from the 1960's to the 1980's.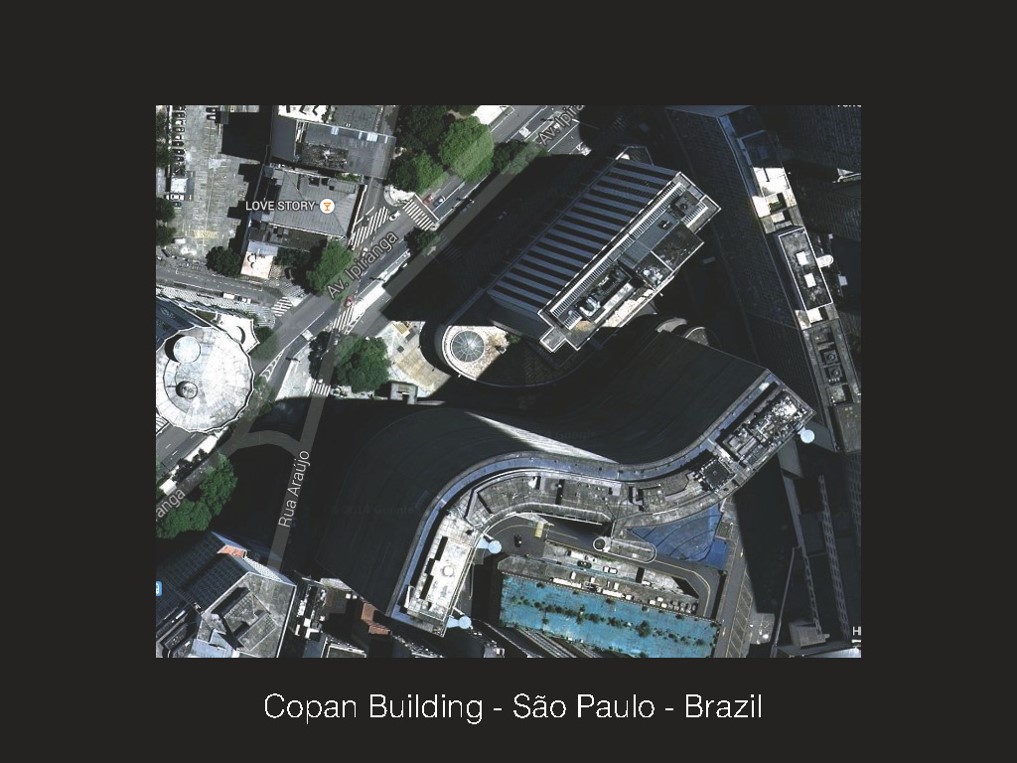 Workshop venue, Copan
■Day 1:Orientation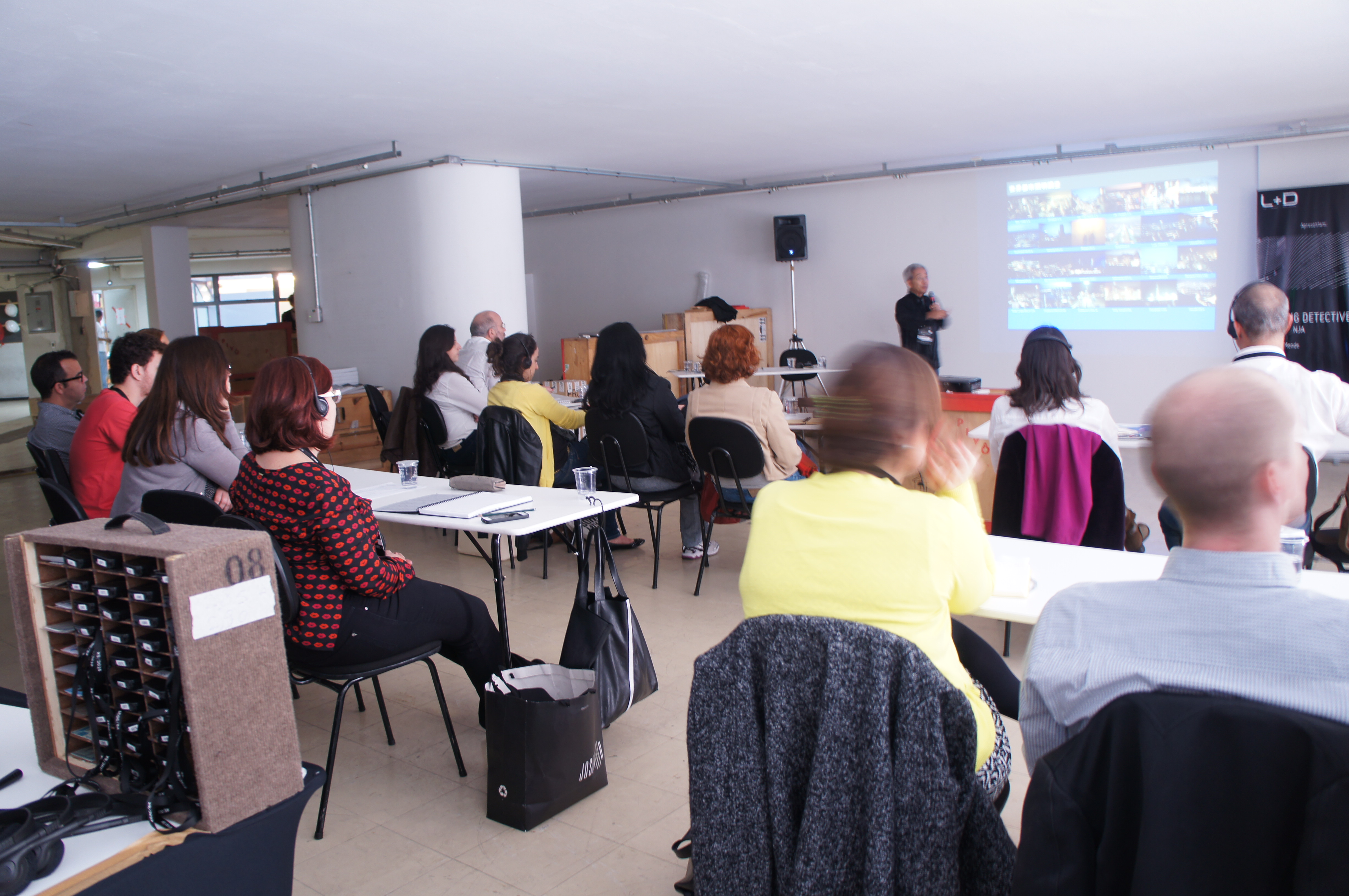 Mr. Mende, chief of Lighting detectives,is giving a lecture.
There were about 25 participants in the workshop.Most of them were either lighting designers and lighting manufacturers, and had a wealth of knowledge about lighting. However, they rarely have opportunity to discuss and learn lighting, so I heard many impressions that this workshop was a good exercise.
First of all, Mr. Mende, a chief of Lighting Detectives, gave a lecture on the urban lighting, and the purpose and method of night walk. Not only brief introduction of Lighting Detectives but also details like how to find hero and villain of light.
■Night Walk and Group Discussion
Started Night walk when the sun still remained the sky. Most of participants had their lux meters and majored lux level by themselves. Each lux meter showed different lux level, so we put 10 lux meters on the street and check how much differences they had from one Mr. Mende had. Participants listened to Mr. Mende explanation how he thought about lighting on the street though head set and asked some questions to him.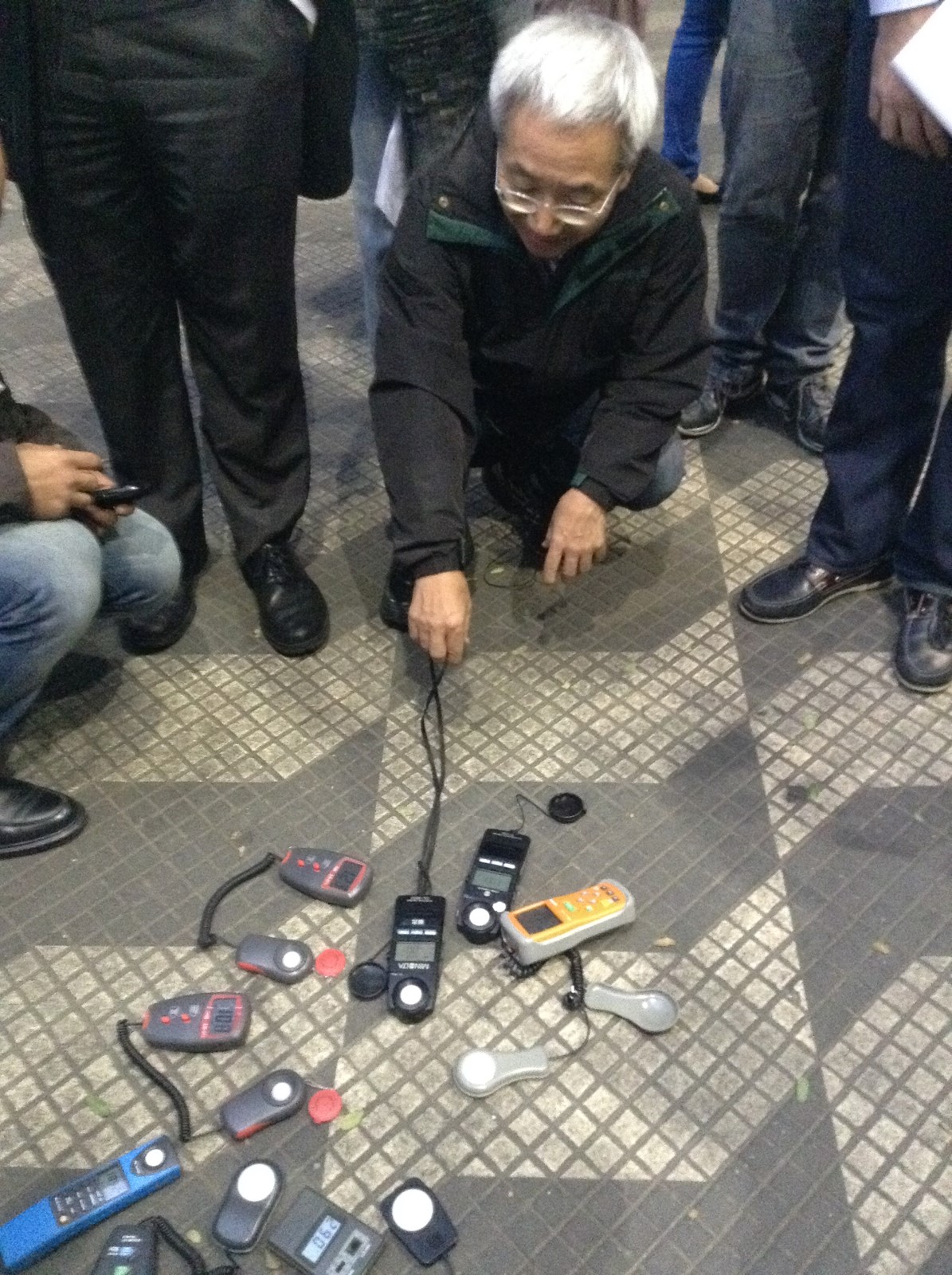 Check differences of lux level by putting many lux meters
We left main Venue, Copan, and headed to Skateboard park where many young people gathered even at night. One of participant designed lighting this park. This park glitterly illuminated with high mercury lamp guaranteed safety to those who enjoyed skateboarding, but in terms of comfort, it was not good enough. But it is clear that many people are spending their time and they loved that park. From the viewpoint of a third party like me, I felt strongly that even in an environment that seems less preferable, I should not deny that it is a comfortable environment for people living there.
After that, we visited another park. We were warned not to walk alone in this park. There were many people but they were people without home and asked for money. The park and its surrounding roads were dazzling brightly, and there were many kinds of street light. Adding light more and more caused excessive lighting.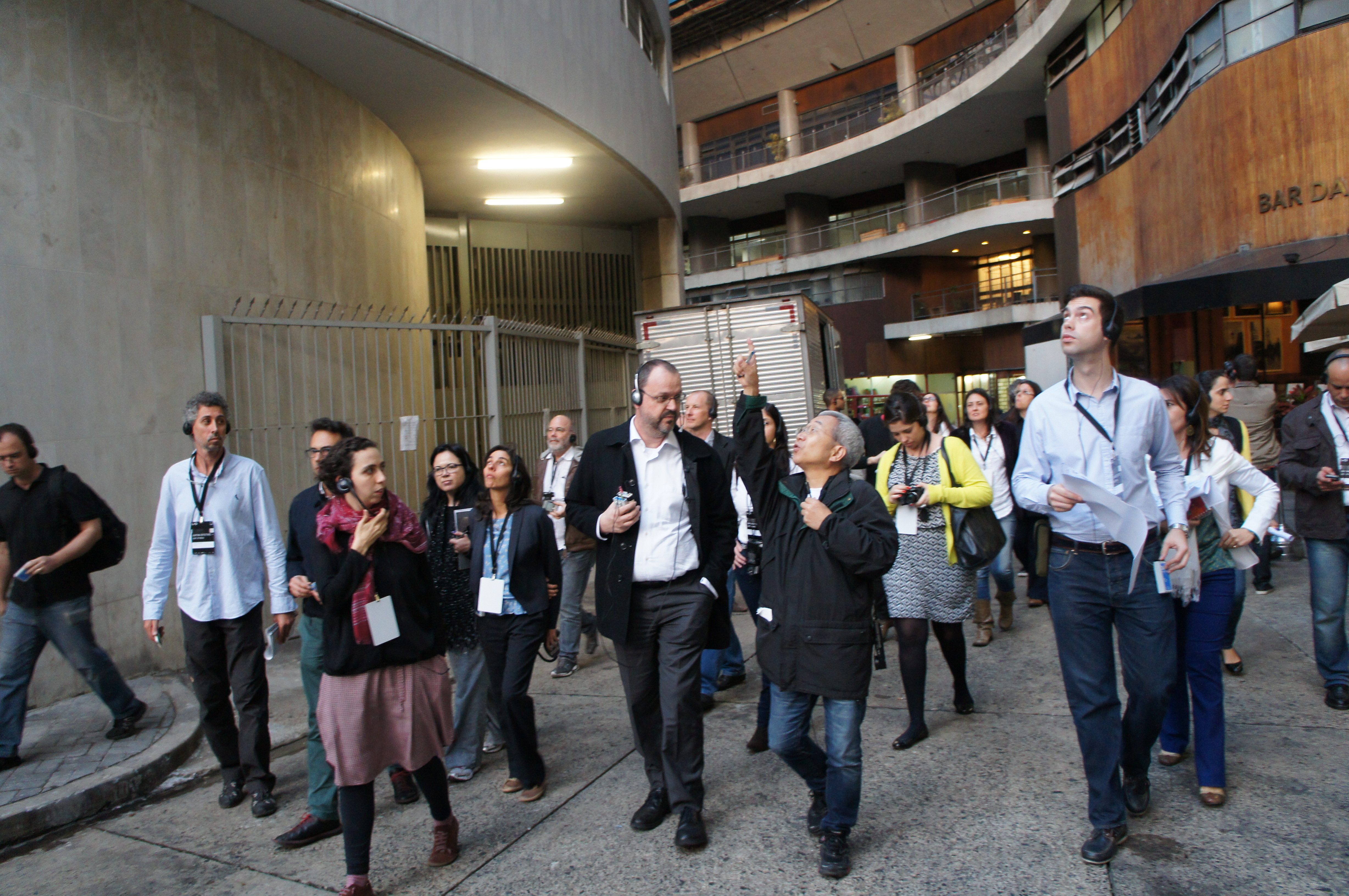 Night walk started when it was still bright.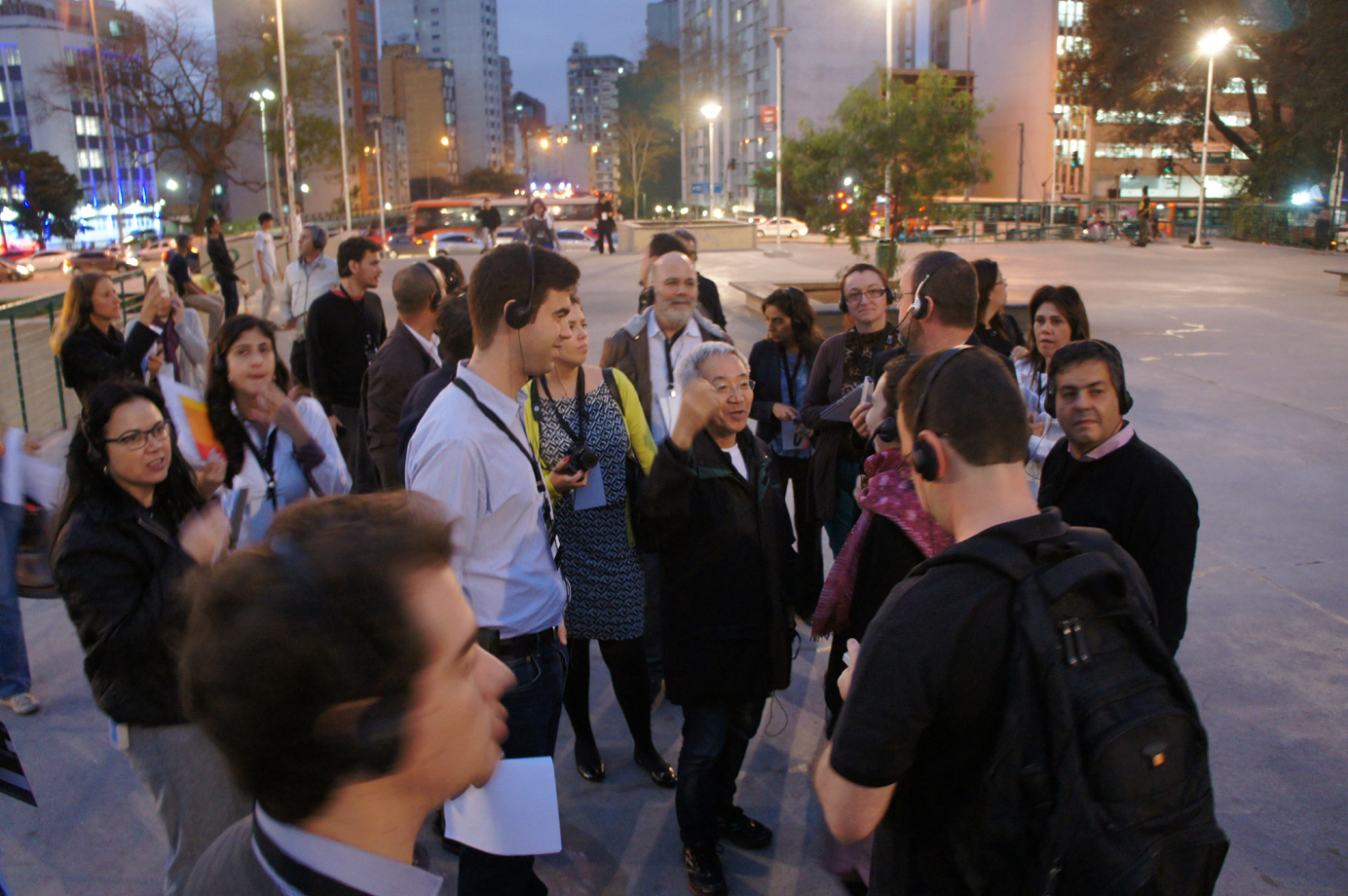 Exchange ideas at Skate board park.
---
■Day 2:Presentation/Proposal/Vote
After the discussion, Hero and Villain of light were presented by each team. Also light up proposals fo Copan were shown. Every team pointed out too glarely pole light as a villain, and traffic light which blinks shape of Copan and lighting from unique window as heroes. In the light up proposal vote, we had various discussions, but we decided on a plan to produce extraordinary contrast of red and blue lighting.
■Experiment
We examined the type and number of equipment necessary to implement the light up plan decided by voting. Each team brought the actual equipment to the place of work and carried out the lighting experiment. They experimented the color of the filter, the light distribution, the installation place of the equipment, and prepared for the next day.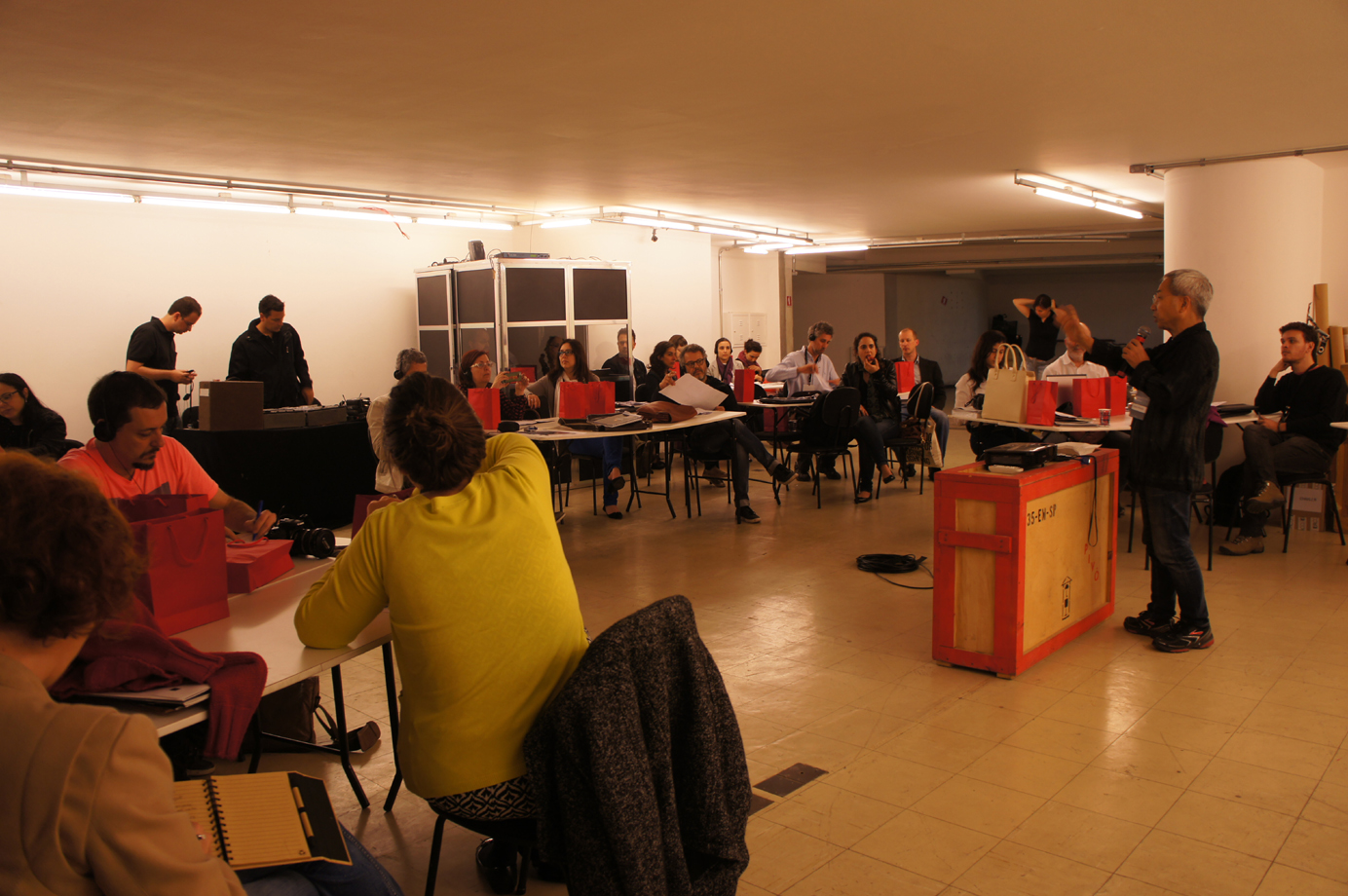 Give instruction how to make a report on the night walk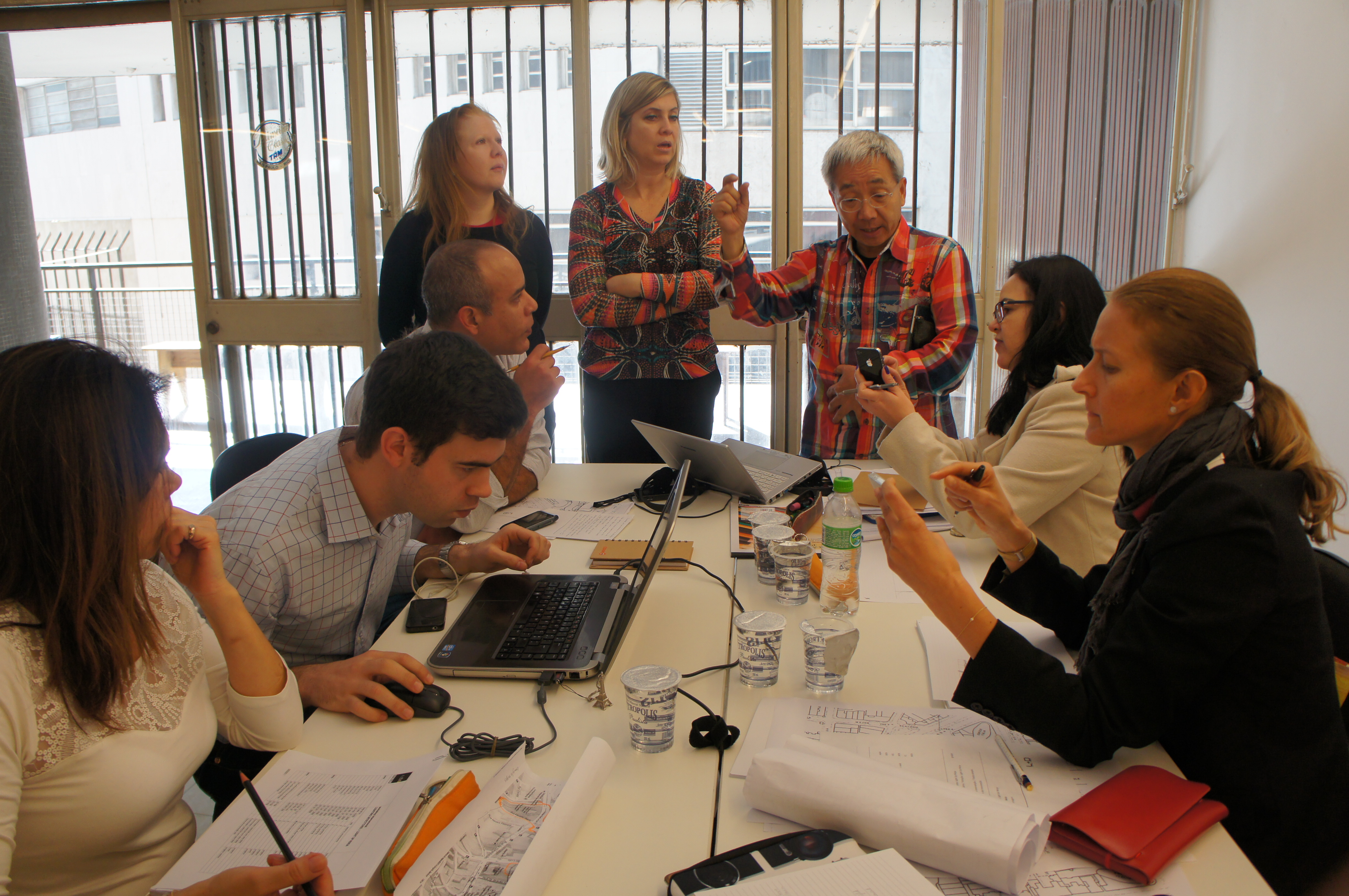 Group Discussion
---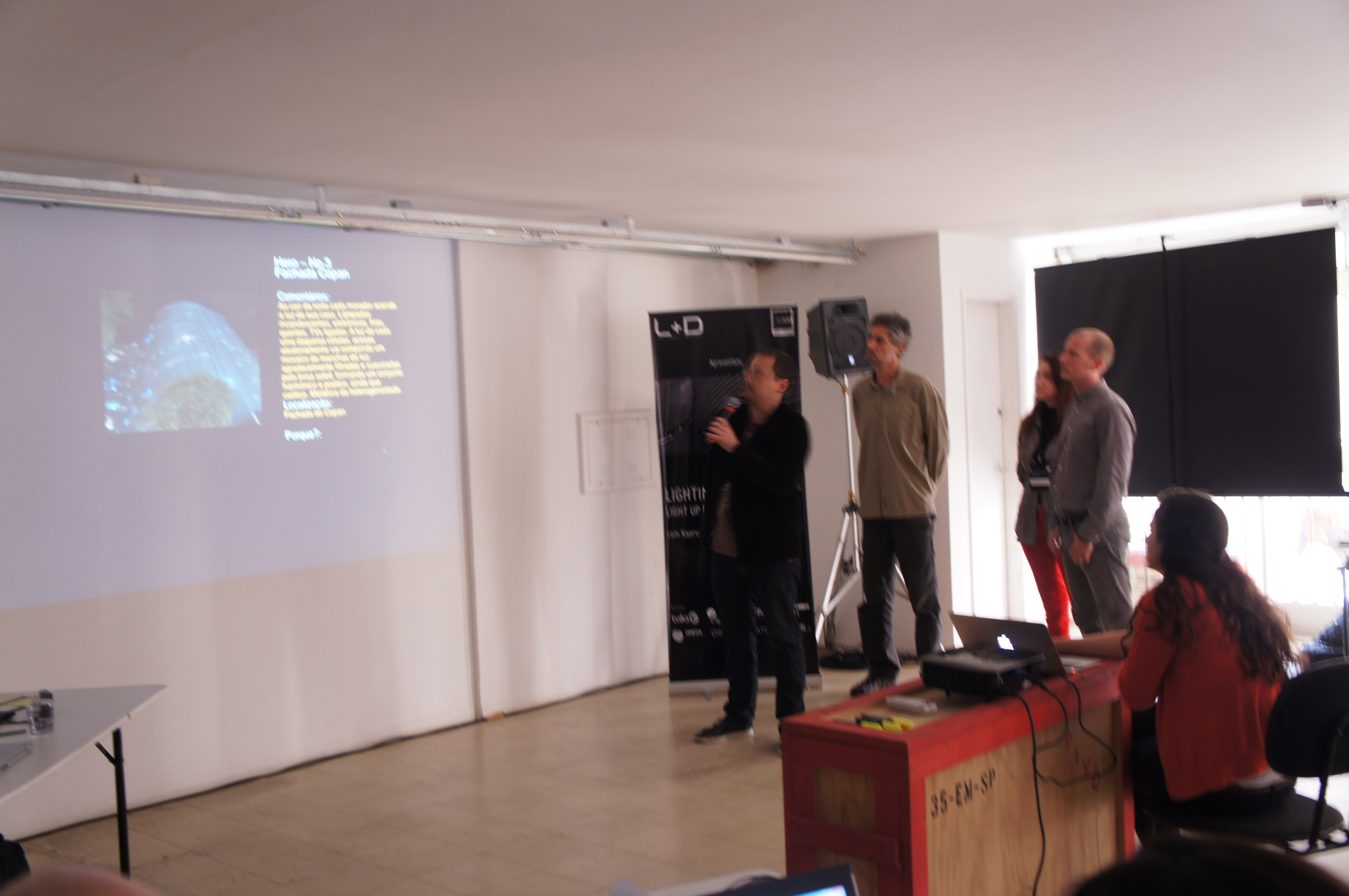 Presentation on Hero and Villain of light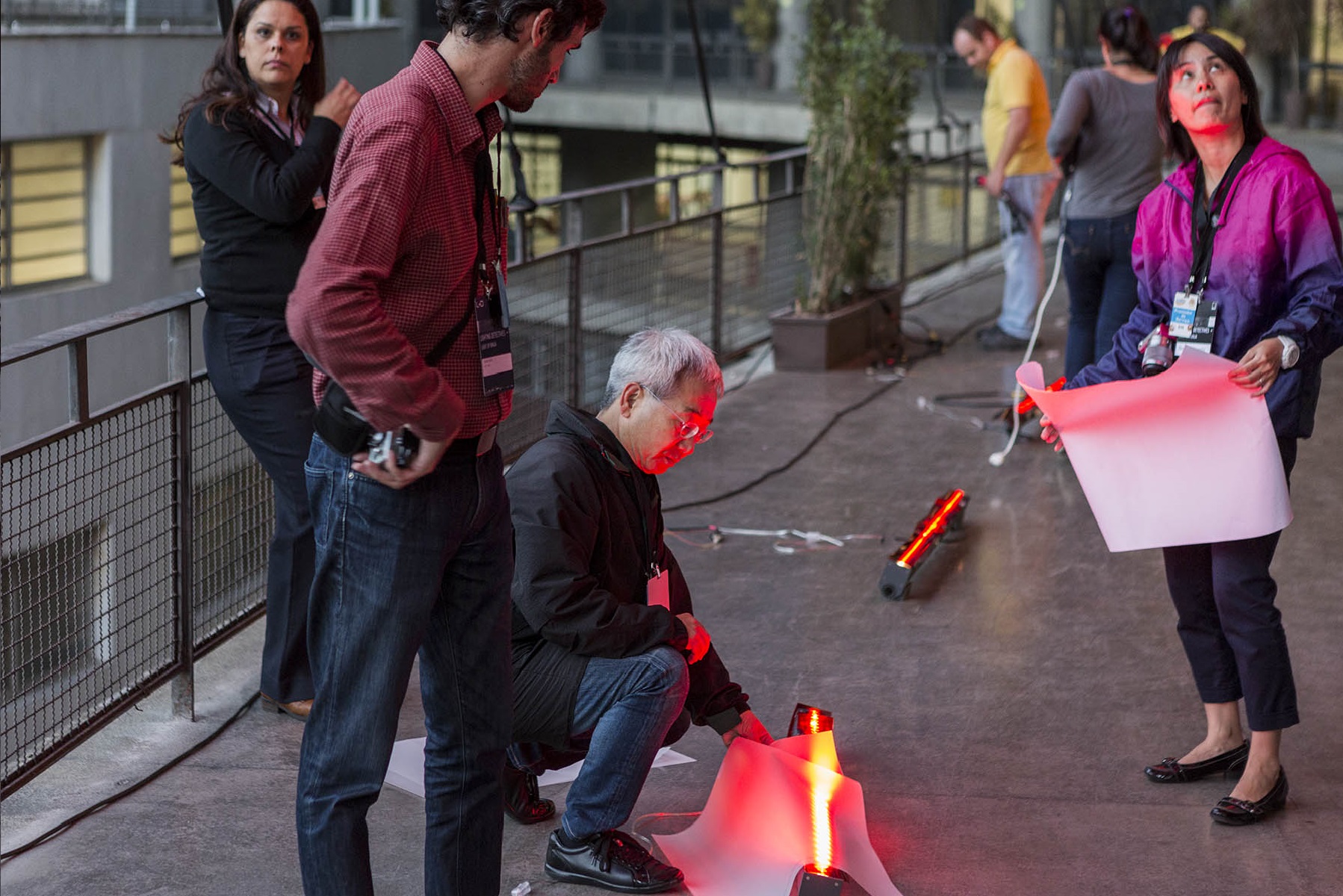 Examination of presence / absence of diffuser
---
■Day 3 : Preparation
Met at 2:00 PM, and started preparing for light up.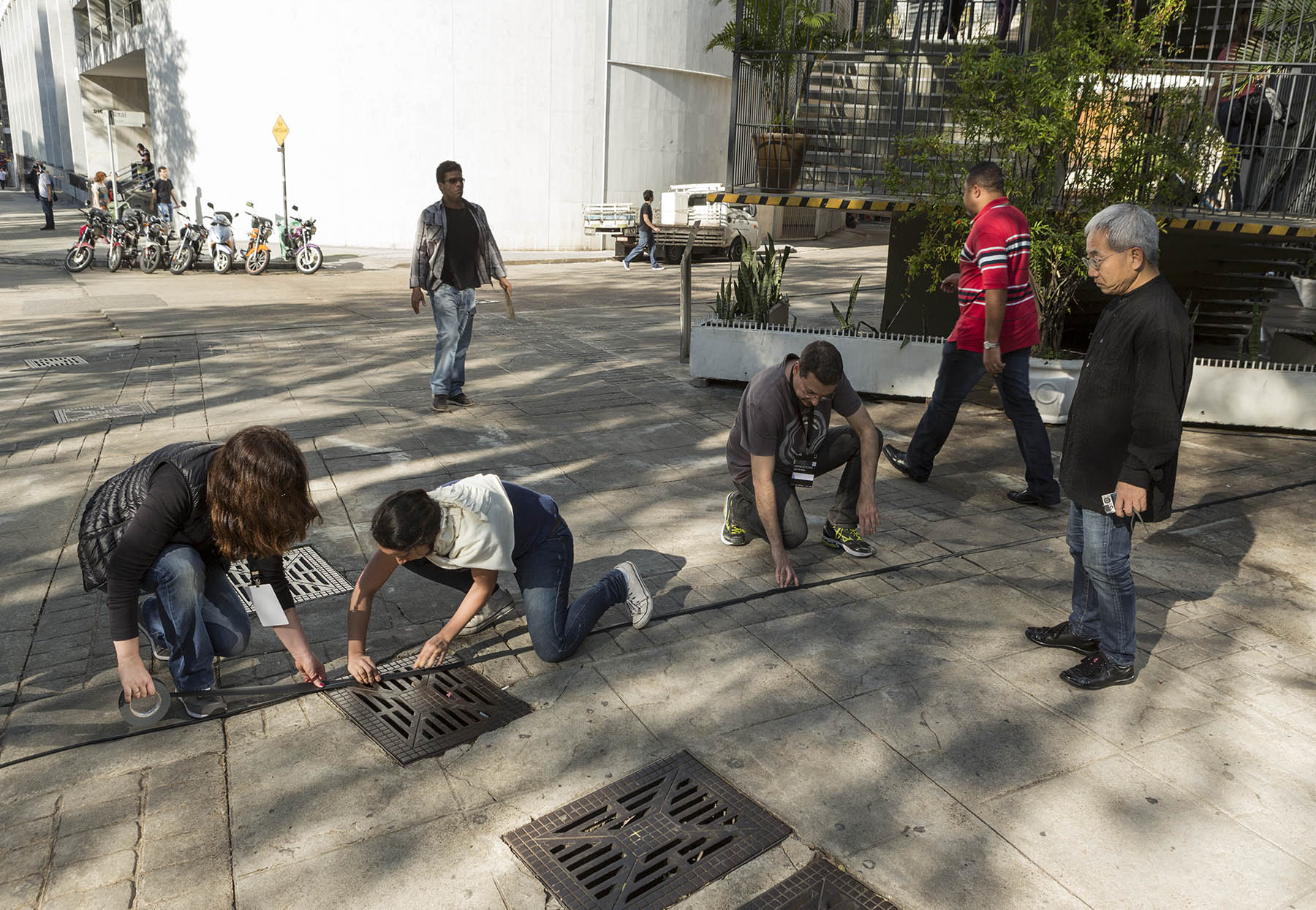 Wiring
The equipment gathered by the cooperation of the lighting makers is 140 units in total including RGB LED light fixtures, halogen light fixtures, LED tape lights, spotlights. People who went up to the trees and installed spotlights, people who attached the wiring to the road with a gum tape, people who had color filters on linear instruments.In a short period of time, all the lighting was set up.The TV interviewing crew also got in, and in the unusual atmosphere, people passing by was also interested in what the event was. The venue was prepared for light up in a hustle and bustle atmosphere.
■Light Up Ninja
Only two hours light up. The first hour was directed at the plan with the contrast of red and blue that won first place at the competition. In the latter hour we removed the red filter and carried out a light up that illuminates with a warm color temperature. The building sunk in the dark at night was highlighted beautifully by lighting and transformed into a comfortable space.
People who participated in this event were very enthusiastic and motivated, so everything went very smoothly. Light Up Ninja is a chance to let many people know not only participants but also people who have passed and who are living there and working there. I would like to continue this kind of event that attracts people just passing by.
(Noriko Higashi)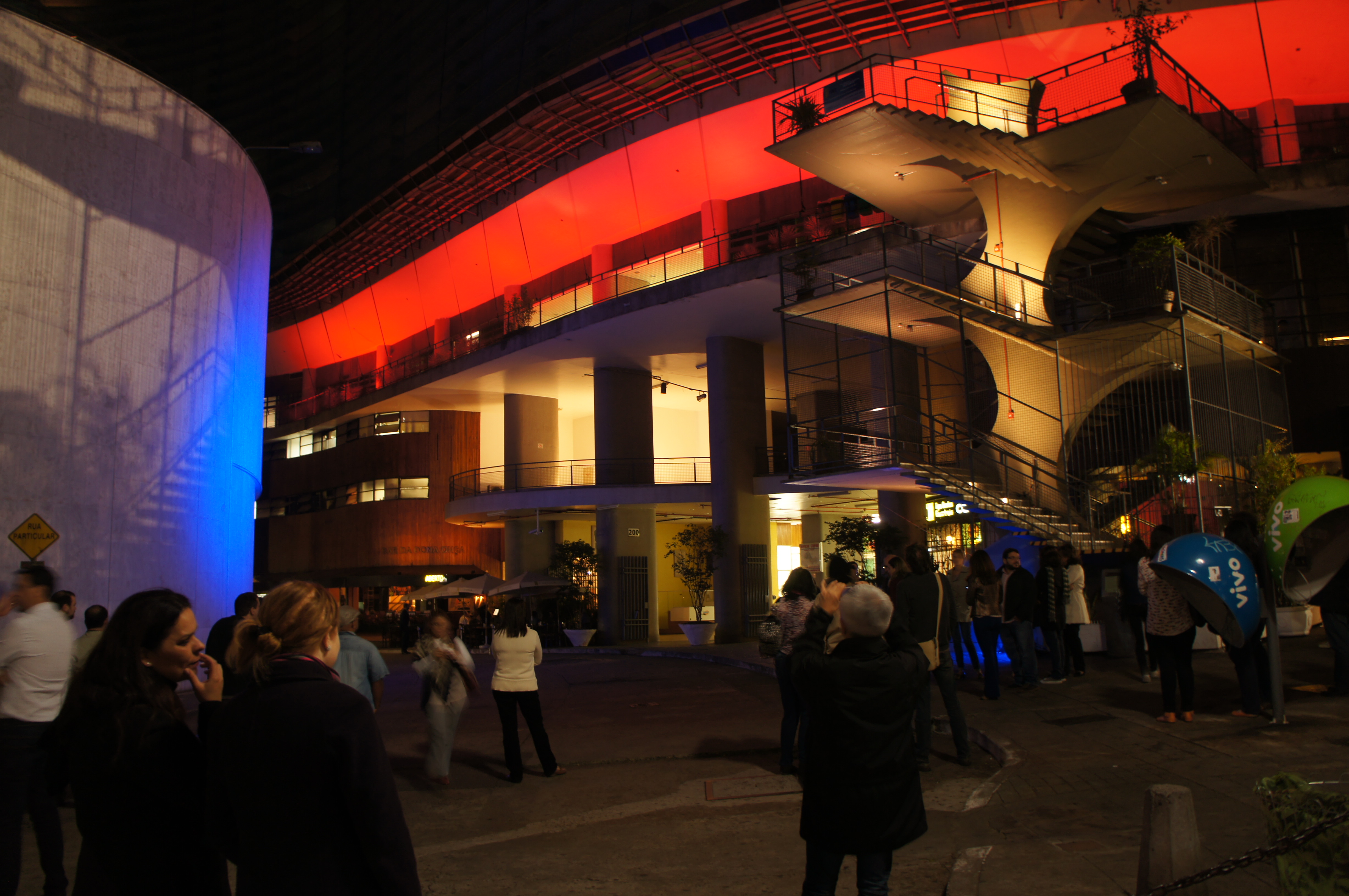 Light up with red and blue colors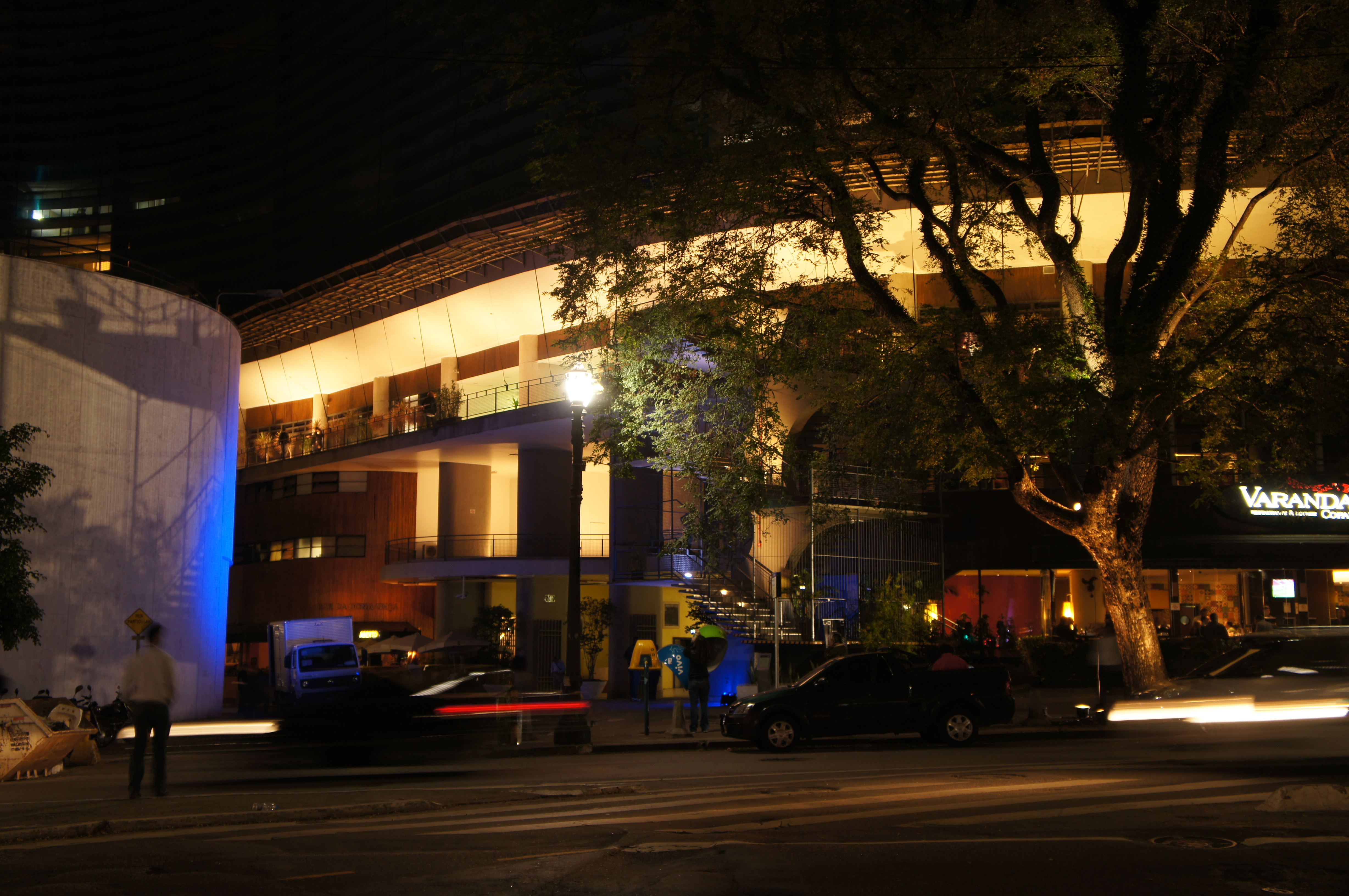 Without red filters
---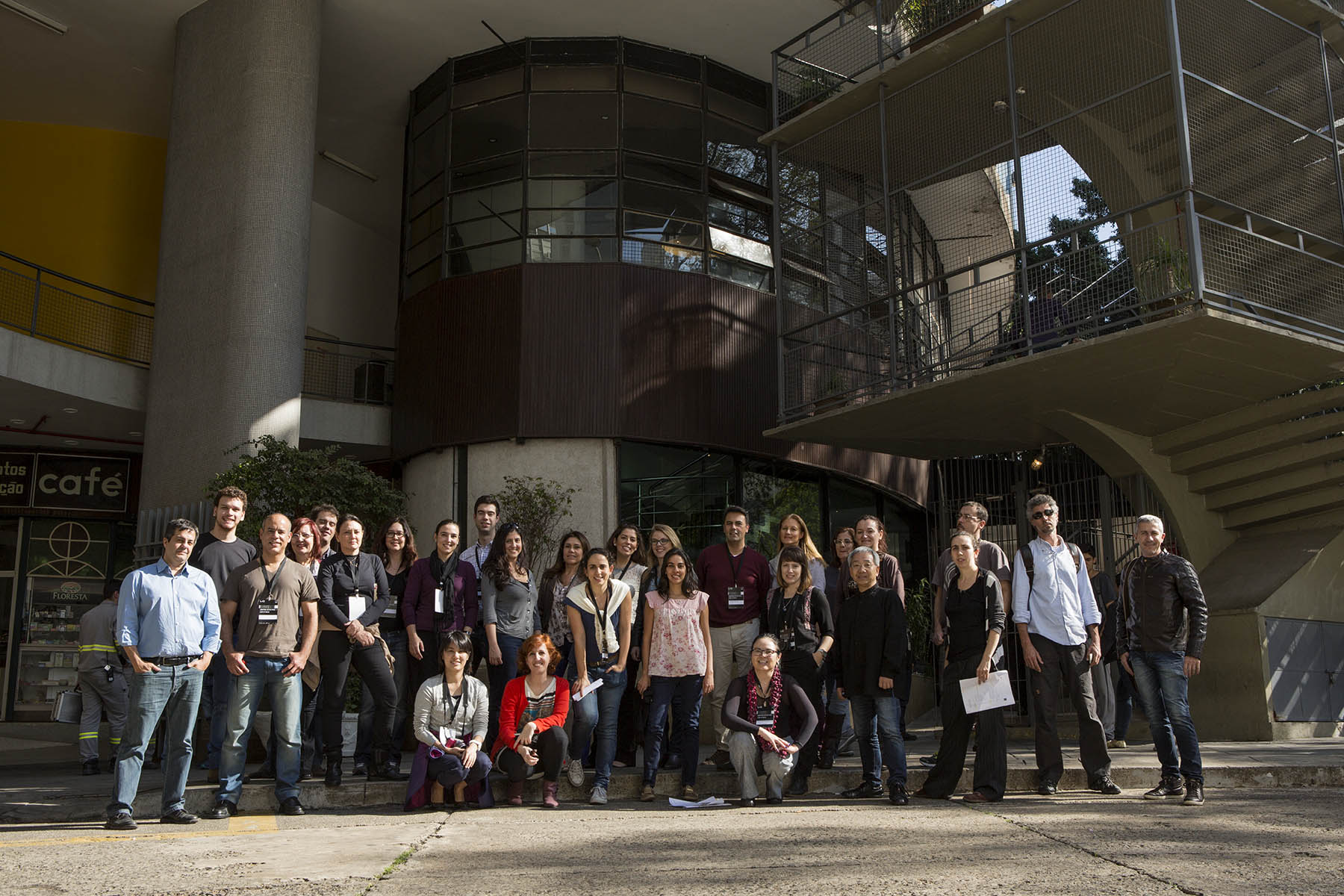 Group photo with attendees