Kyoto is an ancient city of Japan that was planned based on feng shui, or Chinese divination. Although the streets of Kyoto are a typical gridiron pattern, unique spatial conditions derived from the machiya, or Japanese style townhouses, are found all over the city. All of these spatial features nestled into the city's framework lead us to lighting environments only found in Kyoto.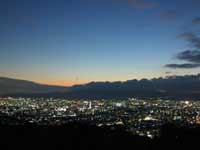 East of Kyoto, a frequented nightscape viewpoint, Shogunzuka looks out over the city. From this birds-eye view, street lights and other ground level lighting softly illuminate the volume of buildings in Kyoto, appearing as of more a cluster of shadows then light in the night.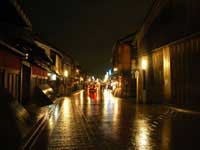 The Gion area of Kyoto. Here, traditional facades and buildings still exist and reflect the intention of the people to preserve and recreate the architectural and lighting atmosphere of this historical place. Instead of bright lights in this area, light is impressively filtered through cracks, crevices, or bamboo lattice of the buildings to spectacularly fulfill this area's lighting requirements.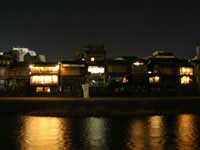 Kyoto`s rich waterscape. Light from Pontocyo, along the Kamagawa River, filters out and reflects on the surface of the river, one of the many sophisticated nightlight waterscapes of Kyoto.
        
KYOTO: A Multitude of Autumn Colors (2010.11)
Autumn colors decorate the City of Kyoto every year with special illumination displays during the season. Moss, dew and other delicate natural colors standout during the freshness of daylight, compared to the fascinating illumination of fall leaves and thickets of bamboo through the darkness of night. A walk through the city reveals very different expressions of an autumn day and night.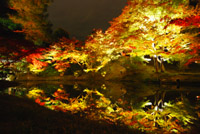 Every year artists are commissioned for the fall illuminations at Kodaiji Zen Temple. In the Hojyo Garden digital images displayed over the white sand constantly change along with colored lighting and soft BGM. In contrast, trees displaying fall colors are beautifully illuminated and reflected on the ripple-free Garyu-ike Pond.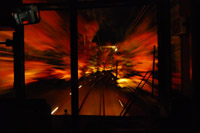 Along a 250m stretch of the Eizan Electric Railway the single track is enclosed on both sides by bright red maple leaves forming a tunnel. During the fall season, the train slows along this section of the track, the carriage lights are dimed and the illuminated leaves are highlighted against the dark back drop of the night.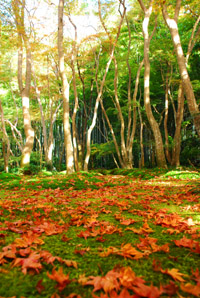 Giouji Temple is famous for its "Rainbow Window." Light is dispersed through the bamboo lattice and shines on the sliding paper screen in shades of deep red to green. The hues and patterns on the screen constantly change with the natural movement of sunlight.