From up above Tokyo looks like an overturn jewelry box, the night streets glitter with lights and it a fairly beautiful sight. Once back on ground, the glitter has turned harsh. It is an economically advanced nightscape, an efficient nightscape with needless light and light pollution.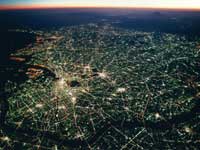 An aerial view of Tokyo at night. The dark area in the center of Tokyo, the Emperor`s Palace, is surrounded by clusters of lights that resemble precious stones. From this view it is unclear where Tokyo begins or ends.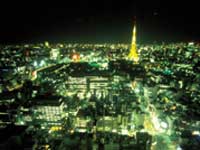 The Tokyo nightscape is illuminated in bright white light. Mercury lamps and florescent lights in the background of Tokyo Tower control the nightscape of this city.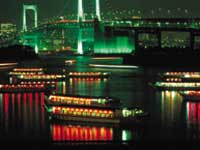 Old-fashioned houseboats gather in the foreground of the Odaiba District and the Rainbow Bridge.