After WW II, Sendai was rebuilt into a modern city with streets perfectly aligned in a gridiron pattern, but mixed with covered arcades. We surveyed the covered arcades and their daily activity along with the annual lighting event Sendai Hikari Pageant.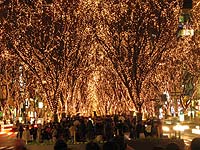 Whole boulevards are just covered in little lights. The overwhelming brilliance is impressive and takes your breath away. When standing in the middle of the road between the rows of illuminated trees, there is no end in sight. The lighting "tunnel" is endless and for a little while we forgot to blink or even breathe.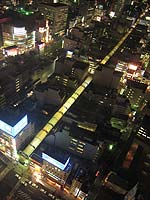 One characteristic of Sendai, the covered arcade, is shown in the middle of the picture to the right. The milky-glass dome running down the center of the arcade reveals the nonuniformity of lamp color temperature and intensity of light.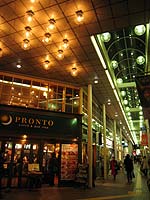 We found excessive amounts of light fixtures in a number of places around the city, a characteristic of the lighting environment that create the nightscape for this city.