Shimokitazawa is a neighborhood of small shopping streets and alleyways, projecting a strange, but comfortable atmosphere, as people crowd the backstreets until late in the night. However, plans to replace this quaint neighborhood with arterial roads and high-rises are underway. The detectives took what maybe a last chance to survey this area before it is "defaced."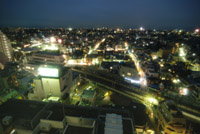 The top half and rooftops of most buildings do not have any luminous signage. As a result, a bird's eye view of this neighborhood is actually fairly dark.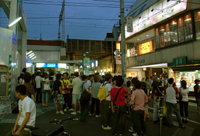 The station front plaza is filled with people listening to music from sidewalk acts or looking at street art. The crowds of people naturally overflow into a nearby street. If an arterial road is planned for this area, this atmosphere will be lost forever.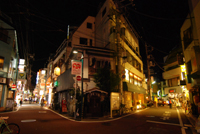 Two streets back-to-back, but built to two different scales and with two different demeanors. On the left is Shimokitazawa`s main south entrance shopping street. With many interior decor shops, the lighting is bright and color temperature is high. One street inside and the atmosphere and lighting are more relaxed. Low color temperature, incandescent lamps from restaurants, cafes, and bars are the main source of light.