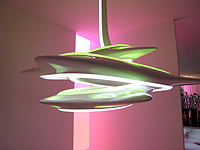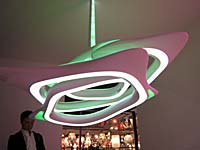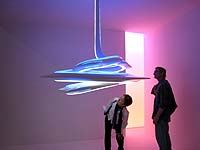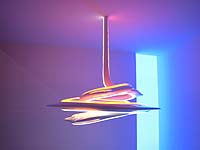 "Zaha"such a commanding name. You may have heard of this famous name belonging to one famous lady. My own name "Kaoru" has a more feminine ring to it and may be more fitting for a lady of such great accomplishment. Ms. Zaha Hadid is an architect in the UK, but hales from Baghdad, Iraq. I first had the opportunity to met with Zaha some 20+ years ago while she was working in Tokyo. We were planning the lighting for a boutique of her design in the Azabu district of Tokyo. Unfortunately, the plans fell through and the architecture was never realized. I asked her one time when she was born and by coincidence she and I are born in the same year, 1950, and somehow it made me feel closer to her. But I am such a small man, compared to her larger physic and presence. After the defunct Tokyo project I had the opportunity to work with Zaha again to design lighting fixtures and to help with the lighting for a Singapore City Planning project. And I have always felt that I have a closeness or connection with her and her projects.
This same Zaha has designed the most beautiful lighting fixture! The fixture uses the popular LED units, but effectively hides the bright twinkle and sparkle they are so famous for to create this charming, twisting pendant. The pedant hangs by an arm extending from the ceiling, but seems more like an overgrown plant freely left to grow into its unusual form. Structurally, it seems so difficult to conceive, but more than that, the light following the curvature of it's form is spectacular; with soft and subtle changes in the color of light I was completely taken to it.
Whether it is architecture, city planning, or lighting fixtures, Zaha`s design is so unique and recognizable. I think you could even call her a true artist who creates lines and forms all her own. Envious, but no matter how hard I try I don't think I could copy her creations if I wanted to. Maybe someday we will be able to find one of her projects in Japan.