Rich in local history and cultural facilities, Ueno Park covers a large area in the middle of Tokyo. Even though located in an urban setting, we anticipated a lighting environment completely different than the lights of downtown. Between the trees and darkness of the park there are patches of Tokyo`s bright night sky, but the hushed silence is isolated from the city`s hustle and bustle. Ueno Park`s quiet presence gently sleeps next to Tokyo`s vibrant downtown.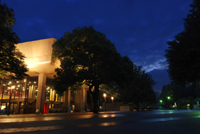 Approaching Ueno Park from the JR train station.  The large overhang of the Tokyo Bunka Kaikan is brightly illuminated in contrast to the surrounding darkness of the park.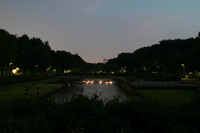 A view o f northern Tokyo over the Shinobazu Pond from an elevated Ueno terrace. The bright lights of a vibrant downtown are seen in the distance beyond the dark trees of the park. However, through the darkness a bright, orange, sodium lamp illuminates the Benten Shrine near the pond.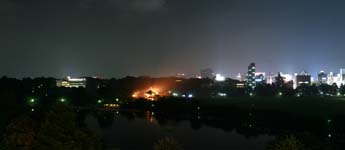 Looking towards the water fountain plaza from the Tokyo National Museum. A slightly bright night sky, characteristic of most metropolitan areas, opens over head with a dark belt of trees and tiny dots of light below. Young couples seeking a quiet spot away from the lights, snuggle up together on near benches.