Date of Issue:21 September, 2017
・Activity1/Tokyo Survey:Tokyo Bay Cruise(2017/07/24)
・Activity2/Lighting Detectives Workshop at Singapore Night Festival 2017 (2017/08/18-26)
Tokyo Survey:Tokyo Bay Cruise
2017/07/24 Kouki Iwanaga + Syosaku Takahashi
Tokyo Bay is surrounded by glittery cityscape with lighting of industry and entertainment facilities such as Haneda Airport, Ooi Container Terminals, Rainbow Bridge and Disney Resort. These lights reflect on the black water surface.


360°View from the boat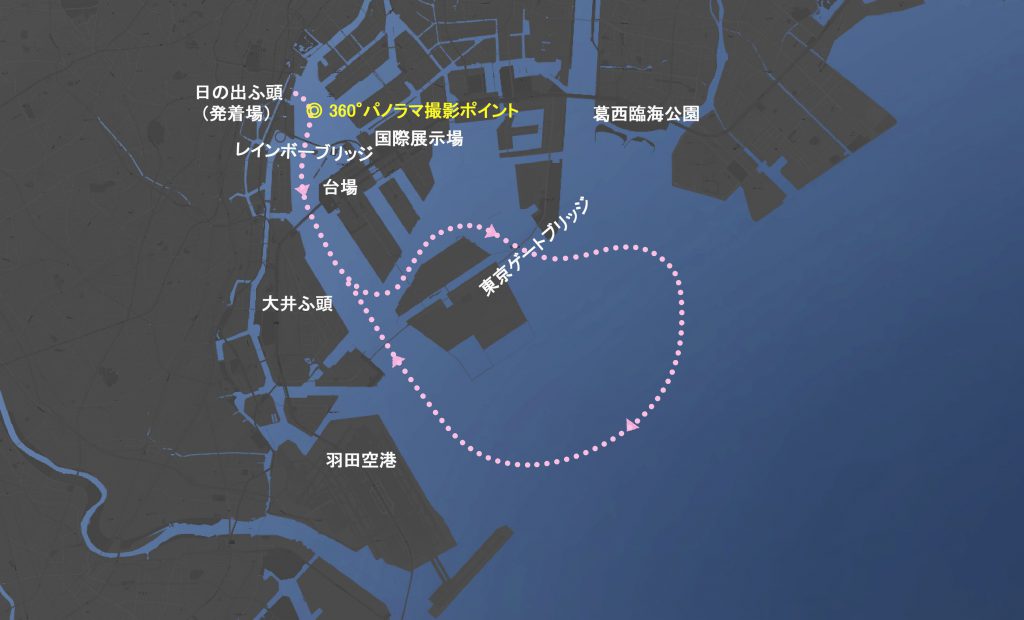 Survey route
We were curious about how the nightscape of Tokyo appears when we view from the bay. We surveyed the nightscape while cruising this time.
First, the boat started from Hinode Pier. And passed under Rainbow Bridge and Tokyo Gate Bridge, and passed by Haneda Airport. And finally backed to Hinode Pier.
■View from Hinode Pier
We thought the view from the sea which was inner side from Rainbow Bridge was the best point because we could overview 360°Tokyo nightscape. We were excited at the gathering of glittering or colorful lights came from bridges, offices and residences. We usually feel downtown in Shinjuku and Ginza are too powerful for their lighting, and sometimes they look violent. However, if we see these districts from a distance, they looked calm and beautiful. It was one of our good surprise.
The sky above main downtowns and office areas were illuminated, and we found excess light as light pollution. We thought one of issue to improve the nightscape was that miscellaneous lights were mixing without harmony.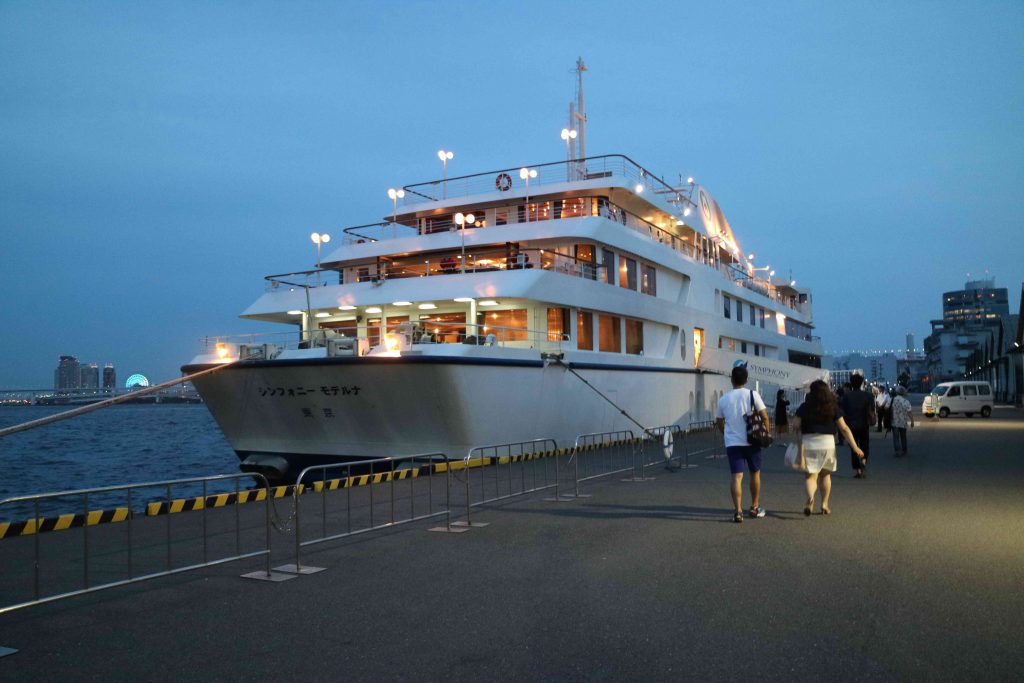 The boat we boarded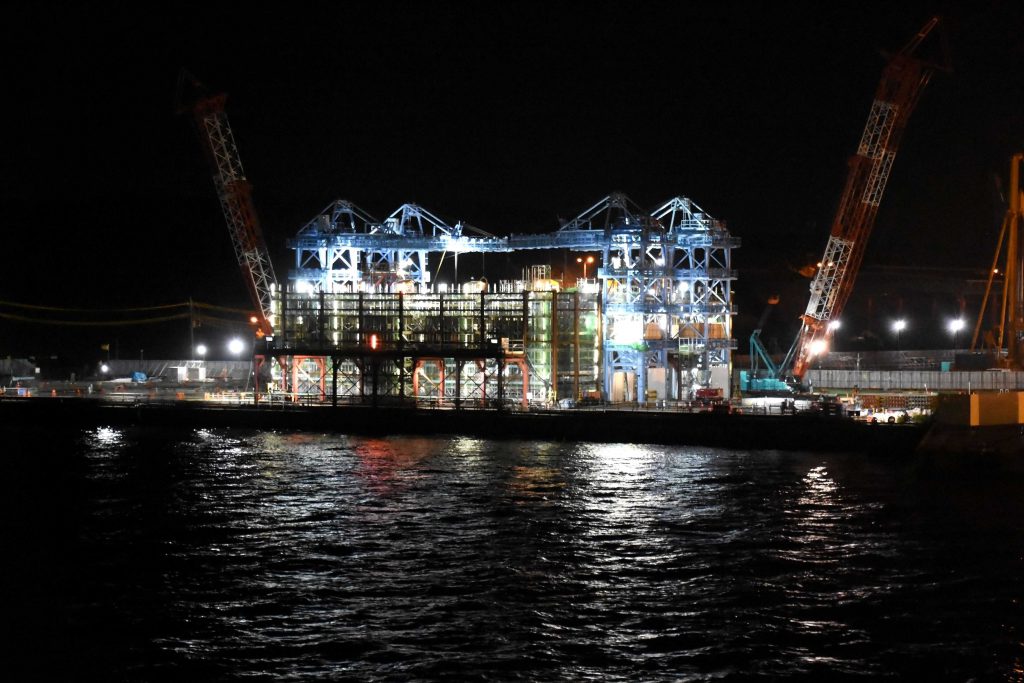 Factories illuminated its structure beautifully
---
■Factory night view near Ooi Pier
Huge cranes stood along the coast and there were factories illuminated by industrial lighting. We could enjoy dramatic reflection images of illuminated cranes and factories on the sea. The cranes, which were illuminated with low color temperature, made unified scape, and it looked impressive.
We understood the priority to consider lighting factory was functionality, but we thought it was better to have consideration for the nightscape.
(Syosaku Takahashi)


Huge cranes along the pier
■Rainbow Bridge
After passing Ooi Pier and turning right toward Akatsuki Pier, we saw huge darkness on the right hand side. It was Uminomori Park which the opening had been postponed partially last year. Uminomori Park is a waste landfill. The darkness was comfortable for our eyes. The sky above Uminomori was darker than the surrounding, and the appearance looked like flare. The view of Ariake on the other side looked very different from Uminomori side. Fuji TV, Rainbow Bridge and Tokyo Tower looked overlapping. I realized that one of the fact which was making beautiful Rainbow Bridge night view was that it was viewed with sea water surface at the base.


Rainbow Bridge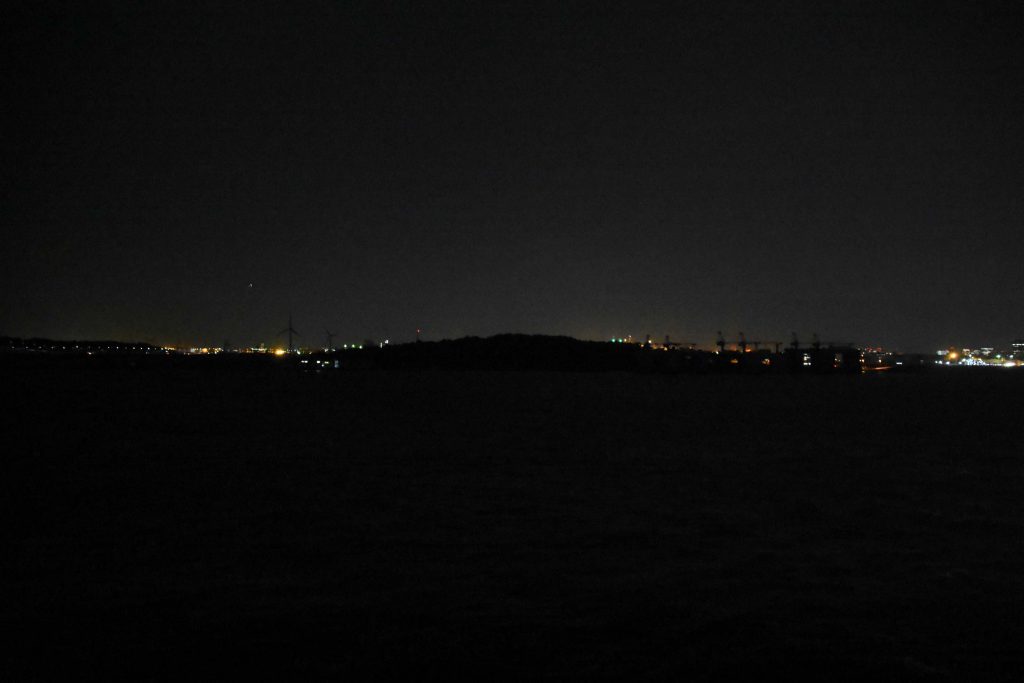 Uminomori Park appearing as a huge dark spot
■"Dinosaur Bridge" appearing in the darkness
When we was passing along Uminomori Park, Tokyo Gate Bridge called "Dinosaur Bridge" appeared. Its truss structure, which was illuminated gently with considered illuminance 15+20cd/㎡, looked sophisticated. I felt elegance as a gate of Tokyo Bay. The blue color dot lighting arrangement on the curved line of the bridge between the sky and the sea was also confirmable illuminance and impressive.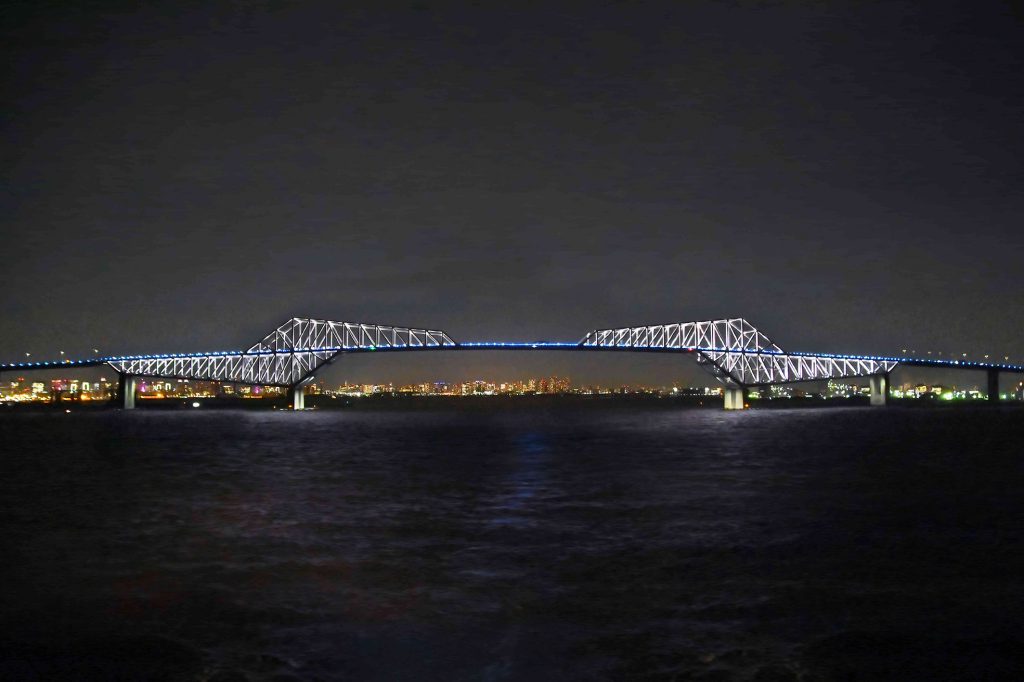 Tokyo Gate Bridge illuminated with comfortable luminance
■Light crossing the sky and the sea
After passing through Tokyo Gate Bridge, we saw different color lights in the darkness of sea and sky. In this kind of calm and silent atmosphere, a ray of light crossed overhead with a roaring sound. It was one of row of airplanes' head light toward Haneda Airport.
I usually think that light of traveling machine is violent because of its power and suddenness, but the small lights fling the sky, which looked like city's fireflies, was attractive for me.
A houseboat with red lantern and a cruiser with white decorative lighting were floating, it reminded me fishing yo-yo at summer community festival.
■Attractive points of Tokyo Bay nightscape
Overall, this survey with cruising brought us endless surprises. We saw most of symbolic buildings. We thought we could not see as wide view of Tokyo from other points as what we saw from Tokyo bay. We could see side views of building in one sight, which we usually cannot see because they overlap and hide each other. I thought this view was one of a unique view of Tokyo. It seemed that most of buildings, bridges factories and seawalls had been designed for view from the land but not considered view from the sea. I felt I watched "back side" of them. However, the sequence of signature nightscape according to the cursing was attractive appearance of Tokyo Bay nightscape.
(Kouki Iwanaga)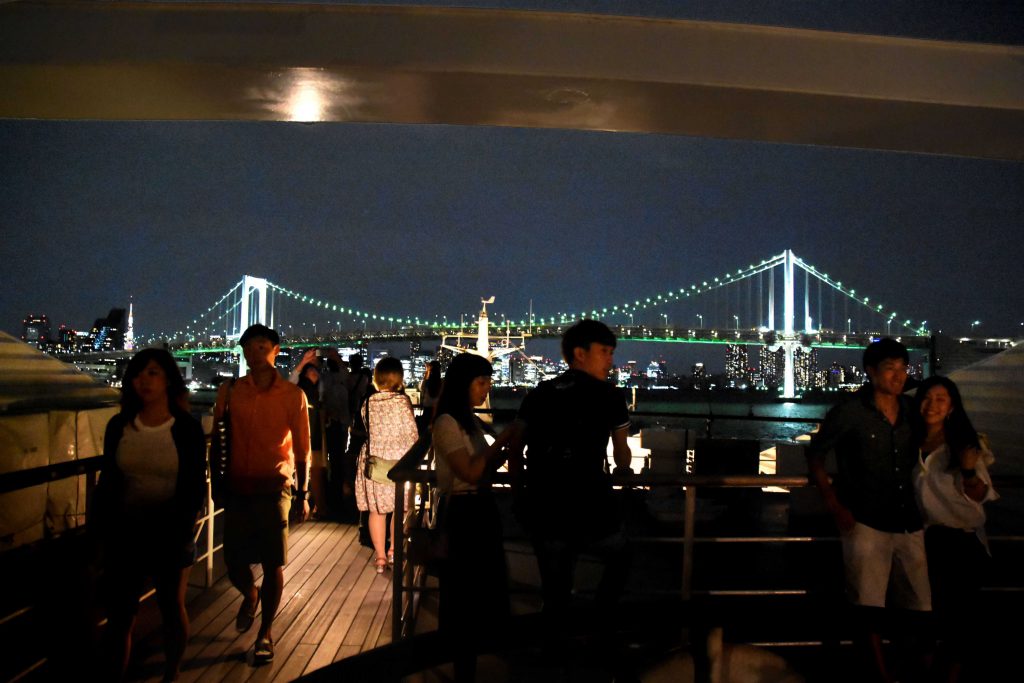 People enjoy the nightscape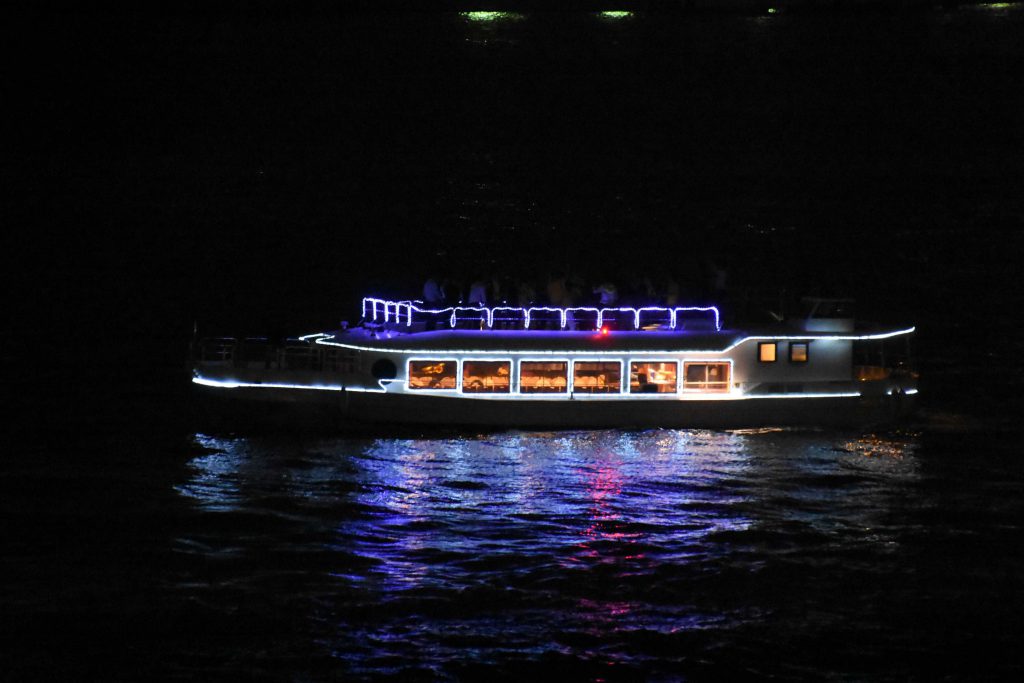 Houseboat with red lantern and cruiser with decorative lighting
---
Lighting Detectives Workshop at Singapore Night Festival 2017
2017/08/18-26 Sherri Goh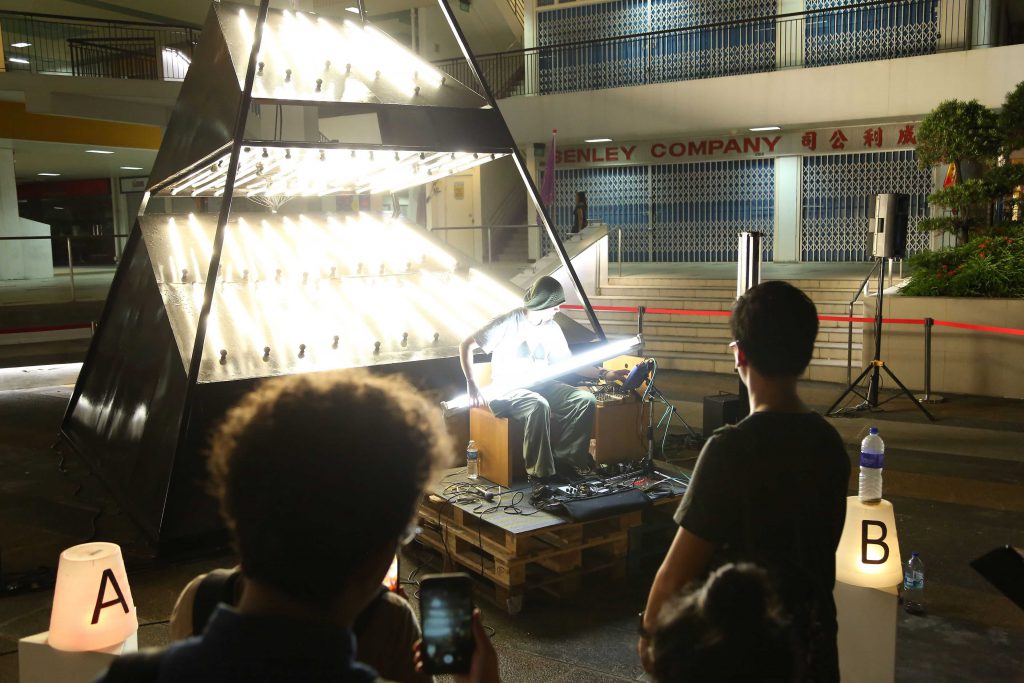 Light Up the Beat!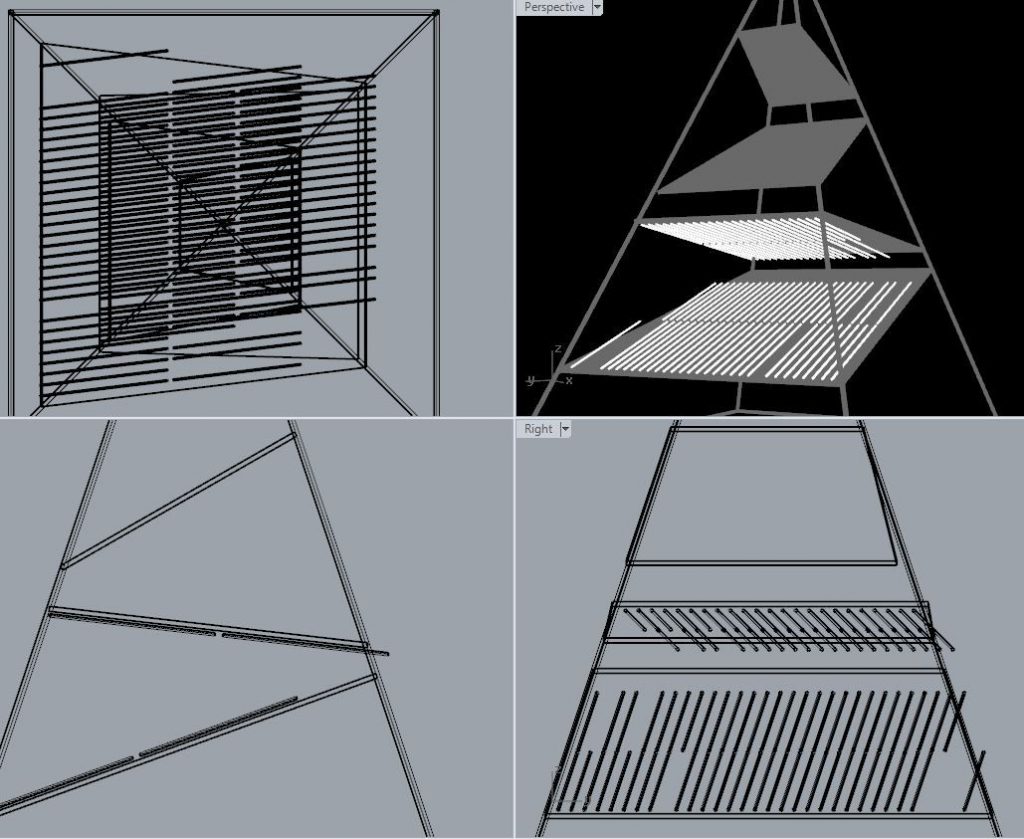 Design rendering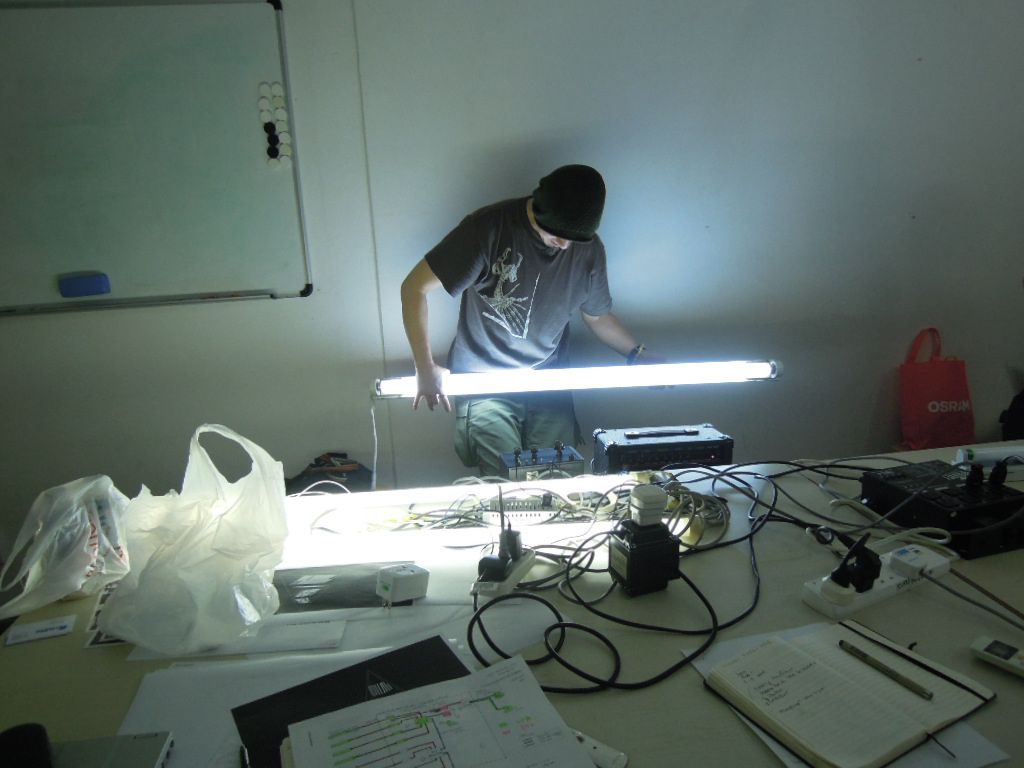 Ito-san's first appearance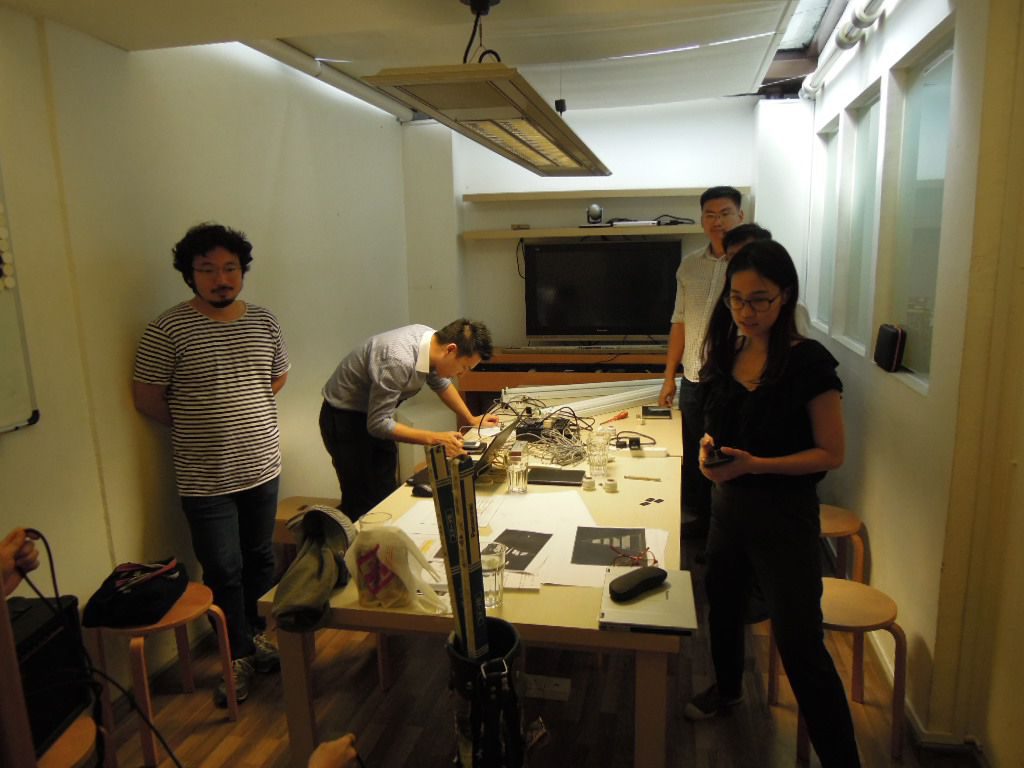 Kick-off Meeting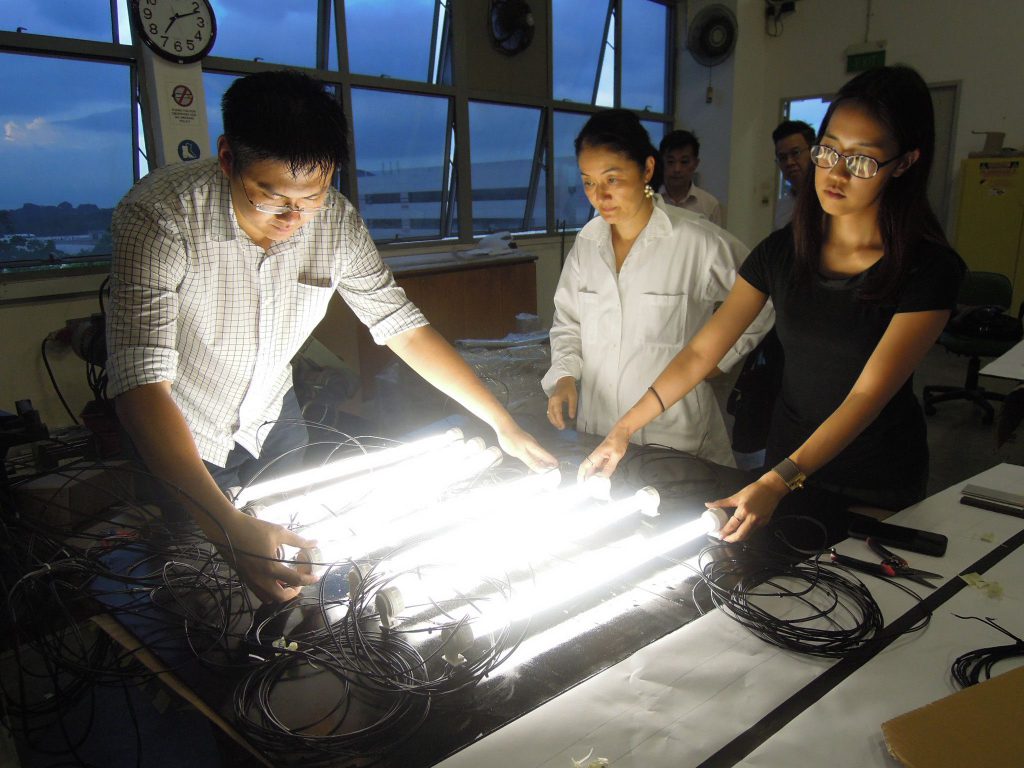 Halfway there!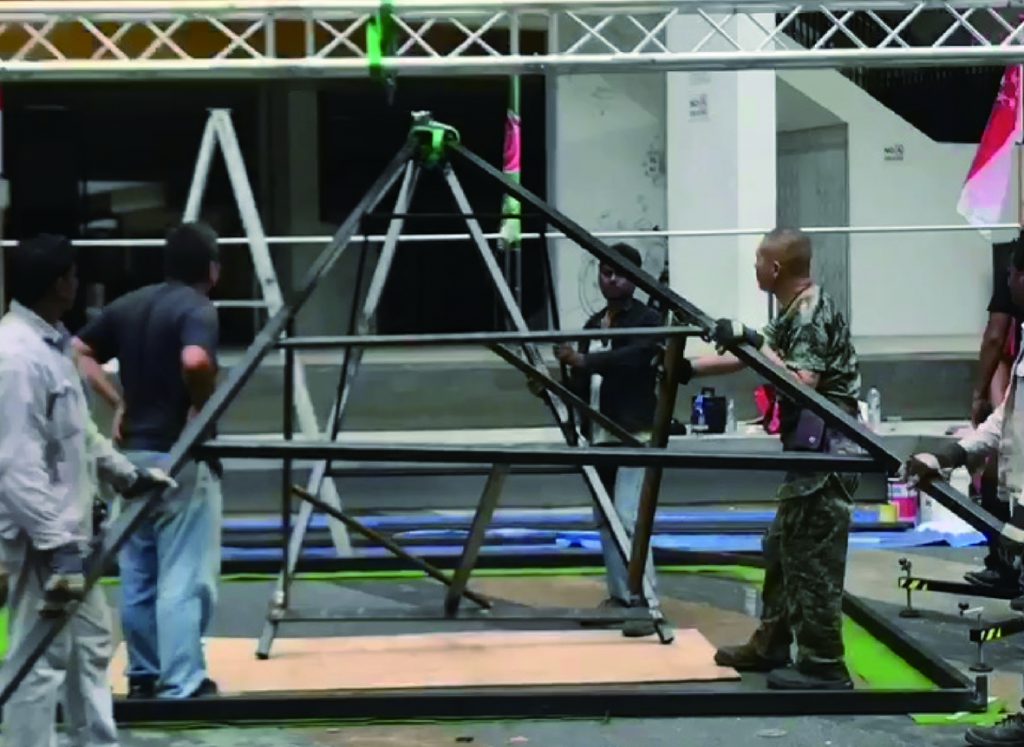 Erection of structure
Lighting Detectives collaborated with Japanese visual artist Atsuhiro Ito, who plays a fluorescent tube instrument call the Optron. to put up an installation and performance workshop titled Light up the Beat! for Singapore Night Festival's 10 Magical Years anniversary.
■Town Musicians of Fluorescent
We wanted to emphasize the heritage and old history of the Waterloo site in contrast to the modern buildings of the area. The era of fluorescent tubes coming to an end and being replaced by LEDs seemed like a fitting mirror as a representative of the old and familiar. 41 old fluorescent tubes were acquired from the Singapore Management University (SMU) site nearby which was undergoing replacements of these lamps to LED fittings, and spun the story according to the famous tale of Town Musicians of Bremen. These retired fluorescent tubes were given a second life with our installation as musicians, flashing and dancing in the night.
■Design Dilemma
With the background and story in mind, conceptualizing the structure aesthetic was not easy due to the scale it had to be to house 1.2m of fluorescent tubes and to be of a substantial size complementing the site. Using 4 tiers to represent each animal in the Brothers' Grimm fairytale, we started off with an ambitious 200 fluorescent tubes as the first draft. However, a 6m structure meant that we would have to meet local PE endorsement and the weight for 200 tubes physically and electrically were not feasible and a fire hazard in case of heavy rain. Situated in a quiet residential neighbourhood with an aging population, brightness and decibels were a pressing concern as well.
Finally settling on 60 tubes, playfully arranged, with Ito-san's music arrangements after endless brainstorming, design revisions and two nerve-racking mock-ups, we looked forward in anticipation of the construction day.
■Structure Construction
Due to the sheer size and scale, construction of the structure had to be done onsite and welding progress of the skeleton was also highly dependent on the hopes of good weather as it was an outdoor site. It was a worrisome few hours as LPA's first time supervising construction and overseeing safety on site for such a big structure. In total, it took 5 days inclusive of fine-tuning for the installation to be up and running.
■Media Preview and Opening Weekend
After a week of setting up and fine tuning, we were ready for the Media Preview on the 16th evening and opening night on the 18th! There were 5 groups of media representatives, ranging from influencers, digital media and mainstream media representatives to cover and learn more about our installation. Overall, people were surprised that the sound coming from the installations were frequency amplifications of the fluorescent tube ballasts! Opening weekend went smoothly aside from a small hiccup when a fight broke out near the installation and ended up damaging the cables slightly. What a dramatic close to the first opening weekend with police and ambulance on site before the installation operation time!
■Lighting up the Beat!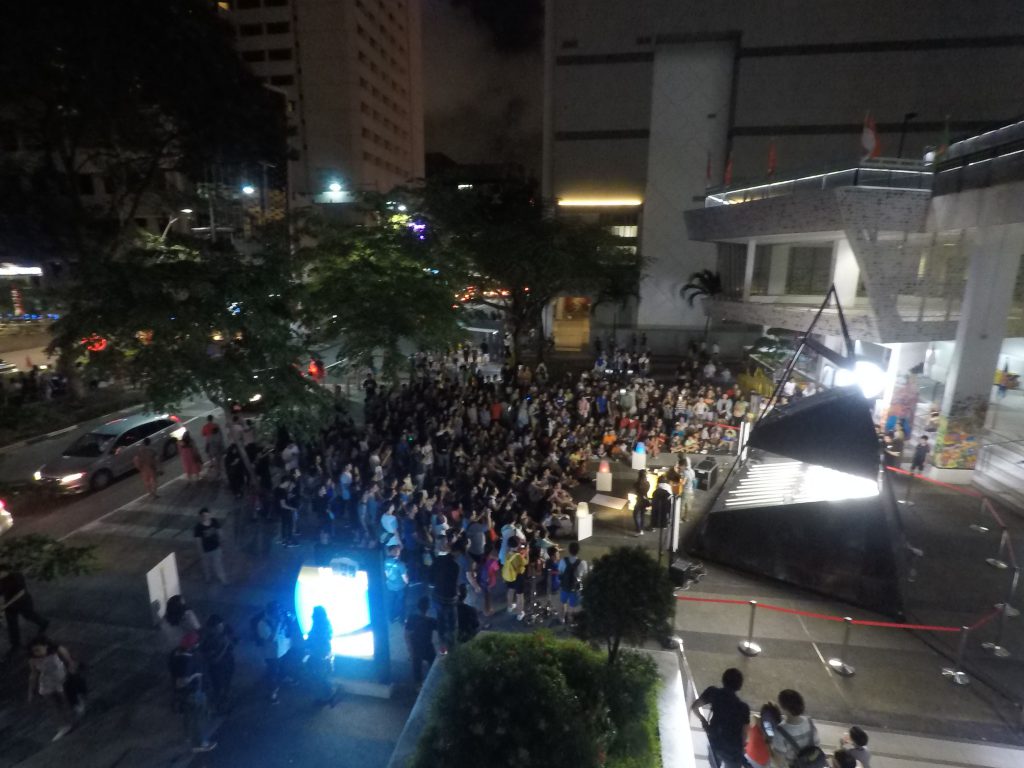 The crowd in our cosy corner.
Performance weekend was a blast! LPA Singapore office started out in the early evening informing passers-by of our workshop and creating excitement with the sound-test and the crowd was enthusiastic and most of the metal tools and accompaniment instruments were given out within the first 5 minutes of gathering the crowd. The artist led a 20 minute warm-up and practice with the audience, followed by his accompaniment with the crowd. Most participants were walk-bys and their numbers greatly exceeded the 45 people we planned for, creating a vibrant and happening atmosphere to the pulse of the fluorescent giant in the backdrop. Families, friends, children and the elderly were all involved and happily clapping along. The first night featured a man who was entertaining the crowd with his moves during the artist solo. And the second night had an impromptu guest guitarist Raven who jammed and wowed the crowd with Ito-san's industrial beats.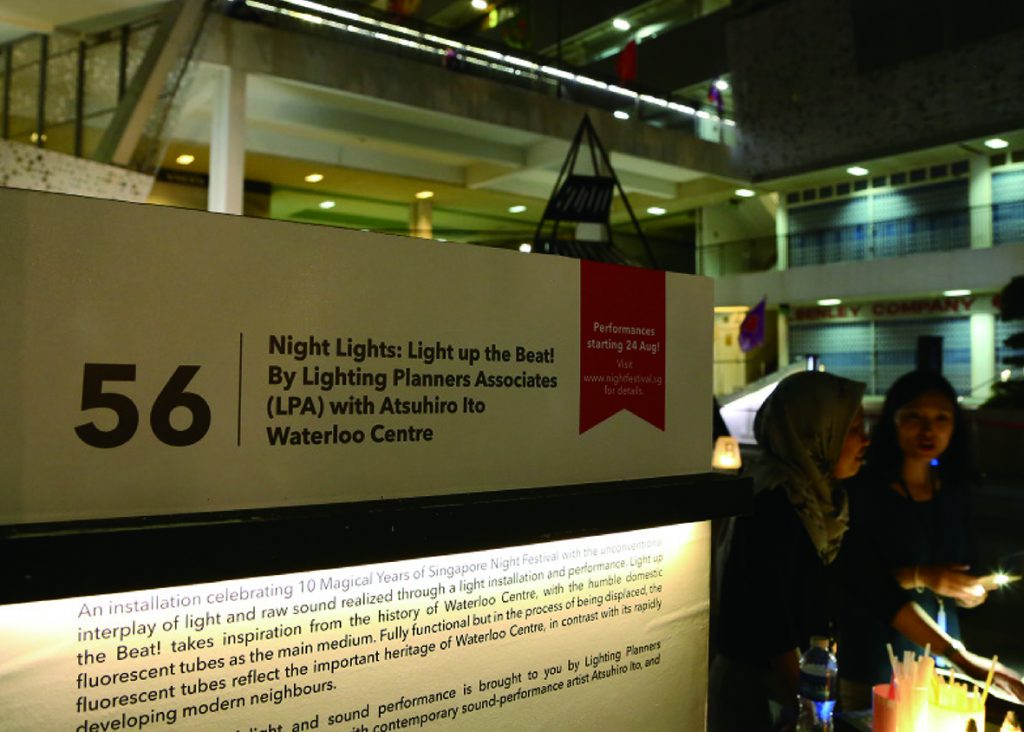 LPA feature stand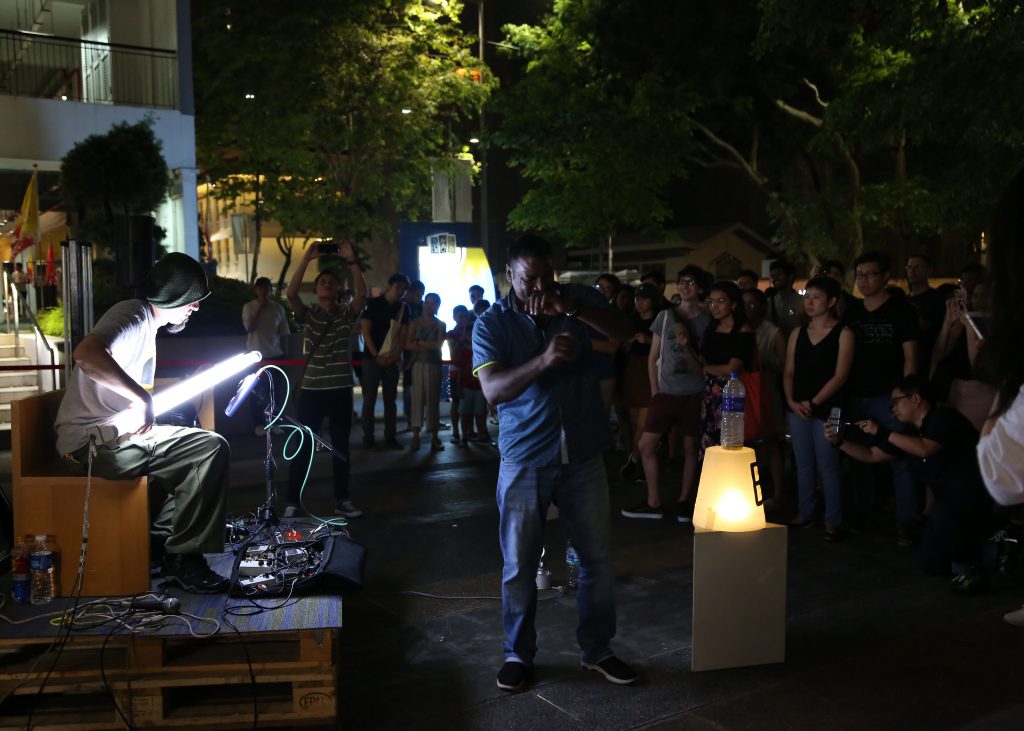 An enthusiastic participant showing his moves.
---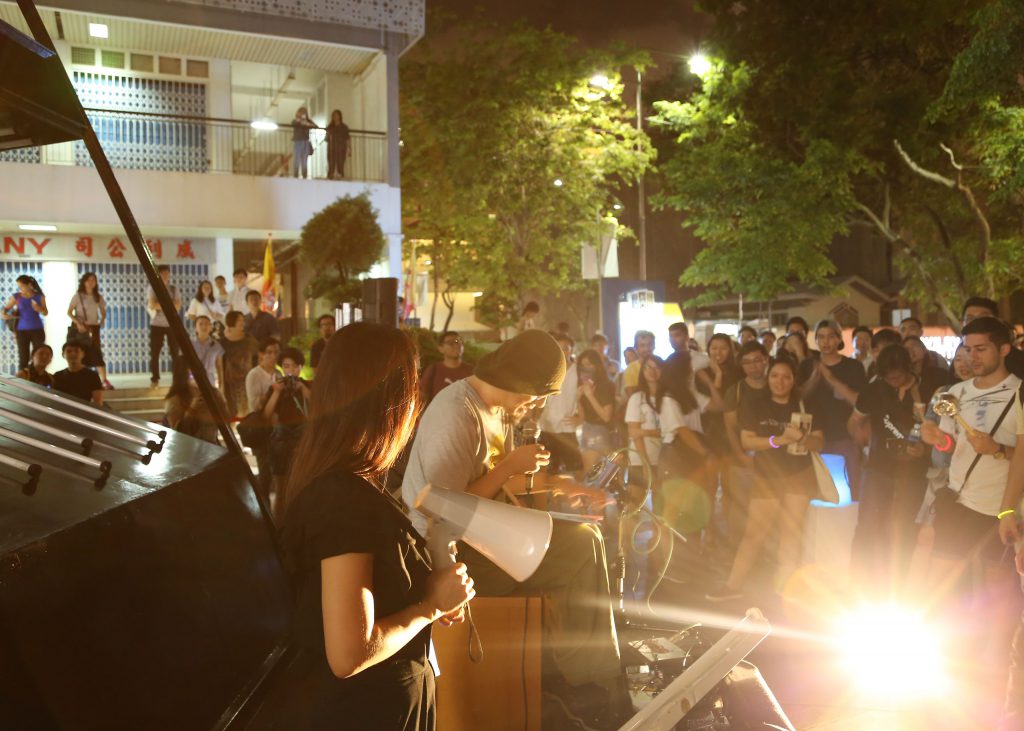 Workshop coordination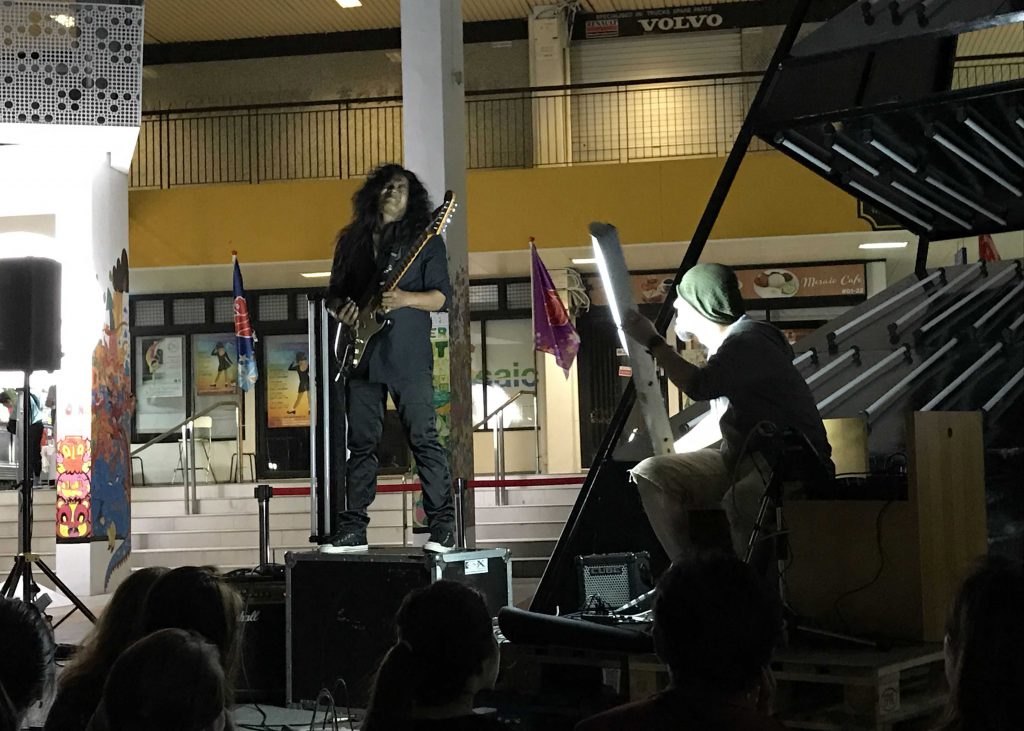 A fiery duet.
---
We would like to extend our utmost appreciation for the help given, care and concern shown as well as the enthusiasm in coming down and playing with us. Thank you for making this feat possible and successful and we hope to see you at our next event! (Sherri Goh)
Venue: Waterloo Artsplace
Supported by: Krislite