A Free and Open Public Participation event!
Date and Time: 15 Oct 2010 (Fri), 18:00-21:00
Venue: Merlion Park, Clifford Pier @ Marina Bay
Organizer: The Lighting Detectives Singapore
In collaboration with: The Fullerton Heritage
Supported by: Studio Miu, Musashino Art University (Tokyo)
LaSalle College of the Arts (BAIC)
Japanese Kindergarten of Singapore
"Turn off the lights and take it slow"
Candle Night, an environmental and energy conservation event that helps in finding one's inner sense of time, is the brainchild of a non-profit environmental group in Japan. During this one night event, main building facilities are "lit down", and candle light events are held. Previous Candle Night events include the Candle Night @OMOTESANDO @ Eco Avenue held since 2003.
For the inaugural Candle Night @ Marina Bay, the Lighting Detectives together with public participants lit the waterfront in Marina Bay using candles in floating lanterns. Ambient lighting of the buildings in the vicinity will be dimmed in order to achieve the appropriate darkness required to enjoy the spectacle. Participating cafes and restaurants all along the waterfront enjoied the surrounding atmosphere of soft light with specially designed candles and lanterns in an outdoor seating. Using recyclable materials as the principal theme, children from the Japanese Kindergarten of Singapore created lanterns in pre-event workshops and floated them in the water around the Clifford Pier at twilight. Art students from Singapore and Japan Joined them and also created beautiful lanterns and candle installations in various shapes and sizes. The event also welcomed free public participations to indulge in lantern making and for all to enjoy an evening of beautiful flickering candle light.
Event Photo Gallery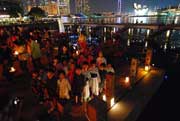 The children floating candles at Clifford Pier.
---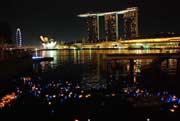 Candles floating in the darkened Marina bay.
---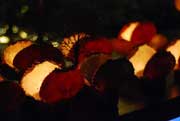 Famous Chili Crabs were also reused as candle holders.
---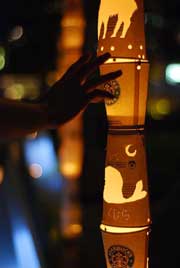 Starbucks cups were also reused for candle installations.
---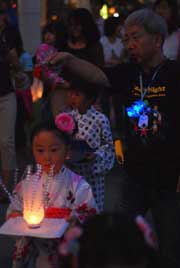 Chief Kaoru Mende led the children in a candlelit parade.
---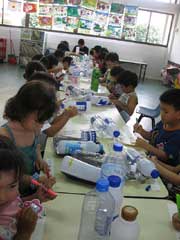 The Kindergaten children brought many materials to reuse as lanterns.
---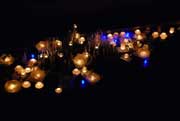 Candles floating in the darkend Marina Bay.
---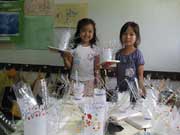 Lanterns were crafted at a pre-event workshop.
---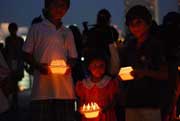 Candles were also made at the event.
---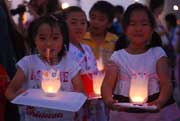 About 130 children attended the Candlelit Parade, carefully carrying their candles along the route.
---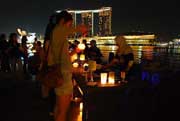 About 200 people stopped by the Candle Kiosk on the day of the event to make lanterns.
---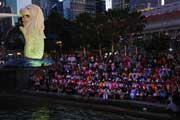 The children, dressed in Japanese Yukata, took a group photo near the famous Merlion fountain.