June 21, 2008 Sumer Solstice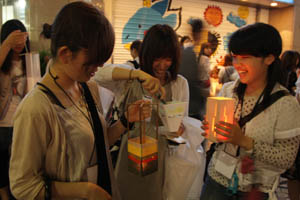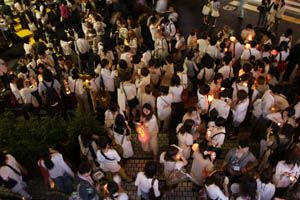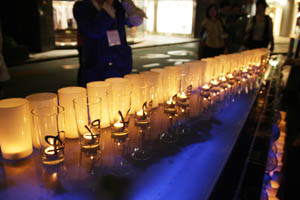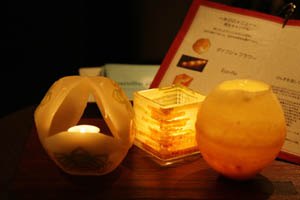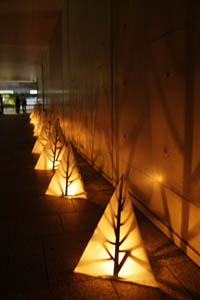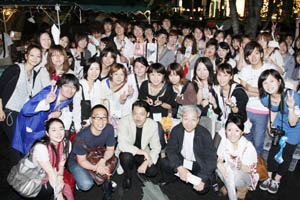 This was the 5th Annual Candlenight along Omotesando since the event was moved from nearby Cat Street. "Turn off the lights and take it slow" is the catch phrase for this familiar candle event. Two Japanese environmental NGO first proposed Candlenight as an opportunity to take another look at our modern lifestyles. Every year on the summer solstice from 8pm to 10pm this event reminds us to turn off the lights and reflect on our lives by enjoying the night in candlelight. Nationwide there are 938 individual candle events as part of this promotion.
The theme for this years Lighting Detectives Candlenight @ Omotesando-Eco Avenue was "Dialogue: Dialogue with the Shadows, Dialogue with the Light." As every year, local art university students and others gratuitously volunteered to help with the event, including the Omotesando Candle Cafe Network, candle installations along Omotesando, and original lantern making.
We started with a kick-off meeting in February and used the next five months to prepare for this one-night event in June. Producers for the Omotesando event included Lighting Detectives Chief, Kaoru Mende, cultural anthropologist, Shinichi Takemura, and, as a special guest, graphic designer, Taku Satoh, all of who participated in each meeting. Each team presented their candle installation ideas, receiving advice and critics from the gallery. As the event neared and projects took shape, the weather report was not as cooperative, forecasting rain. But, after so many hours of preparation and hard work we were determined to go on with the show unless it was a howling storm.
June 22, day of the event. Rain and more rain. As 8pm neared the rain kept pounding. "As an outdoor event, we might just have to give it up this year," was the talk at the main tent in front of Ralph Lauren. Then Chief Mende picked up an extra Candlenight poster and made a "Teruteru Bozu." (A Japanese traditional charm to ward off rain.) Although it was a little distorted and the art students and Chief Mende got a chuckle out of it, a few minutes later the rain stopped! All the candles were lit and the event progressed at 8pm with no problems!!
Many shops and business, in cooperation from last year and again this year, also helped by turning off or down their show window lights. This small event started in 2003, but continues to grow nationwide, as the single flicker of a candle flame helps to bring so many people together during the summer solstice.
(Mai Mukaida)
■Producer
Kaoru Mende (Lighting Designer, Musashino Art U. Prof.), Shinichi Takemura (Cultural Anthropologist, Kyoto U. of Art and Design Prof.), Taku Satoh (Graphic Designer)
■Support
Kameyama Candle / Omotesando Hills / Tree of Life / eredie / ANNIVERSAIRE CAFE / Kyobashi Sembikiya Harajuku / BAKERY CAFE 426 OMOTESANDO / BROWN RICE / Lighting Detectives (in no given order)
■Partnership
Shibuya Ward Jingu-mae Elementary School / green bird / Japanese Nursing Association / Toshiba / Yachio Bank Harajuku / Oriental Bazar / Kobe Match / IL PINOLO CAFFE / PIAZZA ECO-FARM CAFE / Farmer's Cafe / BAKERY CAFE 632 HARAJUKU / montoak / LOCANDA F.Q. / Trattoria & Pizzeria Zazza / Vegetable House Mei / Miyashita / R style by Ryoguchiya ? Korekyo / Hasegawa Saketen / Gelateria Bar Natural Beat / Del Rey Cafe & Chocolatier / Poivrier / Omotesando Saryo / Toraya Cafe / Bisty`s / Mist / bamboo at Omotesando / PAS Communications (in no given order)