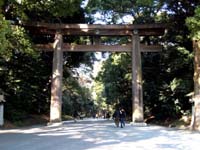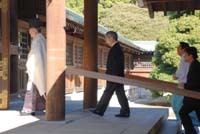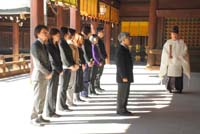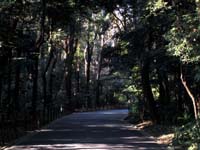 What God do I put my hands together for and pray to? Of course I've been to many shrines and temples, but also frequent many Christian churches and Muslim mosques while in foreign countries. I watch the worshipers there and pray as they pray. This is my religious etiquette. In any land and with any people there are not just fun times, but also trying times and sad times. Some might think my religious practice is shady, but in my own level of rational and logic I believe that it just seems right to worship both God and Buddha. Of course I am an atheist and have no definite religious affiliation.
However, in the last few years, I have gone to worship at a local shrine, Meiji Shrine, near our office in Shibuya Ward. These are not just spontaneous visits, but official visits by appointment. First, we were involved with the lighting design of Meiji Shrine and accepted their kind offer. Nervously, two other staff and I were all of a sudden thrust into the middle of an official ceremony, but this year was different. LPA applied for an official visit and my suit and tie clad staff and I spent a reflective moment in the shrine.
We could hear the throng of a drum, letting the gods know we were coming as we headed towards the inner shrine. While in procession, a low beam of sunlight from behind fell at my feet, creating a mixture of light and shadow. I felt as if god was hiding in the gradation of light and shadow. Take a look at the pictures of our visit to the shrine. The sleepiness is gone. The arrogance of everyday is gone. And everyone is wrapped in a twinkling light.
The essence of visiting Meiji Shrine is not just in the shrine buildings, but experiencing the light and breeze that filter through the thick woods that surround the shrine. From the large gate near Harajuku it is a quiet 15-minute walk. I recommend taking time to wander through the garden that is midway to the shrine. Meiji Shrine`s inner shrine building celebrates is 50th anniversary this year with a beautifully choreographed illumination starting at dusk and launch is not far off. We have created a lighting environment that we hope is surprisingly rich without blaring brightness.