This column was written on June 3, 2017 and recently found while I cleaned my PC.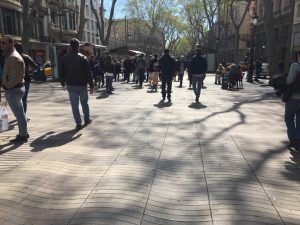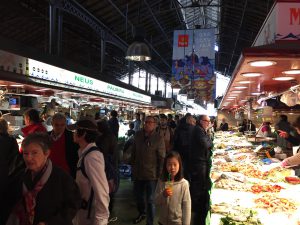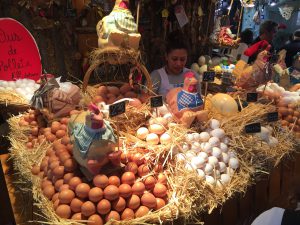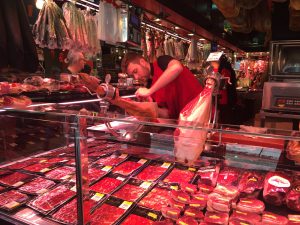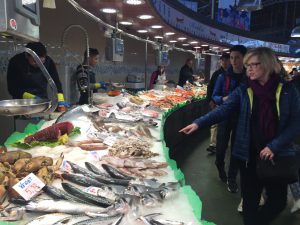 Barcelona`s La Rambla basks in the spring sunshine. It has been awhile, but I am just wondering today with limited cash, a credit card, and iPhone in my pocket. I usually have a backpack slung over my shoulder with various pens and paper, PC, laser pointer, wallet, date book, and a collapsible umbrella inside. I noticed that without the burden of carrying a bag, one`s way of walking is different and things that catch your eye are different. Today I even have the freedom to take a second glance at the women walking by. I didn`t bring anything with me today because La Rambla is a very vulnerable place for tourist carrying stuff. I suspect blending in like a local, elderly gentleman is a better option.
There are many great places to visit in Barcelona and the Market La Boqueria is one of them. In any city, a trip to the market will reveal rare ingredients or hints to the local food life, but you can also find various emotions among the people, like delight, anger, sorrow, or pleasure. Of course, the products and items for sale are interesting in themselves, but the exchange between vendor and customer is also very interesting. Every day is business as usual at the market, but each city has its own style. From the use of a butcher knife to weighing scales or the sales pitch to the haggling process, I like to watch and taking in all the differences, subtle or grand. And I always seem to lose track of time…
The market is just off of La Rambla towards the west. A large roof with windows covers the entire expansive area of the market. Daylight shines through the windows in the ceiling, but each food stalls has rigged up a lighting system to display their products. The chaos of variously rigged fixtures is very interesting.
First of all, several prosciutto or uncured ham, stalls crowd around the main entrance, probably to attract the tourists. I love Jamon Iberico ham, a type of ham made from Iberico pigs that only feed on acorns. So I pretend like I am a customer and line up with the others for a free sample, repeatedly. These food stalls use low color temperature, warm tone LED downlights and spotlights too beautifully and delicious highlight their products with the utmost care. Unlike incandescent lamps, no heat is given off to the products and the displays are very brightly lit. Light shining on the hams reflects off and dyes the walls and awnings of the food stalls red.
Compared to the meat stalls, the color temperature of LEDs in the fish section is very high. Unlike stalls that use low color temperature lights, the products look very fresh! The bright, white lights are well suited to highlight the color tones of silvery fish and the white flesh of squid. LEDs with very high color rendering properties are definitely used throughout the market. Compared to the actual color tones, lighting that gives the products a fresher appeal are used.
There are also egg stalls. The egg stalls project a recognizably, different image than the surrounding stalls and the eggs are, very deliciously displayed. As a Japanese, I immediately long for a bowl of rice topped with a raw egg, soul food in Japan. Upon a closer look, the fixtures are not LEDs, but halogen spotlights. As expected, the owners must value the quality of warmth radiating from these lamps.
There are also various stalls for vegetables, fruit, dry goods, spices, sweets, even pubs, cafes, and restaurants at the market. Again, LEDs are widely used and rigged to draw in customers. Some stalls were in need of a little lighting guidance, but I can`t speak very good Spanish so I held my tongue on unsolicited advice.