A mysterious installation of light called the Labyrinth of Light was announced by the Milano Salone 2021. https://www.nitto.com/jp/en/products/raycrea/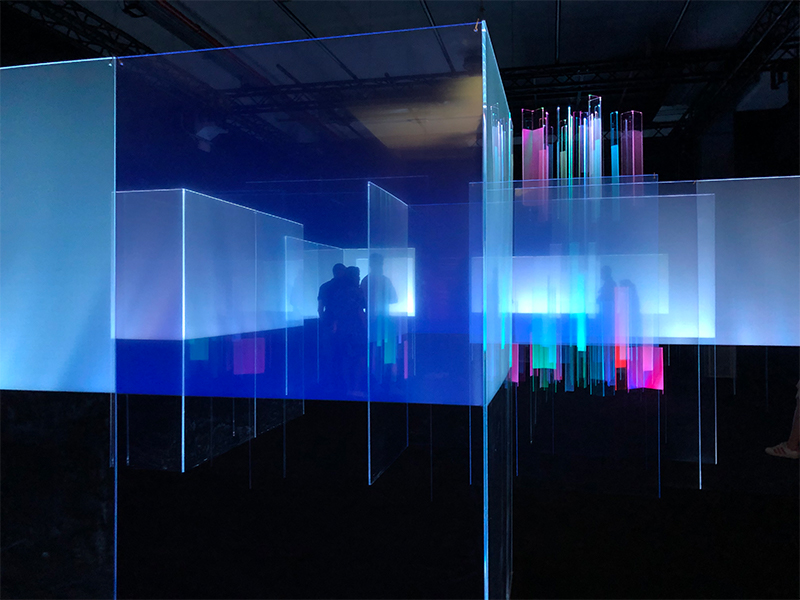 In collaboration with Nitto Electric Industry, LPA incorporated Raycrea, Nitto Electric Industry`s newly developed material, into a light and space design.  The installation was well received by visitors with the attention that defied our expectations.  Hosted in the midst of the Covid-19 Pandemic, there were admission restrictions in place, but a number of visitors lined up to get in.  Today, September 8th,  I am headed back to Tokyo early and raising my glass in a solo toast of relief.  I am very happy with the result, almost a perfect execution. 
As architectural lighting designers, this kind of installation work is a whole different world of design.  The relationship between light and people is very close, for a very intuitive and stimulating result.  Especially in the case of this installation, the design is associated with axes of time, so the venue is similar to a theatre without an audience.  Visitors are free to roam throughout the labyrinth of light and follow what catches their eye.  However, while they are moving, scenes and lighting effects are changing, creating multiple-layers of light and confusion.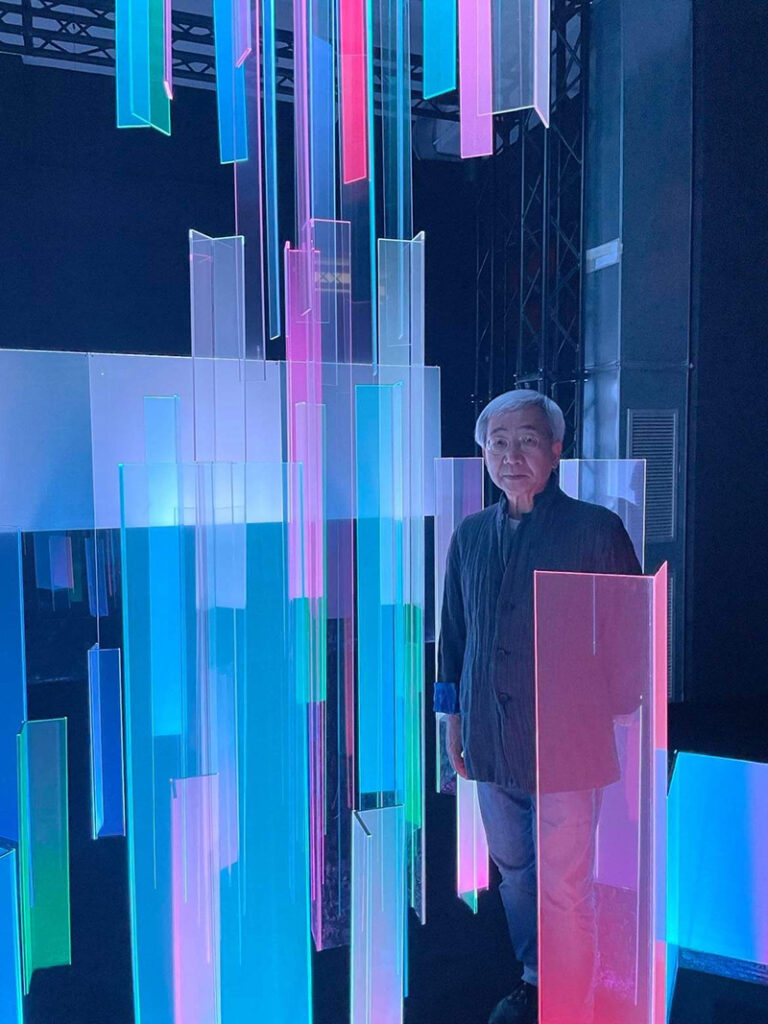 On a sunny day, visitors to the Salone experience the autumn sunlight of Italy, measured at 100,000 lux, before entering the building.  Upon entrance, a black wall directs visitors to the beginning of the labyrinth, where everyone seems to stop, look, and really observe.  However the labyrinth is not understandable just by casual observation.  Where is the light coming from?  Reluctantly, one`s feet move forward.  Visitors run into overlapping, luminous, opaque layers of light.  One's body motion and line of sight turn right and left, until deep in the labyrinth a huge tree of light appears.  The tree is illuminated from below by various colors of light. 
The inspiration for this work originated in a previous work conceived by architect, Hara Hiroshi, The Shadow Robot.  I had the opportunity to help with the original exhibition and at the time, LEDs and lighting control systems were exceedingly remedial.  However, through over-laying methods and choreographed music and light, a score of luminous music was composed with sure will.  Now, with the latest in technology, a progressive performance was recreated.  Light is playing the music.  Raycrea is clad in various light, making it possible to conduct a symphony of light. 
Well, I could just talk and talk about this project for hours, but I`ll leave it at this.   In the middle of this pandemic, with so many setbacks and on the verge of a breakdown, in the face of all of this, I applaud the client, design team, and construction team.  I am also very thankful to feel the sun on my face and the warm breeze of Milano after three long years.   It is good to be able to move about freely again.