It was 8:15 on the morning of August 6, 1945 when the first of two bombs dropped on Hiroshima then Nagasaki. Sixty-one years have passed since this memorable day and every year victims are remembered in a peace memorial ceremony attended by 50,000 people. On this night thousands of lanterns are placed in the Motoyasu River near the Hiroshima Peace Memorial as part of the remembrance and prayer for peace. As the main part of our lighting survey we wanted to see how these lanterns changed the face of city on this one night. We also visited Itsukushima Shinto Shrine and downtown Hiroshima.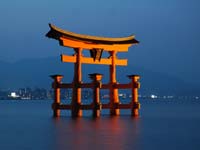 One of the World Cultural Heritage sites, Itsukushima Shinto Shrine. Unfortunately, the lighting is not the most faltering and lacks punch that could emphasis great architectural detail. However, looking from the bow of a boat past the large shrine gate, the main hall floats elusively in the surrounding darkness. This is the angle for a truly spiritual approach.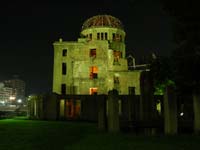 Hiroshima Peace Memorial, a World Cultural Heritage site and the remains of a symbol of sacrifice and crime committed against humanity. Nearly buried by the surrounding city lights, but this dim gloom cast over the rubble suits its history and expresses it in the present day for all to remember.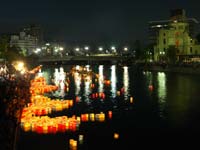 Full of prayers for peace and a symbol of remembrance, softly lit lanterns were set afloat, creating a new river of light. The lightscape created by the lanterns floating down the river can not be described as just "beautiful" or "pretty," but it is a complex mood intertwined with the beauty of the lanterns.