Taking a drive along the Tokyo Metropolitan Expressway is a great experience in the sequence of Tokyo light. In one drive you can catch glimpses of Tokyo Tower in between buildings, awe at the endless Ginza neon signage, and hide in the dark shadows surrounding the emperor's palace and Tokyo Bay. Close up lights zoom by, but in the distance light is scattered everywhere, creating a complex sequence of overlapping elements. Such a variety of light exists in Tokyo!
Rainbow Bridge and Tokyo Tower, Dual Features of the Tokyo Night (Ariake JCT~Shibaura JCT)
At night the Rainbow bridge is a bridge of light connecting the Bayshore Route and Tokyo mainland. As we drove across the bridge, the Tokyo Tower that seemed to twinkling in the far distance became a dominating presence. However, all of the distance lights of Tokyo were swallowed by the cluster of buildings waiting for us on the Shibaura side of the bridge.
The Lights of the Tokyo Nightscape (Ohi JCT ~ Shibaura JCT)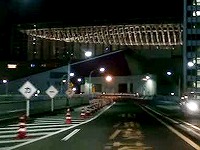 Working from Haneda towards the center of Tokyo, among the rough and tumble lighting for warehouses and factories, is warm light spilling from offices and condominiums. The expressway takes a dive under the Tokyo Monorail for a real peak at Tokyo-style building light and luminous signage.
The Expressway in the Ginza Sky (Tokyo Expressway)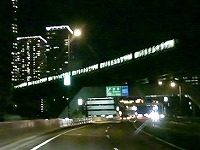 The Tokyo Expressway is elevated in midair as it cuts through Ginza. Officially, it is not part of the Tokyo Metropolitan Expressway and it is not a crowded bypass. During the day it loams in the shadows of the surrounding taller buildings, but at night it is a unique and dynamic scene. The expressway approaches the softly lit Tokyo International Forum on one flank, while revealing many busy intersections, like the brightly lit Sukiyabashi Intersection.