Muscat Street, Singapore 2022.04.21
Reiko Kasai, Mayumi Banno, Sun Young Hwang, Quratuaini Jamil, Sherri Goh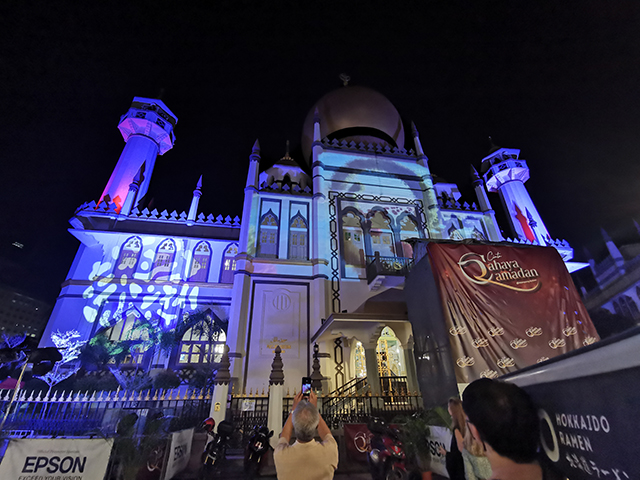 Our first group walk since 2019 to soak in the festive lights and atmosphere of the Islamic Ramadan period.
■ Live Stream from SINGAPORE
Kampong Gelam is a famous heritage area in central Singapore known for its strong muslim cultural identi t y . Prior to the pandemic, it is a place popular with tourists and locals alike for its food and textile shops.
Businesses and foot traffic took a big hit due to the covid restrictions and the area has changed significantly post pandemic.
Many more food and beverage businesses have popped up. However the textile shops are on the verge of closing due to lack of sales. The lighting environment has evolved to reflect these changes and it made the most direct impact to the atmosphere at night.
In conjunction with Ramadan (the month of fasting for Muslims), we took a walkthrough Kampong Gelam together with Mr Mende to appreciate the festive lights and atmosphere on 26th April evening. Starting off with dinner at the specific time to break the fast with the whole community, we did a livestream for Lighting Detectives Instagram, hosted by Aini and Sunyoung.
We explored the Malay heritage area, watched the projection on the mosque Masjid Sultan and ended off the night at
Haji Lane which was bustling with nightlife.
It was fun and refreshing for us to be out amidst the crowd again, giving new meaning to the festive season. (Sherri Goh)