Compared to many cities, Yokohama is a relatively open city. Even with large high-raise buildings close-by you don't feel enclosed and the added factor of a waterfront can help make anyone feel refreshed. The continually changing point of view from the Cosmos World Ferris wheel is a great way to observe the city.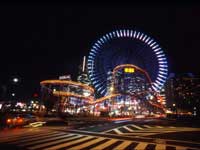 The Landmark Tower is often thought of as the symbol of Yokohama, but the Cosmos World Ferris Wheel could be the runner-up. In the dark night sky the Ferris wheel draws a perfectly beautiful circle of transparent layers of light, adding a deep appeal to the Yokohama nightscape.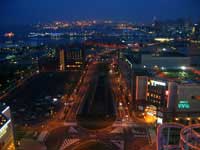 Looking south from the top of the Yokohama Cosmos World Ferris wheel. The illuminated Red Brick Warehouse expresses its self beautifully as it blends with the surroundings area and the blue twilight settling in on the Yokohama Bay. Ohsanbashi Pier and Yamashita Wharf complete the background.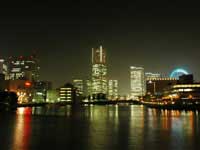 Looking from the vicinity of Yokohama Customs towards the Landmark Tower. In this newly developed area space is comparatively open. With only a few high-raise buildings, and reflection on the water the city seems bigger than it really is.