19 June 2005
"Turn off the lights and take it slow."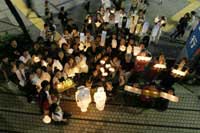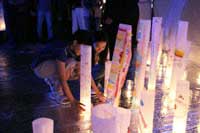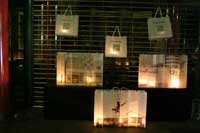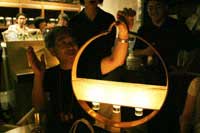 The time to turn off the lights and relax by candle night was once again upon us as the Lighting Detectives and Musashi Art University students collaborated with local elementary school students to celebrate another Candle Night on the 2005 summer solstice. Up until now the local event was limited to Harajuku`s Cat Street, but this year we have widen the venue and pulled the June 19th event out into the open of Omotesando.
Started by an environmental NPO, this nation-wide event is a slow, relaxing time to reflect on human nature and rethink our positions on the environment, energy conservation, and the modern lifestyle. More then 20,000 venues all over the country participate in this "lighting down" event with 300 of those venues also displaying candle installations. With each biannual celebration the circle of light continues to grow.
Children's Lantern Parade
Along with their parents, 50 or so children from the local Jingumae Elementary School and the local Omotesando trash detail crew, Green Bird, started off from the school on a lantern parade that would take them to a rendezvous point at the new Cartier Store construction site and then down to the Oriental Bazaar. Roman candle-shaped lanterns, made by the children, were first carried to the rendezvous point where the Chief of the Lighting Detectives, Kaoru Mende was waiting. The Roman candle lanterns were exchanged for shopping bag lanterns with pictures drawn on them by the children and displayed at the final stop. Through the soft light of the shopping bags the drawings came alive and pedestrians along the street stopped to get a better look at the young artist's work.
Lantern Design Show
The lantern parade was lead by Musashi Art University students who also toted their own originally designed lanterns. The originally designed lanterns were inspired by one of the themes for this summer's event: "tote-able light." All shapes and sizes of lanterns were on display up and down the boulevard. Some lanterns were big and carried in pairs; others used recycled milk cartons or were in more conventional shapes, like a ring of flowers or a house. The festive lanterns and parade drew many curious looks from people on the street, who watched with enthusiasm as the events of the night unfolded.
It is too bad the street lights couldn't be dimmed down for the event, allowing the lantern light stand out even more. But it was still an entertaining evening wrapped in soft candlelight to create a different nightscape along Omotesando, even if for only two hours.
Miki Endo