Yokohama Kitayamata Elem. School
2010.11.16
Chief Mende x Class of 3rd Graders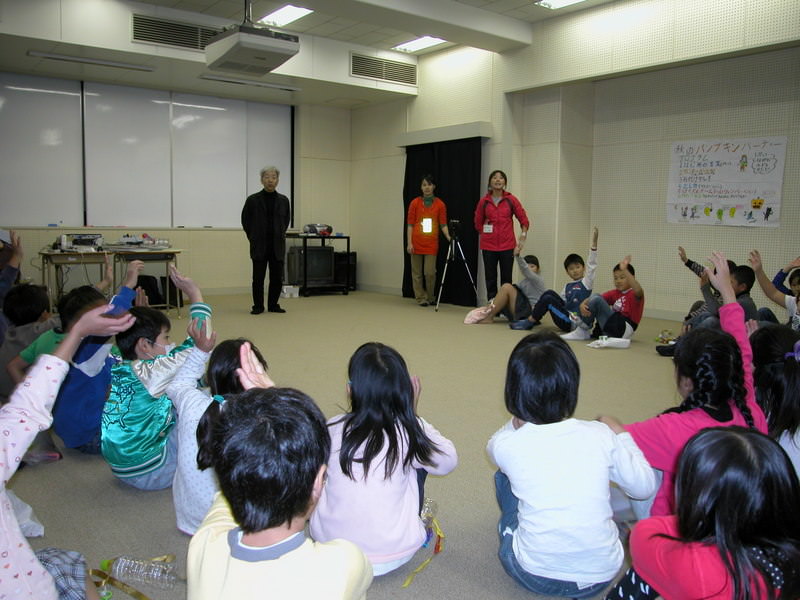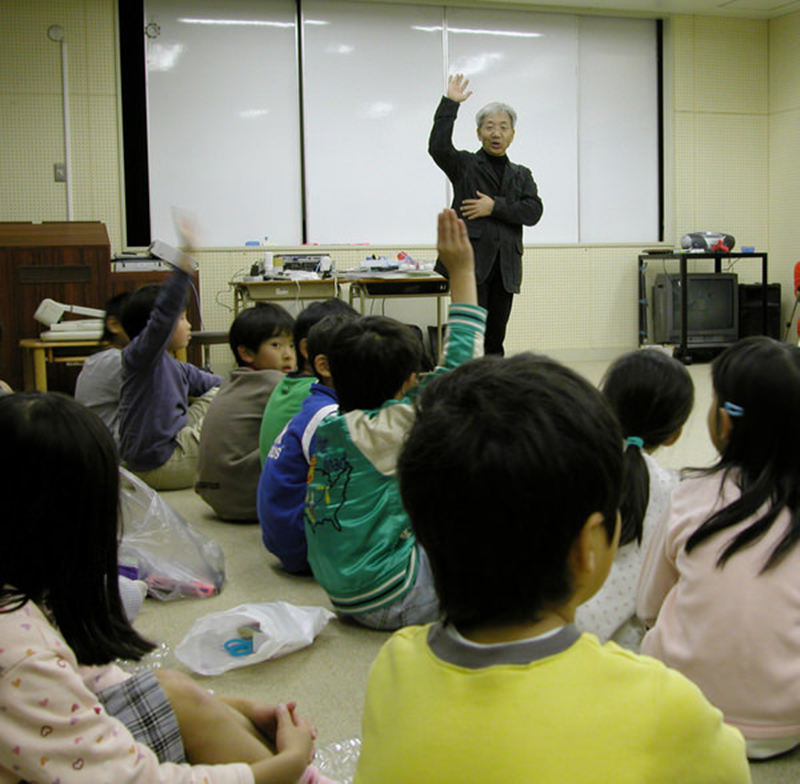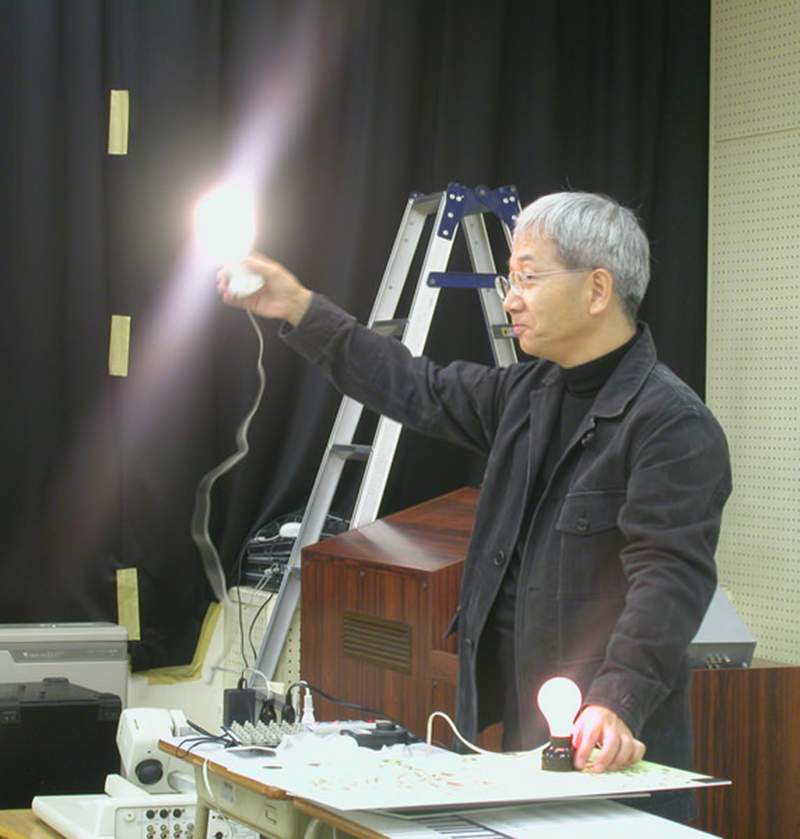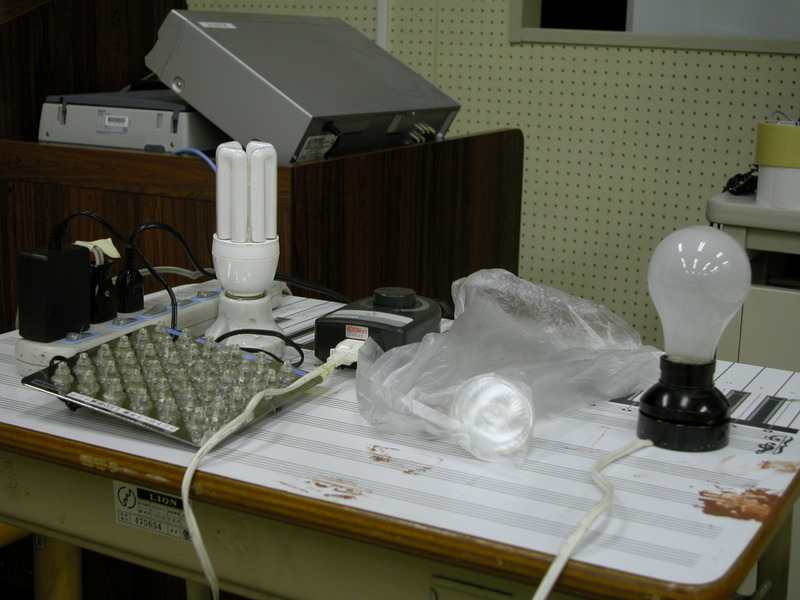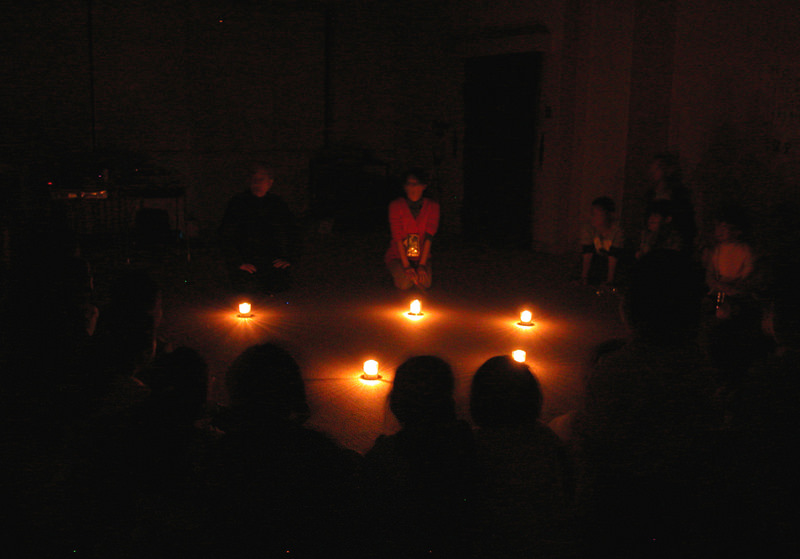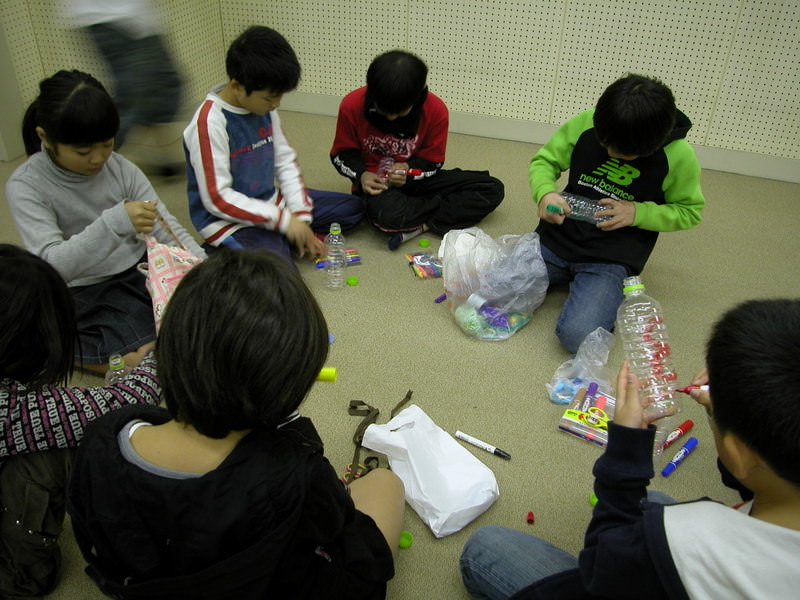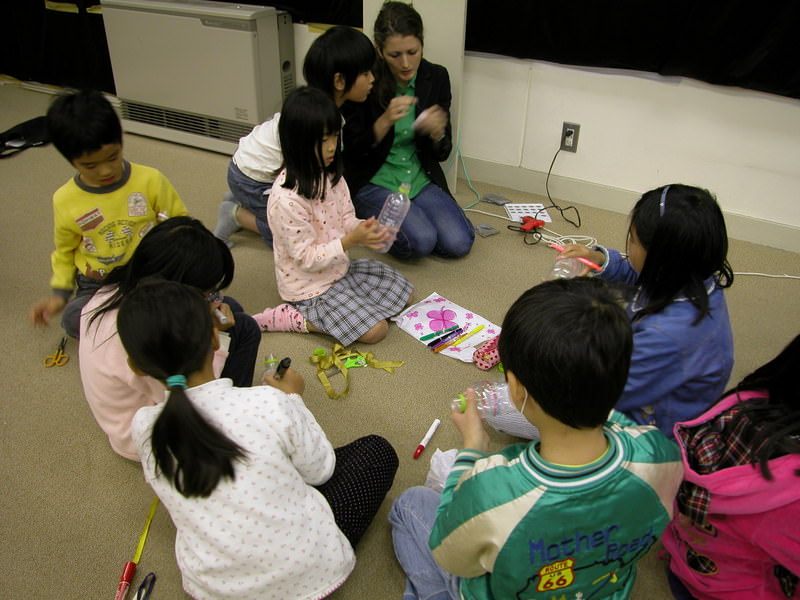 It was a perfect sunny day. So perfect that Lighting Detective`s Chief Mende gathered with Kitayamata Elementry School 3rd graders in a perfectly darkened, blacked-out music room to give a lesson on "Light and Dark." Chief Mende, who regularly lectures at a local university, seemed slightly intimidated by the smaller-in-size students. However, the difference ended there. Inquisitive and curious, the children were very eager to learn, first about light and different sources of light, and then experience complete darkness, laser beams, and candlelight. Lastly, using a 500ml plastic bottle and LED, the children made their own lanterns from recycled materials.
Chief Mende began by showing the children a drawing of a campfire and firelight, the origin of light used thousands of years ago by the first humans. The talk continued with several questions and answers about what kind of light the children like, don`t like, and why. Chief Mende presented the children with different lamps such as an incandescent bulb, various sized halogen lamps, a compact fluorescent lamp, and a color-changing LED panel so they could compare different types of everyday light sources.
Then the lights went out! Instantly, the room was completely dark. First, there were a few yells and screams, but even in complete darkness the children`s eyes began to adjust to see vague outlines. After a few minutes in complete silence and darkness, Chief Mende flashed a green laser beam on the wall, generating several ooh`s and ah`s, and then, quietly, lit a single candle. The power of a single, flickering candle to calm and light a room surprised many of the children. Some sat motionless staring at the flame, others leaned forward to get a better look, and others watched as shadows danced on the floor. I suppose most of the children have lit a candle or sat in the dark before, but today seemed to be a new experience. Just these few minutes seemed to awaken more than their vision, but all five senses began working overtime.
Time was winding down for the lesson on light and dark, and making the recycled lantern was rushed, but a one-of-a-kind souvenir for the children. The children drew on their bottles while the teachers glued a battery and LED to the bottle cap. The children were so intrigued by such a tiny little node giving off such bright blue light and gathered around watching with mouths hanging open. After squishing down the bottle and replacing the cap, the lantern was finished! Although gluing each cap together took time, the children were very patient and lit up like their lantern when it all came together!
More than a Science Lesson
I don`t know if 45 minutes is a long time or short time, and in this case it might depend on if you are the teacher or student, but for all that Chief Mende had prepared and wanted to tell the children, wanted them to understand, maybe 45 minutes was rush it. However, the most important and simplest message came across loud and clear; Chief Mende`s love and passion for light. The lesson was a basic comparison of everyday happenings, light and dark. Although Chief Mende`s lesson was not complicated, it was not the lesson itself, but rather the way he talks or his actions or twinkle in his eye when he does discuss the topic of light. This kind of passion or love of something is not found in text books or on the internet, but by people and through their experiences. "That man with all the weird light bulbs" or "that funny man who likes the dark and flickering shadows" or "the day we became lighting designers"; that is what will stick in the children`s minds. And if it doesn`t, maybe sometime, someday, without knowing why the children will think twice about bright convenience store lights or get excited by candles on a birthday cake, or actually realize the daily, natural phenomenon of dusk. The class period might have been science, but I think the children came away with a little more than a science lesson.