2019.09.21  Erina Hosono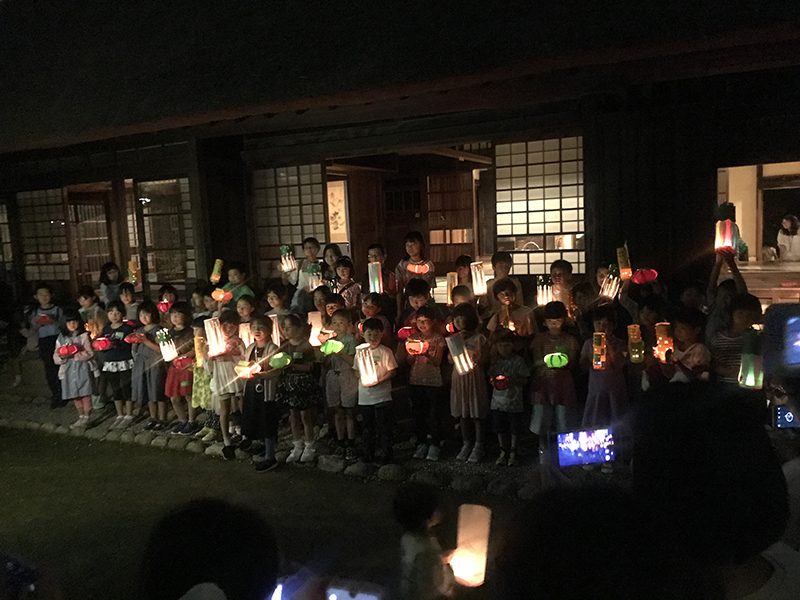 Group photo with the finished lanterns
Our lantern festival 'Let's make vegetable themed lanterns!' was held as a kid's workshop on September 21st in Nerima Sakujiikoen Furusato Museum.
This event had 52 children as participants, centered on those who are in their first and second year of elementary school, becoming our largest event to date. Including the staff and the parents/guardians of the children, it was a huge gathering of over a 100 people. The participants made vegetable themed lanterns and listened to the "Fire and Light lecture".
Did you know that Nerima's urban agriculture is flourishing and has representative agricultural products such as daikon radish and green onions? The museum staff wanted to teach the kids about Nerima's agricultural success through our lantern crafting session. Therefore, we prepared daikon radish, green onion, spikenard, corn, tomato, persimmon, and cabbage (all of which are Nermia specialties) themed crafting paper.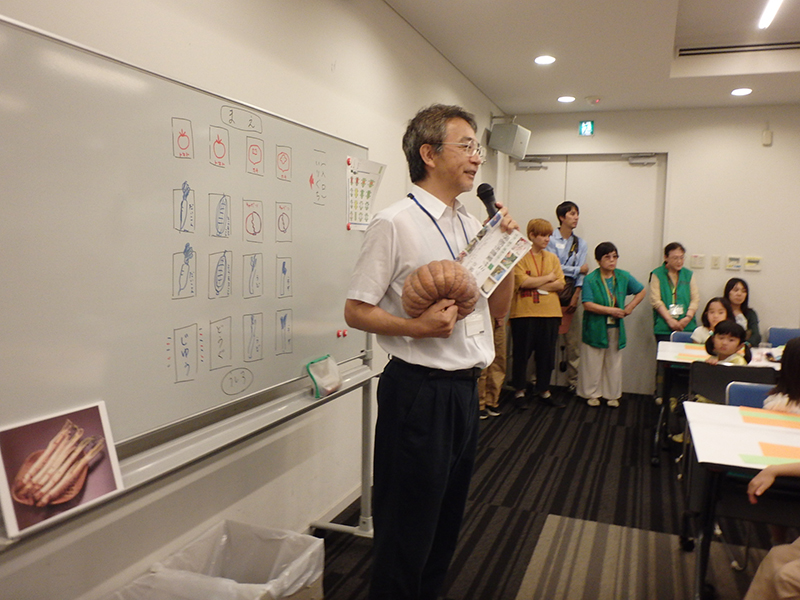 Day of, the children pick a vegetable of their choice after signing up and spend around an hour crafting the lantern. At the orientation, we demonstrated the different styles of lanterns by turning off the lights and lighting the candle within the lanterns. The children all exclaimed 'wow!', 'Kawaii!', when they saw the lanterns they would be making, expressing their excitement but also warming the hearts of all the adults at the event at the same time with their cuteness.
The kids facial expressions turned serious and focused once they started constructing their own lanterns. The groups working on the easier tomato, persimmon, and cabbage lanterns using scissors started on their 2nd or 3rd lanterns while the children working on the daikon radish or green onion were more careful, as it was the first using a box cutter for many of them. It seems many kids struggled with the difficulty of using a box cutter and their fear of sharper objects. The spikenard lantern required especially difficult cutter use, even for adults. But all the kids were able to finish their projects in time and without injury. Some even decorated their vegetables with the provided colored tape, creating their own unique colorful vegetable lanterns. It could be seen from their smiles that all of them were very proud of their work.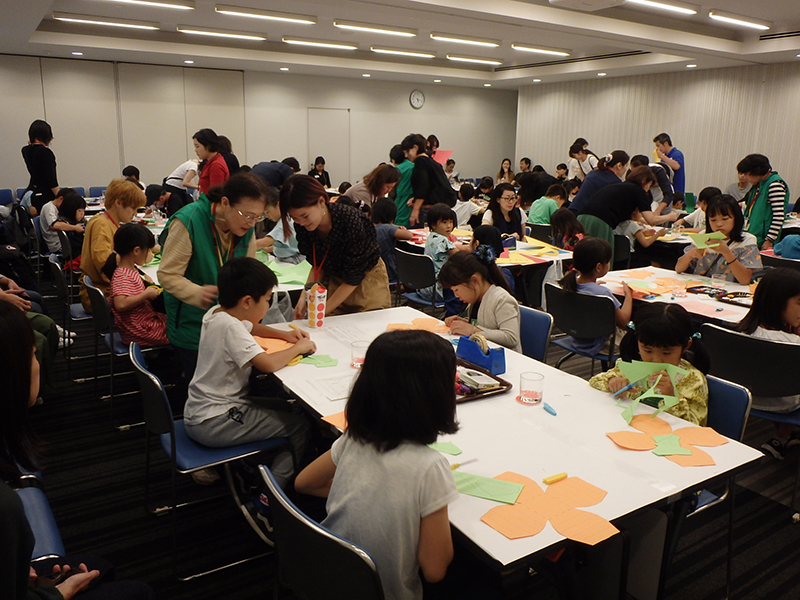 After that, everyone lit their own lantern and walked over to the cottage (Outside Old Uchida Family's House) nearby for a photo. When the lanterns were lit, there were cheers all around, and it was especially satisfying to see the children so focused on the warm light emitted from their lantern. After the photo, the children gathered around the hearth inside the cottage to listen to our leader Mende-san and Curator Kobayashi's 'Lecture on Fire and Light'.
The lecture was about the importance of the hearth in times when there was no electricity. As the main source of heat, but also where the family gathers for dinner and gatherings, fire had many roles to play in daily life. We also experienced how bright the fire was without our electric lights on, and how the fire was started in the hearth. The children were especially focused on the lecture, perhaps because of the darker and warmer space where this lecture was held.
This workshop hopefully was able to act as an opportunity for the participants to experience the fun of making something light-up or the unexpected warmth of that light, which they perhaps did not appreciate before. (Erina Hosono)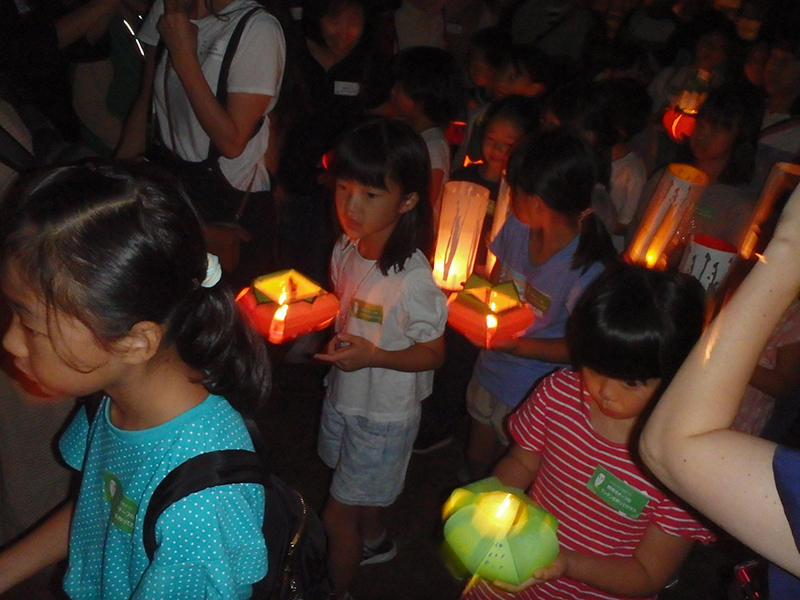 Holding their lanterns, walking to the cottage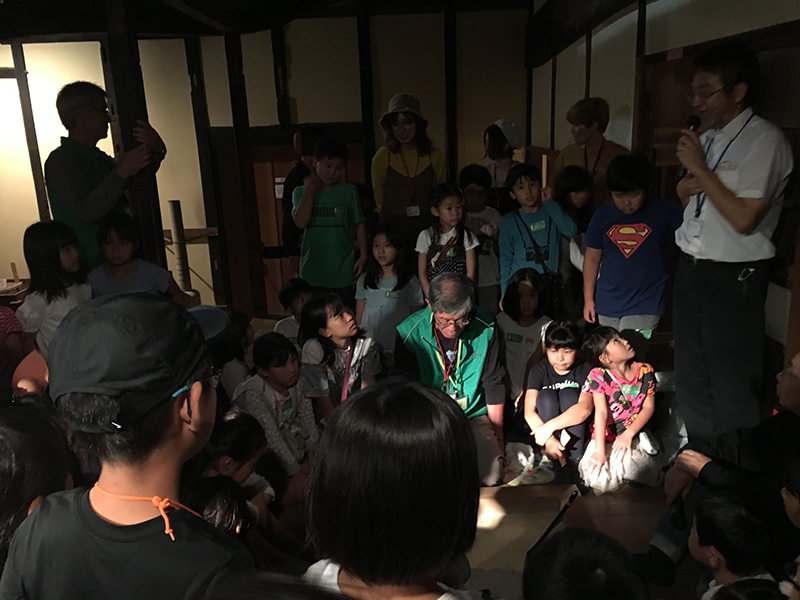 Kids listening attentively to the curator and our leader while sitting around the hearth
---