Date: September 19th, 2008
Program: City tour, Lecture, Workshop, City Survey, Exhibition, Symposium
Venue: B.C. Usce
7th Annual Transnational Tanteidan Forum in Belgrade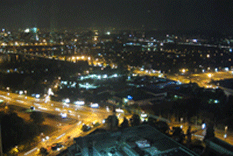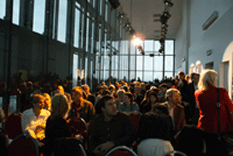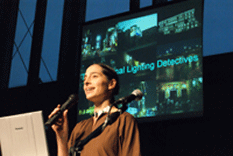 Once a year the Lighting Detectives hold their annual Transnational Tanteidan Forum, this year being the 7th year. Using the Lighting Detective network that has spread throughout the world, members from different countries wanted the opportunity to discuss different lighting cultures and so the first Forum was held in Tokyo in 2002. From there it was been hosted by Stockholm, Hamburg, New York City, Singapore, and Copenhagen. This year the forum was hosted by Belgrade, Serbia, the former capital of Yugoslavia. This is the hometown of Transnational Tanteidan core member and artist, Alexandria, currently living in Stockholm, who insisted on hosting this year's form in the growing capital. The forum was held in conjunction with a local event "Belgrade of Light," receiving extensive PR time from local TV stations, newspapers, and magazines.
Searching for Heroes and Villains of Light!
Regarded as a crash course to the Lighting Detective, "Searching for Heroes and Villains," is an easy introduction to the activities of the Lighting Detectives. In conjunction with the 2008 forum we also held a Heroes and Villains Workshop, with about 50 students in attendance from Stockholm, Belgrade, and Tokyo. This activity is very simple. Groups of students go out into the city at night, look for examples of good lighting, heroes, and bad lighting, villains. Afterwards, the groups discuss what was found and state reasons for classifying each example as a hero or villain.
For the workshop, the city of Belgrade was divided into three sections "Riverside," "Commercial Pedestrian," and "Ministry." The students were also divided into three mixed teams to investigate each area. After the orientation and with cameras in hand, each team trouped out into the night, returning with stacks of polaroids and digital images. The pictures were arranged on a "Hero and Villains Panel" in a scale of ±5 for a presentation and exhibition.
I was part of the Riverside Team. Although there were specific spots for viewing the city from the riverside, most of the nightscape was dominated by darkness, with high-pressure sodium lamps and orange light filtering out from residential windows sparsely lighting the streets. I thought, it would have been nice to have some kind of pleasant, inviting light for a nightly stroll.
The workshop, itself, was held over two and a half days, but panel work, preparation, and the final presentations were all finished on a tight one-day schedule. Through excellent cooperation from the international group of students, each group completed very different panels to present to a sellout crowd. This was the first time for many local Belgrade University students to walk through the streets of their own city with such a focus on lighting. This experience really opened their eyes to a different side of the city.
Lighting Identity of the City
The theme for the 2008 forum was "Lighting Identity of the City." Up until this year, forum themes have revolved around various public lighting, but this year we decided to take a different perspective, focusing on the uniqueness of lighting in each city. What are the lighting characteristics of each city? If one were to draw a picture of each city in terms of light, what would it look like? We wanted this forum to leave a mental image of the composition of light of each city and their differences on those in the audience. With 300 people in attendance, the forum drew much attention from its venue at the top of Belgrade`s highest building B.C. Usce.
Six chapters, Tokyo, Hamburg, New York City, Copenhagen, Singapore, and for the first time Beijing, presented. While preparing for the Tokyo presentation, I realized Tokyo is such a grab bag of lighting. At first I envisioned bright, fashionable, high-tech lighting, but there is also traditional lighting and others. It is almost impossible to narrow it down to a few keywords. In conclusion, Tokyo lighting can be compared to a traditional Japanese lunch box, all sorts of different items, in this case lighting, adjacent to each other forming a delicate balance and harmony. This is the Lighting Identity of Tokyo.
Onward to Beijing 2009!
Next year, 2009, the 8th annual forum will be hosted by Beijing. The presentation style is also set to change, with a new and different forum, only from Beijing, in the works. Since the climax of the 2008 Beijing Olympics, we will also have the opportunity to see how the city has changed and adjusted. This is the closest the forum has come to Japan in many years, an excellent opportunity for all of you to join us at next years event! (Saiko Tanuma)