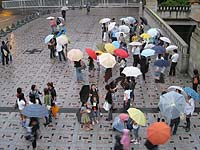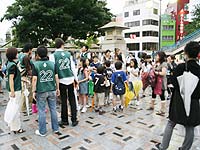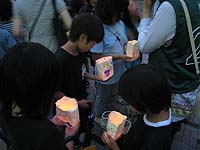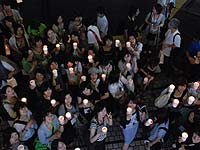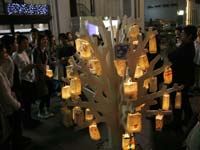 This time each year I rely heavily on the Rain Gods not to forsake me. June 22nd, including summer and winter, I count this as the 7th time we have held the Candle Night Event and today's weather forecast was rain. If it is just a sprinkle the show will go on, but this year the prediction was a downpour.
After five years of great weather for the event, it looked like our time was up. Come to think of it, the Lighting Detectives seem to get rained on or out of a lot of previous events, with most of the blame coming my way and my incompatibility with the Rain Gods. It was time to fight for this event and keep our perfect score at Lighting Detectives 7: Rain Gods 0! After much chanting and praying to the Rain Gods, at 7 o`clock, just before the event was to start, miraculously nobody needed an umbrella!
The pictures to the right are of the Jingu-mae Elementary School children and their parents as they gather near Meiji Shrine, the community service group, Green Bird, and the Tama Art University students who attended preparatory workshops. Everyone having a good time and without umbrellas!
For more details of this years event there is a nice write-up on our website, but I want to specially recognize the Harajuku Community Planning Board and Omotesando Hills for their cooperation this year. With their help it seemed like the entire street was participating and made for a festive candle event. There were more cafes in the Candle Cafe Network and flickering candlelight could be seen all over the area. But I'm most pleased with the volunteer "lighting down" of many boutique show windows and rooms along the infamous shopping street. In previous years we were met with attitudes of "Light up the merchandise and sell, sell, sell!" But this year more shops were more than happy to cooperate with board members and silly-faced students who knocked on their doors to negotiate.
The event's simple slogan "Turn off the lights and take it slow" is slowly making its way into the mainstream. I for one would like to see it happen not just twice a year, but say every weekend we turn off the lights and take it slow…