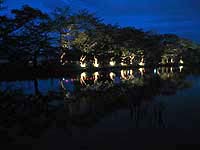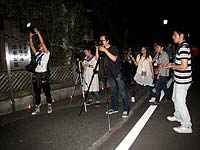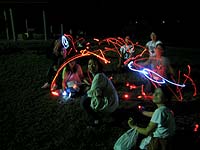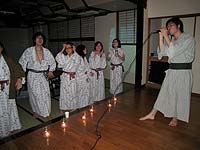 Already it has been seven years since I started to teach in the Department of Scenography, Display, and Fashion Design at Musashino Art University. Of course, I am not only teaching my students about lighting design, but the third-year students who choose my seminar class observe society and work on projects through a filter of "light". This could be a politically biased education, but lighting is absolutely necessary in every aspect of our lives. Particularly in this department, I can't image scenography, display, or fashion design without light and if my politically biased lighting education helps to nurture a unique human resource then fantastic! This year, with my third-year students in tow, we visited Iwamuro Hot Spring in Niigata Prefecture a number of times to work on a lighting project to boost economic development in the area.
You can think of this as a modern group project by Musashino Art U. for the economical development of this hot spring town. From street planning, graphic design, and souvenirs to street furniture and the soundscape, we have incorporated a wide range of variables as we push this project along. Our team prose was "A Lighting Plan for Environmental Design" employed with proposals for extensive lighting designs. On two of our three previous trips, we surveyed the area and did lighting experiments.
For the future of Iwamuro Hot Springs it is uncertain what kind of lighting they will propose, but my students were fairly excited about the project. First, we surveyed the lighting environment and exchanged opinions with local residents. Then, without asking, we brought in portable equipment for lighting experiments. As soon as we were finished, we formulated "Five Lighting Goals for Iwamuro." The locals were amazed at the finesse and great footwork of our team. For a short-term project like this one, the important thing to remember is to have fun in spite of the painstaking work involved. There were many different ideas proposed including, artistic lighting installations, designs for souvenir Iwamuro paper lantern, and a lighting plan for the town infrastructure, but after our hard work we didn't forget to have a good time. Long into the night we belted our songs on the karaoke machine at the hotel, much to the displeasure of the other guests. But the unluckiest part was we got reprimanded right while I was screaming my rendition of "Tsugaru Straits Winter Landscape." Both were horrible! Although, we hope to see a bright sign in the future for Iwamuro Hot Springs.