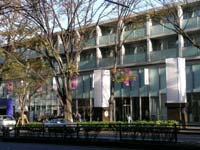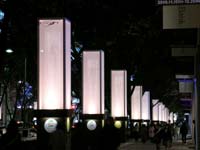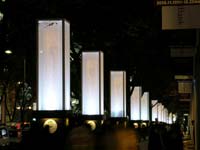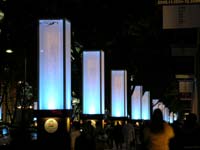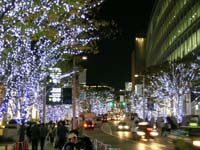 I invite you to take a little stroll through Harajuka and down Omotesando. For the holiday season, six-meter tall lanterns line the street and emit a soft Japanese light-like glow. The illumination along this particular street started in the 90`s and was a huge success, but damage to the trees forced the street into darkness. Now, eight years later the street is aglow again. Before the area community chamber of commerce was named 「Harajuku Champ d`Elysees Group」, but are now called 「The Harajuku / Omotesando Community Group」 and the street has been dubbed "Eco Avenue," transforming into an environmental-friendly enterprise. About a year and a half ago we started to meet with local businesses for workshops aimed at creating a fresh new kind of lighting event. After so many discussions we decided on not an illumination, but lantern light for the street. Although the street is a very modern strip overflowing with western culture influences, Omotesando is also an important approach for Meiji Shrine. So honoring both worlds we have pre-programmed lighting fit for a festive Christmas spirit, but the colors and atmosphere will be strictly Japanese for the New Years celebration.
At first there was a lot of brainstorming and any and all design ideas were presented and discussed. A huge arcade of light, tree-shaped lights and other geometric forms floating in light, low Japanese-style light close to the pavement, or long strips of light hanging in the air were just a few of the ideas. What we decided on were multicolored LED lights, but used in lanterns to express our own Japanese spirit.
Inside square pillar-shaped lanterns, LED lights are hidden behind to layers of screen. The LED lights twinkle and have an endless amount of colors that can be reproduced. Construction of the lanterns included many mock-ups with the lights and wind test to create a durable frame.
If you have the chance, please go down to Omotesando and see for yourself. It is a different display then your normal illumination with out a glitzy or showy impression. The LED lights are mostly soft orange light that flickers like a candle flame for a very calm atmosphere. All the lights are computer controlled so you can also experience the latest in LED technology as the lanterns change expressions at certain intervals. From 5 pm to 10 pm a short program starts every 15 minutes for a little refreshment along the street. Also from 8pm to 9pm, through mobile phone access people can "talk" through the lanterns and change the patterns. I tried it once; it was quite a fun experience to see your responses in the lights.
The other day I took some students to see this and the illumination at Roppongi Hills. To compare and contrast I've added one photo from our trip to Roppongi Hills. The festive lights of Roppongi Hills are great, but I have to say I think these lanterns of the Omosetando akarium are the next upcoming thing. The illumination is even getting attention from overseas!