Shiodome Sio-Site was a joint public and private sector redevelopment project completed in 2006. In nearby Shinbashi, eateries and bars built under and into the brick structure of the elevated railway tracks during the Meiji era have become a famous cityscape of this area. We set out to discover what kind of lighting environment exists in this conflicting neighborhood of Tokyo.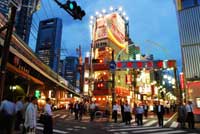 Red lanterns, single light bulbs hanging under the eaves, colorful luminous signage…All the lighting is warm and inviting. The lighting environment along the streets of Shinbashi is wide and varied, but somehow closes the distance between strangers.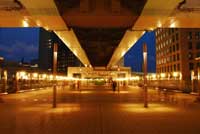 Lighting for an elevated pedestrian deck connecting high-rise buildings in the area. The warm colored lighting creates a comfortable atmosphere for a nighttime stroll.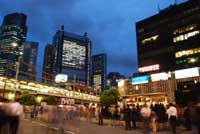 The Shiodome high-rise buildings are not showy, and along with the interior office lighting, only a few have facade lighting on the building crowns.