Date: December 4th, 2007
Program: City Tour, Exhibition, Symposium
Venue: Royal Acadamy of Fine Arts, School of Architecture in Copenhagen
Transnational Tanteidan Forum 2007 in Copenhagen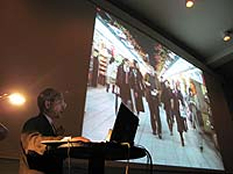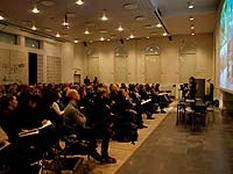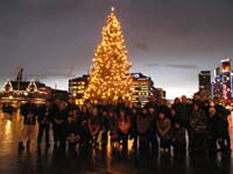 What started in Tokyo in 2002 is now in its 6th year, the Transnational Tanteidan Forum. Just as Christmas illuminations were springing up around the city, Copenhagen played host to the 2007 TNT Forum. Over the course of the three-day event, we held the main forum along with core member meetings, city walks, and excursions out of the city.
The theme for this forum was "The Lighting of Public Spaces: PARKS, PLAZAS, and PROMENADES." Up until now, we have disused many issues related to public lighting and as the final chapter is this series we tackled parks, plazas, and promenades. Seven cities presented along with Chief Mende from Tokyo, including: New York (Eleni Savvidou), Hamburg (Christof Fielstette, Christoph Geissmar-Brandi), Singapore (Reiko Kasai), Stockholm (Jan Ejhed), Belgrade (Aleksandra Stratimirovic), and our latest member from Brussels (Jean-Luc Capron).
Dec. 4th 2 p.m. Waiting outside the auditorium, sunrays low over the horizon created long shadows from the building that fell at my feet. This is northern Europe in midwinter. Inside, guests from Copenhagen and the surrounding European countries gathered. Looks like another great turnout for this year's forum; attendance totaling 200 guests.
While starting to put together the Tokyo presentation, we had to ask ourselves, "Is there a park with a night view worth telling people about?" "Is there a promenade, a planned pedestrian walkway, worthy of discussion?" Is there a plaza or a place where people take a rest in Tokyo?" It was clear from the beginning that European city planning is different from Tokyo and we started by first surveying and analyzing those differences.
Our first area of focus was the scramble intersection in Shibuya. In front of Shibuya Station and below several large, constantly blinking, video monitors, crowds of people criss-cross and intersect. This might be a Tokyo-style plaza. Also, plazas are woven into the fabric of the city in newly developed areas, such as Roppongi Hills or Tokyo Midtown. Areas for sitting and resting are always planned and built in these developments and labeled, of course, plazas. On the other hand, shrines and temples always have had some kind of space for festivals. Used from long ago, this could be a traditional Japanese plaza. At times of festival, lanterns hang along the perimeter of the shrine grounds, similar to signage and lighting environment of a busy downtown and maybe a hint as to what future promenades could become.
Other presentations included, a parade of parks and variations from New York; an unexpected Belgrade nightscape of brightly lit and white-colored promenades; and many other pictures relaying the state of public space in our world cities.
The day before the forum, members from the local Copenhagen Chapter plus core members set out on a city walk down the main pedestrian-only street, Stroget. I have joined in many midwinter walks in Tokyo, but nothing compares to the icy cold of Copenhagen. And just to make sure, the wind and rain reinforced the harshness of this city walk. Of course windows and Christmas trees were mainly lit with warm incandescent light sources, just enough as demanded by nature and people.
As Transnational Tanteidan continues to grows throughout the world with new members from Beijing and Berlin to also be attending our next forum in Belgrade, Serbia in September 2008. Watch us as our lighting fieldwork expands and expands around the world, but don't forget the password: TANTEIDAN! (Saiko Tanuma)