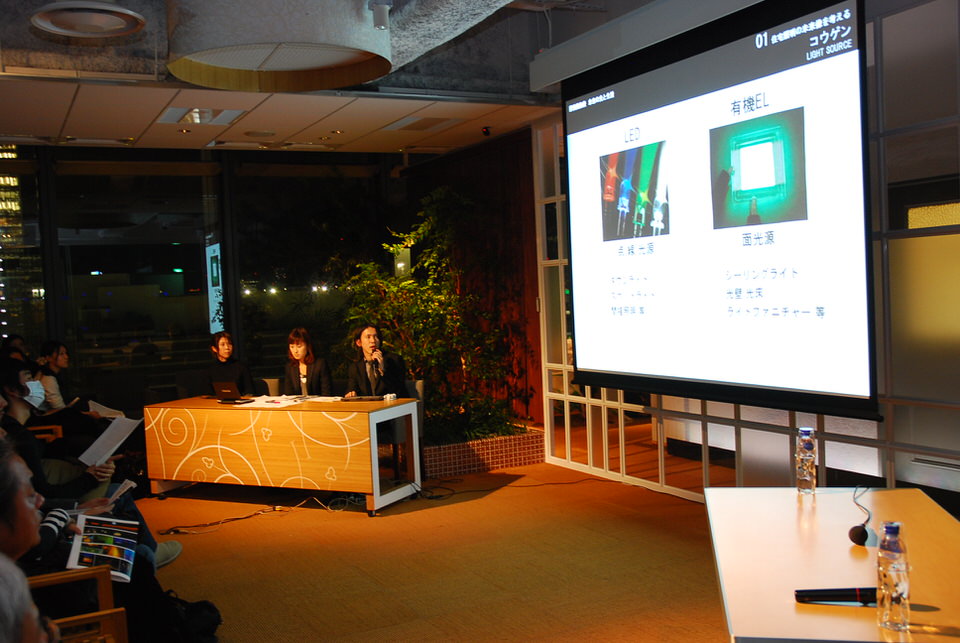 16 January, 2009
During the year 2008-2009 the Lighting Detectives hosted a three-part salon series focused on "Residential Lighting: Past, Present, and Future." Part 3 of the series was titled: "Looking Forward into the Future of Residential Lighting." The Lighting Detectives, who through fieldwork, continue to investigate the subject of lighting by using our own eyes and bodies to experience light, prepared to discuss the future of residential lighting from not just from a visionary and dreamy perspective, but by reflecting on current residential lighting and realistic possibilities for the future.
by: misa fuji
Report from the Lighting Detectives: "Lighting for Tomorrow and Our Lifestyle's of the Future."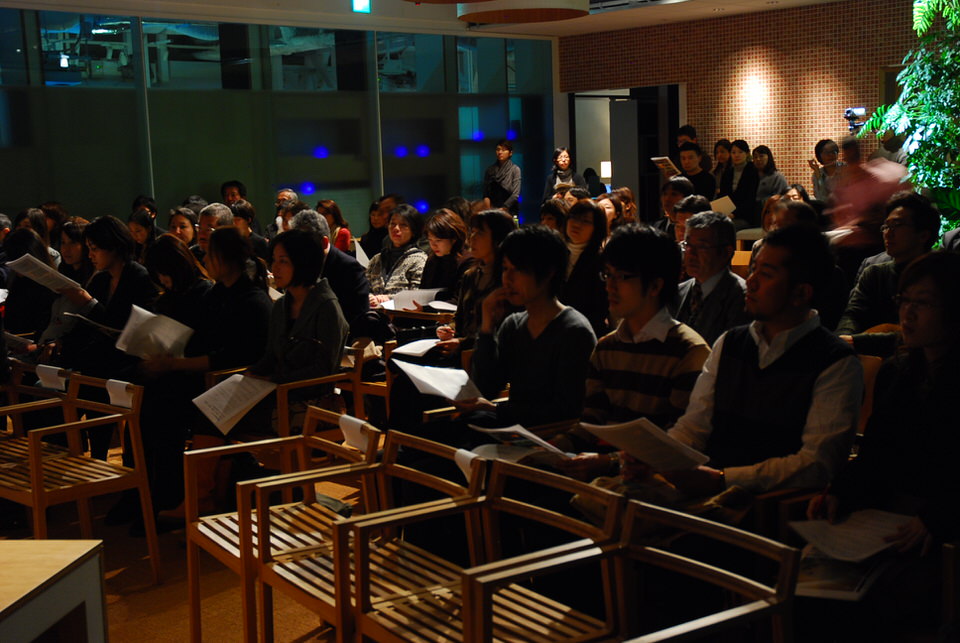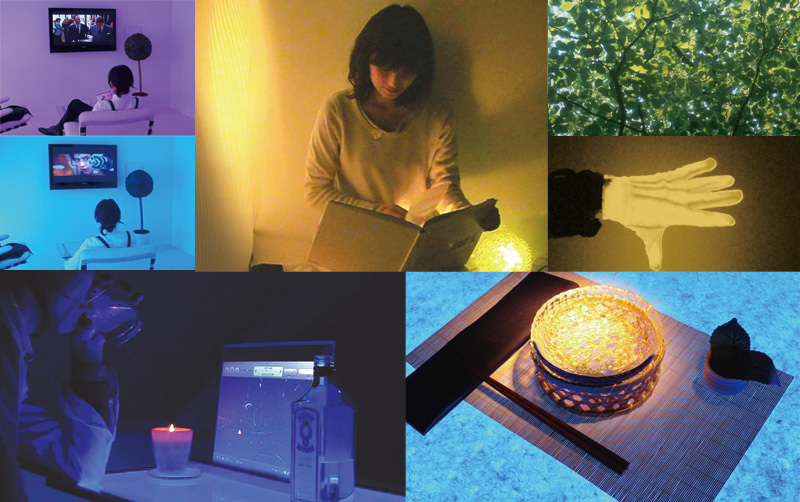 The Lighting Detectives decided to tackle this subject from the three following directions.
1. Light Source: LED
2. Light Fixture: The Home
3. Light Recipients: Occupants of the Home
In the future, LED`s and Organic EL technology will most likely become mainstream items making available various options for luminous furniture, other luminous products, and opportunities to incorporate colored lighting into our living spaces.
As for the home, the technology to use daylight more efficiently is developing fast; along with systems that couple more elaborate motion sensors with lighting are a possibility.
With all of the lighting possibilities present now and being developed for future use, people will be able to pick and choose a lighting environment most suitable for their individual homes. In the near future, increasingly unique lighting will, most likely, be a prominent feature of our living spaces. Who knows, the common place orange incandescent light or white fluorescent light radiating for our nightly windows could be replaced with more colorfully variations.
Even if it is the future, we should start to experience the future of lighting now. With the help of Koizumi Lighting we put together an exact scale model of new lighting possibilities in different daily scenes and captured this experience in a short movie. A luminous bed awaits a tired body; a luminous luncheon mat greets a hungry stomach. Although some of these lighting ideas might just be daydreaming, playing house inside the scale model with these new ideas was a fresh and, actually, pleasant lighting experience. The Lighting Detectives report included a bold look into the future, but if we actually think about these possibilities in terms of the field of lighting, they don't seem all that far-fetched.
Mr. Yukio Hashimoto: "Looking for Tomorrow through Past Projects"
For this final salon the Lighting Detectives were lucky enough to host, interior designer, Mr. Yukio Hashimoto as the guest speaker. In terms of lighting, he is the designer of many thought-provoking projects. Mr. Hashimoto`s designs are not just limited to commercial spaces, but he has also personally designed many homes. During this session Mr. Hashimoto presented some of his residential designs and lighting ideas for them. In one particular project, using only light, Mr. Hashimoto renovated an old Kyoto townhouse. The Lighting Detectives and audience were amazed at the conversion by only changing the lighting design.
Mr. Hashimoto`s theory about residential lighting is, "that nature and light should not just be a presence in the home, but in a natural way, fill a home with useful lighting, suitable for each resident's needs. The lighting system should be flexible to a residents needs, but also comfortable and realistic. Mr. Hashimoto`s words are something to keep in mind as we contemplate the future of residential lighting.
Yukio Hashimoto x Kaoru Mende: "Residential Lighting can change ME!?"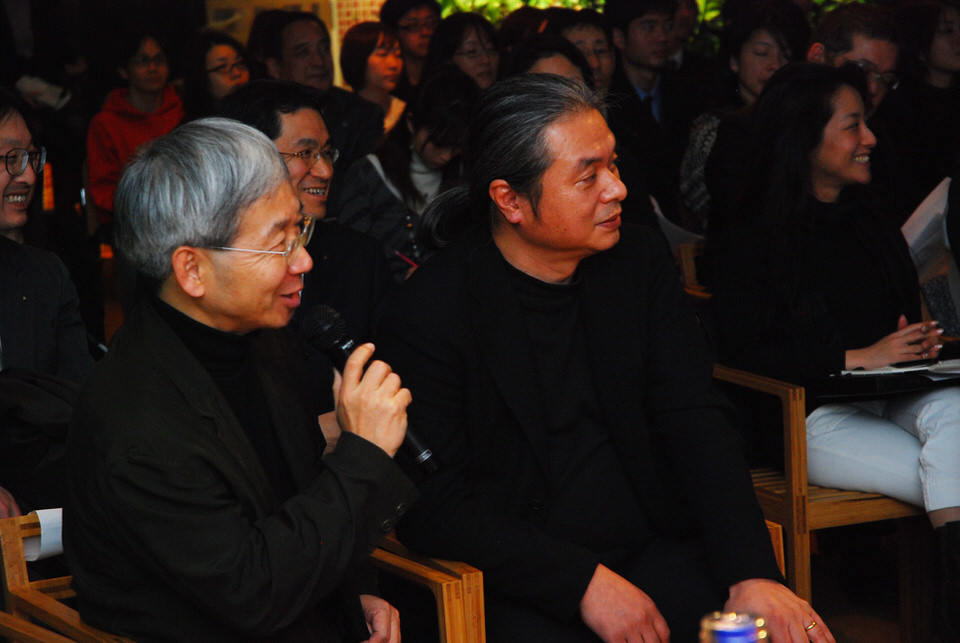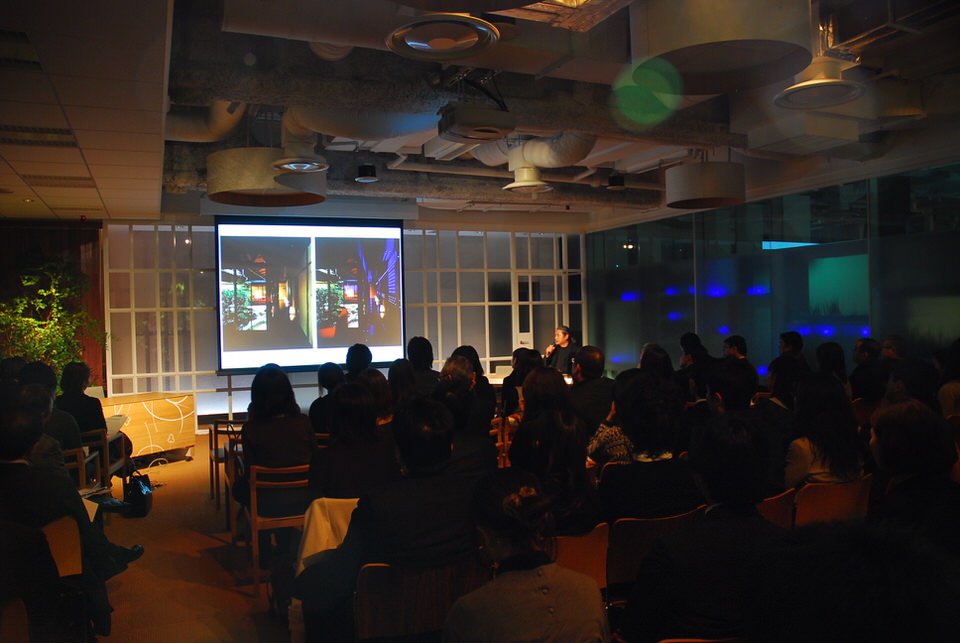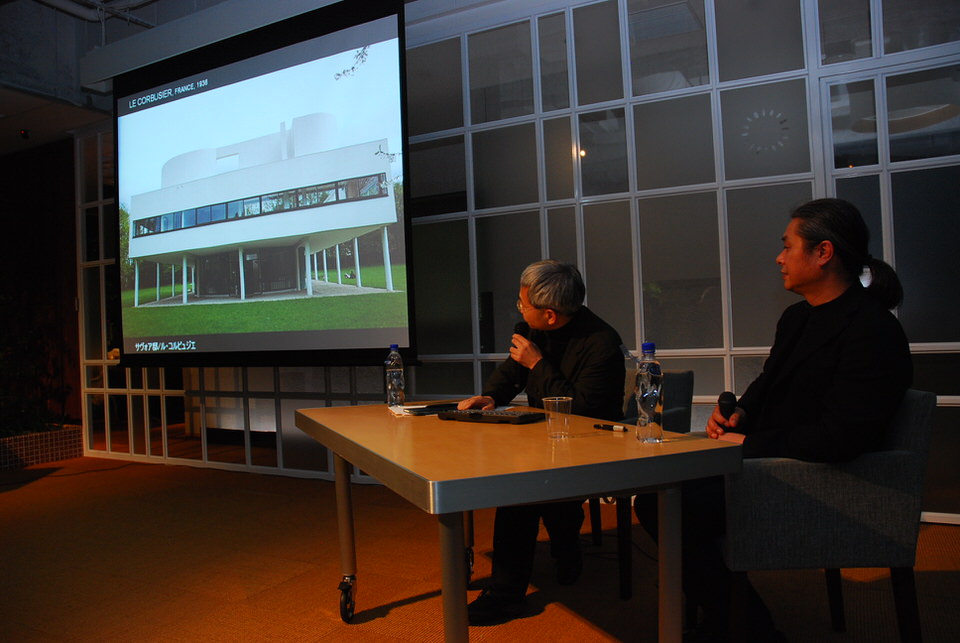 The talk session between Mr. Hashimoto and Chief Mende was a grand finale to the evening, with the discussion running well over its allotted time. From Mies von der Rohe to Le Corbusier to present-day, newly, debuting architects, the two designers discussed residential design and theorized about the best lighting or each project, all the while looking for insight into the future.
Chief Mende added his experiences with residential lighting in Scandinavia and Mr. Hashimoto took a unique perspective based on his design of hotels, both agreeing that what people want is not only luxury, but also entertainment. Slowly an outline of what the future might hold in store for residential lighting was starting to form.
The future residence will not just be a place of relaxation for its homeowner, but an extension of oneself, a place of self-expression, or a setting for casual home parties. Future homeowners might be continually changing lighting effects according to each situation or just on a whim. Through this talk session, an underlying theme of how lighting will play an important role in communication between family and friends also surfaced.
Residential Lighting 3 Part Series: "After all is said and done."
As the final salon of our 3 part series, we took this opportunity to look back on our pervious discussions, while also looking to the future of lighting. During the first salon in July 2008, we discovered that we couldn't forget our roots and the comfortable lighting created in old traditional Japanese houses. Then in October, we battled with the incandescent lamp to discover, that with a little effort, incandescent lamps can be dimmed and set to meet our daily needs, enrich our lives, and be energy-efficient without having to resort to fluorescent lamps invading our homes.
And at our third and final salon in January 2009, Chief Mende predicted the following 4 changes in our future lifestyles:
1.) Innovative change in the visual scene by new light sources, such as LED`s or Organic EL.
2.) Transformation of various situation and increased convenience based on the continued progress of computers.
3.) Increased admiration for natural light (sunlight, firelight) in our attitude towards life.
4.) Mode of living that will compliment minimal lighting.
Can we find variety, individuality, and comfort in lighting of the future? We hope this 3 part series gave you the tools to investigate your own options for future residential lighting.