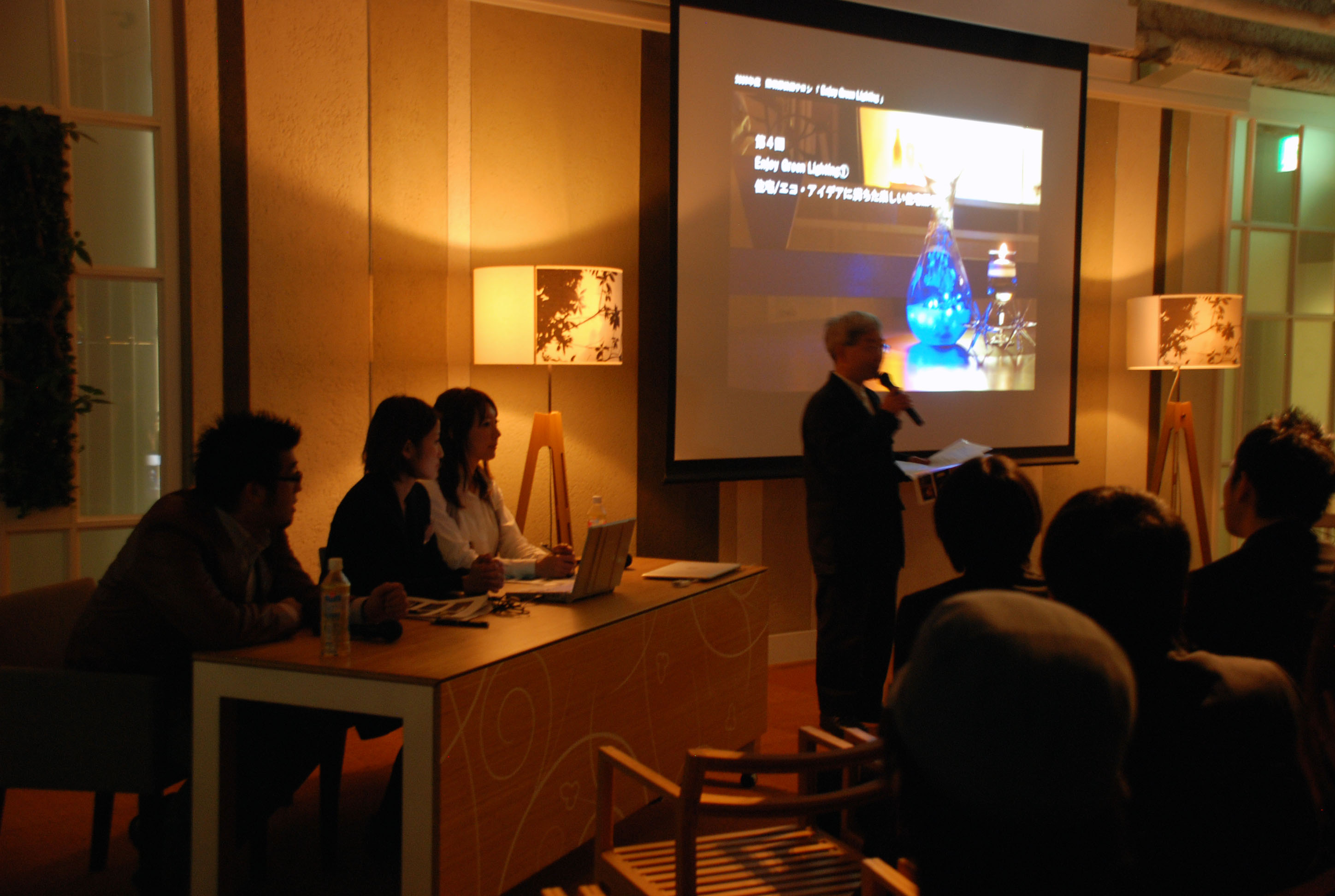 Presentation of earth-friendly lighting ideas.
13 November, 2009
The theme for the fourth Lighting Detective Salon featured residential fieldwork with ideas for fun eco lighting. Guest speaker, architect, Kazuhiko Namba presented his own ideas on sustainable housing.
What is environmental-friendly, people-friendly lighting?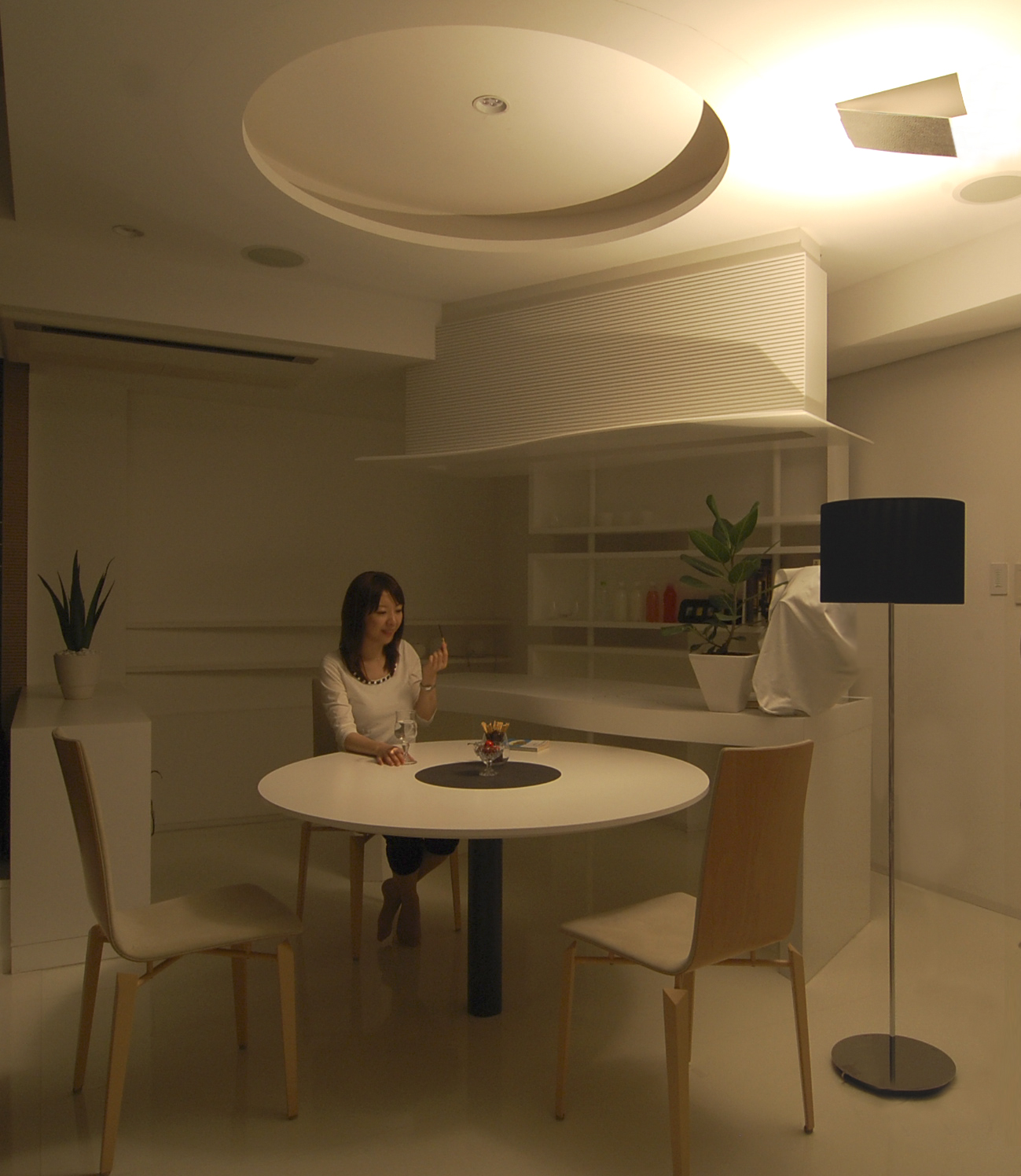 Even using low wattage lamps, attaching a net cloth to a cieling fixture creates enough brightness on the table top.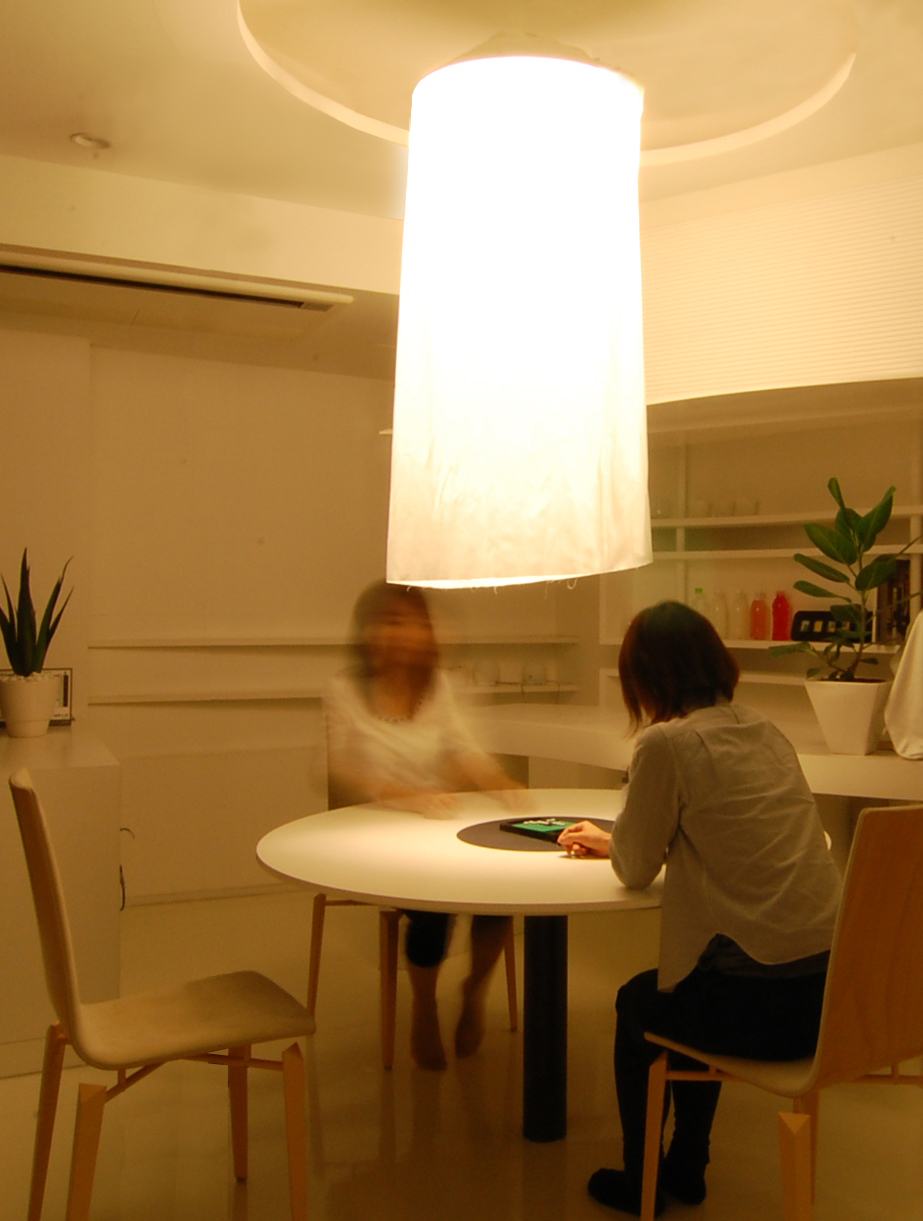 Ambient light reflected off the ceiling for plenty of brightness while sitting at the table.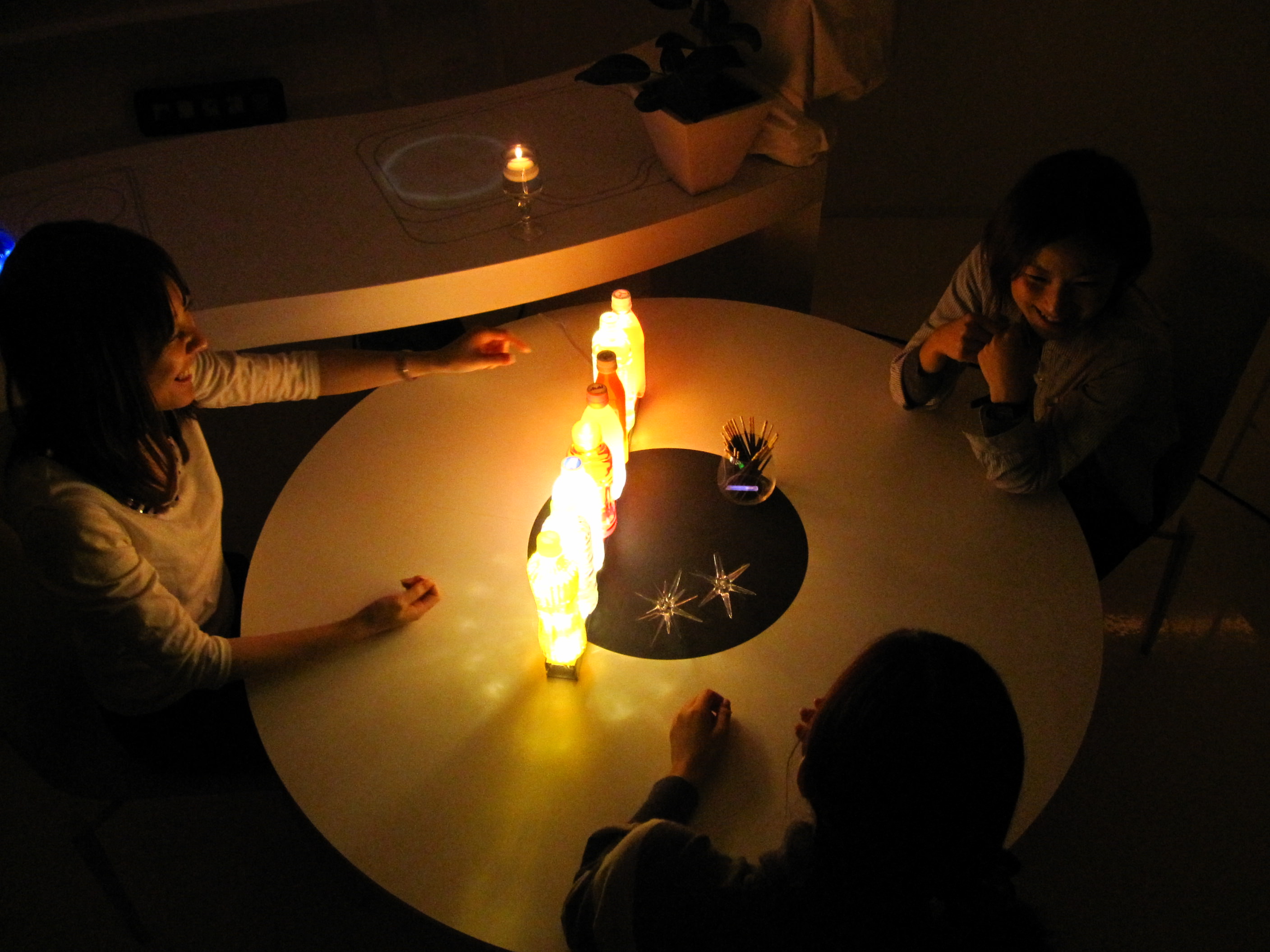 Simple lanterns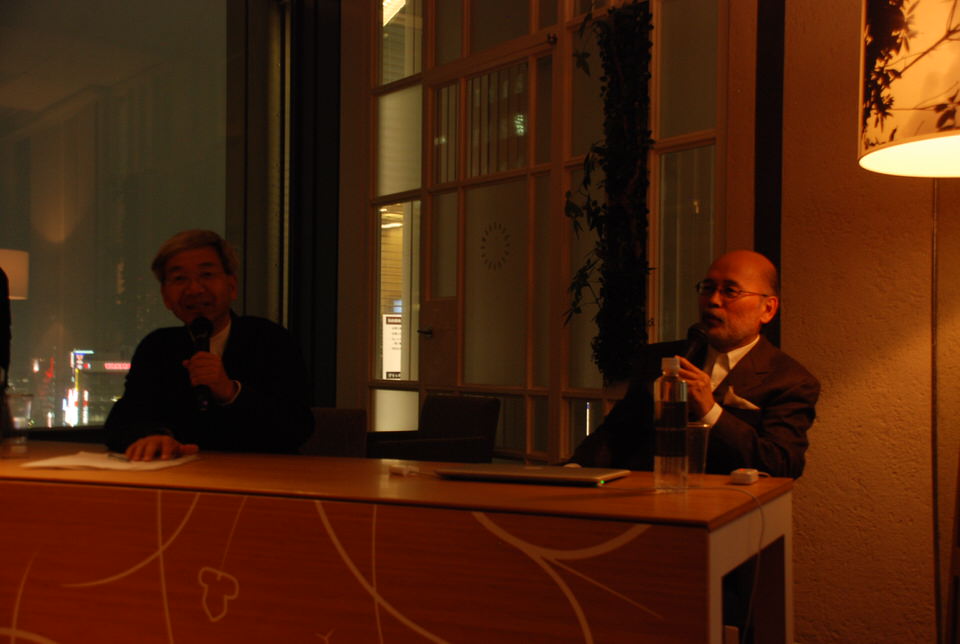 Dialog between Mr. Namba and Chief Mende.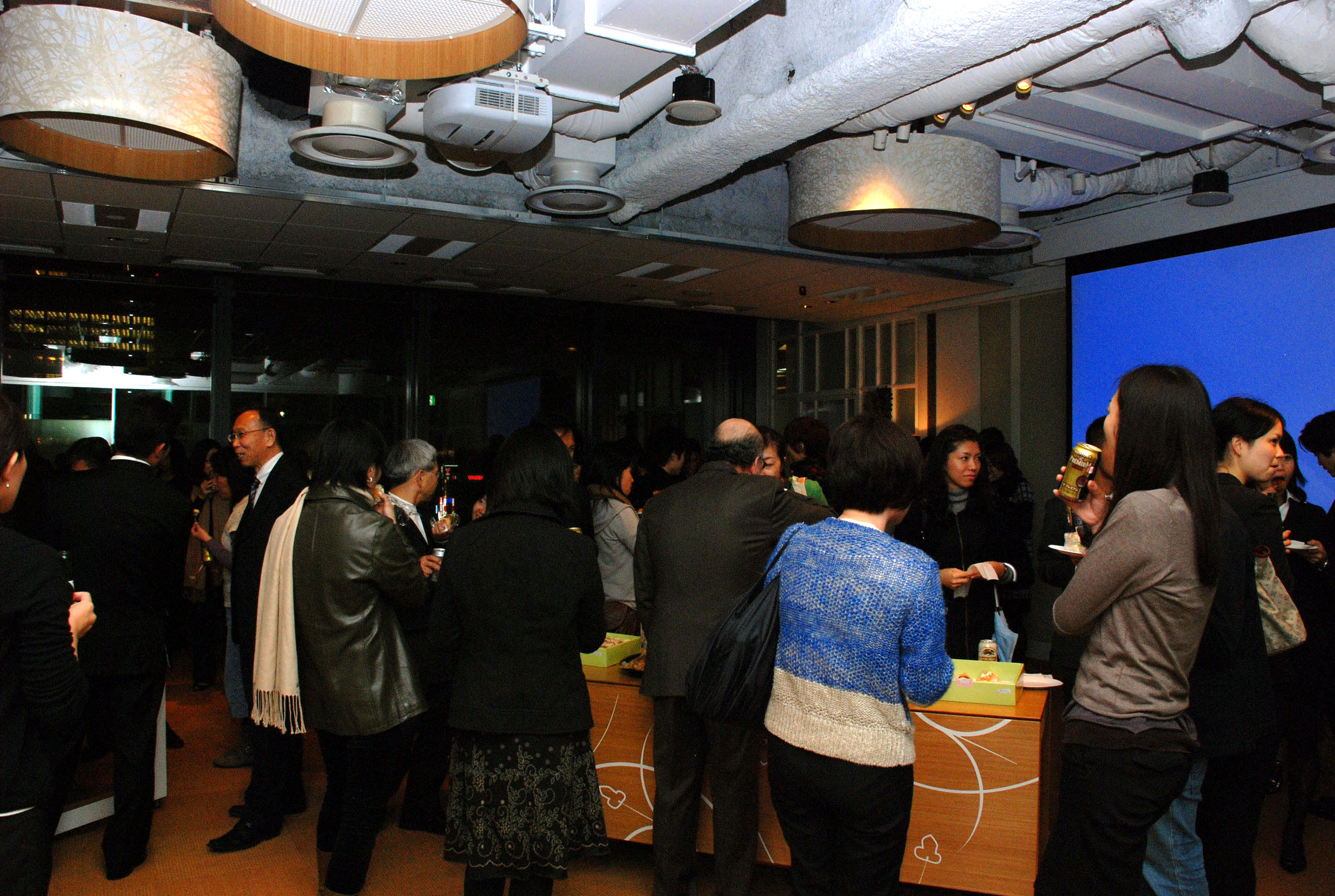 Reception
Keywords such as CO2 reduction, green, earthy are now very common in our daily lives. However, how many people actually incorporate environmentally-friendly practices into their lives. As Lighting Detectives, we asked ourselves if there is something we can do to incorporate green ideas into the lighting environment. Something easy and fun, nothing laboring or painful, that could be started right away? Hmmmmm?!?!
Trendy Lighting
Beginning with ordinary residential lighting, we experimented with different tricks and light simulations at the Koizumi showroom. First of all, the easiest way to increase brightness is by color. The color of a tablecloth, the color of curtains, even the color of a brown room compared to a white room effects brightness. As an element of the interior, changing the color of a tablecloth to suit different scenes will not only affect the lighting, you may even achieve haute interior!
small light, BIG LIGHT
Sometimes it might be fun to just turn off all the lights and enjoy a candlelit evening. Try something completely different on those special occasions and make the celebration more personal with a small concentration of candlelight. Making green lighting part of your everyday routine, and particularly on special days, may add spice and balance to your everyday life.
The Namba Formula & 4-layer Lighting Design Structure
Based on the Namba Formula for the Box Houses series, guest speaker, Kazuhiko Namba talked about an important element of housing, lighting design. The architectural formula that Mr. Namba bases his series of Box Houses on is a combination of the following 4-layer structure.
① Physical Properties: Construction standardization, long-lasting
② Energy: Use sustainable energy, solar or wind power, and energy conserving ideas as much as possible.
③ Social Function: No-wall, no privacy, open plan proposals.
④ Symbolic Meaning: Simple form of a box.
Mr. Namba prepared numerous slides and showed different lighting methods that he has implemented over the years. In houses that he purposely specified low wattage lamps, the owners complained that it was too dark. Mr. Nambe asked them to leave the lighting as is for two months, as an adjusting period. After two months if it is still too dark he would make changes to the design. But after two months, there were no calls back to make adjustments. Taking time to adjust to a dimmer environment is a necessary period of adjustment to accept a new lighting environment and make it apart of your everyday life.
According to Mr. Namba, the following are 4-layers in the process of lighting design.
① Physical Properties: Only use 2 or 3 types of light fixtures.
② Energy: Use only the minimal amount of fixtures.
③ Social Function: Flexibility. Always changeable to suit residential needs.
④ Symbolic Meaning: Lighting is usually not used during the daytime, so fixtures should be as small as possible, and blend into the background.
The Box House series is chasing the big idea of sustainability. After hearing Mr. Namba`s presentation, as a lighting designer, we should also follow suit and aim for sustainable lighting design. There were many hints and suggestions to enjoy green lighting in Mr. Namba`s presentation.
Dialog: Chief Kaoru Mende x Kazuhiko Namba
The conversation started off with the example of Christopher Alexander`s "Pattern Language" and the importance of patient, mechanical repetition. Mr. Namba always carries a pyrometer and Chief Mende is never without his luxmeter. Through diligent training and experience, both have literally become each device and now have the knowhow to recognize settings with comfortable temperatures and lighting.
"Patient repetition." and "Become the device." were two phrases heard many times throughout the conversation. Maybe it is time for us to revert back and become readjusted to dimmer environments with natural light, colors, and transitions. This just may be the key to fun green lighting and earth-friendly lighting design.